BARBOUR RE-WAXING CENTENARY DESIGN COMPETITION
In partnership with British Vogue, we launched a Barbour Re-waxing Centenary Design Competition, inviting Barbour fans to design their dream Barbour jacket, using our classic Beaufort style as a base, for the chance to win £5000 and for the jacket to be made and photographed for British Vogue. Follow the story of our competition below to learn more about our five finalists, how their jacket designs were brought to life.
---
THE FINAL FIVE
The five finalist jackets will be displayed in Selfridges on 15th April for one month. One of each jacket will be made to measure using jackets from our Re-Loved programme and sold to raise funds for The Prince's Foundation, a specialist in education and training programmes in fashion, textiles, and traditional craft skills. To purchase one of the jackets, visit Selfridges Oxford Street, Third Floor Womenswear Contemporary Department. Read our Q&A with each finalist to learn more about the inspiration behind their designs.
---

---
MEET THE FINALISTS
---
THE "I'M JUST SO FRILLED FOR YOU" JACKET
---
WINNER
VICTORIA PERRY
Victoria Perry, a yoga teacher, PA and former milliner took inspiration from our rich heritage, creating a whimsical, two-in-one design, with a patchwork inner. Complete with frills all around, she designed her jacket to feel playful but keeping the utility of a traditional Barbour jacket.
---
"I wanted something playful and a little silly, that would feel like dressing up. The convertible aspect gives two jackets in one, so it's ready for even more adventures! As Barbour jackets age, they show their individual story, I wanted the patchwork lining to show the history and story of the brand on the inside too."
- Victoria
---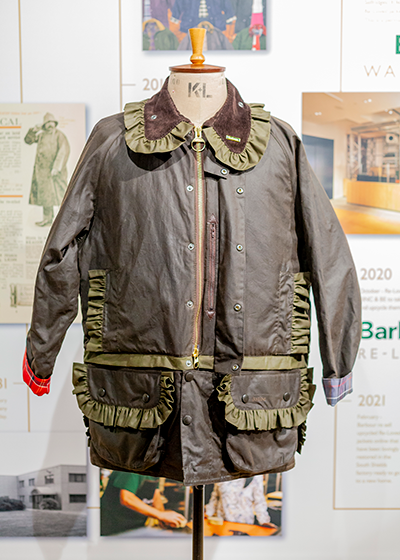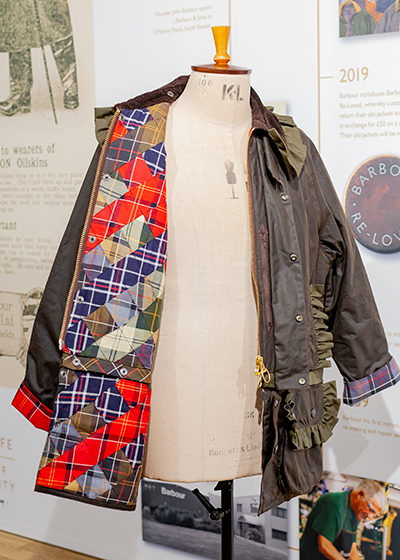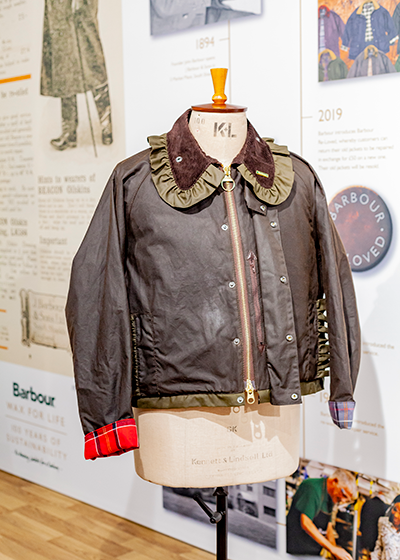 ---

---
THE BARBOUR URBAN BOMBER JACKET
---
JENNY MCHARDY
Fife-based Knitwear Designer, Jenny McHardy, has designed an adaptable, three-in-one jacket that turns country heritage to urban style, with bold colours and knitted elements that you can wear with the harness or utility pockets or both together!
---
"I wanted to totally change the silhouette, so I reverse engineered the design, from country to urban and long to short etc. As a knitter, it had to incorporate a knitted element, I knitted part of the sleeves using knitting techniques and colours that give a tough, armoured look.​"
- Jenny
---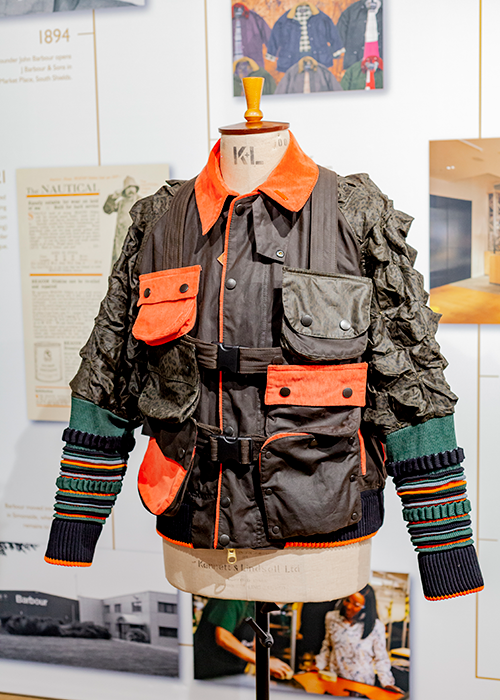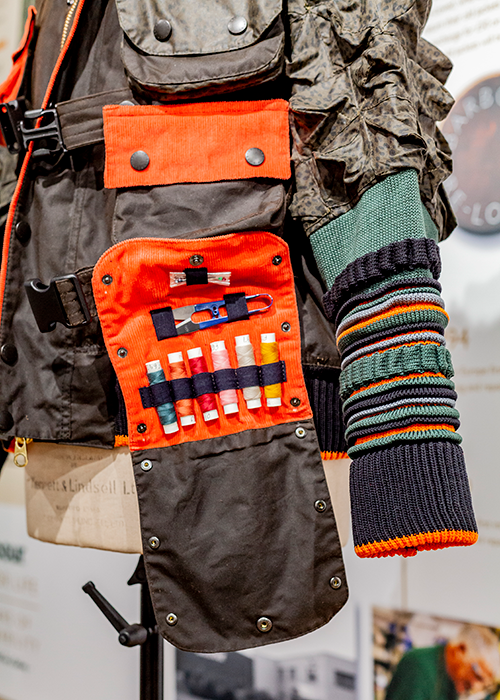 ---

---
INSPIRED BY THE FLOWERS FROM KOPPANY IN NORWAY
---
ISABEL SAND NWOSU
Isabel has designed a floral paradise that uses dried flowers from her grandmother's village in Norway, with embroidered real flowers on the collar, using Olga Prinku's method of embroidering, with replicated stitching on the back to match.
---
"I was inspired by flowers from my grandmother's village Koppang in Norway. I wanted to find a way to preserve real flowers to decorate the jacket. It reminds me of home, that you can use the jacket in all types of weather. It's a saying in Norway; there's no such thing as bad weather only bad clothing."
- Isabel
---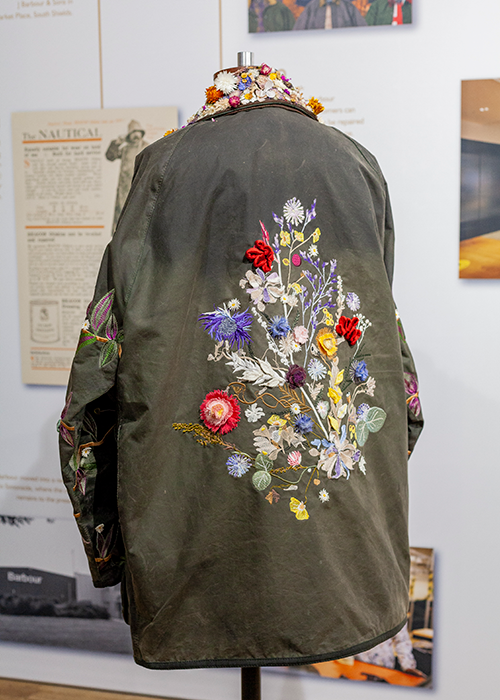 ---

---
A FAIR ISLE DESIGN
---
RACHEL CHALLONER
Meet Rachel Challenor, a crofter and knitter in Fair Isle, the UKs most remote, inhabited island. Her design uses Fair Isle knitting in traditional colours to line the jacket and storm cuffs, all knitted on Fair Isle by herself, using 100% Shetland wool from Jamieson's of Shetland, the last spinning mill in Shetland. The back of the jacket features an embroidered outline of Fair Isle, with its co-ordinates.
---
"Barbour is a heritage, family-run brand, as is Jamieson's of Shetland, and Fair Isle knitting is such a big part of the heritage (and present/future) of Fair Isle. With my design I wanted to honour the heritage by celebrating it rather than trying to disguise it."
- Rachel
---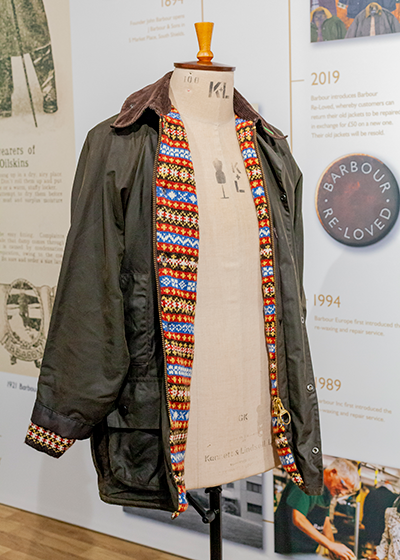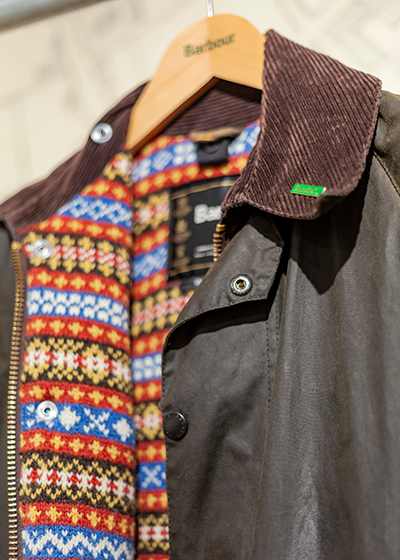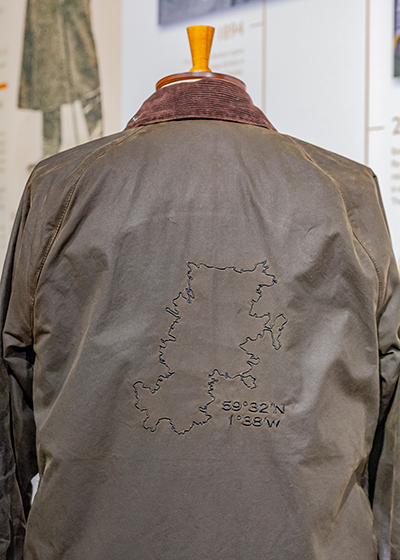 ---

---
THE JACKETSCARF
---
YVONNE COURTNEY
Yvonne is no stranger to getting creative, starting her career in fashion retail and PR, before moving to design and publishing, then journalism. Her design took inspiration from her love for utilitarian design. Believing that waist-up is where you make the most impact, her design is both a jacket and a scarf.
---
"The reimagined JacketScarf encapsulates my 'hybrid' approach to clothing; blurring boundaries - indoor/outdoor; town/country; formal/casual… and addressing our unpredictable weather! The piece retains the jacket's distinctive front detailing and can be worn on its own over a sweater or layered under a cardigan or coat."
- Yvonne
---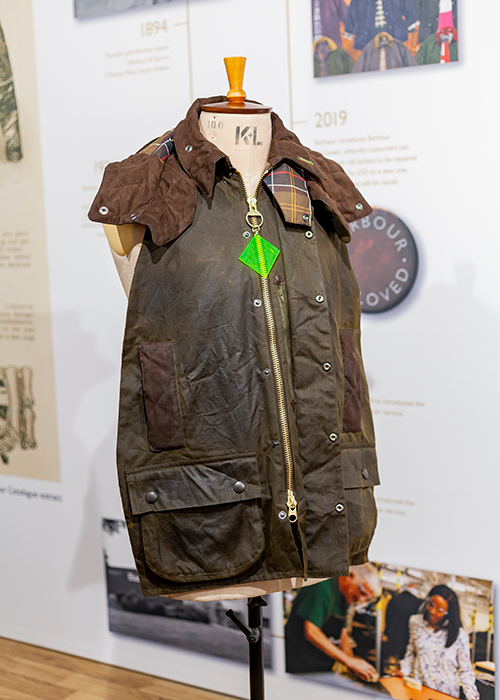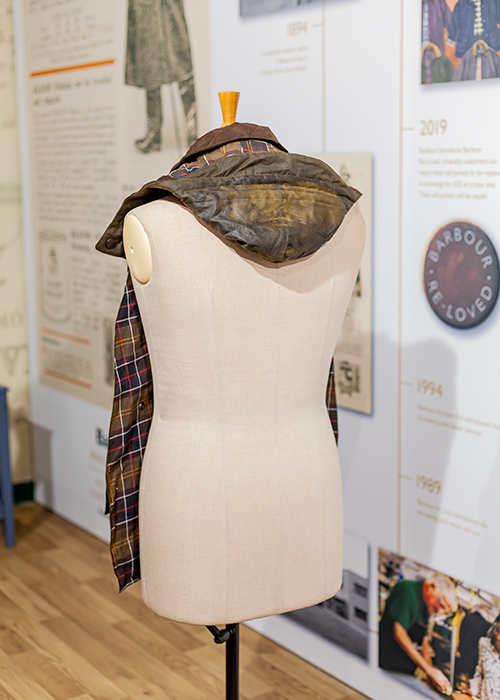 ---

---
FOLLOW THE STORY
---

---
BEGIN YOUR JOURNEY
Explore our collection of classic waxed jackets to begin your journey and - if taken care of - your jacket can last for many adventures to come.
---

---
---
{{widget type="EnigmaInt\Barbour\Block\Widget\BarbourPictureWidget" title="WAX FOR LIFE" description="Made to be handed down to the next generation. Discover more about Wax For Life below." widget_image_chooser_source="https://admin.barbour.com/media/wysiwyg/Barbour/AW21/Vogue/homepage_waxforlife.png" widget_image_chooser_tablet_source="https://admin.barbour.com/media/wysiwyg/Barbour/AW21/Vogue/homepage_waxforlife.png" widget_image_chooser_mobile_source="https://admin.barbour.com/media/wysiwyg/Barbour/AW21/Vogue/homepage_waxforlifemobile_1.png" picture_description="Barbour Wax For Life" image_position="position-center" button_text="Explore Wax For Life" button_ href="https://www.barbour.com/us/wax-for-life" overlay_enabled="1" ignore_padding="1"}}