How to Style the Tartan Collection with Sophia Rosemary & Alice Catherine
Women's Tartan Collection AW19
autumn winter 2019
Meet Sophia Rosemary and Alice Catherine; fashion and lifestyle bloggers, friends, and the masterminds behind the brilliant On the Outskirts podcast. With a belief that style is who you are, not where you are, the pair aim to take the limelight off the capital and share their passion for clothing in the equally chic city of Manchester. In addition to their podcast, the two share their stories on life and travel on their own much-loved individual blogs, making them a journaling force to be reckoned with. 
We boarded the Belmond Royal Scotsman with Alice and Sophia, on a two-day journey through the Scottish countryside to talk about their style and reflect the inspiration behind the new Women's Tartan collection. 
How did you become friends?
Sophia: We met in the most millennial way possible! On Instagram. We kept getting tagged in each other's photos, people thought we were sisters or twins (I really don't see the resemblance). We followed each other for a while and noticed we had really similar taste, likes and interests. We got talking and one day decided to be brave and actually meet for a coffee! The rest is history.
Alice: We ended up going to an Andy Warhol exhibition in Manchester and then walking around for hours afterwards. (Always a great sign when you don't want the date to end!).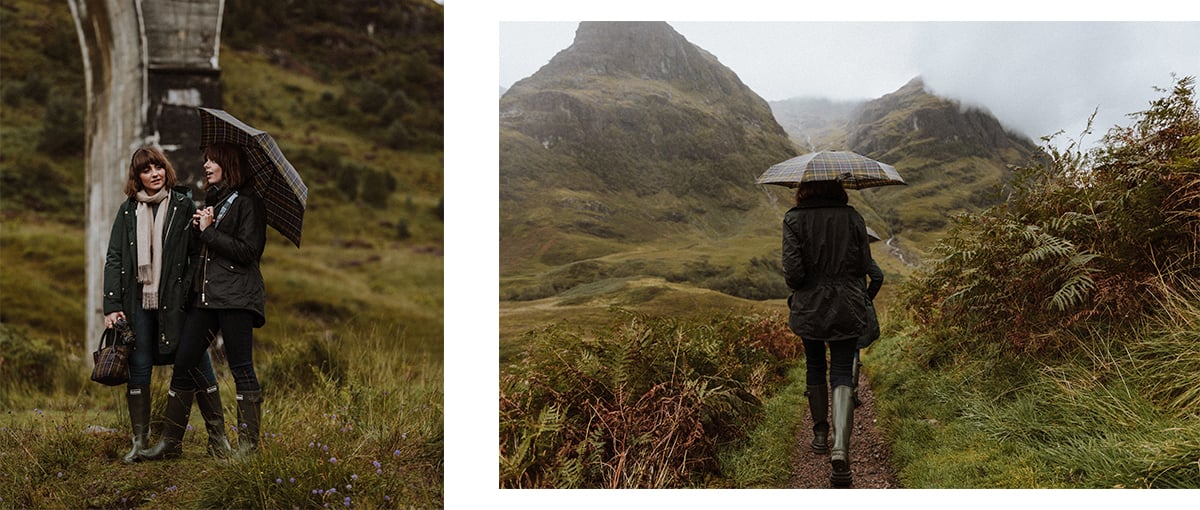 Where does your love for fashion come from?
Alice: Fashion is ultimately just about having fun, but personal style feels like an identity. I was always a bit of a misfit at school, and I feel as though I really found myself through experimenting with personal style.
Sophia: I've always loved fashion, as corny as that sounds. Even when I was teeny tiny it was always my first interest from creating catwalk shows using my dolls to asking my mum if I could be a ballerina because I liked their outfits. When I was about 14 years old and started reading Elle/Vogue. I just remember feeling like this was the industry I wanted to be a part of. I had no idea people would care and it would become my career.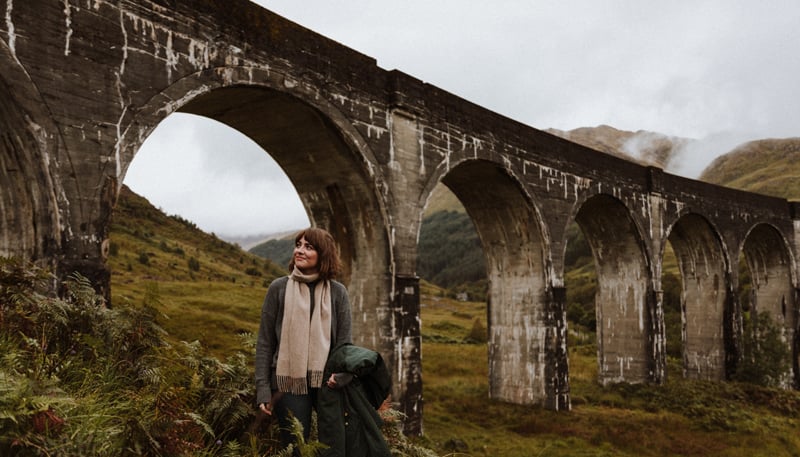 ---
How did the 'On the Outskirts' podcast begin?
Alice: We felt there was a gap for something fashion related but outside the realms of the 'London blogging bubble'. We also just wanted to try our hands at podcasting — this industry can feel repetitive sometimes, so we wanted to challenge ourselves and explore new waters.
Sophia: We just really wanted a space to chat candidly and we wanted something which felt inclusive.
How would you summarise what the podcast is about?
Alice: We cover a different topic each episode but ultimately, it's about discussing issues that have a tendency to make us feel isolated in some way. Our aim is always to make people feel less 'On the Outskirts'.
---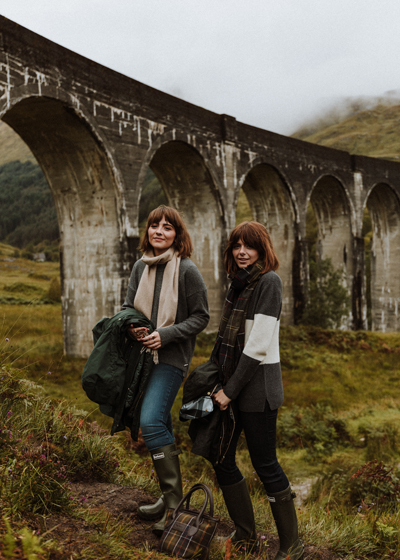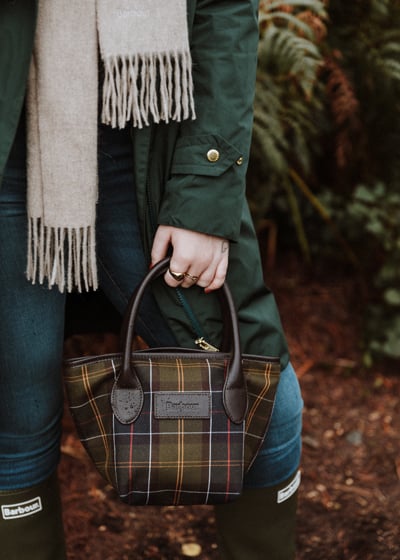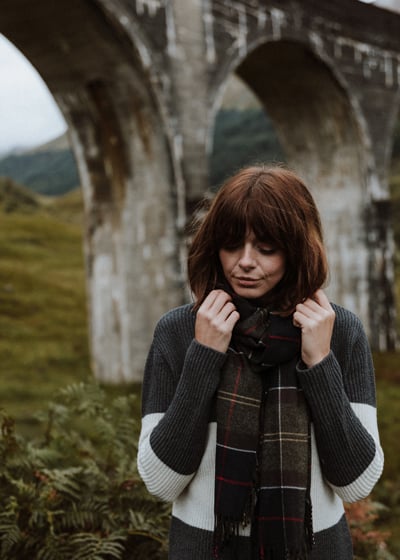 ---
What are your favourite items from the Barbour Tartan collection?
Alice: This collection feels classic but also fun. The accessories like the Bucket Wax Hat and the Tartan Tote Bag are what really make it feel new for Barbour — there's something for everyone.
Sophia: It's quintessential Barbour and it completely harks back to the heritage of the brand and the staple pieces they do so well. It's completely timeless. I especially love the Highpoint Sweater and Tartan accessories.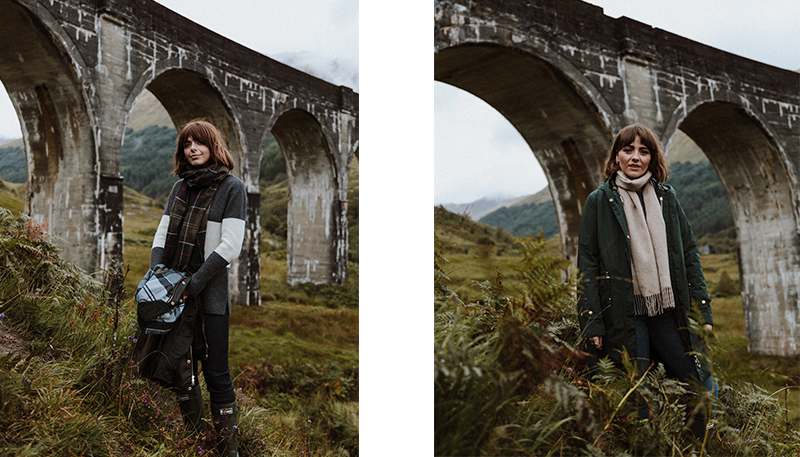 ---
How have you each styled the collection?
Alice: I went for paired back looks and let the tartan accessories do the talking. I'm all about simple denim and cosy knits at this time of year — it means I can throw on a statement jacket and scarf without thinking too much about whether it all goes together. The tartan scarfs/jackets from this collection really help everything look put-together and intentional.
Sophia: For me, this was a collection made for layering — I loved teaming one of the tartan shirts (sized up) with a crew neck jumper. Just so comfy and effortless with a pair of jeans and your favourite Barbour jacket!
Can you share your autumn/winter styling tips?
Sophia: I would wholeheartedly tell everyone to invest in a Barbour Tartan Scarf because they're a dream for matching up with a variety of knitwear colours. If you find your hat/gloves are mismatched than a Barbour scarf will be the glue to pull them both together.
What does Barbour mean to you both?
Alice: My mum bought me my first Barbour wax jacket when I left for university - it's got me through endless strolls to the library and my boyfriend always borrows it too.
Sophia: I think every festival I've ever been to has been accompanied by a Barbour. I remember buying my first when I was 18 and wearing it to death. Needless to say, I still have it.
Explore the outfits that Alice and Sophia wore while on-board the Belmond Royal Scotsman, and more of the AW19 Women's Tartan collection here.
Discover the collection...