Staithes Travel Diary by Sinead Crowe and Bonnie Rakhit

---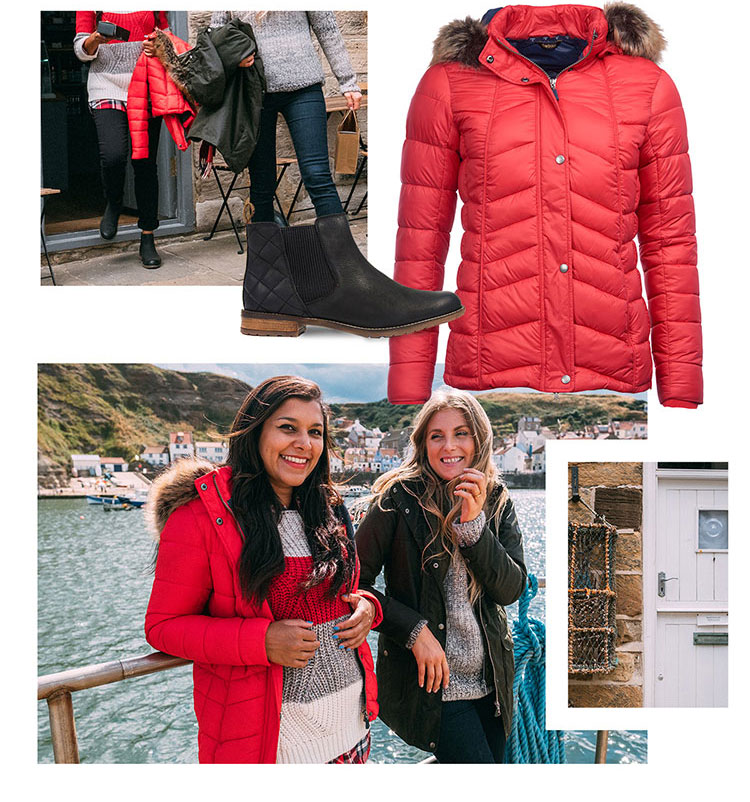 To discover our AW18 Coastal Collection we went on a road trip to Staithes, a picturesque fishing village on the North East coast, with fashion and lifestyle bloggers Bonnie Rakhit and Sinead Crowe.
Bonnie and Sian became friends through the world of blogging, and now love going on their travels together. They visited Staithes with us to explore the winding streets, huddled cottages, its many quaint cafes and more.
Bonnie is an award-winning fashion and travel blogger, and former fashion editor at ELLE. She runs 'The Style Traveller' blog covering great places to shop, eat and sleep when on your travels. Sinead runs the fashion and lifestyle blog 'Love Style Mindfulness' created to inspire and motivate readers to share experiences, outfits and style inspiration.
Here is their guide to this charming coastal village.
---
Quintessentially British.
With so many amazing viewpoints and friendly villagers, there's plenty to love about the stunning harbour town of Staithes. Described by Sinead as "typically British", the pair discovered the sights, sounds, and especially tastes of local life – particularly the salted caramel and Crunchie flavour fudge from Cobbles.
"One of my favourite parts was just walking around the narrow, cobbled streets with the amazing handmade fudge we picked up from Cobbles fudge & Ice cream shop!" said Sinead, and Bonnie found sitting on the harbour eating fish and chips and looking at the view of the beach and cliffs around them like something straight from her Instagram feed.
They gave us the lowdown on some of their favourite stops during the day…
---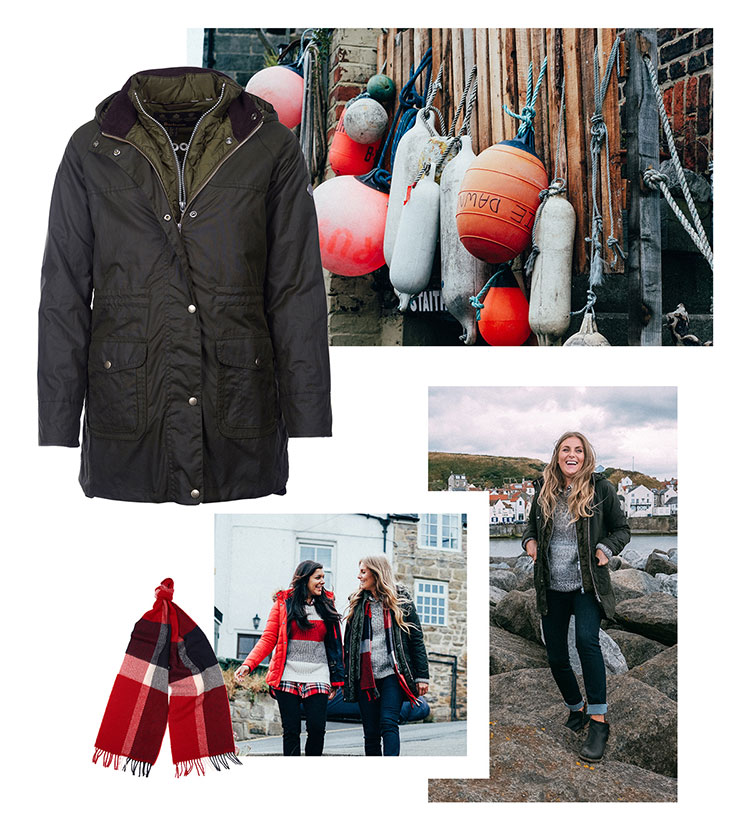 Stopping for a good cup of tea.
Of course, a visit to a typically British town wouldn't be complete without stopping for a spot of tea, and with plenty of quaint tearooms to dive into should the weather take a turn.With a stop off at the nostalgia-packed Dotty's Vintage Tea Room, the girls got to take a step back in time with quirky seating outside, cosy crochet blankets to wrap up in and huge portions of cake.
Bonnie said; "I loved everything about this place, from the vintage memorabilia, old school radios, neon lights, colourful lampshades hanging from the ceiling to the granny blankets and mismatched bone china tea sets your coffee and cake is served on. It's so cute!"
A sweet-lover's dream.
Whether you're a fan of liquorice, chocolate mice or rhubarb and custards, Betsy & Bo Sweet Shop & Coffee is an absolute treasure trove of flavours. With shelves stacked from floor to ceiling with huge glass jars packed with childhood favourites, the two found that it felt like something from the pages of a fairy tale.
If you're not one with a sweet-tooth then they also have a fantastic deli with cheese, pasta and other Italian favourites too.
---
Staithes feels like a national treasure.
After waking up to a spectacular sunrise at their hilltop hotel, their visit had to come to an end.
Bonnie said, "It was so different because there's nothing quite like the British sea side and it's such a lovely, quiet place. Everyone was so friendly and welcoming it felt like such a wonderful community!". With both bloggers saying they'd love to visit again and tuck into the freshly caught fish and chips, it was an idyllic getaway to the east coast.
---
Ideal pieces for exploration and discovery.
With the slightly questionable weather making outfit planning tricky, the Barbour Coastal Collection is perfect against the elements. Sinead and Bonnie wore items from the collection that matched their personal style and would keep them snug during their time in Staithes...
Bonnie: "I picked the Red Bernera Quilt Jacket, because it's super warm and adds a pop of colour to your winter wardrobe. I also wore the Padstow Knit because it's made from 100% wool, has cute stripes and is super cosy. My favourite piece is the Bernera Quilt coat! I love it and have been wearing it loads, even in the city to go to the gym and for long walks in the park. It's a great everyday jacket."
Sinead: "I wore the Mablethorpe Wax jacket with the chunky Seahouse Knit, layered over the checked Sandbank Shirt. This chunky knit had to be my favourite - it's so warm and cosy and I think the blues and greys running through it are beautiful! I think the wax jacket is essential to keep out the cold and mine was perfect because it had a hood for any unexpected showers! You'll also want a cosy jumper for winter because the sea breeze can be so icy."
---
---
More from the AW18 Coastal Collection...