#BarbourSummer: Exploring Whitstable
Olivia Purvis & Joe Galvin
Spring summer 2018
In celebration of #BarbourSummer and the wonderful memories to be made with family and friends, we headed to Whitstable with lifestyle bloggers
Olivia Purvis and Joe Galvin and their Barbour Dog Maggie, to discover their day making summer memories, and to hear what they got up to…
Can you tell anyone who might not know you a little bit about yourself, what you do and how you got into blogging/sharing your style/lifestyle on social media?
Liv: Hello! My name is Liv, and I'm a blogger, podcast host and writer from London. I've pretty much grown up in London my whole life and starting my blog at the age of 16 when I was in sixth form. It was pretty much the only site I could access from the school computers and way back then it acted like a bit of an online diary and portfolio, over anything else.
Joe: I'm a freelance photographer and blogger, specialising in street style photography and menswear blogging. Liv has been a blogger for as long as I've known her and encouraged me to start my own channels, so it wasn't really something I planned on doing for a living, but its gradually built and hopefully will continue to do so.

We're celebrating the best of British summertime within this campaign – what is your favourite thing about summer in the UK?
Liv: Oh goodness where to begin! I love breakfast in the garden on a sunny Saturday, holidays to the coast (come rain or shine)- one of my favourite holidays was to Cornwall last year, and St. Ives and Penzance are comfortably two of the most beautiful places I've been to. I also love how upbeat London feels when the sun comes out - I feel like the city comes to life, and I really love that.
Joe: I love how it gets everyone out of the house and in a good mood. The UK feels so much more alive when its hot, and for me, there's nothing better than a family BBQ on a hot summer day.
You headed to Whitstable for the day from London to make summer memories together – can you tell us about where you stayed and your time there?
Liv: We did! We stayed in the Fisherman's huts on the front which was absolutely perfect, and like nowhere else I'd stayed before. Staying on a Sunday night to a Monday was also great as it meant we avoided a lot of the weekend traffic that comes with the British seaside on a sunny day too! The huts were literally along the seafront and were perfectly whitewashed and wooden inside - which felt incredibly nautical. Staying here also meant we got pick of the crop for fish and chips, and ended up walking to the Lobster Shack for dinner and tucking into scampi and chips whilst we watched the sun go down- I couldn't recommend it more.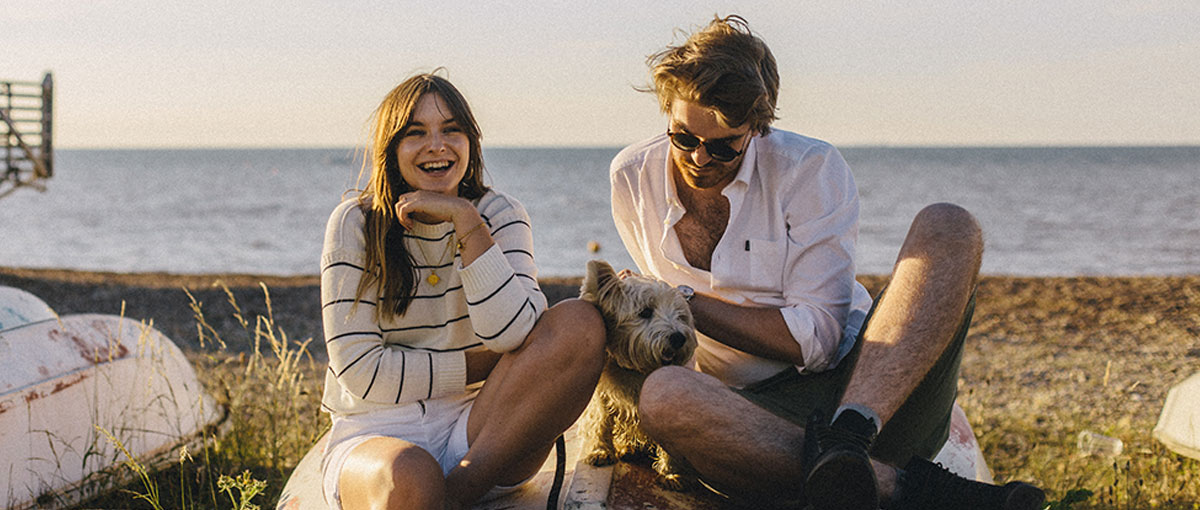 ABOVE: Barbour STANLEY
SHIRT
---
The next morning we decided to get breakfast in town, and took the two minute stroll to Elliot's - a gorgeous little place along the high street, that as well as having a
gorgeous menu of everything from avocado on toast, full English's and granola- was also incredibly dog friendly, which meant we could sit with Maggie too and enjoy people watching.
As well as spending some time on the front, having a paddle and enjoying some fresh sea air - we also mooched along to some of our favourite shops in Whitstable, including Frank (gorgeous arts, magazines and stationery), Sundae Sundae for ice cream and a peep in at Wheeler's too (if you're brave enough for oysters, this is the best place for them)!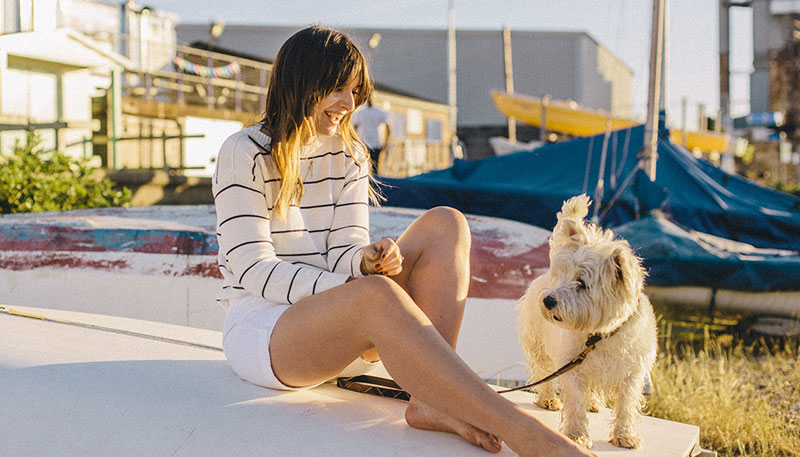 ---
---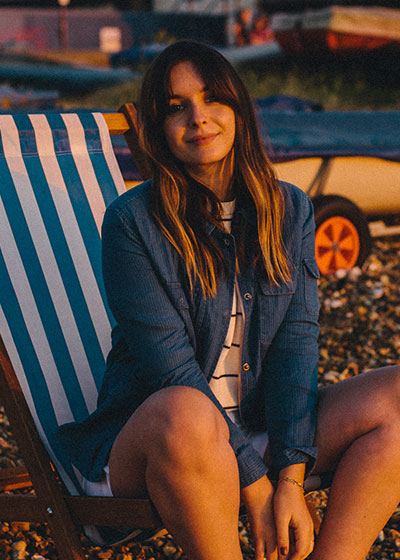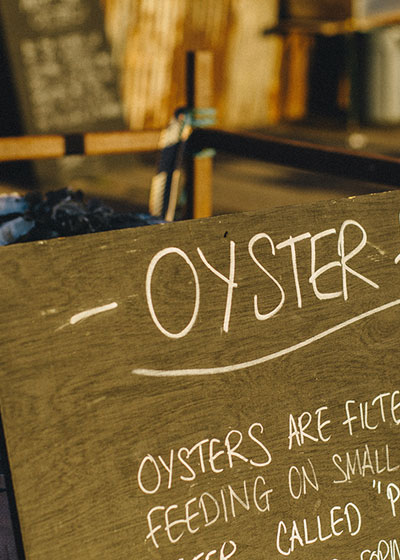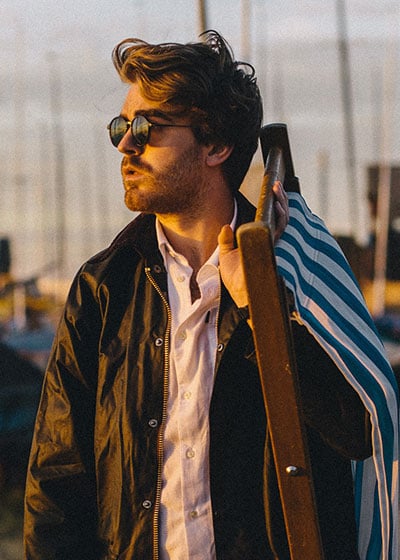 ABOVE: Barbour BEUFORT WAX
JACKET 
Do you have any tips for any first-time visitors to Whitstable this summer?
Liv: If you can, arrive early! It's such a gorgeous town but gets incredibly busy and parking isn't always the easiest- so take the train if you can. Going on off-peak days, or during the week is preferable, but if not, get up with the sunshine and make the most of a full day there.
Joe: The best advice I have is firstly to pick a sunny day (obviously!) but also to give yourself as much time as possible to explore. You can enjoy Whitstable on a day trip, but make sure to give yourself enough time to wander through the town itself and the shops, as there is a lot of little hidden gems to find.
There's nothing we associate more with summer than trips to the coast to spend time at the beach with some Fish and Chips and ice-cream – do you have any fond memories of visiting the coast in the past?
Liv: So many! Some of my earliest family holidays were to the coast- from Cornwall (and some unfortunate run ins with seagulls and ice cream), to visiting family in Hastings and going with Joe on our first ever mini holiday to Brighton when we were 16.
The UK has some of the most beautiful beaches and coastlines in my opinion, I'm just determined to tick more off.

Joe: Growing up in the South East London suburbs, I was really spoilt with the options of seaside visits, often the biggest problem being where to choose! I have family in Margate so would go down there a lot as a child and would love it, there is something extremely unique about so many coastal towns in the UK, and my memories from childhood mean that I always try and go to the coast a couple of times a year.

Summertime is all about spending time with friends and family – do you have one specific memory that sticks out from your trip?
Liv: Probably watching the sun go down as we tucked into dinner on the beach. There hadn't been a cloud in the sky all day, and watching the sky turn from bright blue to a warm orange was so special. We also walked past a wedding along the front and caught their first dance which felt perfectly soppy and romantic too!

Joe: Eating Scampi and chips while the sun set was a real 'soak it in' moment of the trip. A combination of the great weather and the fact that England had won a World Cup game earlier that day meant everyone was in a great mood, which always helps!
What does the 'Barbour Way of Life' in summer mean to you?
Liv: To me it means probably enjoying the small special moments as much as you can, and making the most of what's around you- come rain or shine!

Joe: Living in a seasonal and unpredictable country, Summer and come and go without realising, so for me, it means making the most of the Summer, getting out and making the most of the sunshine with your family and friends.

Which was your favourite product to wear during your trip? How would you define your personal style in summer?
Liv: I absolutely loved the Barnavle Jumper- styled with white shorts it felt totally timeless and like a cool classic Birkin get up!
It was such a light knit - so was perfect for when it started to get cooler too.

Joe: I have really been loving the Barbour Neuston Short! One of Liv and my favourite films we have watched recently is Call Me By Your Name, and Armie Hammers ability to rock shorts in that film has me attempting to channel those vibes with this piece.
Your Barbour Dog, Maggie, joined you on your trip. How did Maggie enjoy her little holiday to Whitstable?
Liv: She loved it! It was only Maggie's second time at the seaside, and she loved having a paddle, finishing off other peoples chips (before we could stop her) and curiously observing the sea gulls- haha! She looked so cute in her little Barbour bandana too!

Joe: She loved it! The first one only time she had previously been to the seaside was last year when we went to Whitstable so she was definitely glad to be back. She took a little convincing to get her paws wet to begin with, but within a few minutes her
Barbour bandana was soaked because of how much she was running in and out of it!

Discover our #BarbourSummer campaign here.
---
Discover your perfect style...