#BarbourSummer: Exploring Oxford
Matthew Spade & Oliver Houston
spring summer 2018
In celebration of #BarbourSummer and the wonderful memories to be made with family and friends, we headed to Oxford with lifestyle bloggers Matthew Spadeand Oliver Hooson to discover their day making summer memories, and to hear what they got up to…
Can you tell anyone who might not know you a little bit about yourself, what you do and how you got into blogging?
Matthew: My name is Matthew Spade and I'm a fashion, design + travel blogger / content creator within the men's lifestyle industry. I started my blog just over 10 years ago whilst studying Fashion Promotion at UCLan University, just as a way to practice my writing, sort current inspiration and open my network reach. I finally went full time with blogging and content creation around 3 years ago.
Oliver: I have always been a keen 'share what you wear' kinda guy and I think it all stemmed from skating and being in front of the camera from an early age. I think the main catalyst for the blog was the welcoming community of menswear and design enthusiasts that I've been connecting with since nearly a decade ago.
We're celebrating the best of British summertime within this campaign – what is your favourite thing about summer in the UK?
Matthew: For me summertime is when my wife, Hollie, gets most time off work so we spend a lot of time visiting nearby villages, go on day trips around the UK, maybe take a trip around for a couple of weeks, and generally enjoy a lot of down time. I grew up by the seaside so most of my days, when I was a kid,
were spent playing with my family on the beach, making sandcastles, at the local theme park or just messing around by the sea. I don't visit the beach as much as I did when I was younger, but once a month I nip down for a walk on the coastline.

What's more British that an ice cream down by the beach?
Oliver: I think exploring/travelling and generally being out of the house is my summer prerogative, everywhere I visit I like to seek out new coffee spots and design landmarks to share on my channel. A win win situation every time!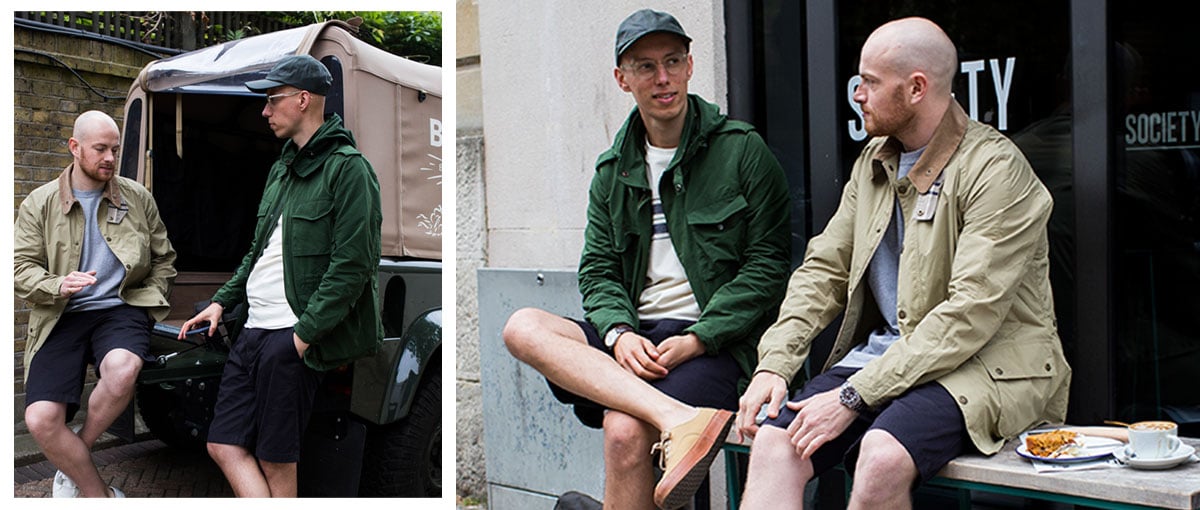 ---
You headed to Oxford for the day from to make summer memories with your friends, Oliver Hooson and Jordan Bunker – can you tell us about your day?
Matthew: This was my first visit to Oxford. I had a picture in my head of what it would be like, but it surpassed my expectations. The city was beautiful; from the Saxon and neoclassical architecture, to the bustling university areas, cycle-friendly streets and independent shopping culture. We set off on our journey to Oxford from London  in the Barbour Land Rover - we are all good friends but it's nice to get away to somewhere new, exploring as we saw fit.
We took a twenty five minute walk up to one of the city's most well-known restaurants, Gee's. The restaurant had an outdoor / indoor feel - lush plants, gardening paraphernalia and other outdoorsy bits greeted us as we walked into the impressive open-plan building, it was a great place to stop for locally sourced food.
da libero.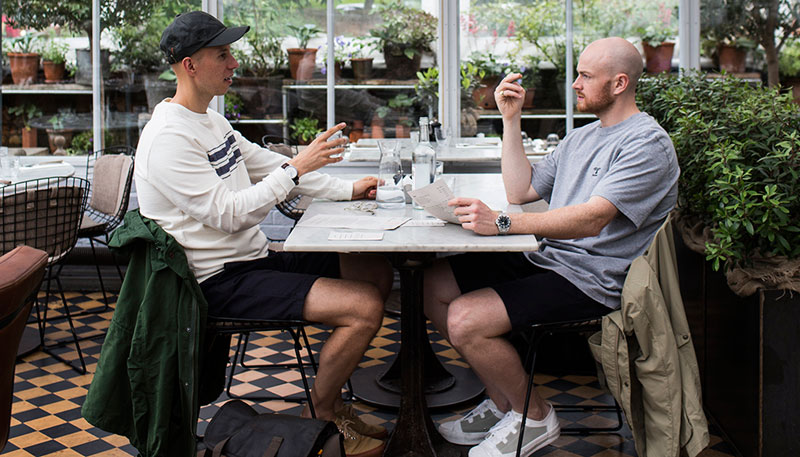 ---
---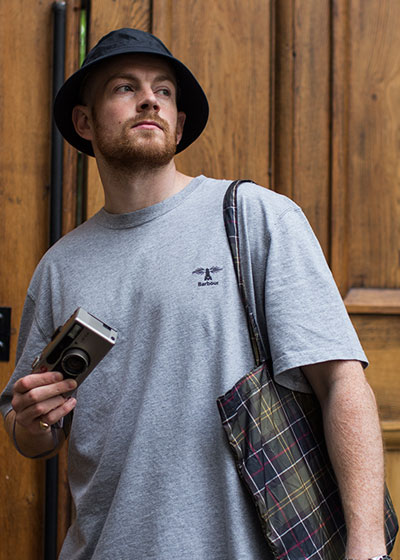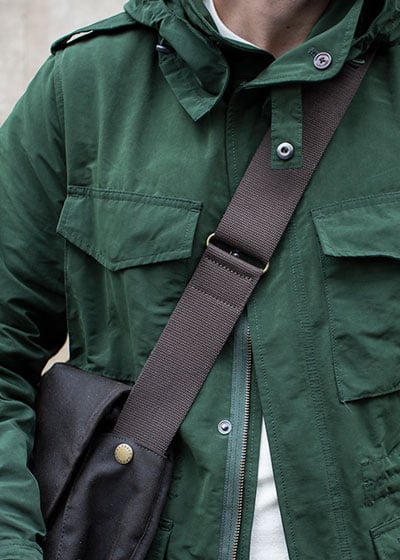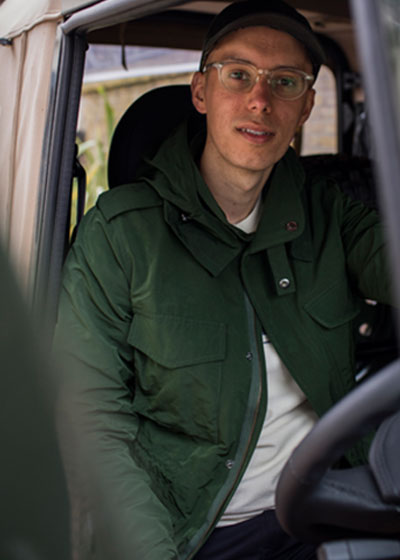 ABOVE: Barbour thornproof tarras
bag
Our afternoon coffee shop of choice was Society Cafe, my personal favourite. Flat Whites were the order of choice and its times like these when you realise just how lucky we are to live in the UK and have the opportunity to explore all these independent places. We were pushed for time, but we did get down to the famous canal for a quick walk, soaking in that true Oxford atmosphere.
Oliver: We had a great day perusing the streets of Oxford, for me the highlights were not the usual... getting lost in the character filled streets was awesome, dining in Gees was amazing, the place was so photogenic; we found ourselves whipping out the cameras at every opportunity.

Do you have any tips for any first-time visitors to Oxford?
Matthew:I'm a big research geek, so I always ask friends for recommendations and reach out on social media for any suggestions - it's amazing what you can find with a little word-of-mouth. Also, if it's a day trip, don't plan too much, just 3 or 4 suggestions will have you covered without wishing you could have had more time at each.
Oliver:Don't worry about a strict plan, as wandering is all party of the beauty.
Summertime is all about spending time with friends and family – do you have one specific memory that sticks out from your trip?
Matthew: We have been fortunate enough to travel together a lot, I'd say it's usually the busy days that tend to be a blur, but once they're done we'll grab a beer and a bite to eat, just to wind down. Those are the special moments.

What does the 'Barbour Way of Life' in summer mean to you?
Matthew: To me it means making lasting memories with the people you've made a life-long connection with. Nice and simple!
Oliver: To me it means taking time out to explore the finer parts of your own country with your buddies, in style obviously!
Which was your favourite product to wear during your trip? How would you define your personal style in summer?
Matthew: I absolutely loved wearing the Barbour Orel Jacket, the fabric felt amazing and the natural creasing of the fabric instantly gave it a lived-in, favourite jacket kind of feel. Plus, I carry loads of bits and bobs, so all the pockets worked out perfectly. Being a British Summer I always expect a bit of rain, so the water resistant fabric and detachable hood are the perfect combination. I tend to wear a lot of greens, blues and beige, so for me the jacket was the standout piece.
Oliver: The Barbour Squire Jacket for sure, we had a real mix of weather - when it was cold it kept the wind off and when it was hot it didn't weigh me down... a proper temperature regulator indeed.

Discover our #BarbourSummer campaign here.
---
Discover your perfect style...