#BarbourDogs: Spring Walks In Edinburgh With Casper
Spring Walks in Edinburgh with Casper
spring summer 2018
For our spring/summer Tartan campign we'll be disocvering the hidden treasures of Edinburgh through the eyes of the people that know it best. This week we meet Casper, also known as 'The Wee White Dug' as we follow him and his human Sam on three walks around his home town of Edinburgh...
Can you tell us a bit more about yourself? I'm Casper, the star of Scottish Travel blog 'Scotland with The Wee White Dug'. My birth name is Merrylegs Lord Toby but I'm also known as Mr Boy and I'm five years old.
Can you introduce yourself and why is Edinburgh special to you? Edinburgh is special to me because it's home. I'm lucky, as I get to travel all over Scotland and visit the most wonderful places, but I'll always be an Edinburgh boy at heart. It's a beautiful, vibrant city, full of history and open spaces just crying out to be explored by a wee lad like me.   
What kind of breed are you, and what is so great about being that breed? I'm a West Highland White Terrier or Westie for short. Apart from having a distinguished set of Westie whiskers, I'm a bit of a tourist magnet. I regularly find myself at famous Scottish landmarks surrounded by a pack of excited, photo snapping tourists. Tourists seem to LOVE Scottish dogs, and I LOVE the attention!    
You went on three beautiful dog walks around Edinburgh in celebration of our Barbour Tartan collection. Where did you go for your three walks? My three Edinburgh walks were in the grounds of Lauriston Castle, By the Water of Leith from Stockbridge to Dean Village and Arthur's Seat.
What did you see when you were on your walks? I saw a castle, a pretty Japanese garden, an ornate well that was once thought to have healing powers, and lots of tiny little people standing on the summit of Arthur's Seat. I didn't see Arthur, but I suspect he's a giant as his seat was HUGE!
You wore some accessories from our Barbour Dogs collection during your walks, which was your favourite that you wore? 
I loved all of the Barbour accessories I wore, but I felt particularly good wearing the 
Tartan Bandana
. I pride myself on my natty dress sense and the bandana was very me.
What did you enjoy most about exploring the three different areas of Edinburgh? I loved that they were all so different. There were lots of different sights, sounds and smells for me to enjoy. On Arthur's Seat I even stopped for a while to take in the view.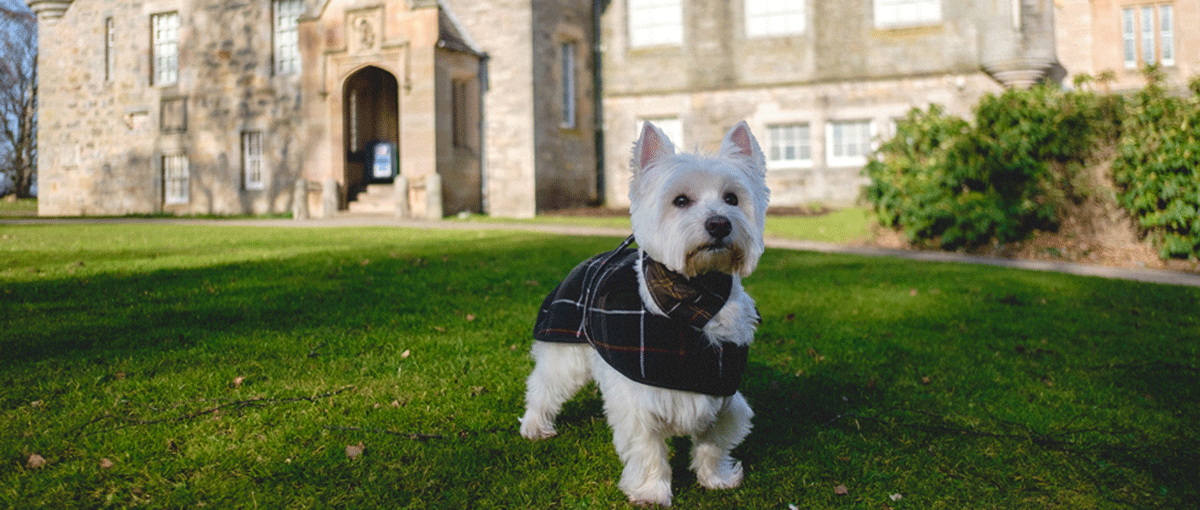 ---
Where is your favourite spot in Scotland that you've visited? That's a difficult one to answer as I have lots of favourite spots in Scotland. If pushed I'd say Tobermory on the Isle of Mull. It's one of Scotland's prettiest villages, and even on a dreich (miserable) day the colourful houses add a nice pop of colour.   
Do you have any favourite dog-friendly venues in Edinburgh? Edinburgh is a very dog-friendly city, so there are lots of places that I enjoy visiting in town. One of my favourites is The Scran and Scallie in Stockbridge. I go there once a month for Sunday breakfast and their bacon is of a very high standard. Innis & Gunn Beer Kitchen on Lothian Road is another favourite as they do a tasty chicken liver parfait.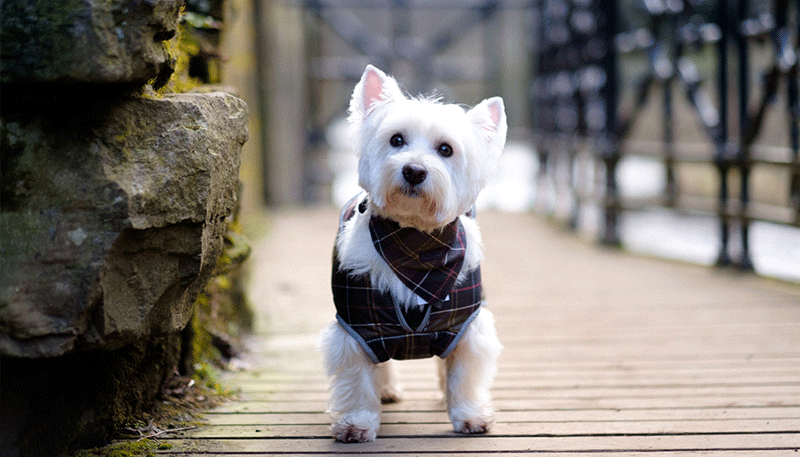 ---
---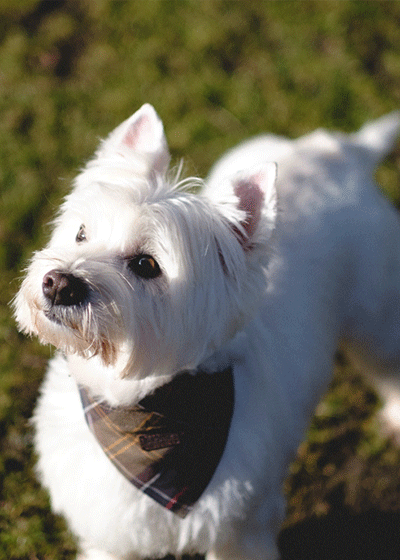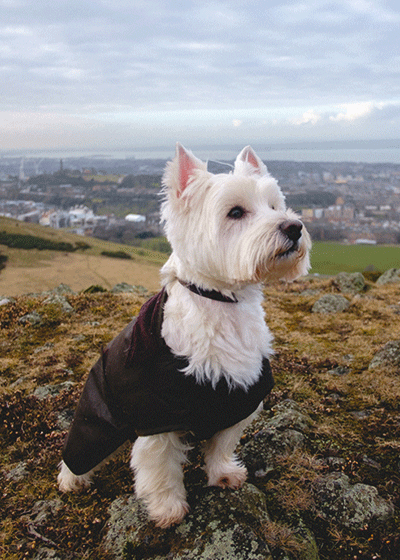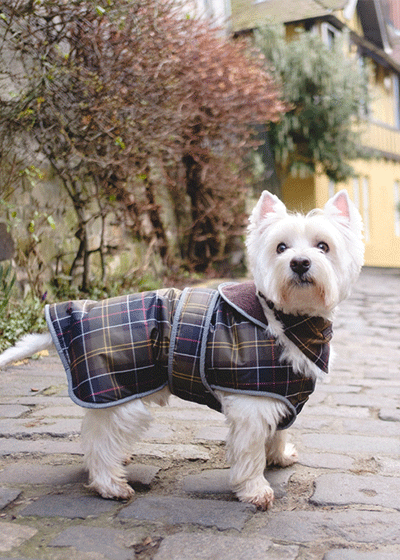 Where is your favourite coastal location & country location? My favourite coastal location is a beach on the Isle of Eriskay called The Prince's Cockle Strand or Coilleag a' Phrionnsa in Gaelic. It's stunning, remote and the sea looks like the Carribean. My favourite country location is Wanlockhead - Scotland's highest village. It's a historic mining village which sits nestled in the Lowther Hills.   
Do you have any adventures coming up? Where do you plan to next visit? I have lots of exciting new adventures coming up. I'll shortly be exploring the North East 250 driving route in a camper van, cruising Loch Katrine on a historic steamship, and taking a train ride to Mallaig on 'The Jacobite' steam train (Hogwarts Express).
What makes you a Barbour Dog?  I'm an active, outdoorsy type, always surrounded by Scottish hills and heather. I never let bad weather keep me indoors either, so I'm the epitome of a Barbour Dog. 
Do you have any fun stories to tell us from behind the scenes of your shoot? I think I wowed the photographers on my Barbour shoot by showing them some of my finest dance moves in the grounds of Lauriston Castle. They seemed really impressed by my pirouette!
What do you enjoy doing in your modelling down-time? What are your favourite things to get up to day-to-day?
When I'm not modelling, or on the road for my Scottish travel blog I love to catch up on my beauty sleep and bark at the squirrels in my back garden.  
---
Discover your perfect style...