AUTUMN WINTER 2021
Classic silhouettes and longstanding practicality are injected with forward thinking and bold design as we launch a pioneering new collection with accredited Japanese streetwear visionaries, A Bathing Ape (BAPE).
Available on Barbour.com and in selected stockists from 16th October, the collaboration fuses heritage inspired designs with BAPE's distinct DNA for a dynamic collection of outerwear, clothing and accessories.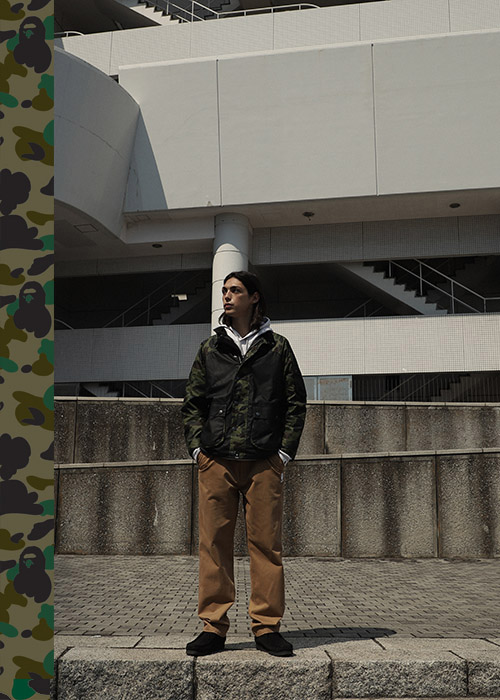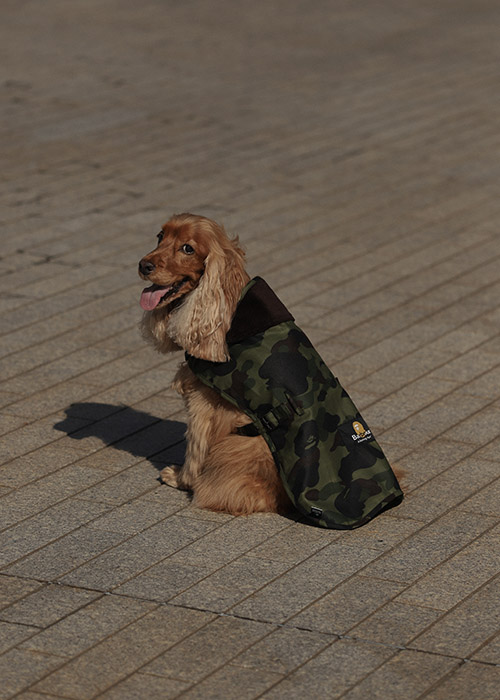 Above: Barbour x BAPE Camo Rain Wax and Barbour x BAPE Dog Coat.
Countryside roots with a Tokyo twist
The bustling city streets of Tokyo have provided a backdrop for BAPE's unique take on style since 1993, and the brand has remained an institution for urban fashion ever since.
Combining Barbour's countryside credentials and BAPE's expertise in streetwear, the range adds a contemporary signature to many of our much-loved pieces, with exclusive outerwear, sweatshirts, t-shirts, hats and, for the first time ever in a Barbour collaboration, a dog coat.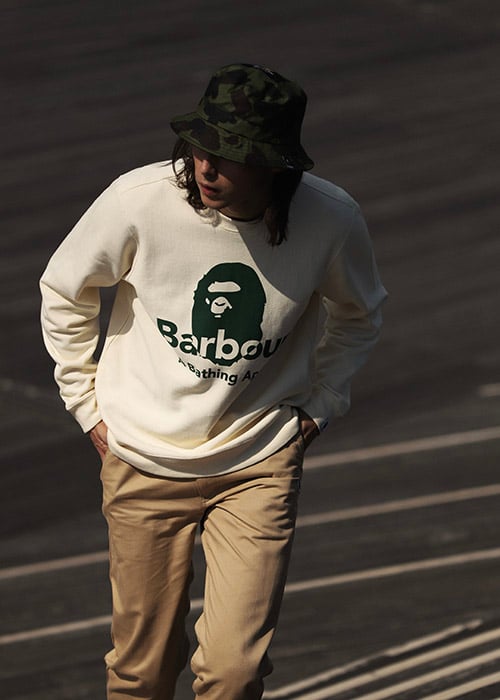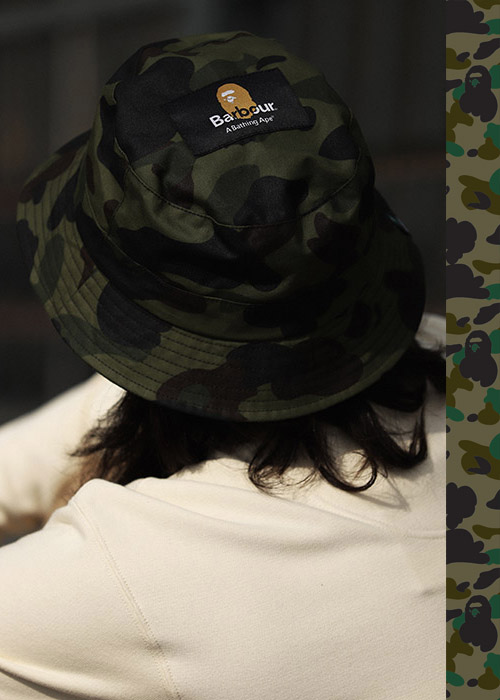 Above: Barbour x BAPE Crew and Barbour x BAPE Sports Hat.
Exclusive Print
Helping you equip for the changeable weather this season, the collection's pieces have been infused with a BAPE X Barbour CAMO print, created especially for the partnership and entirely unique to the collaboration. A signature of BAPE style, the special edition of the traditional camo print conceals an ape's head within it in a nod to the fusion between brands.
Outerwear
Three pieces of outerwear lead the collection, all inspired by our brand heritage and adaptable to any adventure. With BAPE X Barbour CAMO print and bespoke embossed logo press studs, the collection's take on outwear reimagines our iconic Bedale Wax Jacket like never before.
The collaboration unveils three Bedale options. The traditional wax stays true to its origins, retaining classic characteristics and form but with BAPE X Barbour CAMO for unique city wear.
The Rain Wax, complete with camo sleeves, is a perfect option for seasonal styling. Or, for those who enjoy a sporty aesthetic but spend time in the city, Barbour BAPE CAMO Snowboard Bedale Wax merges the shape of BAPE's famous snowboarding jacket with our waxed fabric.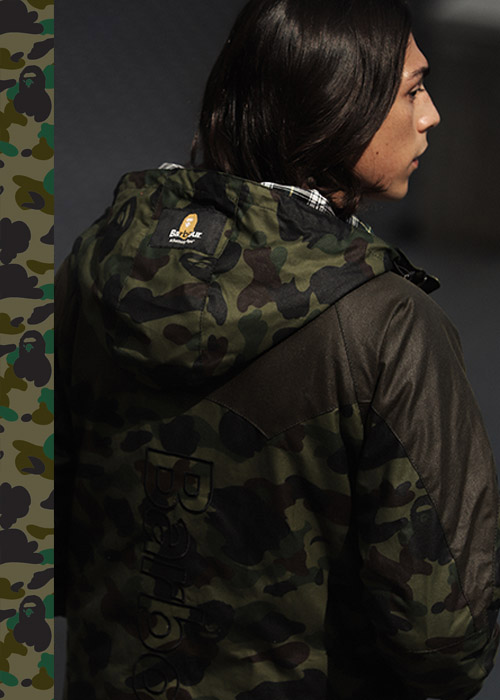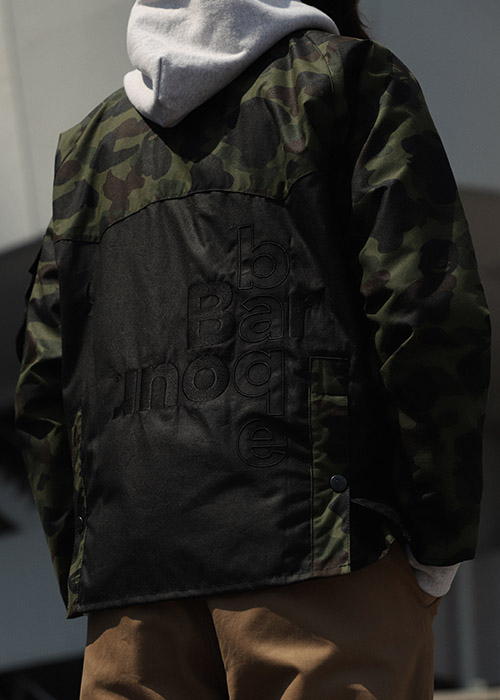 Above: Barbour x BAPE Snowboard Bedale Wax and Barbour x BAPE Camo Rain Wax.
Clothing & Accessories
For a casual street style this season, Barbour x BAPE logo embroidered T-shirts and sweatshirts are a suited accompaniment, with a tonal colour palette. Complete the look with the collection's signature branded sports hat, or treat a furry friend with an adjustable dog jacket, finished with Barbour Tartan and BAPE X Barbour CAMO print.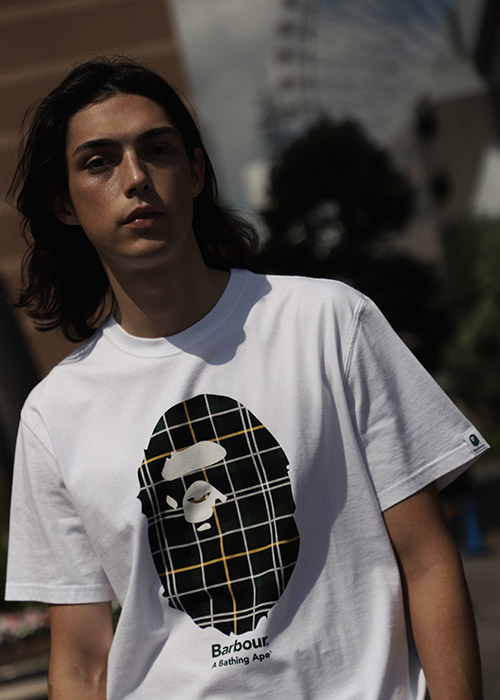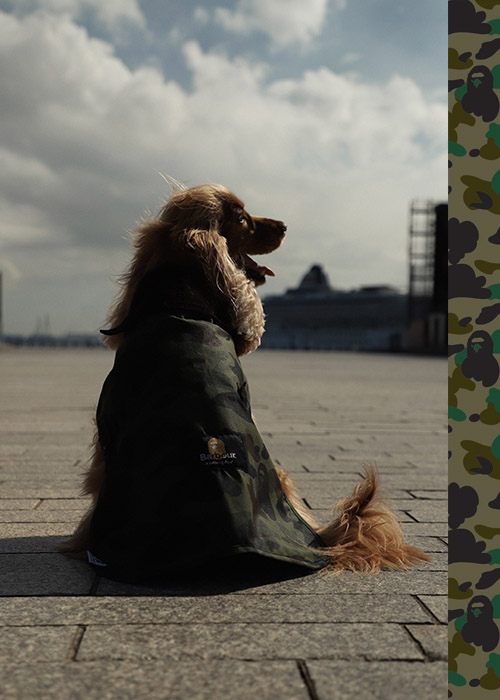 Above: Barbour x BAPE Tee and Barbour x BAPE Dog Coat.
You can shop the Barbour X BAPE collection from Saturday 16th October. Head to our new arrivals page on Saturday to be one of the first to discover the pieces.