Q&A with Alexa Chung | The inspiration behind the collection
Barbour by ALEXACHUNG: Alexa Chung Q&A
AUTUMN WINTER 2019
The Barbour by ALEXACHUNG collection explores tradition, modernity and character to create pieces which are both timeless and energised. We sat down with Alexa to learn more about the collection, where she drew her inspiration for the designs, and why working with Barbour was such a natural fit for her...
You've been a long time fan of Barbour; what was your first impression when you heard about the potential of creating a capsule collection together?
I've been wearing Barbour for as long as I can remember. Growing up in Hampshire, a Barbour wax jacket was part of my trusty childhood uniform and the brand has been an integral part of my wardrobe ever since. I am always selective about the brands I collaborate with and often take months deciding whether to go ahead but when I first heard about the opportunity with Barbour it really was a no brainer – I was incredibly excited by the prospect.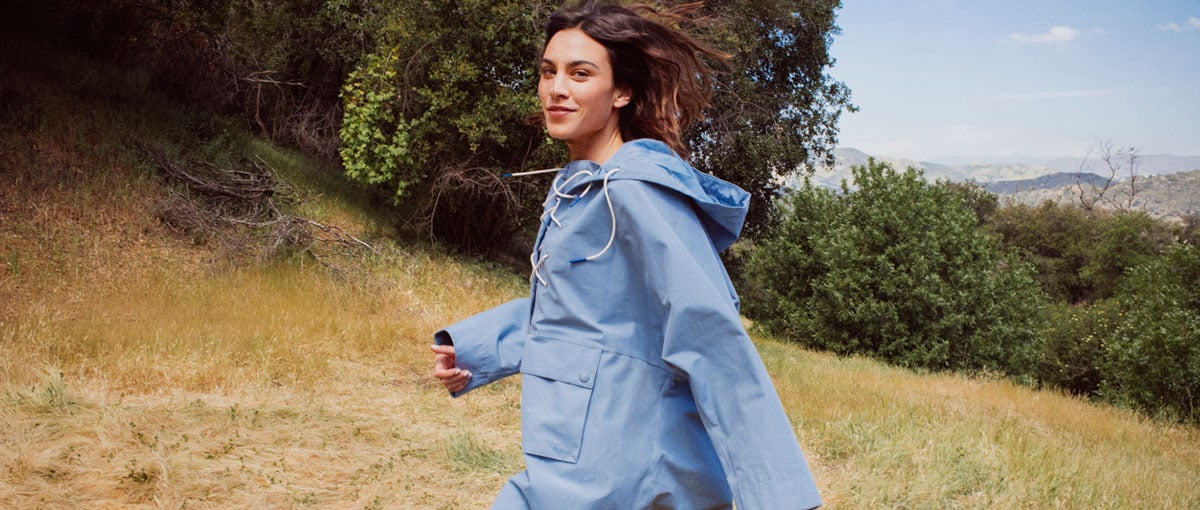 ---
Do you have a favourite memory whilst wearing yor Barbour?
I have so many memories wearing Barbour but the earliest memories are probably the ones that I find incredibly nostalgic and therefore special. Spending day upon day down at the local stables mucking out my pony and hacking out down the country lanes. I was happy as Larry.
What were you most excited about when approaching this collaboration?
This collection was an opportunity for me to explore how the ALEXACHUNG brand interprets an iconic and historic brand that is woven into the British psyche. I wanted to create a line that nods to this heritage but takes on the spirit of the ALEXACHUNG brand.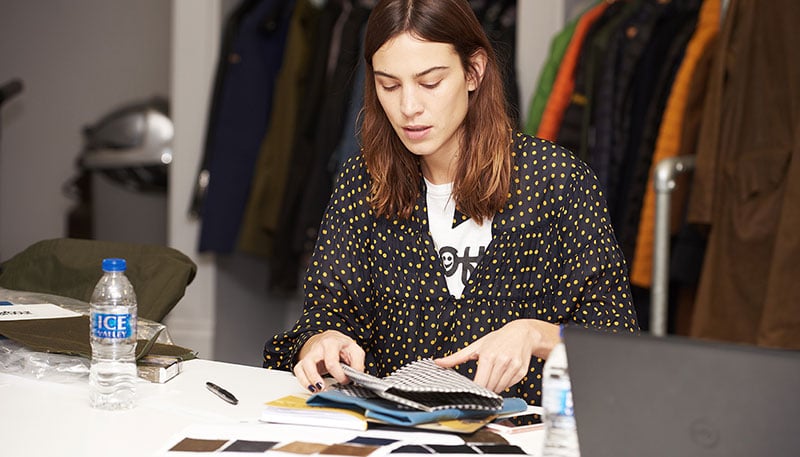 ---
ABOVE: alexa in the barbour design room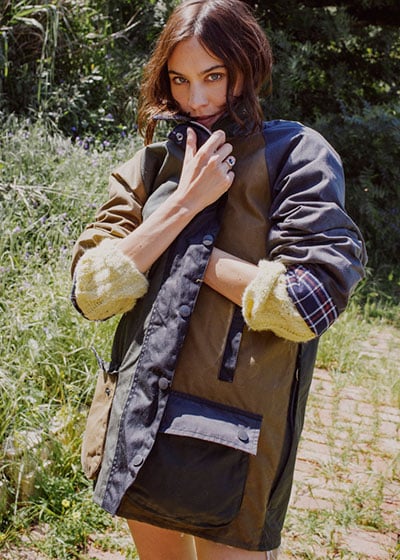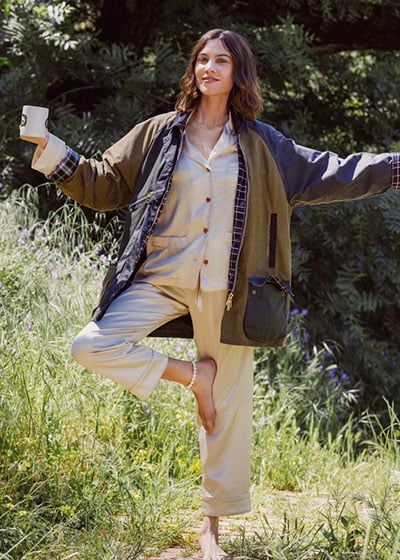 Where did you get the inspiration for the pieces in this collection?
The collaboration began with a trip to the Barbour archive which I guess is where the inspiration started. I was let loose into a room filled with every single Barbour piece through history – I was like a kid in a candy store rifling through all of these incredible pieces with such rich stories behind them. From there, it was really about how to bring the brand's identity to the pieces so we played with colour, proportions and fabrics to create a collection which straddled both brand's aesthetics.
How was it different working with Barbour to working on your own clothing line?
I went up to South Shields to the Barbour HQ where I was given free rein to delve into their archives. Some of the garments have their own personal histories, and you learn about the people that not only made, but wore certain styles. In this sense it was working with a brand with a deep sense of history that was so distinguishable to this project.
What did you enjoy most about working with Barbour on this collection? 
I think just having my own version of a Barbour is really fun. It feels so familiar to me this brand and so it's been very enjoyable figuring out what my own bespoke collection would look like. Waxy dreams.
Are there any design features you're most excited about in the collaboration?
I often turn up the sleeves of my Barbour because I tend to like the sleeves a bit shorter in the arm so you can show off the lining. you look at any image of me in Barbour from yesteryear you will see that I often turn up the sleeves of the jackets. One thing we have introduced in some of the styles are the clothing labels on the exterior yoke of the outerwear. The unique logo for the collaboration was taken from the archive, and reimagined in some cases with a natural, ochre background colour.
You mentioned going through archives for inspiration; what was it like to look through those jackets and did any of the jackets there surprise you in any way? 
I loved the patch jacket which is inspired by a retirement gift they made for a man who enjoyed all sorts of outdoor pursuits. The only surprising thing I suppose is hearing about all the weird things left in the pockets of Barbours people turn in to be fixed.
You've often been spotted in your Barbour Jacket during festival season; why do you think Barbour and festivals are a great fit? 
Barbour and festivals are synonymous to me. The jackets have really been invaluable in the mud and rain.
---

Discover more about Barbour by ALEXACHUNG here.
---