---
Barbour 2021 Christmas Film
Press Preview Page
Embargo: 17:00 GMT, Thursday 4th November
---
---
To embed this video into your article use this code: <iframe title="YouTube video player" src="https://www.youtube.com/embed/W5oseavlqbE" width="560" height="315" frameborder="0" allowfullscreen="allowfullscreen"></iframe>
---
"Please Look After This Bear"
Barbour Launches New Christmas Campaign with a Heart Warming Tale on Sustainability and a Nostalgic Reminder of What's Really Important at Christmas Time
---
STRICTLY EMBARGOED UNTIL THURSDAY 4th NOVEMBER @ 17:00 GMT
---
Leading heritage and lifestyle brand, Barbour is collaborating for the first time with the much-loved children's character Paddington Bear for this year's seasonal campaign. This friendly, kind hearted bear from Peru, with his old hat, battered suitcase, duffel coat and love of marmalade has become a classic character from British children's literature. Written by Michael Bond and illustrated by Peggy Fortnum, the first book, 'A Bear Called Paddington' was released in 1958 and remains a children's firm favourite. Barbour's seasonal film includes the original Peggy Fortnum illustration style which has never been animated before.
Emotive, fun and heart warming, Barbour's festive film follows the mishaps and adventures of Paddington Bear as he comes up with an idea for a thoughtful gift. Full of nostalgia, it celebrates the joy of giving a very special present that means so much.
Paul Wilkinson, Group Marketing Director, Barbour said "Paddington Bear is a much-loved children's character who is kind hearted and full of good intentions even if he does get into scrapes along the way! To celebrate our Re-Waxing Centenary, we have centred the story around a thoughtful gift from Paddington as he re-waxes Mr Brown's beloved Barbour jacket for Christmas. It's nostalgic, humorous and sentimental and shows just how much our Barbour jackets are loved and become an important part of the family; if re-waxed at least once a year, they can last a long long time."
Triple Academy-Award winning production company Passion Pictures produced the animation in beautiful hand-painted 2D. Directed by trio against all odds, the film was created in TV Paint and aftereffects, with painstaking effort made to faithfully bring Peggy Fortnum's signature style to life. Every frame of the animation is hand drawn and painted with close to 3000 hours of work since May going into the design, animation and composition of the final film. Working closely with the production team at Passion Pictures, Barbour's integrated creative agency, Thinking Juice one of the UK's top ten independents, were inspired by the Paddington quote "Please look after this bear" from the original story to come up with the narrative and the creative elements of this campaign.
The agreement was brokered by The Copyrights Group, a Vivendi Company who own the Paddington brand. Rachel Clarke, SVP UK - Licensing & Retail at The Copyrights Group said "Copyrights are absolutely delighted to be partnering with Barbour for this wonderful heart warming campaign full of kindness, humour and fun, just like Paddington himself".
To support the campaign, Barbour is launching a children's Paddington Bear collection. Soft jersey sweats and hoodies in navy, red, grey and ecru feature alongside nightwear all with humorous Paddington Bear illustrations by Peggy Fortnum - some with a Barbour twist - to make the perfect festive gift. Accessories include hat and scarf sets, beanie hats and cosy wellington socks to keep the youngsters of the house, snug and warm on winter walks.
Film Synopsis
It's Christmas Eve, and Paddington is scratching his head, trying to come up with the perfect gift for Mr Brown. He looks in his pocket and finds the tag he arrived at Paddington station with, which reads "Please look after this bear". He holds it in his paws, reminiscing about the day Mr Brown found him.
Paddington spies Mr Brown's Barbour jacket hanging up in the hallway and notices the jacket has seen better days. Then he remembers the tin of Barbour wax in the shed. He reads the instructions and thinks it's "as simple as spreading marmalade on bread" something he's quite good at! He proceeds to re-wax the jacket in the kitchen, restoring it to as good as new.
On Christmas Day, the family is gathered together and Paddington presents Mr Brown with a messily wrapped gift to reveal the jacket. The jacket has the original tag attached to it and Paddington encourages Mr Brown to turn it over, where he has written "Thank you for looking after me." Mr Brown is touched, saying that his jacket is part of the family, just like Paddington.
The film finishes with noises from the kitchen as the chaos that Paddington has caused re-waxing the jacket is revealed…...
#BarbourChristmas
For further information on Barbour please contact:
Anna Craig-Hutchinson, Global PR Executive – T: 0771 4564886 E: [email protected]
---
Notes to Editors
About Barbour
Originally established by John Barbour in 1894 in South Shields in the North East of England to provide outerwear to fishermen, sailors and mariners to protect them from the worst of the British weather, today Barbour offers a complete wardrobe of clothes, accessories and footwear for men, women and children. Shirts, knitwear, trousers, footwear and accessories are now just as much in demand as Barbour's iconic outerwear.
Forever synonymous with the British countryside, Barbour's collections now span from the best practical country clothing to fashion-forward lifestyle collections. To this day Barbour's ranges continue to be inspired by the company's archives which date back to 1910 – each season classic designs are re-interpreted into modern, contemporary silhouettes.
A family-owned 5th generation brand established 127 years ago, Barbour is a global success story sold in over 55 countries worldwide including Germany, Italy, Spain, France, the US and Japan and holds three Royal Warrants from HM The Queen, HRH The Duke of Edinburgh and HRH The Prince of Wales. 2021 sees the company celebrate 'a centenary of re-waxing', a sustainable service that has helped consumers to extend the life of their products for the last 100 years.
About Paddington
For over 60 years, British-born writer Michael Bond has delighted readers all over the world with his stories about Paddington, the bear from Peru, famous for his love of marmalade. The kindness and humour in the stories appeal to children and adults alike, ensuring Paddington's enduring popularity from one generation to the next. HarperCollins Children's books have published Paddington's adventures continuously since 13th October 1958 when, as William Collins, they first introduced A Bear Called Paddington to the world.
Since then, Paddington's adventures have been adapted several times for television and at the end of 2014 Paddington made his debut onto the big screen, a further film Paddington 2 followed in 2017 with a third in the works. The movies were produced by Studiocanal, part of the international content and media group Vivendi. In 2020, a brand-new Paddington TV series designed for a pre-school audience, The Adventures of Paddington launched on Nickelodeon, introducing him to a whole new set of fans.
You can catch-up with Paddington's many adventures on: Twitter & Instagram @paddingtonbear | Facebook.com/PaddingtonBear | dailymotion.com/Paddington | YouTube.com/Paddington ©P&Co. Ltd./SC 2021 | Licensed on behalf of STUDIOCANAL S.A.S by Copyrights Group
---
Click each image below to download.
---
1. Paddington Bear remembers the first time he met Mr Brown at Paddington Station
2. Paddington Bear re-waxes Mr Brown's Barbour Jacket
---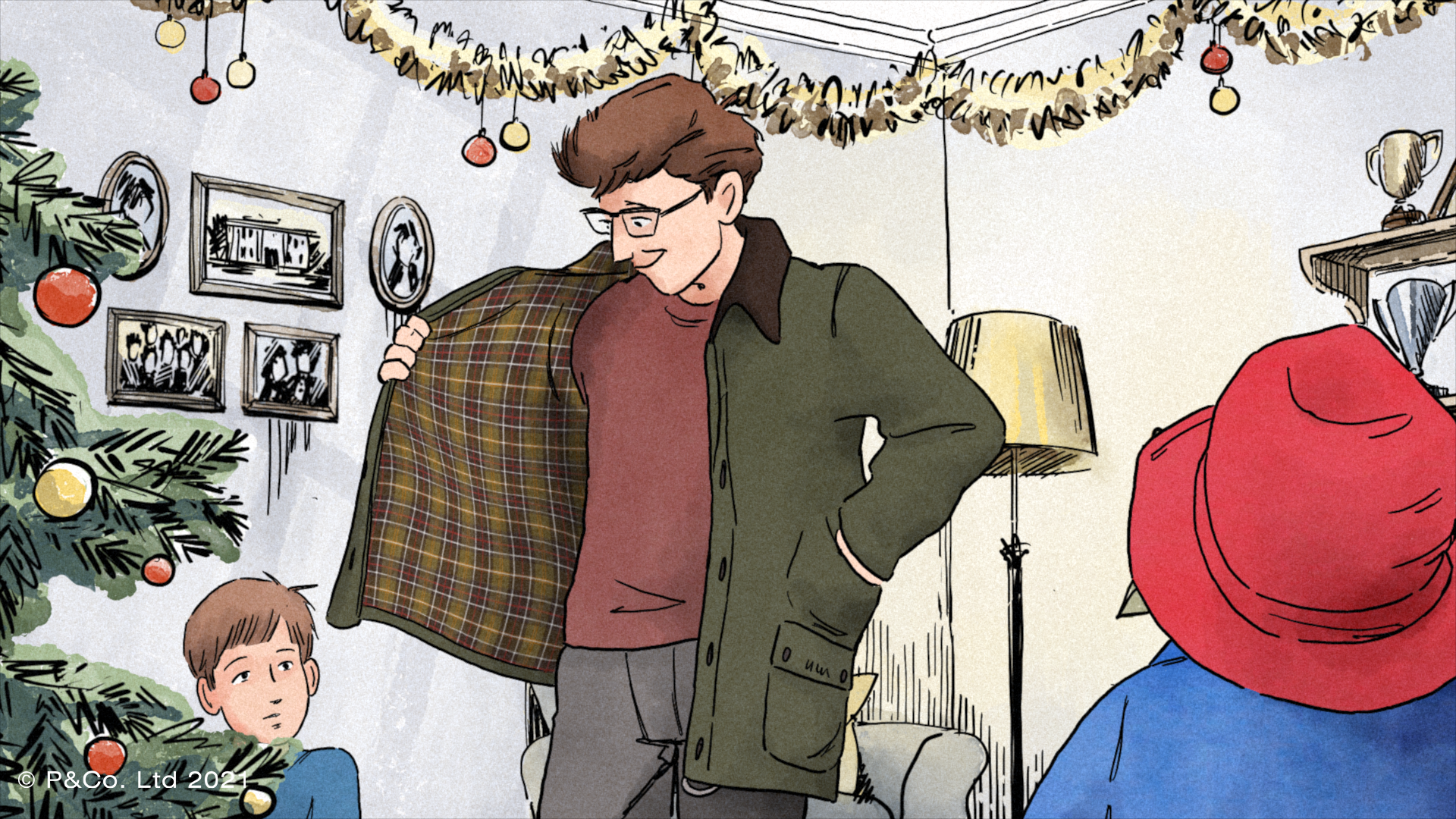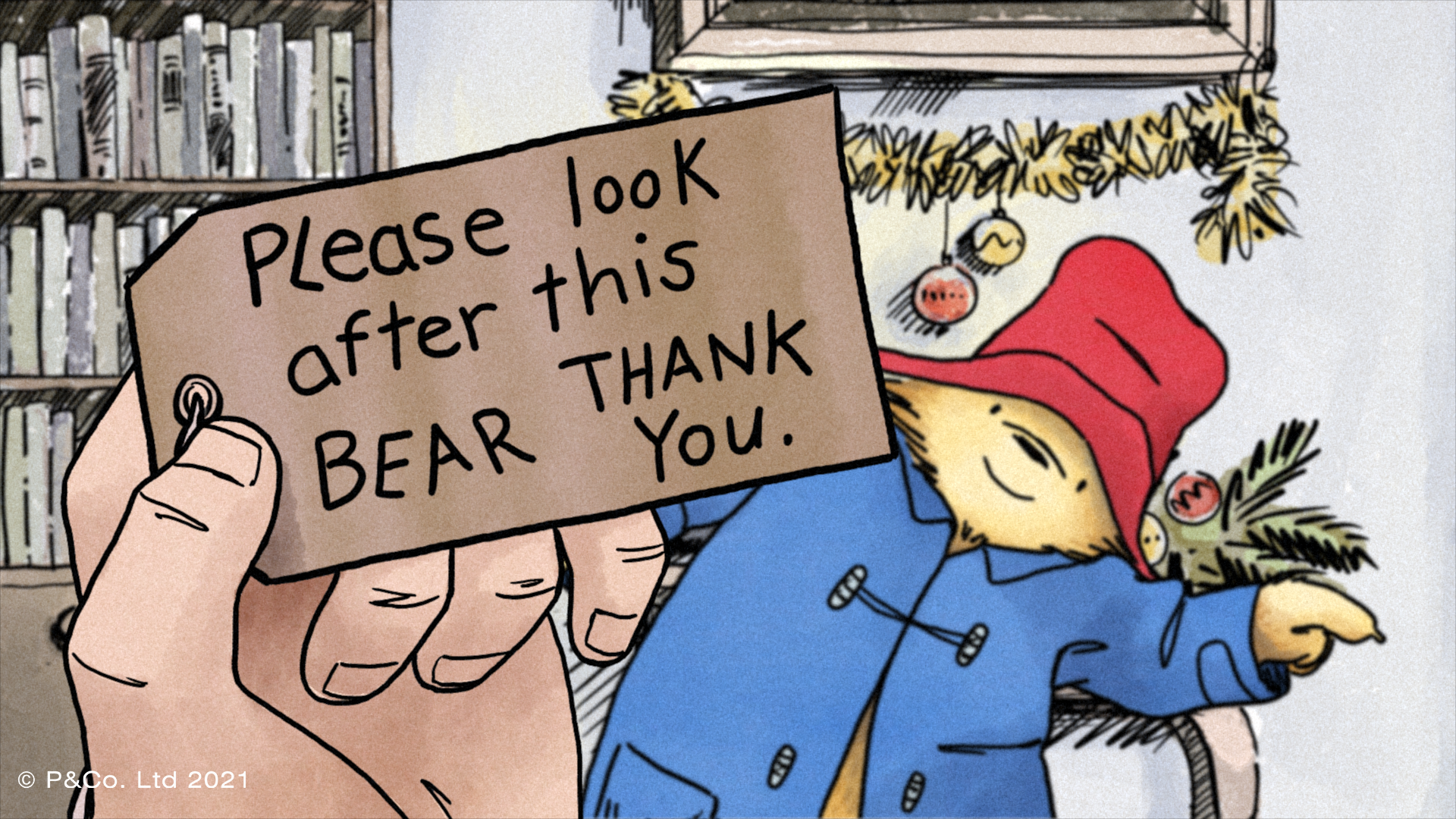 3. Mr Brown puts on his newly re-waxed Barbour jacket
4. Mr Brown looks at the label that Paddington Bear was wearing when they first met
---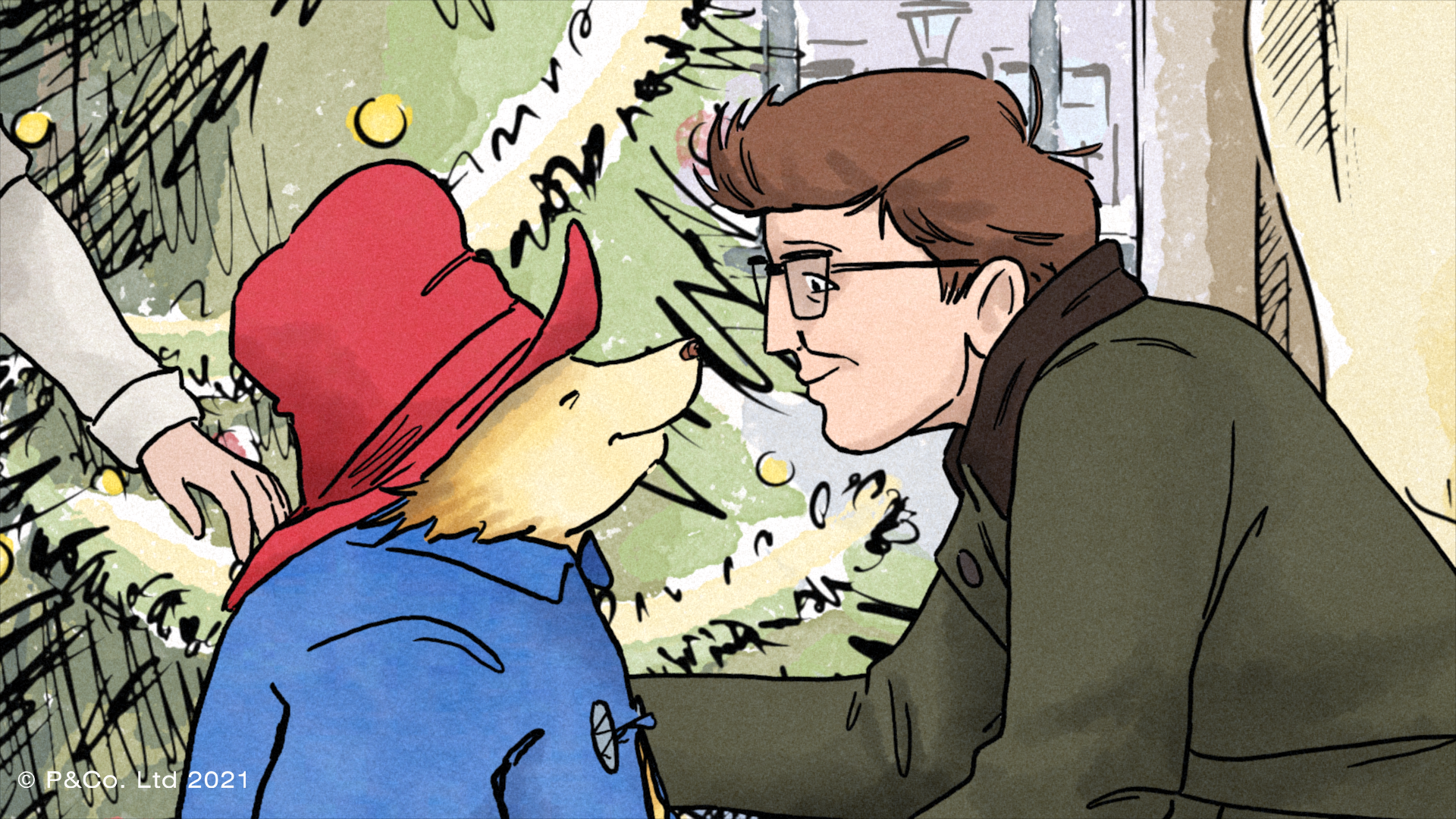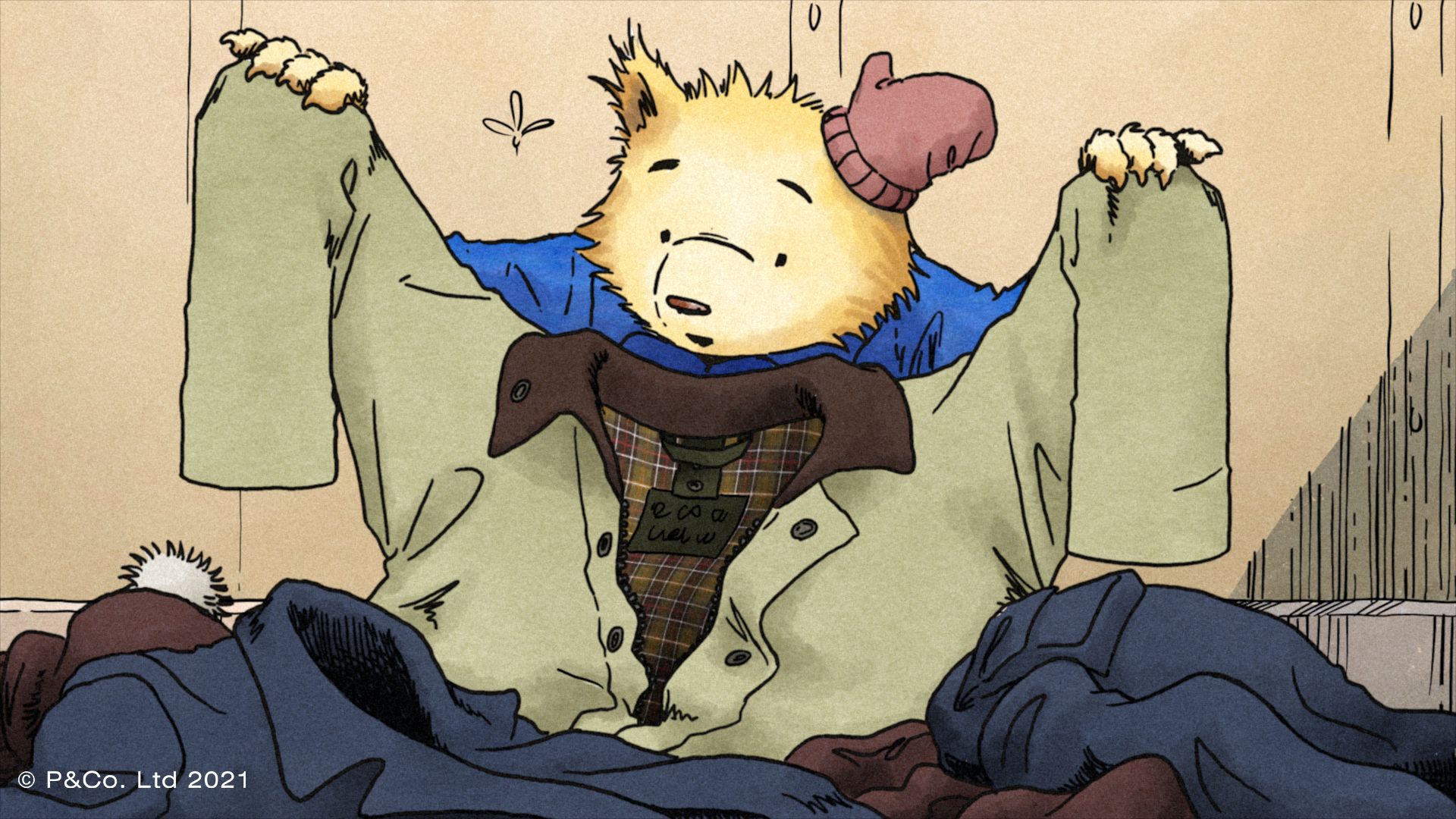 5. Mr Brown thanks Paddington Bear for his present
6. Paddington Bear decides to re-wax Mr Brown's Barbour Jacket
---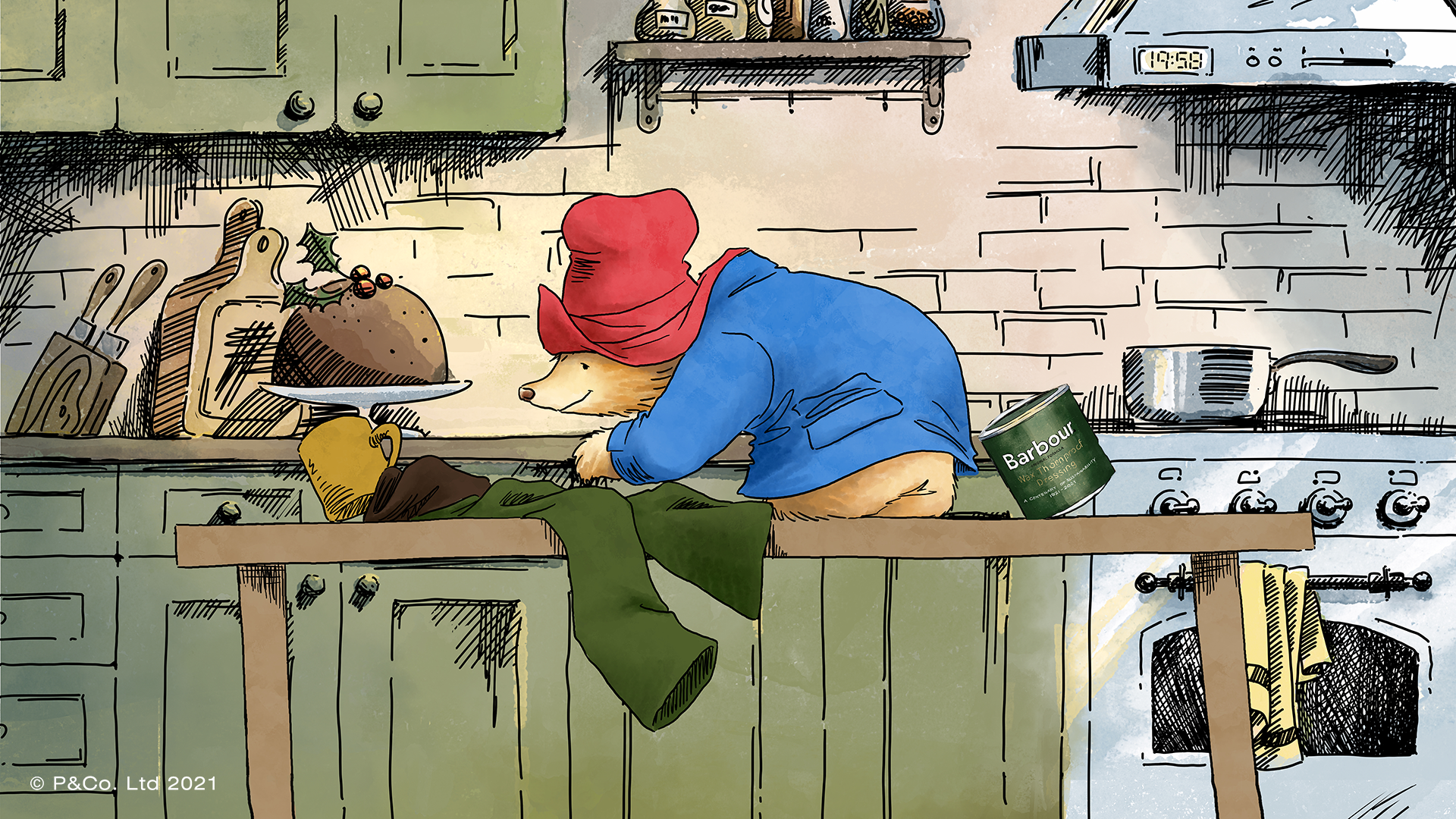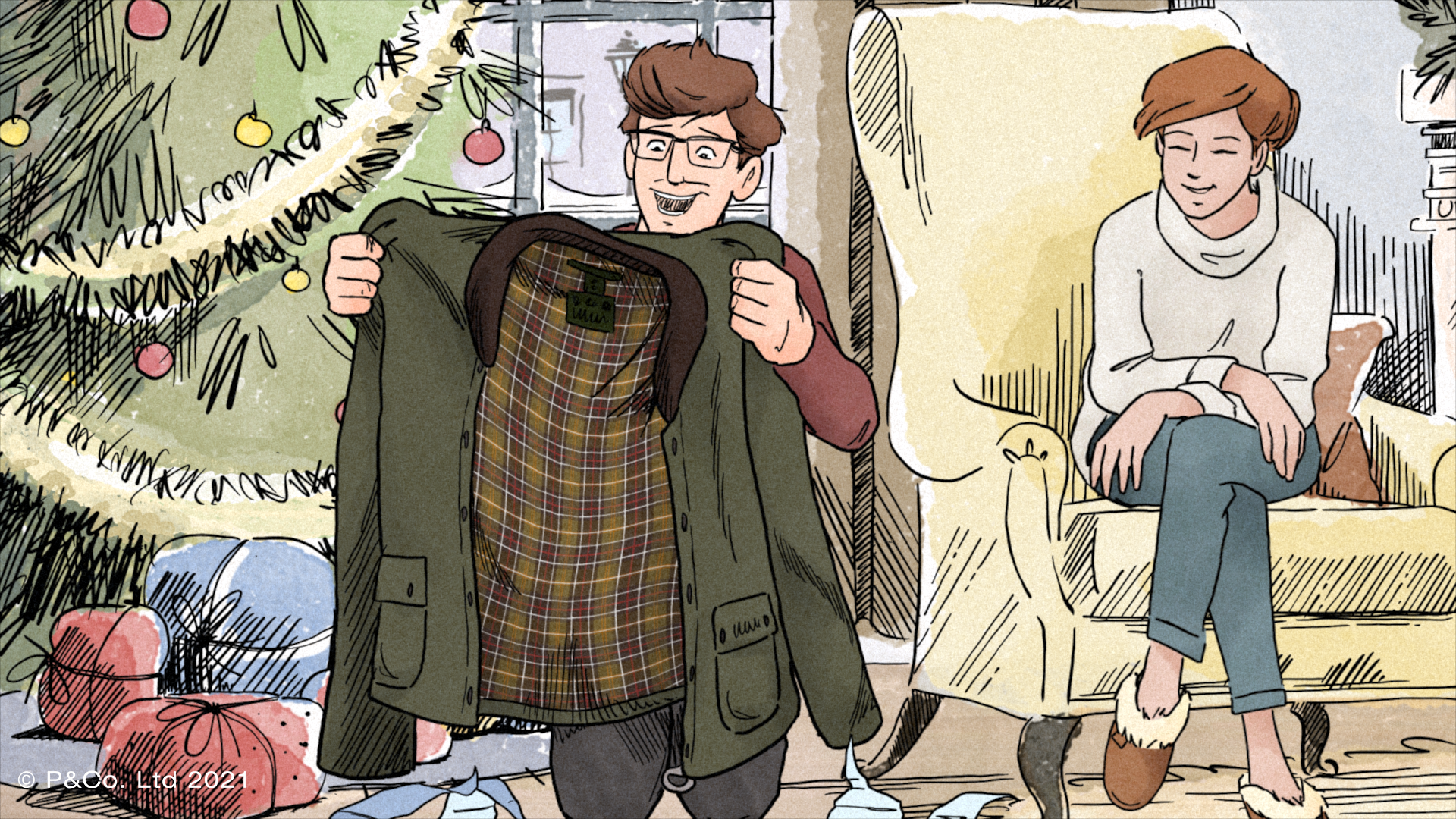 7. Paddington Bear re-waxes Mr Brown's Barbour Jacket - as easy as…marmalade on bread!
8. Mr Brown recieves his newly re-waxed Barbour Jacket on Christmas Day
---
---
---
PADDINGTON BEAR™ © Paddington and Company Limited 2021. Licensed by Copyrights Group.
---