Meet the Dogs of Barbour: Lucy the Rescue Dog
Meet Lucy
autumn winter 2019
As part of our 125th anniversary, we invited some of our Barbour employees and their canine friends on a walk to find out about their summertime adventures. This month we're introducing you to Barbour's Director of Womenswear, Paget Billingsley.
Tell us about your dog; where did she come from?
In January 2019, we adopted Lucy from Felledge Animal Centre after finding her on the adoption page of the local RSPCA a few months earlier.
Although we fell in love with her early on, we had met a few rescue dogs before we met Lucy. It was important for us that the dog we adopted was right for us, that our dog was sociable and well-behaved in the company of other dogs.
We live by the beach in Tynemouth, so it was really important that our dog would be comfortable running around with other dogs.
When we first met Lucy, I was quite hesitant due to her age and her medical background. She is quite old at nearly 11 years old and has quite a few medical problems, however after spending 6 months in care at Felledge Animal Centre, Lucy is looking absolutely gorgeous.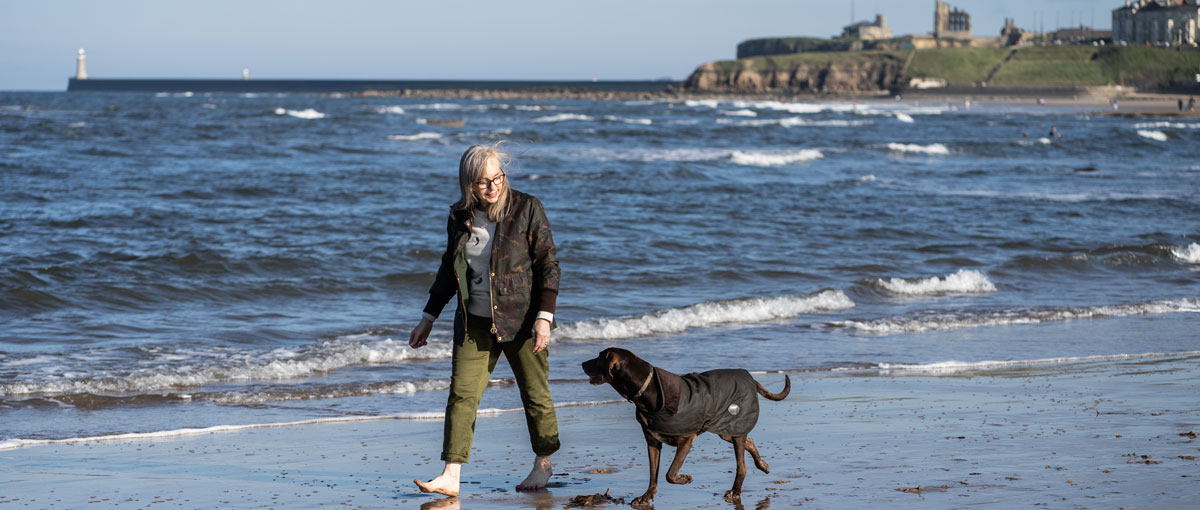 What type of dog is Lucy?
This is a funny story! We were told when we first adopted her that she was a short-haired German Pointer Mix. After having her for a few months, we were stopped in Tynemouth Market by an owner of another dog which looked incredibly similar. Rather than a German Pointer Mix, they believed she has a bit of Viszla in her too. She's a very unique dog!
Although Lucy still has medical problems, she is gorgeous and gets a lot of attention when we are out and about in the North East of England. She is a lovely lady, very strong-willed and doesn't let noisy or naughty dogs bother her. One thing she does love is food, especially cheese! In fact, she will follow me around in the morning before I head to work to make sure I've given her a piece of cheese.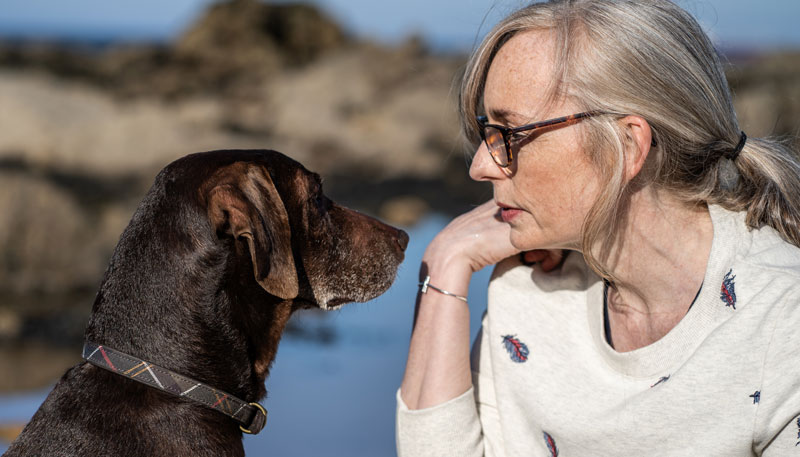 ---
---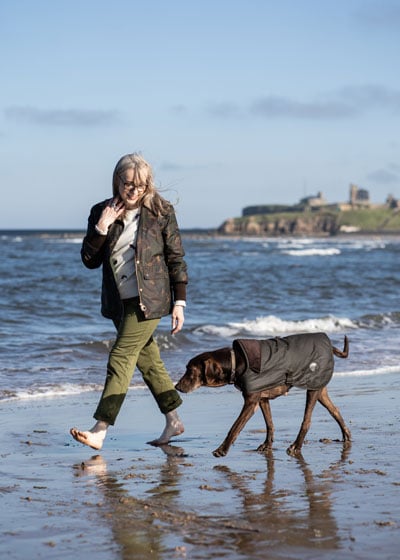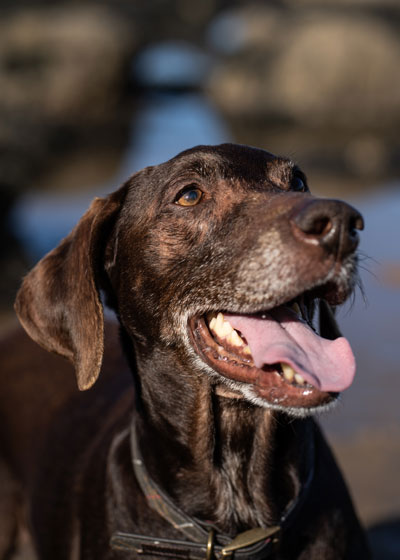 What type of adventures does Lucy love?
Lucy loves to travel with us. She travels well in the car, on the train or bus, and she gets very excited when we go somewhere new. Quite soon after we first adopted her, we spent a weekend away in Bamburgh; this was one of the first places besides Longsands Beach in Tynemouth that we let her off her lead. Since this initial trip outside her hometown, we have spent weekends away in London and Scotland, and she loves it! We are looking to get her a pet passport so we can take her further afield.
Are there any dog-friendly stores or restaurants you would recommend?
Tynemouth is very dog-friendly and there are loads of pubs and restaurants locally that welcome dogs. Our favourite places to visit are the Wooden Dolly and Lowlight pubs at the Fish Quay in North Shields.
What Barbour items do you wear when on adventures with your dog?
Having Lucy has meant that I've had to test some of my Barbour jackets to the max, and I'm very happy to say they have not let me down. My favourites to wear in squally weather conditions are the longer length, waterproof breathable styles from our Weather Comfort collection, such as the Navy Barbour Barogram Waterproof Breathable. The storm guard hood has kept me dry in the horizontal rainstorms, which are very common on the North East coastline.
What are your dog's favourite Barbour accessories and why?
Having Lucy means we are forced to go out in all sorts of weather, therefore the Barbour Waxed Cotton Dogs Coat is perfect for those long walks on the beach in unfavourable conditions.
Learn more about Barbour Dogs and Barbour 125 Years here.
---
Discover Your Perfect Style