Barbour x And Wander with Ian Bergin, Mihoko Mori and Keita Ikeuchi
---
Constructed for strong weather protection and performance, the Barbour x And Wander collection is a fusion of British and Japanese design, providing the best of both worlds.
Through a collection of waterproof jackets, fleece and accessories, the range equips the outdoor wanderer for shelter against the elements, with Barbour and esteemed Japanese brand And Wander's most iconic shapes and details.
To find out more about the blend of these two distinct styles, with a shared purpose for quality and weather protection, we talked to our Director of Menswear Ian Bergin, and And Wander founders Mihoko Mori and Keita Ikeuchi.
---
---
What were your initial thoughts when you first heard about the potential to collaborate with And Wander/What did you expect?
Mihoko: I am very proud to present to the world our collaboration with Barbour, a company that has a long history and that is loved by many. The common point of the brands is that they were born as fieldwear. They are fashionable not only in the outdoor field but also in the city.
Ian: We have been collaborating with And Wander for several years for the Japanese market. Brands don't really collaborate - it's the people within brands which collaborate. Keita Ikeuchi and Mihoko Mori are the founders of And Wander and have always had a high regard for Barbour, our history and our heritage. Likewise, And Wander is focused on keeping its customers warm and dry in the great outdoors and in the city. The 2 brands have very similar core propositions at their heart.
This collaboration is made up of full performance-wear, designed for time spent in the great outdoors. What are the key elements of the collection that help it stand out as performance-wear?
Ian: There is no compromise on the fabrications used. Pertex from Perseverence Mills, Polarfleece from Malden Mills - only the best finishes and trims and performance membranes and linings have been used.
Mihoko/Keita: The use of lightweight, functional and modern materials.
---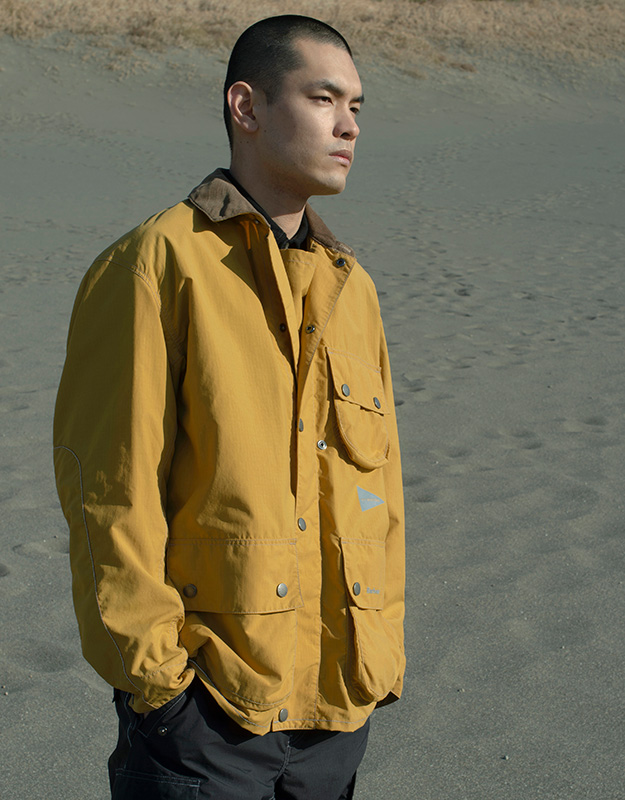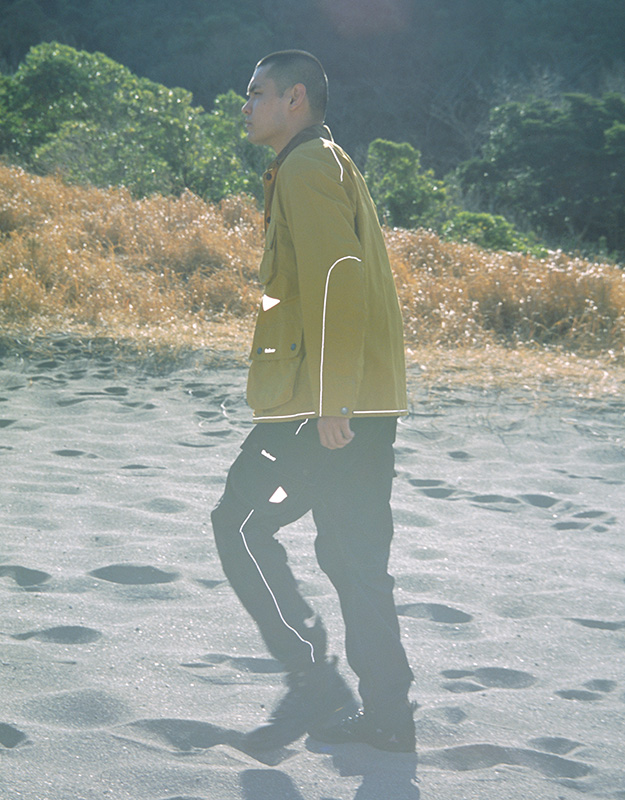 ---
---
How do you think outdoor activities in the UK (and the world) have changed since Barbour was founded in 1894?

Ian: When Barbour was founded it was a very different world. The workers of the Northeast only had one coat and it had to be a good one. The design DNA was pragmatic and rugged so the jacket would literally last a lifetime. This is the root philosophy of our brand. Fit for purpose and a unique strength through endurance.

Many people worked or lived in the countryside or by the coast and were outside for a lot of the time so practical details and well-thought-out features as well as weatherproof fabrics were essential. Modern outdoor activities are more based around leisure and modern fabrications have developed to provide protection with low weight and high-level wicking properties for more sport-based activities.

Mihoko/Keita: I think there has been a shift in the way we think about harmonising nature rather than dominating it. I think it is very important to work with an understanding of our environmental impact.

What are your thoughts on the relationship between the great outdoors and fashion?

Mihoko/Keita: Essentially, I think there is a difficulty in being incompatible, like water and oil, but that is why I think it is interesting to make them harmonise within the constraints. I want people to enjoy fashion in the field as they do in the city.
---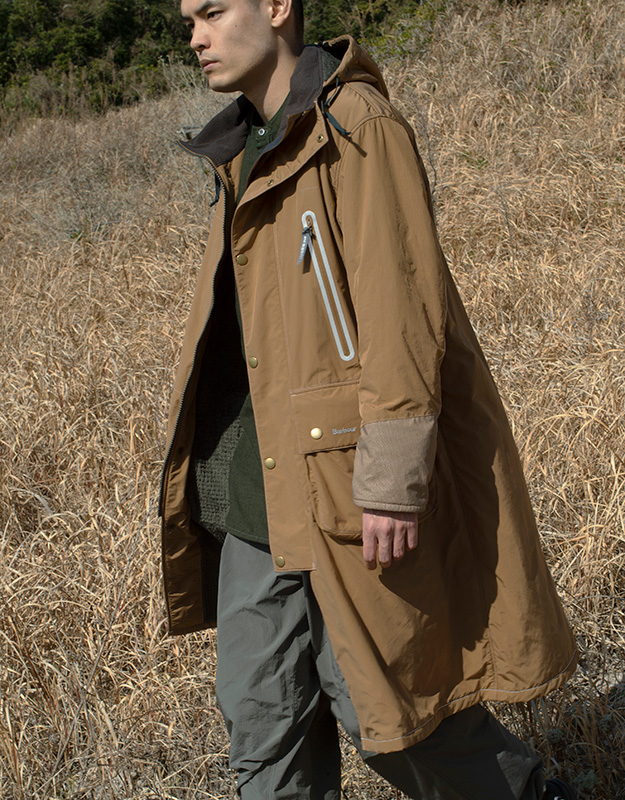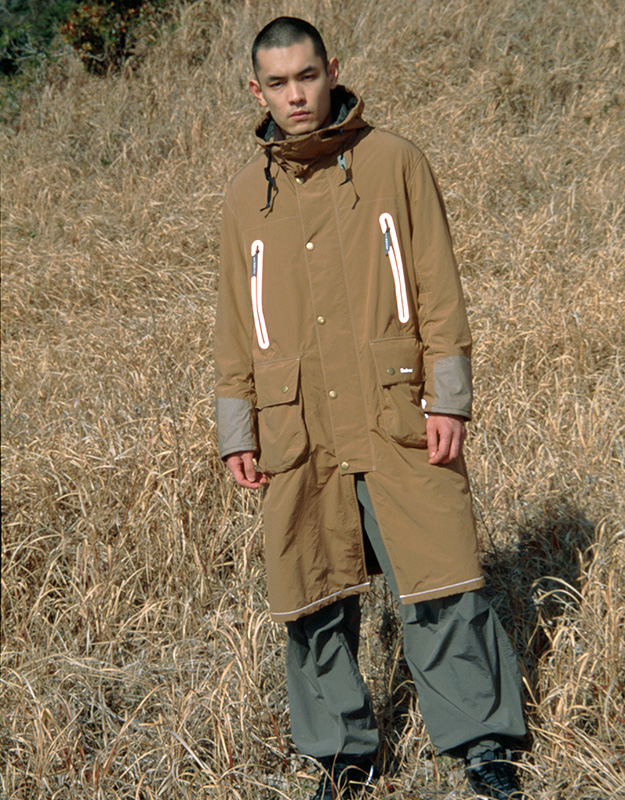 ---
---
Can you talk us through the design process of creating the collection?
Mihoko/Keita: After several samples were sent by both sides, we exchanged opinions on design and materials. We requested to receive Barbour's patterns and we made patterns, toiles and proto samples, verifying every detail.
Ian: This has always really been a discussion about how to meld Barbour design DNA and how we execute these in modern performance breathable layers to create a skeletal, beautifully constructed product with excellent performance characteristics. The best collaborations are almost a handshake between design and brand ideologies and this, I think, is very true of the Barbour X And Wander collab.
Tell us about your favourite piece from the collection.
Ian: The 3Layer Bedale - 3L. This is my favourite garment. A beautiful Pertex waterproof outer bonded and seam sealed together with waterproof zips welded onto the outer. A full detachable storm hood and microfibre performance corduroy on the collar. My favourite features are the waterproof equestrian zips instead of the usual studded articulated vents- an original feature from the Bedale allowing the jacket to sit down and flare out over the back of the saddle so it doesn't ride up during wear on the horse. Function follows form.
Mihoko/Keita: The fleece jacket and the pocket-shaped shoulder pouch. I like them because they are very unique and still have a Barbour feel to them.
Some of the pieces in the collection have reflective elements. Can you tell us why these are there?
Ian: This is an And Wander signature detail. It's about visibility on the hill and in the city at night.
---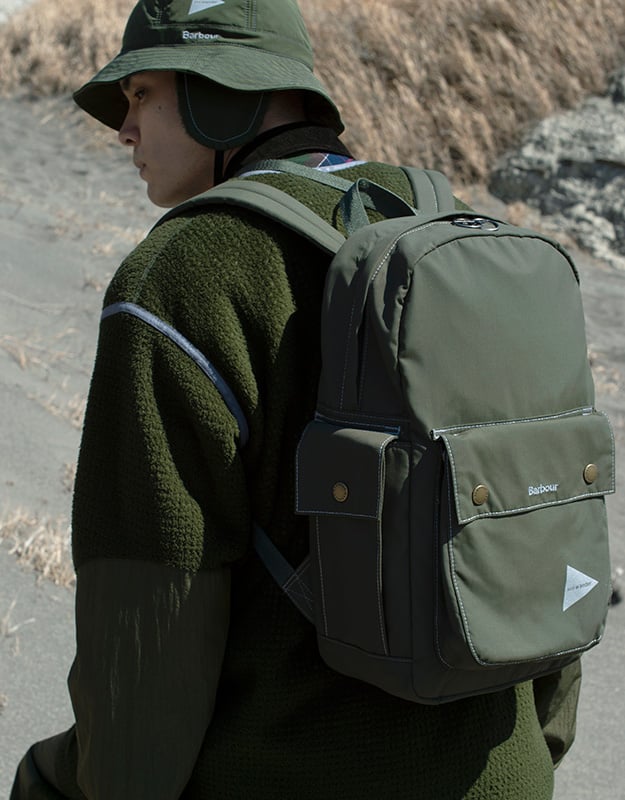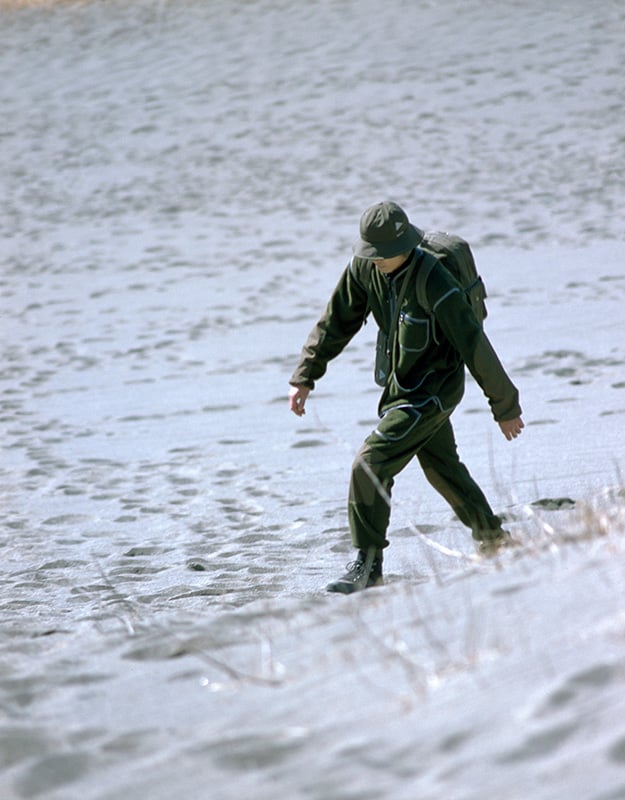 ---
---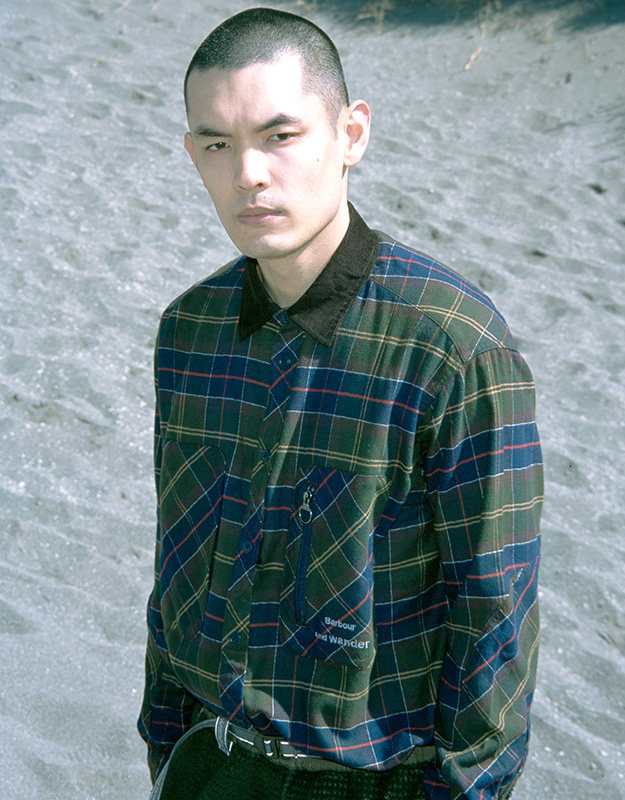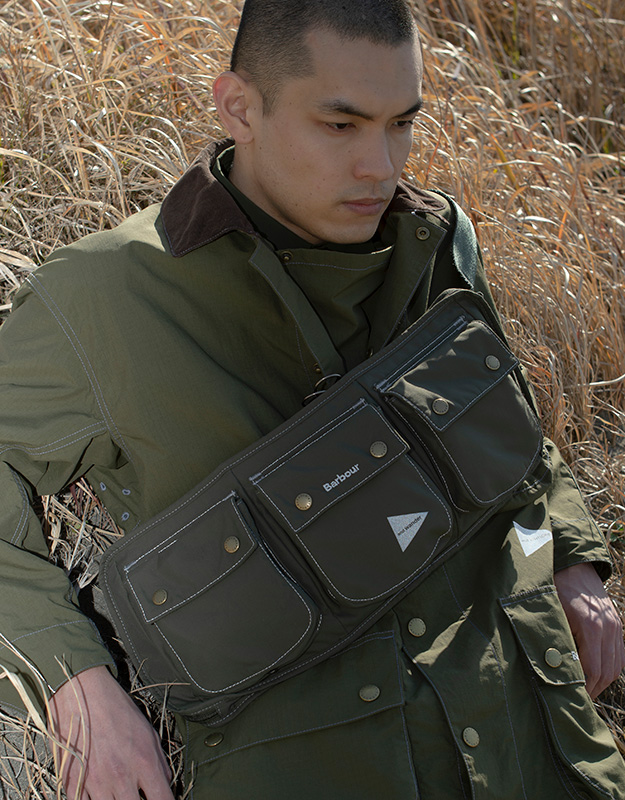 ---
---
What is it about And Wander as a brand that made you want to collaborate?
Ian: The most effective collaborations in my view are when a brand has a point of view. And Wander has a specific very Japanese take on performance clothing. They are focused on that aim and mission to use the best fabrications and finishes they can to provide a no-compromise product for their customers but with a very stylish and contemporary take on cut, fit, construction and execution. It sounds pretty close to what our aims at Barbour have always been. "The Best British Clothing for the worst British weather".
What do you find interesting about taking a standard item such as a wax jacket and reincarnating it in a different material through collaboration with and wander?
Mihoko/Keita: We believe that the wax jacket is a well-known product, known to many people like jeans and T-shirts. We thought that the wax jacket could be seen as a canvas, and by changing the materials, detailing and colours, we could create a fusion of Barbour and And Wander styles.
Tell us what you want Barbour to convey and realise through its clothing in response to the way people enjoy the outdoors and the changes that have occurred in recent years.
Mihoko/Keita: It seems to be something that is not limited to Japan, but since the Corona pandemic, more and more people spend time camping in nature as a familiar outdoor leisure activity. This collaboration will suit the camping scene well.
Shop the Barbour x And Wander collection now.
---