Waxed Jacket Aftercare Services
---
Re-Wax (Reproof)
Q. I've been storing my jacket in the shed and it's started to smell. If I have the jacket re-waxed will it remove the smell?
A. We recommend that you store your Waxed Cotton garments in a cool dry place. Reproofing will not remove smells.
Q. How often should I have my jacket re-waxed?
A. It really depends how often you wear your jacket but to ensure the wax coating is maintained, we suggest annually to ensure it retains the wax quality.
Q. I've had my Waxed Cotton Jacket for just over a year and it's lost its wax coating what can I do?
A. You can re-wax your jacket using our How to Re-wax my Jacket guide as a reference.
Q. I don't feel confident enough to Re-wax my own jacket, do you offer a re-wax service?
A. You can return your jacket to Barbour's Customer Services Team and for a small fee we'll do the re-wax (Reproof) for you. Please see our Repairs & Rewaxing page for more details.
Q. How do I return my jacket for Re-waxing?
To return your jacket for re-waxing (reproof) please visit our aftercare service pages
Q. What will my jacket look like once it's been re-waxed?
A. Initially, it will be darker in colour and have more of a sheen in its appearance.
Before re-wax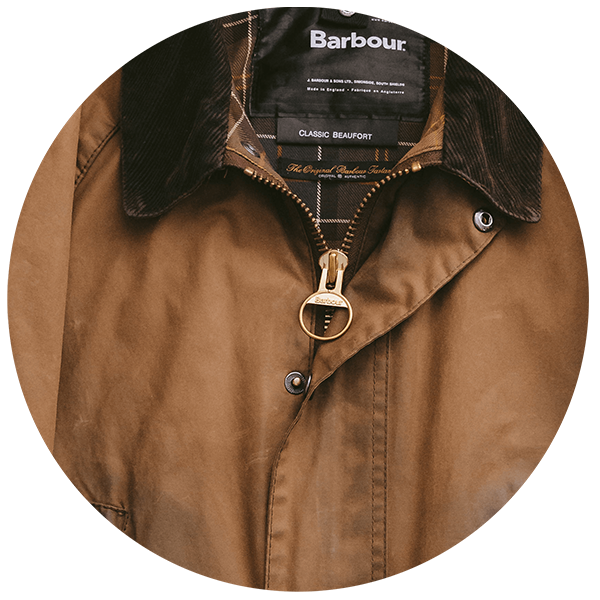 After re-wax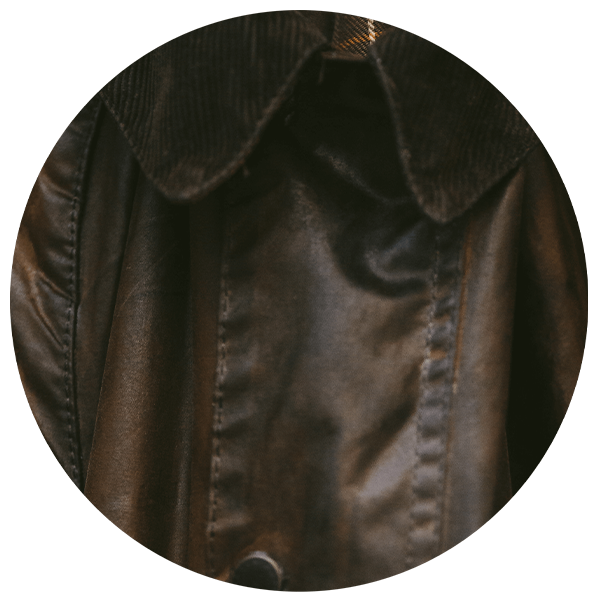 Alterations
Q. My sleeves are too short can you alter them for me?
A. An alteration service is available for minor alterations across most styles of Waxed Jackets. These include:
• Shortening or lengthening of sleeves
• Shortening or lengthening jackets
• Fitting a new zip
For more information on the alterations offered and the styles that can be altered, please call Customer Services on 0800 917 3000.
Q. How do I send my Jacket for Alterations?
A. You must complete the alterations form, highlighting exactly what is required. Please enclose this form with the garment you wish to return. We recommend that you send your jacket by recorded or special deliver as we cannot be responsible for loss of your jacket whilst in transit to us. Please ensure all valuables are removed from the pockets prior to posting it to us.
Q. I've shortened the sleeves on my wax jacket but after a few months small holes and wear lines have appeared at the cuffs. What shall I do?
A. If the sleeves of your jacket are too long it is best to have them altered to prevent unnatural creasing and wear.


Repairs
Q. What do you repair?
A. We are happy for you to return a wax jacket for assessment accompanied by an outline of requirements to complete a repair. Please visit the repairs and reproofing page to complete the form.

Q. What is the Repairs lead time?
A. 31 days from point of payment & jacket being handed over.
Q. What is the difference between a small patch repair & a large patch repair?
A. A small patch is a floating repair that doesn't going into any of the jackets seams / stitching (generally less than 15cm x 15cm). A large patch goes into one of the jacket seams / stitching so requires further repair work (generally more than 15cm x 15cm).
Q. Can a Re-wax be completed on a jacket that has tears?
A. No. Without a Repair being completed to torn garments, re-wax work can not be done.
Q. What is the maximum amount of Repair work that can be selected?
A. There is no upper limit of repair options that can be done to your wax jacket; however as our South Shields, England factory is currently in their peak of repair work, we may be unable to return your jacket to you before Christmas should it require more than 150 minutes of repair work. If this is the case, our Customer Service team will be in touch to discuss your options.
Q. How do you clean the jackets?
A. This is a specialist aqueous process.
Q. Can we send other product types in to be cleaned?
A. Currently this service is only being offered for waxed styles.
Q. How will my repair look on my jacket?
A. As our repairs are carried out with new waxed cotton fabric, there is a chance there may be a slight colour difference from your jacket depending on the age of the garment. We recommend reproofing your jacket at the same time which will help tone in the new materials used.
Q. Will having my wax jacket cleaned affect how waterproof my jacket is?
A. As your jacket will be re-waxed after the cleaning process it will be weather resistant again.
Q. Why does my care label state my wax jacket cannot be washed or dry cleaned?
A. We can do this for you using our cleaning method, you certainly shouldn't be dry cleaning it or putting it in the washing machine at home.
Q. Are there other companies that offer this cleaning service?
A. This process we complete is unique to us. There are others who offer cleaning services, however we do not guarantee anything they do.
In the majority of cases we can successfully repair and return a wax jacket, however some items are simply beyond repair because they are too damaged or are outside of our allocated time to provide and complete a repair.

Each item is assessed and reviewed on a case by case basis by a skilled machinist. Items which are identified as unrepairable will be returned. Our Customer Service team will update you throughout the process and make recommendations where possible.