#BarbourLife: Tommy Brady
Tommy Brady
spring summer 2018
For the latest in our Barbour Life series, where we celebrate people who live the Barbour Way Of Life, we meet former Team GB Athlete turned model, Tommy Brady, to chat about his time as an athlete, his favourite places to visit to enjoy the water, and his advice for aspiring athletes... 
You originally got your start as an athlete, before moving into modelling. Can you tell us more about how you started canoeing and your time with Team GB?
I started at my local canoe club in the West Midlands at the age of 9, and I improved rapidly, becoming the fastest in my age group. I then pushed into the senior ranks at 16. After more guided training by the UK Sports support team and my coaches, I was pushing for medals at the highest level!
Is there a moment that you're most proud of in your career so far? What is the best thing you achieved as an athlete?
I'm pretty proud of everything I've achieved so far, the best thing I achieved as an athlete was a Bronze medal at the World Championships with my team in 2014 – it was very rewarding!
---
Do you have any advice for those looking to get into water sports or who aspire to make Team GB like you did?
Find a good club, have a goal, work hard and work smart!
What was the best thing about being part of Team GB?
I think the best thing was always having a clear goal and mindset; I always knew the plan and I had a lot of support around me to help me achieve my best. It's something you don't see much in the world outside sport!
When you're not on the water, how do you spend your down time with friends and family?
When I'd been training, I mainly would watch films, eat and sleep in my downtime – training twice a day takes it out of you!
---
The Barbour Way of Life celebrates those who enjoy the simpler things in life, like a stroll in the British countryside or a pub lunch with loved ones – what simple thing in life do you enjoy most?
I love going away camping with my friends. Nothing beats an adventure in the country, followed by a great pub dinner.
When did you first come across Barbour? Many people have said their parents and grandparents wore Barbour before them, is this the same for you?
I have always known the brand as far back as I can remember. I remember being really chuffed to get one of my first modelling jobs with Barbour.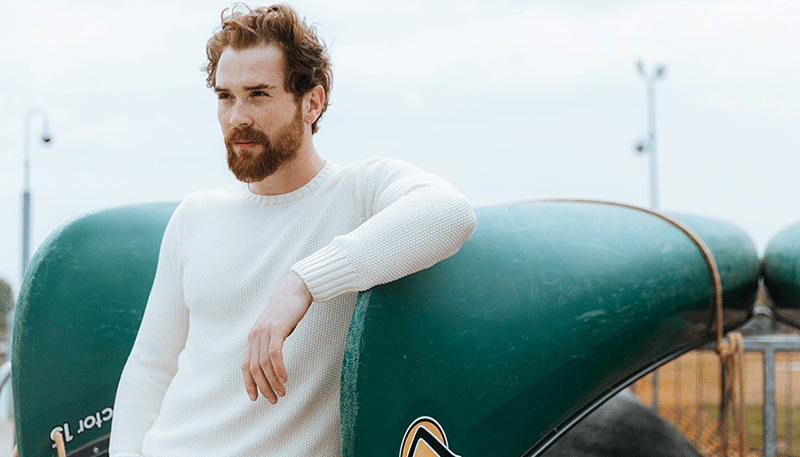 ---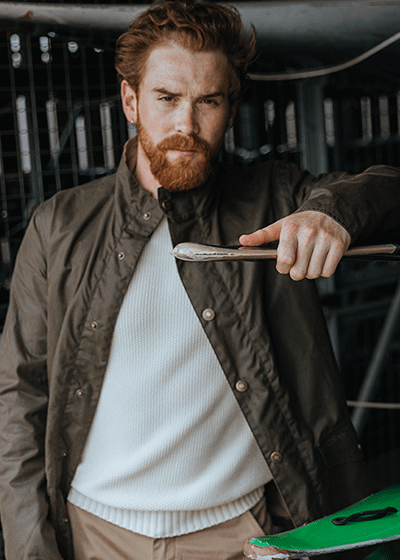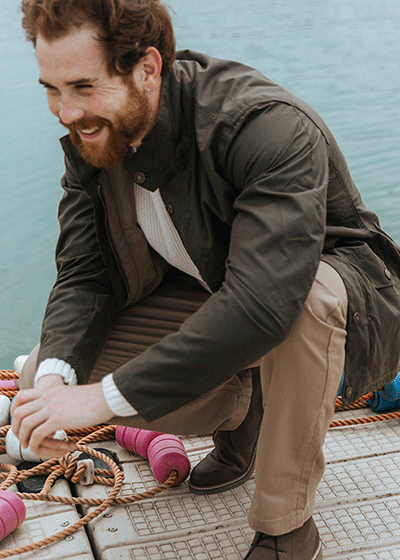 What are we most likely find in the pocket of your Barbour jacket and does it differ if you are training or when off-duty?
You are most likely to find a set of keys, headphones, or a protein bar.
In these photos, you're wearing pieces from our SS18 Original North Sea Outfitters collection – why did you chose these items and what features in the garments would you recommend? 
For me, I liked the colours of the collection - that's how I pieced the outfit together. My favourite feature on the garments is the material of the Wax Jacket! It is perfect for the British weather conditions, and still looks smart.
If you had to choose one unique place where you enjoy the water to recommend for our readers, where would it be?
In the U.K. I'd say Grandtully in Scotland close to the River Tay, but in the world, easily the Soča Valley in Slovenia. 
You have already achieved a lot in your career – what is next for you?
I'm not completely sure, I have a lot of ideas of what I want to do next, but the most important thing to me is to keep pushing to be the best happy version of myself that I can be.
---