Women's Weather Comfort: Meet Jennifer Lake
Women's Weather Comfort: Jennifer Lake
spring summer 2019
In celebration of our SS19 Women's Weather Comfort Collection, we spoke to Jennifer Lake, owner of fashion and lifestyle blog Style Charade, to learn more about her travel plans, how she puts together outfits and her favourite things about Spring. Available at Neiman Marcus.
What are you most looking forward to this spring?
Beyond the warmer temperatures and flowers blooming, spring is my all-time favorite season for style. From brighter colors to bold prints, spring apparel and accessories are always so fun and fashionable. On a personal note, my husband and I are moving to a new home next month! Needless to say, this spring will begin a brand new and exciting chapter of our lives.
You are known for shooting against brightly-colored backdrops and street art. How do you go about finding these spaces?
We do a bunch of research before visiting a city or destination. Sometimes we'll do Google map street-view searches in colorful neighborhoods to try to find hidden gems/murals. Other times, we search various Instagram hashtags to vet possible photo shoot locations. Lastly, I tend to reach out to my local blogging friends in the destination to ask for their opinion. If they provide a suggestion that we end up shooting at, we always them on the blog and/or on social media. It's important to give credit where credit is due!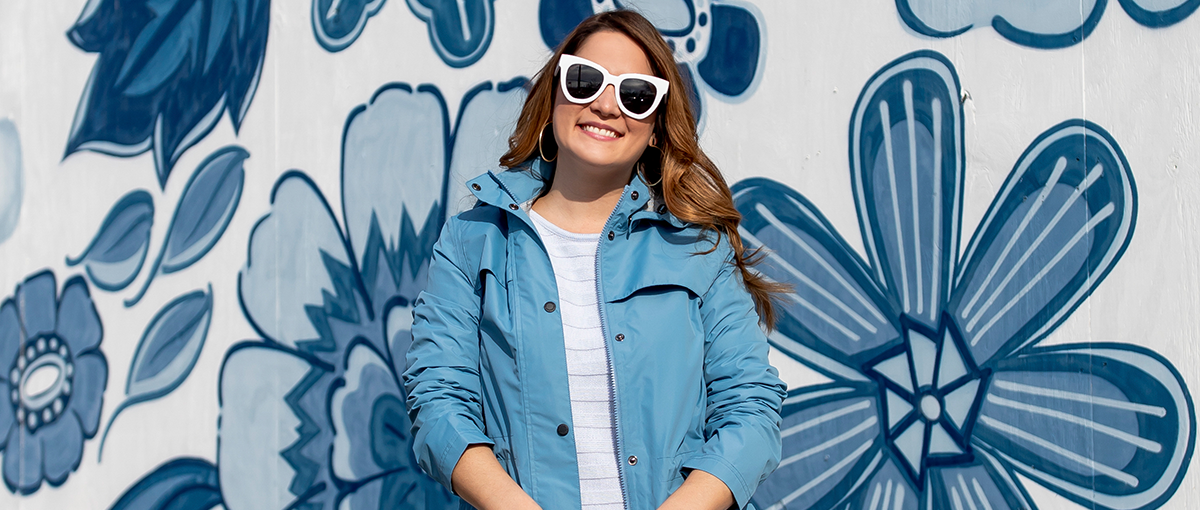 ---
Do you have any upcoming travels? If so, what kinds of experiences do you hope to have?
My calendar is always full of a range of travel experiences for both my full-time job as well as the blog. A few experiences I'm looking forward to include heading to Los Angeles for a new airline route for one of our travel clients. I'm also attending the Kentucky Derby for the first time in May! Another highlight every year is heading to Nantucket. My husband and I go every summer, and we adore our time there. From sailing, to eating at the local restaurants, listening to music and just enjoying time with friends, we've created so many special memories on the island.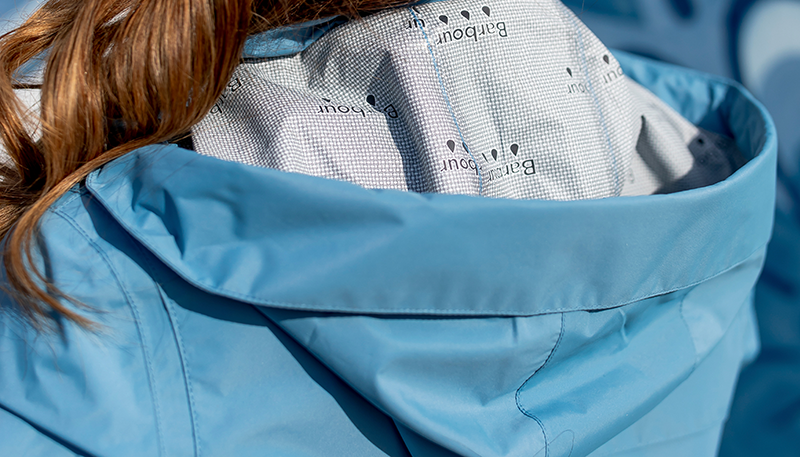 ---
---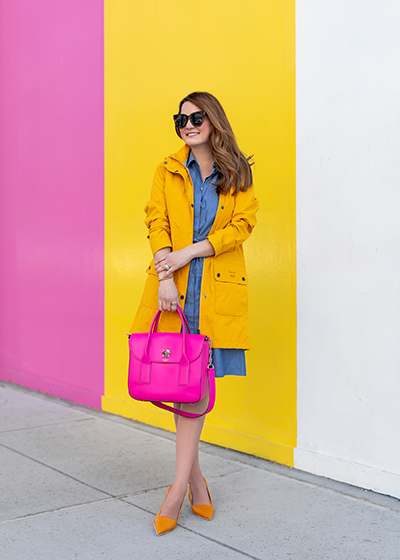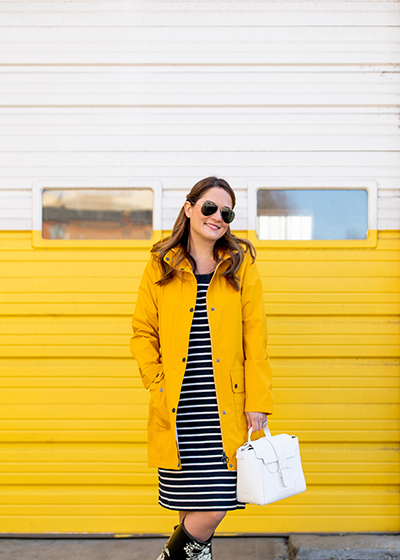 What are some of your principles for mixing colors and textures in outfits and photography?
I'm a big believer in color psychology. Therefore, I give deliberate thought to the feelings a certain outfit might emote. For example, black tends to be seen as a "power color," yellow skews as very happy, and reds are viewed as more romantic. I let some of these guidelines steer the way when giving thought to a look. Moreover, when mixing colors or patterns, I strive to find combinations that compliment each other or ones that contrast in a fun way. 
What is your approach to style on a rainy day?
I've never subscribed to the mantra, "rain, rain, go away." I love rainy day style, and I think it's a great opportunity to bring on the bright, bold hues. Typically, I invest in colorful rain gear - raincoats, umbrellas, rain boots, etc. Plus, being a lifelong Chicagoan, I've become accustomed to having every kind of layer under the sun. I can already tell that the Barbour Inclement jacket and the Barbour Drizzel jacket will be go-to options for years to come!
Discover more about the Women's Weather Comfort collection here and shop at Neiman Marcus.
---