Weather Comfort Collection: Jess Keys and Kelly Larkin Q&A
Weather Comfort Collection
fall winter 2018
When we last spoke, you were both experiencing major life events. What has changed since then?
Jess: Wow! Haha, so much has changed since then! It seems like just yesterday–it's crazy to think that I had just gotten engaged and Kelly's daughter Emma had yet to make her entrance into the world! Fast forward and Emma is now TWO and we've bought a house and gotten married! My husband Neal and I just celebrated our one year wedding anniversary!
Kelly: Yes! That was a little over two years ago. I was nine months pregnant, and Jess was recently engaged. Today, my husband and I have a two-year-old daughter, Emma, and Jess is happily married to Neal, who we consider to be one of our best friends
You do such a great job sharing your daily life in Chicago with your readers and followers. If someone who had never been to Chicago asked you for recommendations, what would your must-visit places be?
Jess: That's a pretty tough question–it's honestly really hard to beat Chicago's lakefront path–it's so beautiful to have the water on one side and the skyline so close you could almost touch it! For those looking to get off the beaten path, I always encourage visitors to get to Chicago's more Western neighborhoods–like Wicker Park/Bucktown and Logan Square! Go to California Clipper, a super old-school cocktail bar that will transport you back to the 1930's–they have amazing live music!
Your daughter, Emma, is a star on your blog and social channels! Tell us how motherhood has impacted your style and the types of content you create.
Kelly: Emma now goes to a half-day peewee program a few times a week, but I decided early on that I wanted to try my hand at the whole stay-at-home-working-mom thing. (I feel very lucky that blogging has allowed me to do this! It's truly been the greatest gift.) If anything, I think motherhood has encouraged me to be more "real" on the blog.
---
Describe your ideal rainy day in Chicago. 
Jess: Grabbing coffee and an almond croissant at our favorite neighborhood bakery–Alliance–and going on a walk on the 606–it's an elevated path that runs through Chicago's Western Neighborhoods and ending the day with takeout Pho and Netflix.
Kelly: The morning would be spent cozied up at home with coffee, a fire, and Van Morrison or James Taylor playing on the stereo.
We'd head out after nap time, and take Noodle for a short walk while jumping in puddles in our boots. We'd then spend the rest of the day at the Children's Museum on Navy Pier.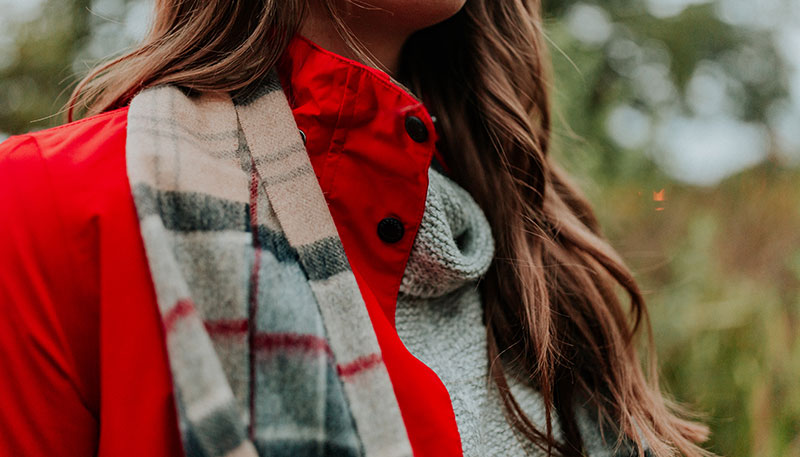 ---
---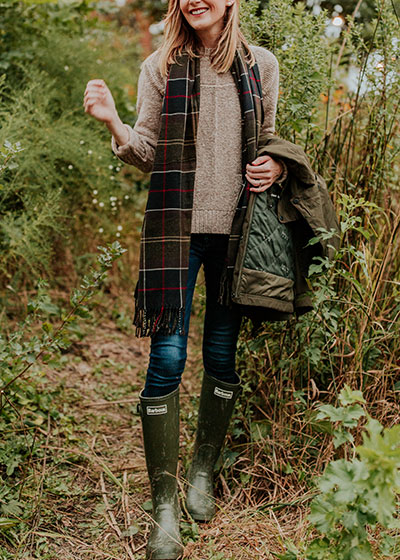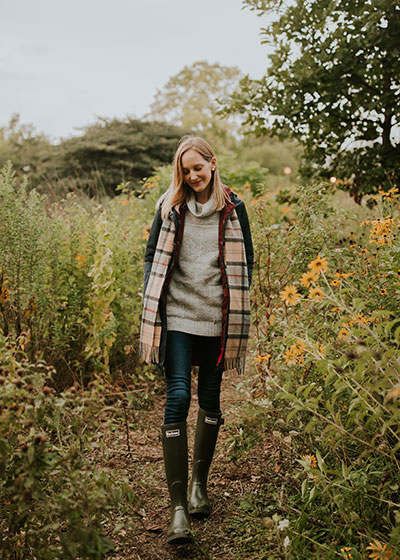 Tell us about your first, or most favorite, Barbour experience.
Jess: Funny enough actually, Kelly was the one who introduced me to Barbour right when we first met! I always admired her collection of Barbour coats! My first Barbour coat was the classic green waxed Beadnell.
Kelly: Right now, the one that you see in these photos is up there for me. Jess, Neal, Mitch, Emma, Noodle and I headed to Humboldt Park in Chicago one evening to shoot our Barbour outfits, and I think we laughed the entire time. Almost all my favorite Barbour memories include family and friends, so I guess this comes as no surprise!
You and Kelly have such an amazing friendship. Tell us what you love about your relationship. Do you look to each other for style inspiration?
Jess: Ours is one of those friendships that feels like we've been in each other's lives since we were kids, even though we only met a few years ago! I also love that we are so incredibly different but also so incredibly similar. I think this is reflected in our style, too! We buy so many of the same things, but style them very differently. 
What's your favorite piece from the Weather Comfort collection? Why? How do you style it?
Jess: That's a tough one! I think I would have to go with the Altair jacket! I love that it's waterproof, so it blocks out the rain and wind, and it's such a classic silhouette! 
Kelly: I adore the Altair jacket. As much as I love the look of traditional raincoats, I just can't get by with 'em on rainy fall days in Chicago. The drawstring waist gives it a bit of a feminine look, and I love that that the hood is removable, too.
What could we find in the pocket of your Barbour jacket?
Jess: My iPhone, lipstick, and a hair tie. Three things I'm never without. Oh, and one of Emma's little red cars she left at our house. I bring it with me and always forget to give it back to her!
Kelly: House keys, cheerios, baby wipes, and doggy bags. What can I say? This is 30!
Discover the Weather Comfort collection here.
---
Discover your perfect style...