The Snowman and The Snowdog: Christmas with Kate
The Snowman and the Snowdog
autumn winter 2017
Billy has so many important people in his life, like The Snowman, The Snowdog, and Father Christmas. Now, in the imagined future that has been created for Billy, the person who means the world to him is his wife, Kate – who loves Christmas just as much as he does.
When Billy met Kate...
We imagined Kate and Billy's magical fairy tale would have begun many years ago. They would have grown up on the same street, attended the same pre-school and played together in their local park after school when they were only young. They've been best friends for as long as they remember. And just like the perfect love story, these childhood sweethearts fell more in love the older they grew.
Christmas growing up...
Our story shows how Christmas is a very special time of year for both Billy and Kate. Their parents will have made it such a wonderful occasion for them, which they've certainly inherited over the years. Even as young children, we imagine Billy and Kate to exchange just one gift with one another. Usually a drawing or painting, something they'd made from bits and bobs around the house, or a handful of penny sweets paid for with their pocket money. But these gifts are still kept safe today to look back at on Christmas Day.
When they grew a little bit older, and until the day they moved in together, we imagine that their parents would have let them spend alternative Christmases at each other's house, spending hours playing with their presents. And now they all join together for Christmas dinner at Billy and Kate's house, as one big family.
A magical memory shared...
Since Billy and Kate have been almost inseparable since childhood, meeting The Snowman this year is a joy they could both share. We were thinking back to Kate as a young girl, and to that one Christmas Eve when she was so excited, she couldn't sleep. Around midnight, she heard something outside her bedroom window – it sounded like a sledge being pulled down the road. She ran over to the window that night and looked out onto the street, but nothing was there. A big swoosh lit up the sky, something that looked just like a shooting star, but Kate knew it was something more magical than that.
In our interpretation, it wasn't until Billy told Kate about The Snowman years later, that it all made sense. It was Billy, The Snowman and The Snowdog that Kate saw that night – and it was a memory that never left her. 
---
The arrival of number three...
We have created a family for Billy and Kate and when their darling daughter was born, the story of The Snowman and The Snowdog became a festive tradition. Billy and Kate tell her the story every Christmas Eve just before she goes to bed. Which of course, she absolutely loves. In fact, we don't think she could go to sleep on Christmas Eve without it. Then each morning after, she would run into Kate and Billy's bedroom on Christmas Day, jump on their bed and tell them about the dream she had that night, when The Snowman and The Snowdog would visit her too.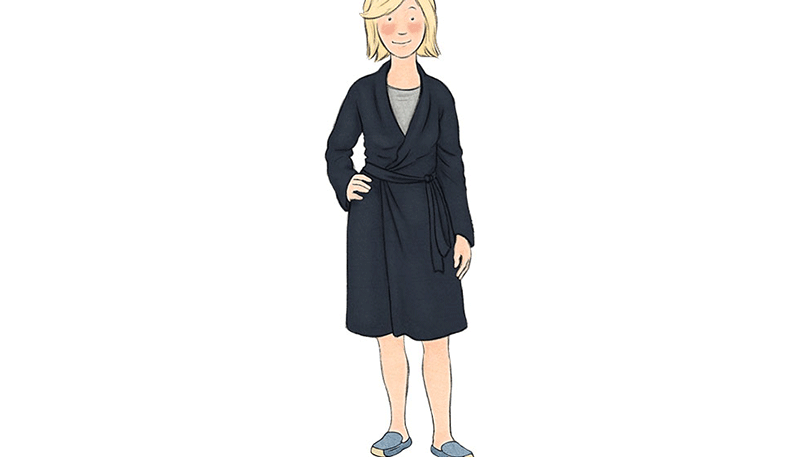 ---
---
Festive family traditions...
There's nothing we love more than a festive tradition shared by the whole family. On the morning of Christmas Eve, we imagine Kate wakes up really early to start baking a batch of delicious mince pies for Father Christmas.
Later on, the whole family will pop on their warmest clothes and take The Snowdog for a long winter walk along the countryside. If they're lucky and it's been snowing, they'll play around in the garden and build snowmen and make snow angels. In the evening, they'll lay out a little welcome note, a glass of fresh milk, the pies and some crunchy carrots for Father Christmas and the reindeers before slipping off to bed.
A gift they'll always remember...
When The Snowman walked through their door on Christmas Day, it was plain to see neither Billy nor Kate could quite believe their eyes. Overwhelmed with emotion, after all the years of Billy telling Kate about him, he was finally here!
It was the loveliest moment for all of us to see Billy and The Snowdog reunited with him, with Kate and their daughter by their side. The little-one couldn't stop dancing around, because all her Christmas wishes had come true. We think it would have brought Kate so much joy knowing that Billy was finally able to reward The Snowman with a gift that would mean so much to him, just like he did to Billy with The Snowdog all those years ago.
The 
Barbour Jacket
 Kate gifted to Billy many Christmases ago has lasted through countless cold winters, miles of country walks and plentiful dog walks, so they couldn't think of a more perfect present for The Snowman, than giving him one he could call his own.
Head over to our 
Facebook page
 to watch the full 
#BarbourChristmas film
.
---
Discover your perfect style...