AUTUMN WINTER 2020
In celebration of the launch of our new premium sub-brand, Barbour Gold Standard, we got to know the face of our collection, British actor, Sam Claflin. Discover the man behind the camera to find out more about his upcoming work, his love of the outdoors, and his favourite jackets from the collection.
You have starred in some incredible films and television programmes; which projects have meant the most to you?
Honestly, I've learnt something from every role I've done and everyone I've worked with. I've been very lucky to be able to work across film and tv and alongside some incredible people.
Your work in film and television has taken you all over the world; do you have a favourite place to visit?
Hawaii. Without a doubt. I was fortunate enough that one of my very first acting jobs, Pirates of the Caribbean: On Stranger Tides, was shot there. And I returned for The Hunger Games: Catching Fire. It's just so beautiful and peaceful, the people are so welcoming. I can't wait to go back.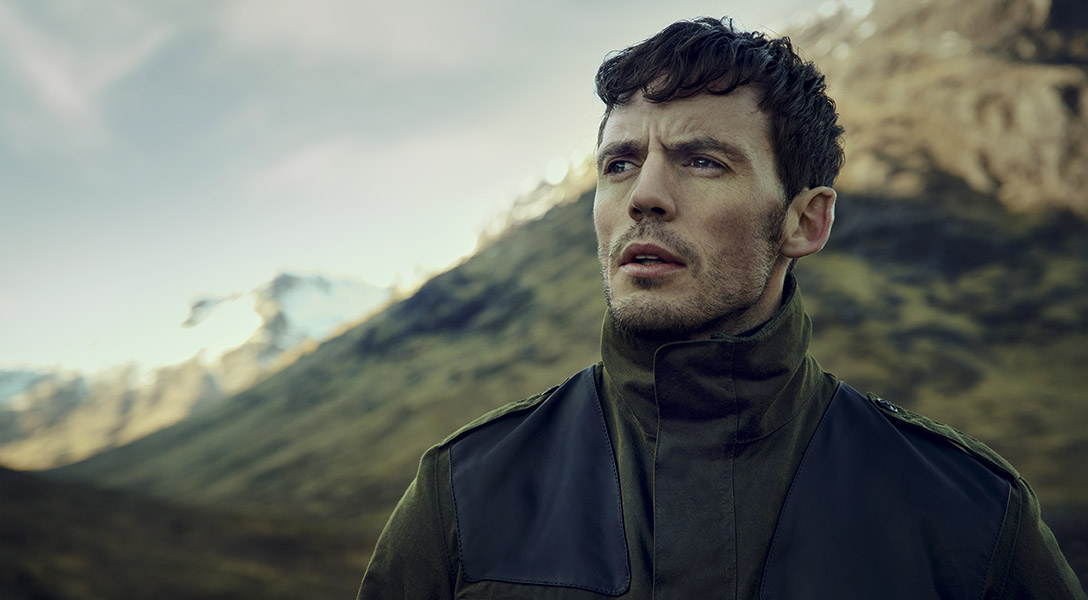 Do you have a favourite outdoor activity?
I was fortunate enough to grow up with a woods at the top of my road, parks within a stone's throw away, and three brothers who were equally competitive, so I've always been an 'outdoorsy' person. I love getting out and exploring with the kids and my dog, Rosie.
You have done a lot of training for some of the different films that you have been in, what has been the toughest physical challenge that you have taken on?
I really enjoy a role that challenges me both physically and mentally, taking me out of my comfort zone. I've filmed in some pretty spectacular/wild settings. Adrift we filmed in Fiji and obviously, a lot of the film was out at sea, which was quite testing for all cast/crew seasickness. The Nightingale was filmed in Tasmania and before we began I did a few days 'prep' in the wilderness, which had us camping under the stars in the outback. I'm incredibly lucky for some of the opportunities that I've been given and the places I've got to visit.
Can you tell us about some of your forthcoming projects?
Next, I will be filming Daisy Jones And The Six, which we were due to start earlier this year in LA however due to COVID it obviously has been pushed back.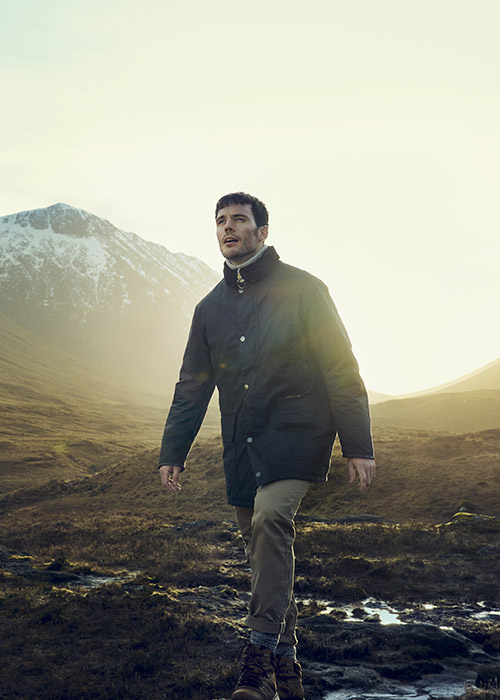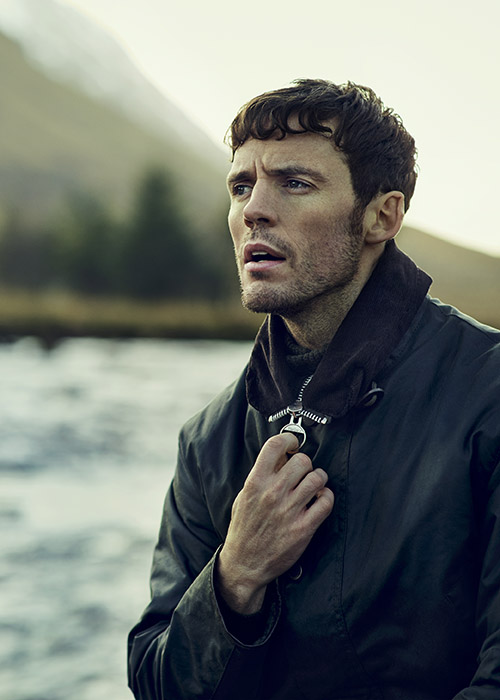 You're often featured on 'best-dressed lists', can you tell us about your personal style?
My 'style' changes day by day. I couldn't label my style as anything in particular really. It just is what it is. Unique to me. Comfort is and has always been the most important factor for me personally (as boring as that sounds!)
You must spend a lot of time filming outdoors, how important is it to have the right gear on in between shots??
It's integral. If you want to be able to function at your highest potential, you need to have the right equipment. You wouldn't expect an architect to draw without a pencil (or pen?).
But it goes without saying, the amazing crew are always clued up on the location and the weather conditions for the next day, ahead of time, and everyone is as prepared as you can possibly be.
The shoot for the Barbour Gold Standard collection took place in Glencoe in Scotland in January which must have been pretty chilly, how did the jackets you were wearing hold up against the weather??
They really did! It was absolutely freezing and I had my hands/feet in the water a fair bit but I have to say, the jackets definitely took the edge off! I remained toasty throughout.
Which is your favourite Barbour Gold Standard jacket from the AW20 collection?
My favourite jacket from the AW20 collection is the Supa Beaufort. It's based on the Beaufort, one of Barbour's iconic styles from the 1980s which was designed by their Chairman Dame Margaret Barbour. The Supa Beaufort has all of the history and tradition of the Beaufort – it keeps all of the classic features of the original such as the bellows pockets, cord collar and two-way zip but it's a more contemporary jacket. And is really REALLY warm!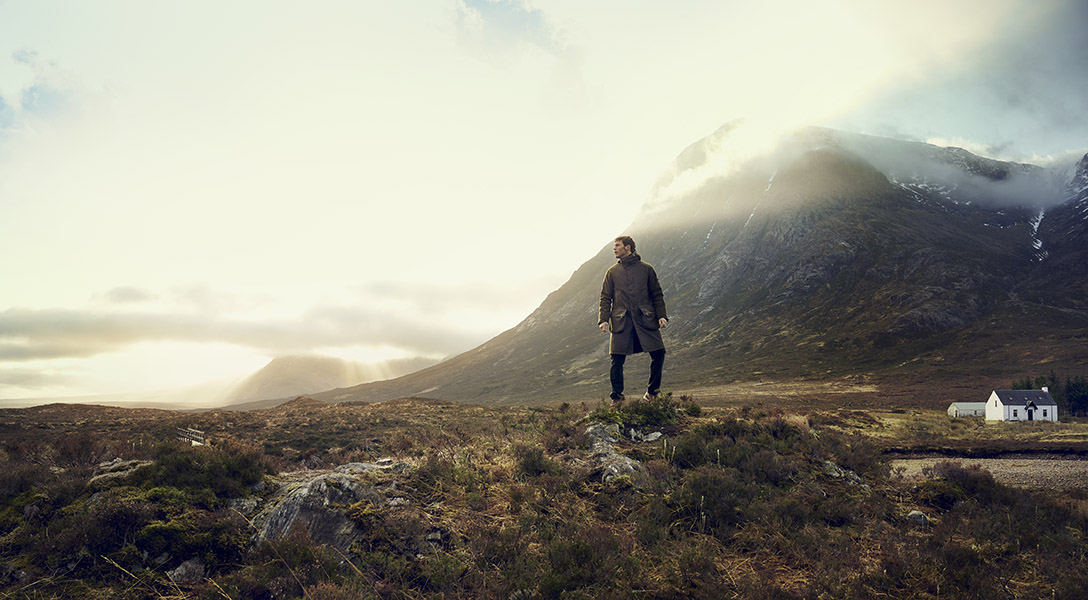 The jackets are very technical and have a lot of special details, were there any standout features that you noticed during the shoot?
The pockets on the Beaufort jacket are great – not only do you have hand warmers (which believe me were seriously needed on the January shoot in Scotland!) and large pockets at the front but also a full-length rear width pocket so there's plenty of storage if you're out walking for the day or away camping for the weekend. The hood is also a feature – it's a buttoned-up hood with a drawcord around the neck but has these ear mesh patches which allow you to hear even when the hood is up!
The location was quite remote and tricky to get to – but it looked spectacular- do you enjoy spending time in the countryside?
It was honestly breathtaking. I will definitely be going back! We had this running joke throughout the shoot on how long it would take to run up the peak of each mountain we passed. I like getting outdoors as much as I can. I grew up in Norfolk, I spend as much time as I can back there. I have family still based in and around Norwich, and though at the moment I call London home, Norfolk has my heart. It's such a nostalgic place for me. Calming. Easy. Peaceful.
Do you remember the first time you wore a Barbour jacket and do you still have it? (which style if you know the name?)
I do! It was a classic quilted one (I'm not sure of the name!) but it's really stood the test of time!
Explore more about our campaign with Sam Claflin, here, or read the blog to find out more about the jackets in the range. You can also shop your favourite styles by clicking here.