Saltire: Andy McMillan Q&A
AW19 Saltire Collection: Andy McMillan Q&A
autumn winter 2019
To celebrate the launch of the AW19 Satire Collection, we sat down with Andy McMillan, Senior Apparel Manager at Barbour, to discover more about the inspiration behind the range.
This capsule collection is named Saltire. Can you explain Saltire?
The saltire cross is taken from the Scottish flag and is used inside a shield which features in the Barbour family crest. We have utilized this and has been our long-standing logo for some time now. This season, we have expanded our offer into other product categories.
What are the staple items in this capsule and why are the essential in any man's wardrobe?
The entire collection is built around men's wardrobes staples. The pinnacle of which, I feel is the button-down oxford shirt in white and sky. It's a shirt style that everyone should own. Sitting with this, we have a couple of polo shirt – Sports polo and our Tartan trim polo. In the polo's we have injected some colour into the range – Deep Blue, Seaweed, Red and Merlot. The final piece I feel is a staple is the Sports Tee, again in core colours Navy and White as well as some season colours.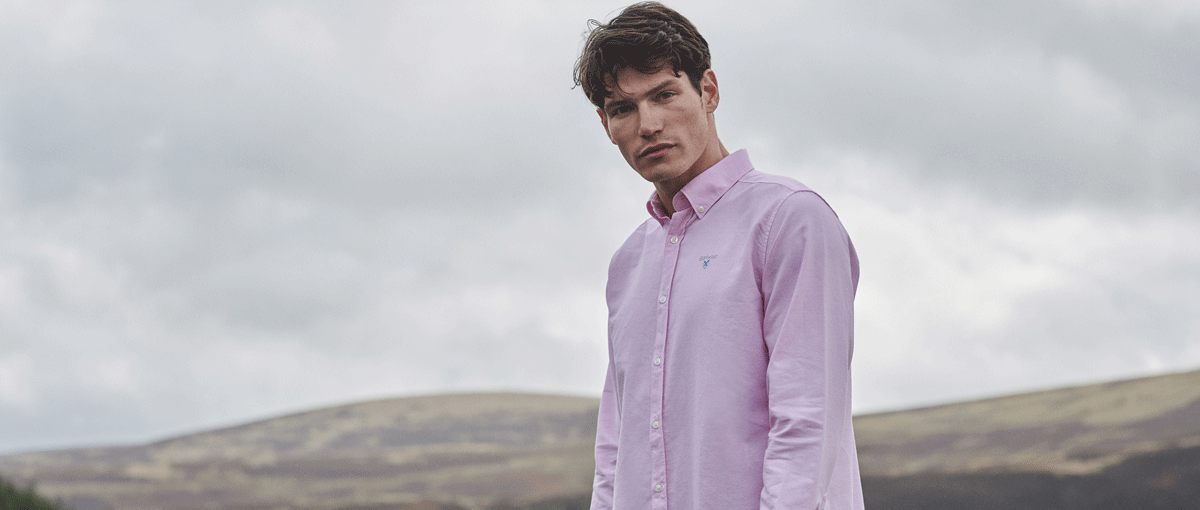 Who is the Barbour man you have designed this capsule for?
As I have mentioned I feel the collection has been built around the styles every man should have as the Building blocks for a timeless wardrobe. They are items that you wear over and over again then replace with the same item when you want a fresh look – keeping the old one as your washed worn 'favourites'.
What are the different fits like on these items?
All the items in the collection are on our Tailored fit. This is our middle fit, the others being Regular and Slim, which has been developed to suit many body types giving a contemporary look.
What makes these different to other Barbour menswear collections?
I'm not sure I would say different, more this compliments our other collections. This collection does stand out due to the clean sophisticated 'simplistic' nature of the styles.
What is the essential piece or pieces from the collection that you will be injecting in to your wardrobe?
I've always had what some might call an obsession for button down oxford shirts in white and navy polo shirts. So, if I have room, I will be adding these to my wardrobe.
How would you style the polo shirt, vs shirts and t-shirts from the capsule?
I think the styling is personal and everyone should attempt to work out their own style/look that suits them and build a wardrobe to match. This collection is very versatile so can be styled to fit the occasion. Taking the white polo shirt, I would wear that with pair of navy chino's (turned up to around ankle length) and a pair of white trainers and a
navy slim line cotton cropped Bedale.
What fabrics are these items made of and why are they perfect for summer?
For the shirt the 100% cotton Oxford is a fabric that works well in summer due to the fact its more breathable then say a poplin. It is also a fabric that still looks good even after a day wearing it. We use 100% cotton pique for the polo which is a great summer fabric as the construction gives a breathable fabric.
What new colours are in the range that you'd recommend for a wardrobe update this season?
I think the Oxford 3 Tailor Fit shirt in pink is a good summer update and feel you can't go wrong adding another blue to your wardrobe so I would pick the Deep Blue polo also.
Can you give an exclusive on what is coming in future seasons?
We are working on some exciting projects at the minute such as a Premium Saltire range, where we use Pima cotton and mercerized yarns along with a new exclusive gold colourway of the logo.
Discover the AW19 Saltire Collection.
---