Re-engineered Diamond Quilts: AW21
AUTUMN WINTER 2021
This season's Re-engineered For Today collection introduces a new range of diamond quilting, so-named because of the highly recognisable diamond-shaped stitching, which reimagines classic silhouettes from our archive, giving them a contemporary flourish.
Equally at home in the great outdoors as under city lights, the new collection showcases all the things you know and love about Barbour quilting, with extra detailing for added luxury.
The collection is ablaze with colour, much like the autumn season, featuring nature-inspired hues of olive green, stone and calico seamlessly intertwined with Barbour tartan linings and our signature corduroy and leather trims.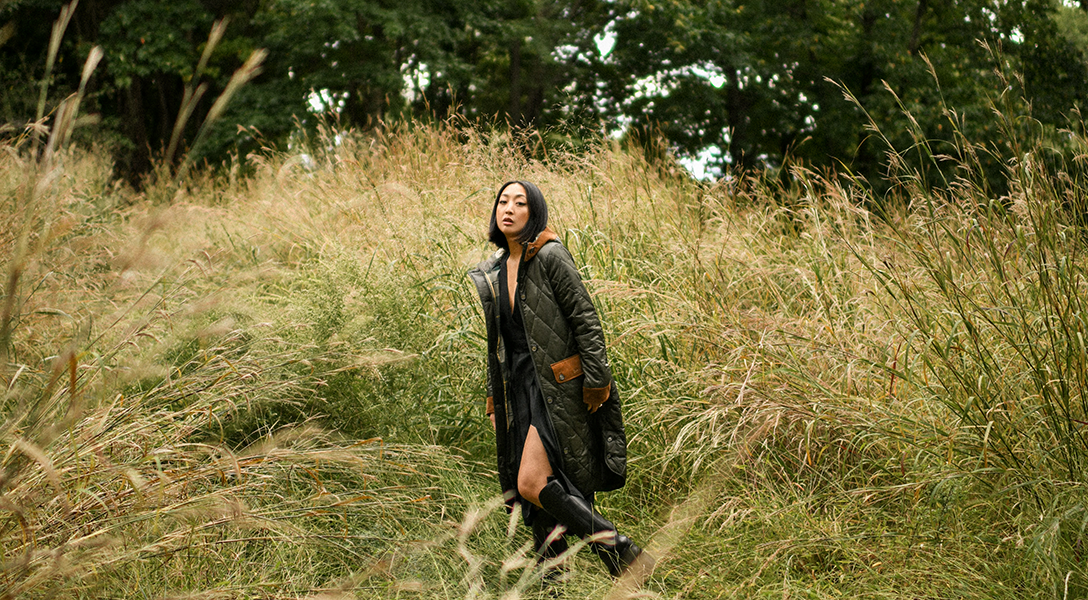 Split into three distinct categories based on the size of the diamond, Archive Evolved, Modern Future and Cold Weather, there is a quilt in this collection for every occasion this autumn-winter, come rain or shine.
To celebrate the new collection, we joined Josie Fear, Camila Carril, and Serena Goh to see how they wear the three quilt styles, for the perfect autumn look.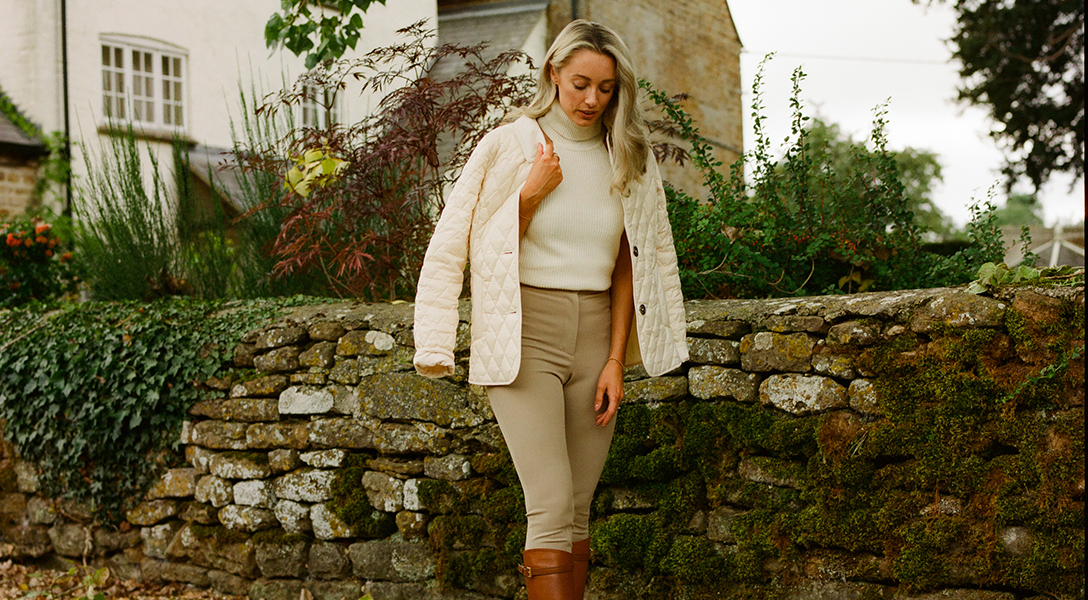 Archive Evolved
Calling for the countryside is our classic 2-inch diamond quilting range, Archive Evolved, which showcases our smallest diamond; a nod to our most treasured quilt style, the Liddesdale.
As worn by Josie Fear in the countryside near her home, the Omberlsey Quilt is one of the keys styles from the range, which can be effortlessly layered up for those crisp autumn mornings.
Lightweight, yet sturdy enough to keep the cold breeze at bay, both long and short quilts accompany puppy-tooth patterns in feminine silhouettes.
"I love that Barbour have brought out a jacket in a lighter colour, this really fits in with the tones in my wardrobe - you've still got those classic Barbour features, like the quilting, really warm and practical so perfect for both my errand running but also for when I want to get a bit more dressed up."
- Josie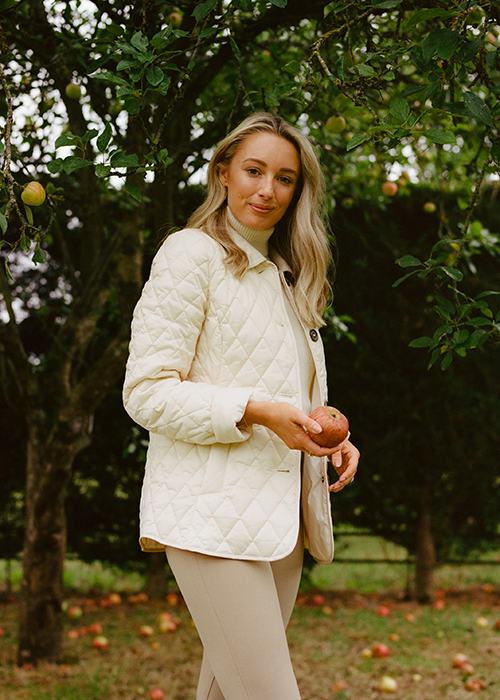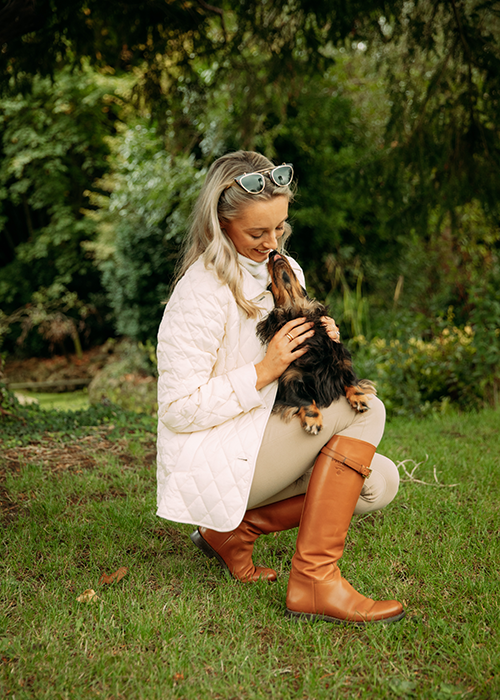 Modern Future
The Modern Future range redefines diamond quilts with a larger, 3-inch diamond pattern in a contemporary relaxed fit, with chunky zips and herringbone trims. Pair shorter styles with wide-leg trousers and a turtle neck for a relaxed look, perfect for staying stylish during the transitional weather.
As worn by Serena Goh, the Mickley Quilt is a longer-length 3-inch quilt style, with a contemporary silhouette, trimmed in corduroy for a traditional Barbour feel.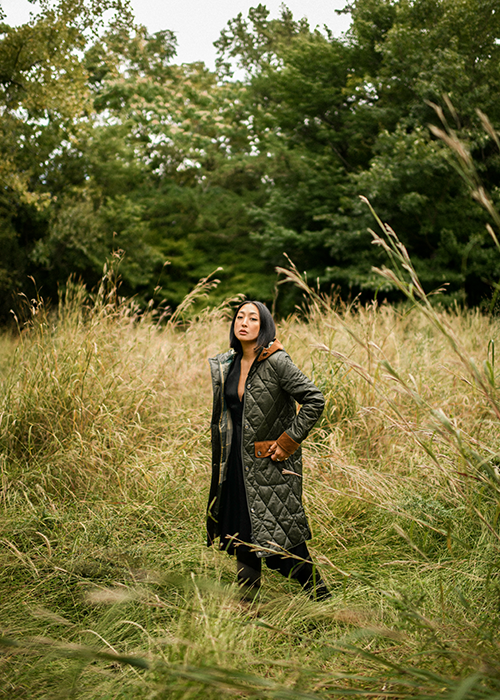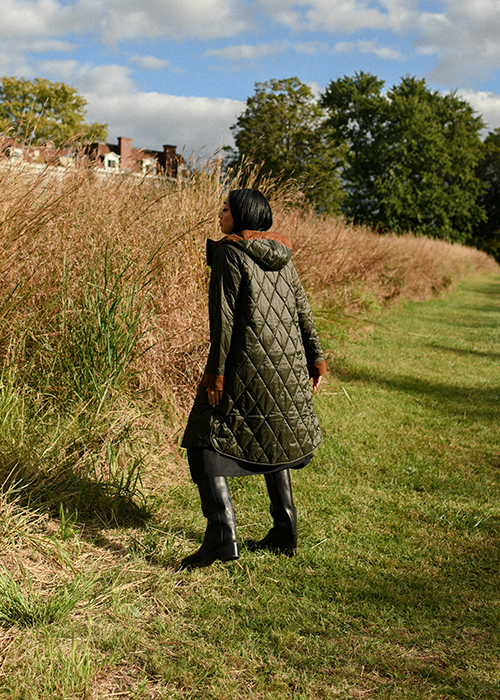 Cold Weather
As the season matures into chillier days, the Cold Weather 4-inch diamond quilts provide extra warmth, without compromising on style.
Longer length fibre down fills jackets with faux fur hoods and pillow collars for extra comfort. Designed to stand against the cold winter, the 4-inch diamond pattern injects a modern twist into classic Barbour styles, sure to be a wardrobe staple this season, and for many to come.
As worn by Camila Carril, the Sandyford Quilt can be layered over knitwear, and paired with boots or trainers for a casual, modern look.
"I think the quilted jacket is a must for autumn, it is stylish and practical! It's the perfect transitional piece in between seasons when the weather is unpredictable."
"The coat I am wearing is particularly special as it can upgrade any look. It's cosy to the touch, beautiful to the eye and I love how the shape makes me look elongated."
- Camila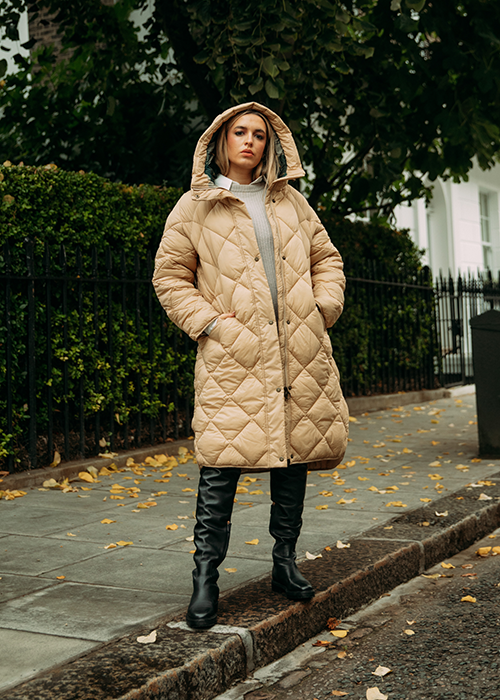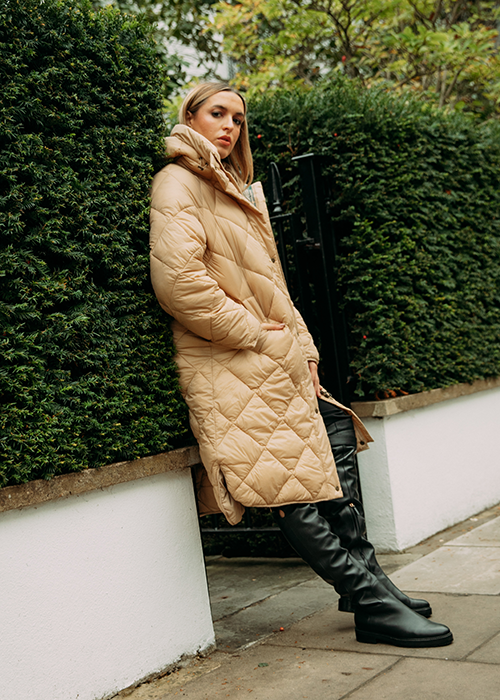 Discover more about our campaign with Josie, Camila, and Serena, here, or shop the full collection of Diamond Quilts to find your perfect style.