Recipes from Alexandra Dudley
Recipes from Alexandra Dudley
autumn winter 2018
#BarbourLife celebrates the people who live a Barbour Way of Life, and for our January instalment, we met up with renowned chef and author of 'Land and Sea', Alexandra Dudley who shared some of her favourite recipes with us.
Spiced winter slaw
Serves 4-6 as a side
January can often be a tough month in the kitchen. The excitement of mince pies and brandy butter has been and gone and for many of us who've been cooking for family something quick and simple is what's in order. After the indulgence of Christmas I like to fill my table with lots of fresh dishes. Bright, colourful and full of crunch. This slaw is just that and despite compromising mainly of raw veg it manages to be indulgent at the same time. A good dose of crunchy almonds and toasted pecans give it a note of luxury and the dressing is warming its hints of festive spice (just in case you're missing it). I love to serve this alongside a good hearty soup and some bread. It works very well with any leftover turkey too. You can make it ahead too and just leave the dressing, shredded veg and nuts in a bowl un-tossed until ready to serve.
100g pecans
100v almonds
2 large carrots, grated
Quarter of a red cabbage, finely sliced
For the dressing
3 tbsp olive oil
1 tbsp pomegranate molasses
1/2 tsp mixed spice
1 tsp honey
Preheat your oven to 180 and place your pecans onto a clean baking tray. Roast for ten minutes checking half way to ensure they are not burning. Remove and allow to cool.
Place your flakes almonds into a dry frying pan and over a medium heat toss them for about five minutes until lightly browned and toasted. Remove and allow to cool.
In a large mixing bowl whisk together your dressing ingredients with a fork. Add your grated carrot and shredded cabbage, your almonds and half your pecans.
When ready to serve, toss everything together and transfer to a large serving dish and sprinkle the remaining pecans on top.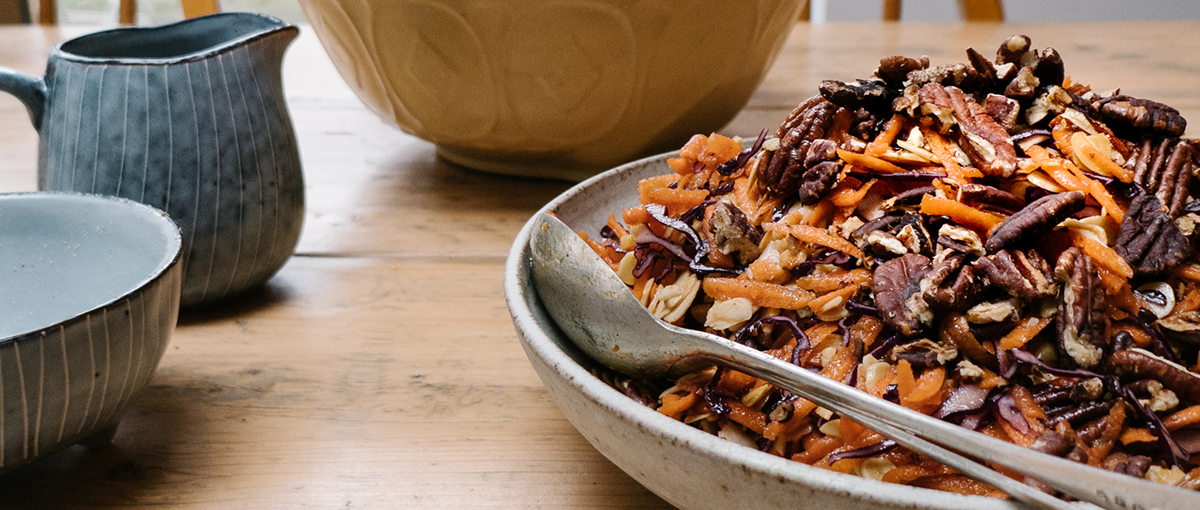 ---
Charred broccoli, delicata squash with tahini, dukkah and mint.
I love the colour of this dish. It's a perfect one to get your veg in whilst keeping the plate exciting. I love to make this when entertaining and usually roast the veg ahead of time and keep it warm in a switched off oven to finish it with tahini, dukkah and mint just before serving.
Be sure to use good tahini for this as it makes all the difference. This recipe makes more dukkah than you will need but it keeps very well in a jar and is a wonderful addition to eggs or avocado on toast or any vegetable dish.
Serves 4 as a starter
For the dukkah.
115g almonds - toasted
20g sunflower seeds
20g pumpkin seeds
1 tbsp white sesame seeds
1 tbsp black sesame seeds
1.5 tsp Nigella seeds
1.5 tsp cumin seeds
1.5 tsp coriander seeds
1 tsp sea salt
1/2 tsp fennel seeds
1/2 tsp smoked paprika
1 delicata squash
1 broccoli
Olive oil
Tahini
Sea-salt
Small bunch mint
Begin by making your dukkah. Place all the ingredients into a food processor and pulse until you have a rough broken down texture. I like to have some good chunky bits in there.
Preheat oven to 200. Slice your delicata squash in half lengthwise. Scoop out the seedy centre and discard. Slice squash into roughly 1cm crescents.
Place onto a roasting tray and drizzle well with olive oil and a good sprinkling of sea salt. Massage with your hands to make sure everything is covered. Roast for 25 minutes until cooked through slightly charred.
Slice your broccoli into florets and slice the stalk into think disks of about 5mm.
Transfer to a roasting tray. Drizzle with olive oil and sprinkle with sea salt. Massage with your hands making sure everything is coated.
Roast for 15 minutes until cooked and slightly charred.
To serve, arrange your broccoli and squash evenly between plates. Drizzle each with about a tablespoon of tahini. Sprinkle over a heaped teaspoon of dukkah over each and finish with a few mint leaves. About 6 or 7 per plate.
You could also plate this up as a larger sharing dish.
---
Savoury oat and buckwheat granola
I must confess that whenever I make granola it is usually less than half of it that sees the depths of a breakfast bowl. For the most part, I enjoy snacking on granola in handfuls from the jar or as a topping to yoghurt or porridge. This savoury granola is perfect for this kind of topping and snacking way of eating. I like to keep a jar of it in the kitchen to place atop of soups, salads or a stir-fry. It also makes for a very good travel snack too and travels very well in a small jam jar or Tupperware.
100g jumbo oats
70g raw buckwheat groats
40g flaked almonds (untoasted)
40g pumpkin seeds
40g sunflower seeds
60g almonds, roughly chopped
2 sticks of lemongrass, outer leaves removed and finely chopped
2 tbsp lemon juice
4 tbsps coconut oil, melted
3 tbsp tamari
1 ½ tbsp. maple syrup
½ tsp turmeric
½ tsp cayenne pepper
½ tsp ground ginger
good pinch of seasalt
good grind of pepper
handful of flaked coconut
Preheat your oven to 160 and line a large baking tray with parchment paper.
Combine all of your ingredients apart from the flaked coconut in a large bowl and stir to combine.
Spread everything onto the tray and bake in the oven for 20 minutes tossing half way. Five minutes from the end stir through your coconut.
The granola should be crisp and dry. Allow it to cool completely before storing in an airtight container for up to 5 weeks.
Enjoy by the handful or atop soups and salads.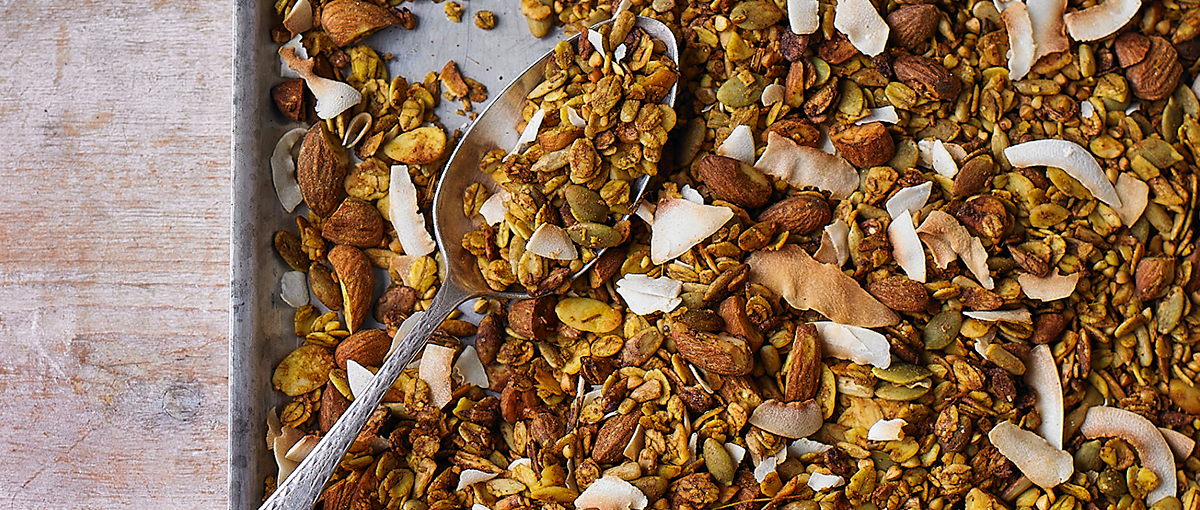 ---
Learn more about the #BarbourWayOfLife here.
Discover your perfect style...