Meet the Dogs of Barbour
spring summer 2019
As part our 125th Anniversary we invited some of our Barbour Employees and their canine friends on a walk to find out about their summertime adventures. This month we're introducing you to Kat Howe, Online Trading Co-ordinator and her Cockapoo, Bella and Pug, Reggie.
Can you let us know a little about yourself and your role at Barbour?
I'm Kat and I am from County Durham where I live with my two dogs and my boyfriend.
My role at Barbour is Online Trading Co-Ordinator where I lead all online merchandising and product focus activity.
Tell us about your dogs; name, breed, age and where they came from, were they a rescue?
I have two gorgeous dogs. Reggie, a 4 ½ year old black Pug whose pedigree name was Mr. Impossible and Bella, a 2-year-old red curly Cockapoo.
What do you love the most about your dogs? Do they have a certain character/personality quirks?
Both Reggie and Bella are such lovely natured dogs and they have such a great bond together. Although Reggie is older, Bella is definitely the most dominate, always pestering him to play. Reggie is so relaxed and is happy to snooze by your side all day, he absolutely hates water and will avoid puddles at all costs which is great for keeping him clean! Bella on the other hand loves an adventure and is always wanting to play – she always gets so excited to see you and greets you like a bouncing Tigger, jumping so high. I love to catch her for a cuddle when she's tired and when they both come and lay with us on an evening after a busy day.
How do you and your dogs spend your down-time together?
We are lucky to live in an area that has so many amazing places that are perfect for dog walks. I spend most weekends here at Castle Eden Dene with the dogs, it's a lovely 2 hour walk. We also spend our weekends at the beach too as the coast is not far away. During the week we walk around a beautiful lake that is opposite my house.
---
What is most rewarding about having dogs in your life?
Their constant love and affection are second to none and seeing them so happy and excited over the simplest of things is priceless.
What is your favourite adventure you have been on with your dogs? Any memorable scenic walks?
Reggie was actually 6 months old when I first met him. He came on my partner and I's first date. We took him to the beach for a fresh February walk - It was definitely Reggie that sold the date and still one of our favourite walks to go on.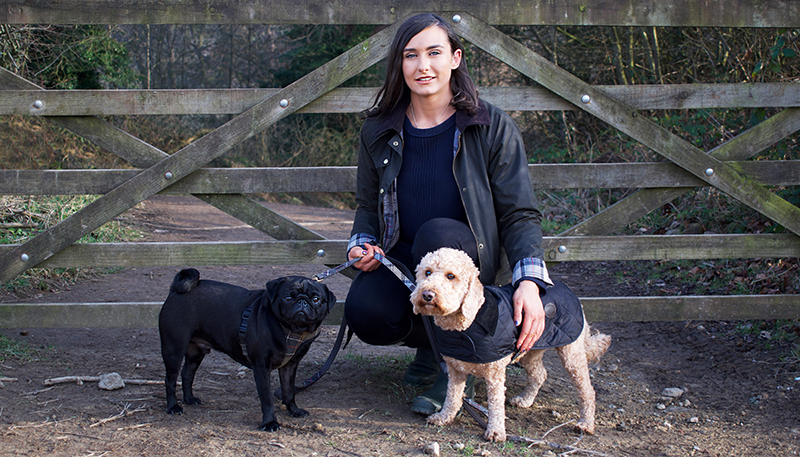 ---
---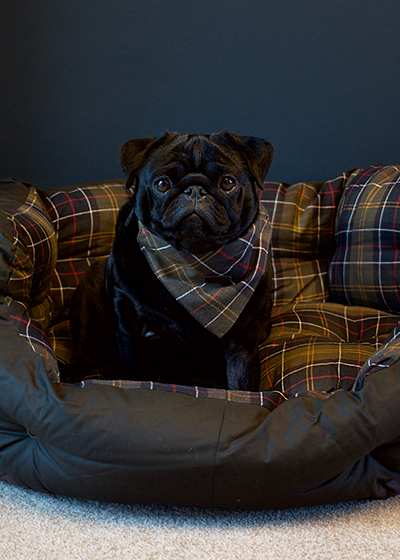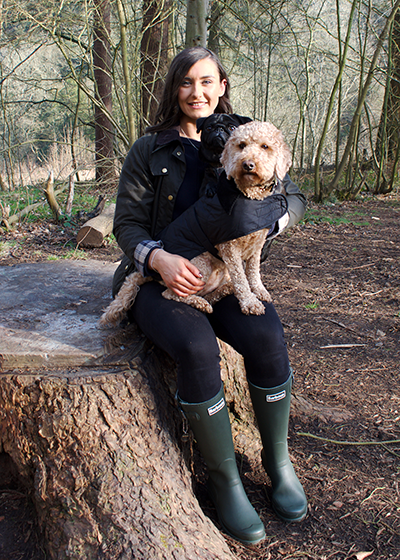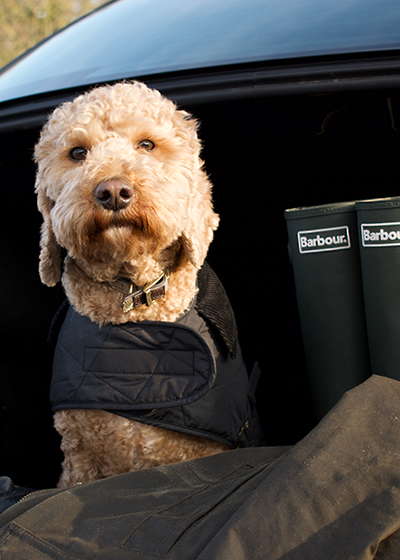 What summer time adventures will you and your dogs be enjoying this summer?
We love taking the dogs to beaches especially in the summer. We have never been to Roseberry topping so plan on taking the pups there – although Bella will be straight off running ahead – we will probably need to give Reggie and his little legs a hand to the top.
Barbour's shops are all dog friendly, do you know any dog friendly eateries/pubs or hotels/air bnb's/glamp sites/dog friendly beaches near you?
A new dog friendly café has just opened recently along Seaham Marina, Flamingo Bar & Café. Their outside tables are dog kennels and they are happy to supply snacks for your dog as well as water and free treats – it's our new favourite breakfast spot.
What are your dogs favourite Barbour accessories and why?
Bella is the perfect size for all of the Barbour dog coats and looks great in her Barbour Wax Dog Coat. Poor Reggie on the other hand, is a little too short and too round for many of the coats but he looks very handsome in his Barbour Tartan Dog Harness or Tartan Bandana. We have The Barbour Wax/Cotton 35in Dog Bed for Reggie, a little large for just him… Bella sneaks in it when he's not looking and has been known to jump in with him at the same time which is just adorable.
What Barbour items do you wear when on adventures with your dogs? 
I often wear my Barbour Floree Waxed Jacket which is long and fur lined; great for walks on a miserable day. Today I am wearing the Classic Barbour Beadnell Jacket, a little more lightweight for a sunny day.
Discover more about #BarbourDogs and see the collection here.
---
Discover Men's Weather Comfort