Meet the Dogs of Barbour: Sid the Whippet
Meet Sid
spring summer 2019
As part our 125th Anniversary we invited some of our Barbour Employees and their canine friends on a walk to find out about their summertime adventures. This month we're introducing you to our Stylist James Wells and his Whippet Sid.
Can you let us know a little about yourself and your role at Barbour?
My name is James and I am the stylist at Barbour, I currently live in Gateshead with my girlfriend and my dog Sid.
Tell us about Sid, what is his breed and where did he come from?
I was looking for a dog about four years ago when I came across a local breeder with a litter of whippet puppies, Sid was the first to come and say hello and he was so excited to see me I instantly fell in love with him.
What do you love the most about your dog? Do they have a certain character/personality quirks?
They say dogs are like their owners and our personalities are very similar - we both love food and naps a lot.
How do you and your dog spend your down-time together?
You'll probably find us snoozing on the sofa, whippets are notoriously lazy dogs and I love a good nap. Alternatively, you can find us in the many pet friendly cafes & pubs in Newcastle, we're also lucky to have an amazing park at the end of the street where Sid can hang out with his friends.
What is most rewarding about having a dog in your life?
I think the most rewarding thing about having a dog is the companionship we are inseparable and go everywhere together when we can.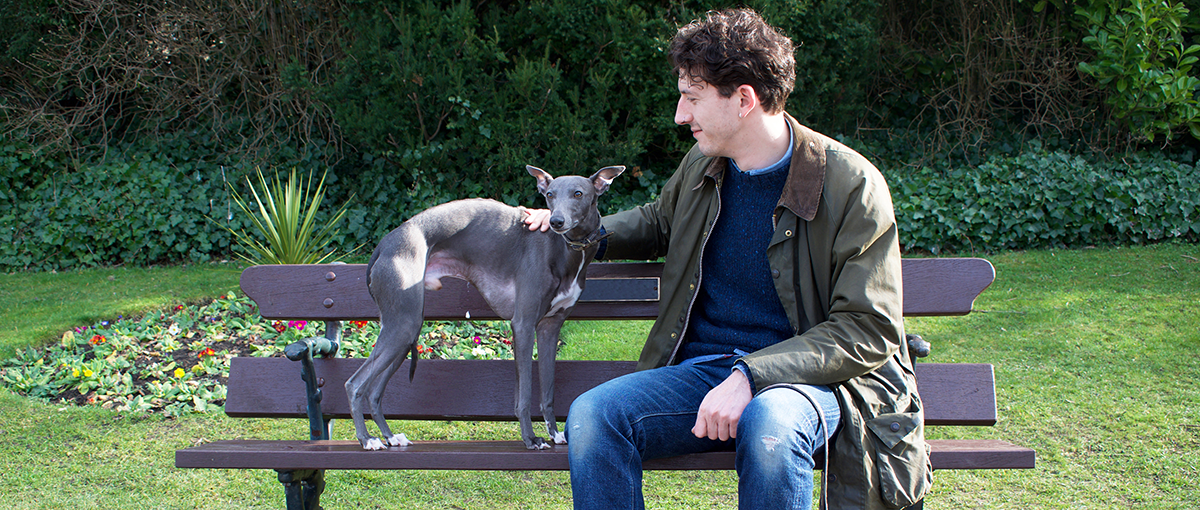 ---
What is your favourite adventure you have been on with your dog? Any memorable scenic walks?
We spend a lot of time at the coast in Northumberland where my family lives, we both like to visit Ross Sands, it's a three mile stretch of golden beach with unrivalled views of Holy Island, the Frane Islands and Bamburgh Castle. I really enjoy it there as you rarely see anyone on it except from the odd seal; Sid's relative as I think he looks like a little seal pup.
What summer time adventures will you and your dog be enjoying this summer?
I tend to spend a lot of time in the Lakes or up in the Scottish borders where we go on long walks so will most likely be doing lots of that.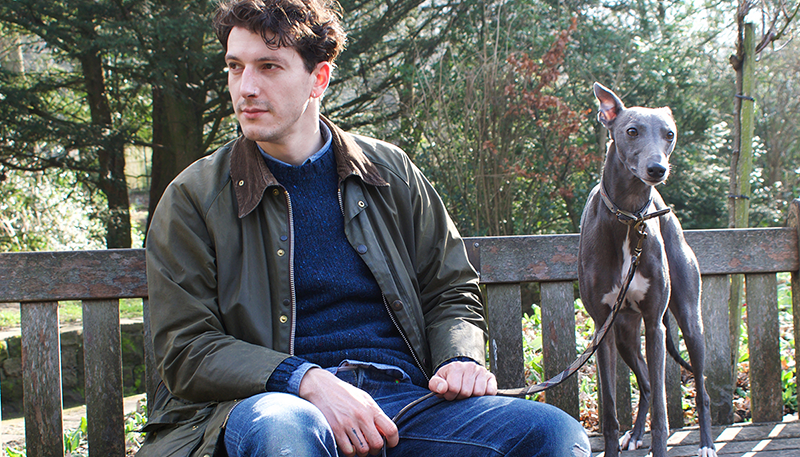 ---
---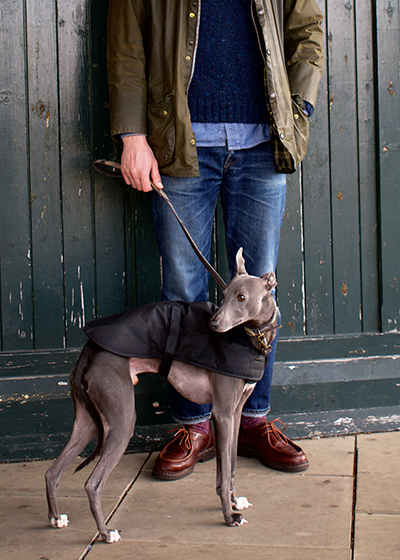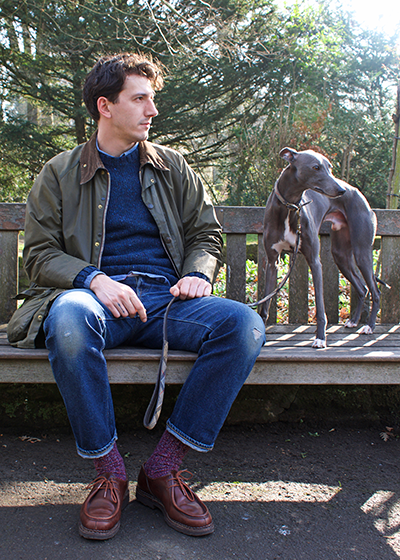 Barbour's shops are all dog friendly, do you know any dog friendly eateries/pubs or hotels/air bnb's/glamp sites/dog friendly beaches near you? 
I live quite close to the river side and there is an amazing place on the Gateshead Quayside called 'By the River Brew Co', a mix of restaurants, cafes and bars with an outside food market as well as a custom bike shop where you can get a tune up and enjoy a coffee and cake. There is also a great selection of places to go in the Ouseburn that are all dog friendly such as Ernest which is a great little café/bar.
What is your dog's favourite toy/game?
Sid's favourite toy is probably this little black bat that I got him when he was a puppy, he's constantly running around with it in his mouth or tucking him in when he goes for a nap. Alternatively, he loves getting the biggest branch of seaweed on the beach and playing fetch with it.
What are your dog's favourite Barbour accessories and why?
Sid really likes his wax cotton bed that's he's had since a puppy, you can see him on the website modelling one. Today he's wearing the Barbour Dress Tartan collar and Lead so he looks smart for his pictures.
What Barbour items do you wear when on adventures with your dog?
I have a really old 80's Beaufort (that I'm wearing in the pictures) that belonged to my dad who sadly passed away two years ago so I have quite a lot of sentimental attachment to it and wear it as often as possible. It's nice as I have distinct memories of him wearing it when I was younger. Sadly, these days it's a little ratty and always full of dog treats but I love it all the same.
We are celebrating 125 years of Barbour, why do you think dogs are such a huge part of Barbour's DNA?
Barbour is all about embracing a slower pace of life, and who better to do that with than your dog.
Learn more about Barbour Dogs and Barbour 125 Years here.
---
Discover Your Perfect Style