Meet the Dogs of Barbour: Sidney the Bulldog
Meet Sidney
spring summer 2019
As part our 125th Anniversary we invited some of our Barbour Employees and their canine friends on a walk to find out about their summertime adventures. This month we're introducing you to our Warehouse Supervisor, David Geddes, and his Bulldog, Sidney.
Can you let us know a little about yourself and your role at Barbour?
I am currently a Warehouse Supervisor working in the despatch area. Within the despatch area, I am responsible for the Export Department where we despatch Barbour products worldwide. These can go as far as New Zealand.
Tell us more about your dog, what is his breed and where did he come from?
My dog is called Sidney James Geddes, he is a British Bulldog who is 7 years and was born 1 December 2012 from a breeder in Newcastle. He's named after the 'Carry On' series actor as he also has a walnut squash face.
What do you love the most about your dog? Do they have a certain character or any little personality quirks?
Sidney has the abilty to sleep anywhere as long as he has a blanket/pillow. He will make a bed and sleep for a very long time, as well as snoring so loud that you can hear him from upstairs. Whenever I come home, the first thing Sid does is look for a shoe. He gets one of my shoes in his mouth and proudly parades round the house then drops it at my feet.
How do you and your dog spend your down-time together?
Wherever I go he follows, whether its watching TV, playing X-box or chipping golf balls in the garden, he's with me.
What is most rewarding thing about having a dog in your life?
The uncondictional love and loyalty you receive and the ability to make you happy just by looking at them, or having them in the same room as you.
---
Which summertime adventures will you and your dog be enjoying this summer?
For most of the summertime me and Sid will go for walks at my local golf club in Tyneside, where he helps me look for golf balls through all the bushes and ravines. This gives me a chance to look for the balls I have lost the day before.
Barbour's shops are all dog friendly, what are your favourite dog friendly spots?
As a family, we like to spend time at Embleton Beach, where Sid helps his little sister Alice (who is a human) look for shells and play in the water. After that we like to go to Dunstanburgh Golf Club for a coffee and cake.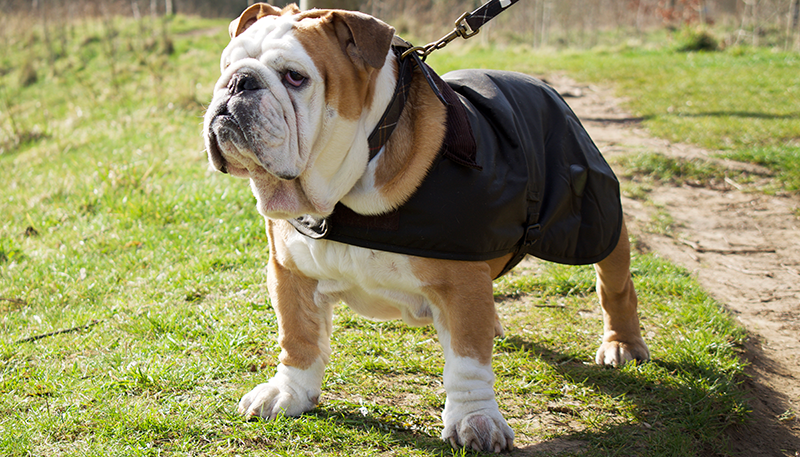 ---
---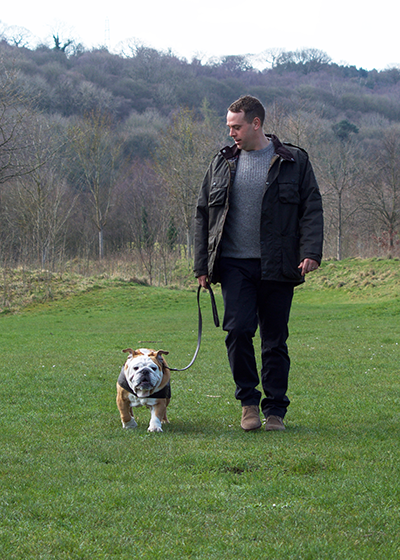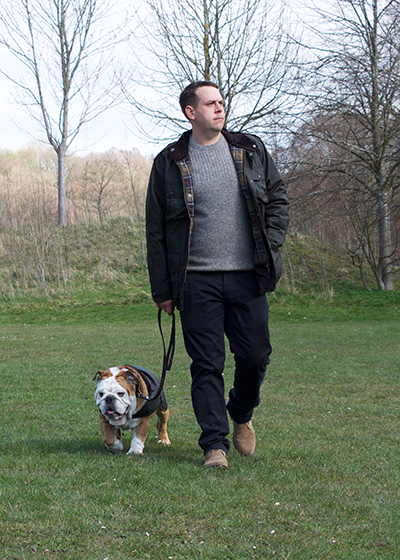 What is your favourite adventure you have been on with your dog? Any memorable scenic walks?
Me and my wife went on a pre-wedding photo shoot which was an opportunity to meet the photographer. I thought we should bring our first born Sid along as it would be great to have some photos of him with us. We had a walk along the River Tyne, it was a beautiful summers evening. Rachel and I had done a few poses together and were feeling confident, so the photographer suggested that we pose right next to the river. The sun was starting to set and I thought that it would be a great photo. All of a sudden we heard a giant splash, and Sid was in the River Tyne pirouetting like a drowning ballerina. So I ran down into the freezing water which came up to my waist and pulled Sid back to the riverbank. He looked at me, shook the water off and carried on about his business. Needless to say the the photo shoot was over and we never got that photo I had envisioned!
What is your dog's favourite toy/game?
Sid loves to play with footballs in the garden and loves to fun fight.
What are your dog's favourite Barbour accessories and why?
I love the collar and lead as it always draws attention whilst I am on walks with him. I always get stopped by members of the public who comment on the collar and share their dog stories with me.
What Barbour items do you wear when on adventures with your dog?
I never take Sid out without my Barbour wellies, they are my must-have, especially with the British weather being so unprectiable!
We are celebrating 125 years of Barbour, why do you think dogs are such a huge part of Barbour's DNA?
Barbour has always been synonymous with hard working and outdoorsy people who love taking their dogs for walks.
Dogs are loyal and loving, and make spending time outdoors even more enjoyable. Dogs can make you feel special and extraordinary, as does the Barbour brand.
Learn more about Barbour Dogs and Barbour 125 Years here.
---
Discover Your Perfect Style