How to Make Paddington's Marmalade: Barbour Way of Life Guides
BARBOUR CHRISTMAS 2021
In celebration of our Barbour x Paddington Christmas campaign, we've joined food writer and winner of The Great British Bake Off 2019, David Atherton, as he takes us through creating Paddington's much-loved marmalade. This easy to create marmalade is a great Christmas treat – whether it's to give as a gift, in cakes and bakes, or even just to enjoy yourself! Read on to find out how you can make your own, this festive season.
David: I'm a big fan of marmalade, so much so that each year I enter the World Marmalade Awards. I like trying different fruits and flavours, but nothing is better than a classic Seville orange marmalade. Here is a recipe for Aunt Lucy's marmalade, loved by Paddington, and perfect for spreading in a sandwich (to keep under your hat). Marmalade is very simple to make and uses every part of the orange. The juice and skin give you the body of the marmalade and everything else is used to extract pectin which is the natural gelling agent that gives the marmalade a nice texture.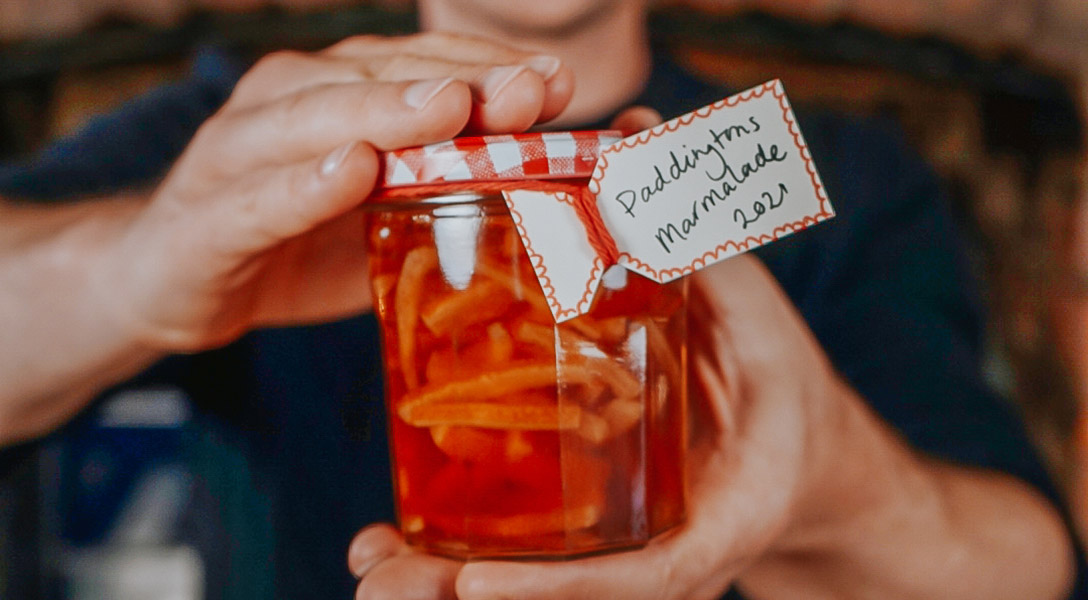 Paddington's Marmalade.
Ingredients:
● 1kg Seville oranges
● 2kg preserving sugar
● 1 lemon
● 2.5 litres of water
Makes 6 jars (300ml)
Useful equipment:
● Jam pan (or big heavy-based saucepan)
● Preserving thermometer
● Jars
● Muslin cloth/bag
● Juice squeezer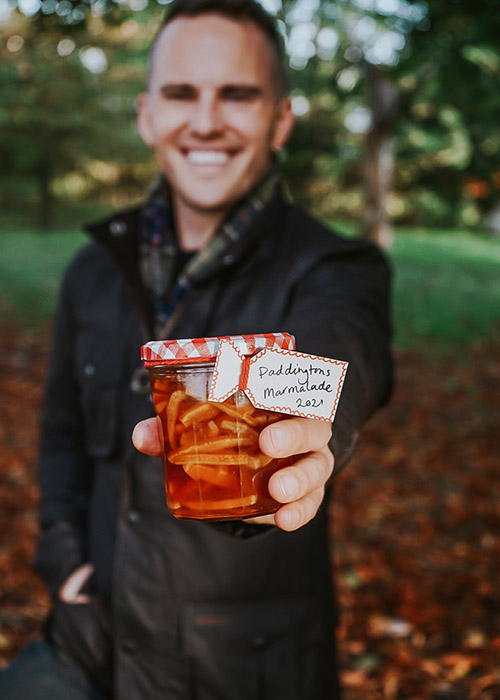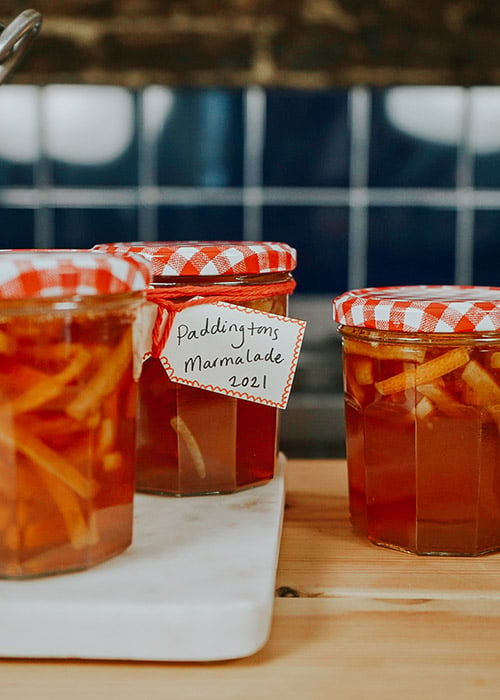 Method:
1. Place the muslin cloth over a bowl.
2. Cut the oranges in half and juice them. Next, add all the seeds and pulp the muslin cloth. Turn each half shell inside out and tug away the flesh from the pith. Add this to the muslin cloth also.
3. You should now be left with the skin (peel and pith) and you need to slice this into strips (it's up to you how thin you do these, but Paddington would say to make them nice and thick).
4. Once you've finished all the oranges tie up the muslin cloth and put it into a large heavy-based saucepan. Add the peel, orange juice, juice of the lemon and water then bring to a simmer. Simmer gently until the skin is soft (usually 1-2 hours).
5. Remove the muslin bag and put it to one side to cool. When cool, squeeze this into the pan - try and get as much of the juice out as possible.
6. Add the sugar to the pan and bring to a boil. Preserving sugar has big crystals and this makes the marmalade clear. All sugars work well, but if you can get preserving sugar, you'll get the best results. Keep the marmalade at a gentle boil for approx. 30mins. If you have a jam thermometer you need to ensure the temperature reaches 104C as this is the temperature the pectin reacts and will set nicely when cooled.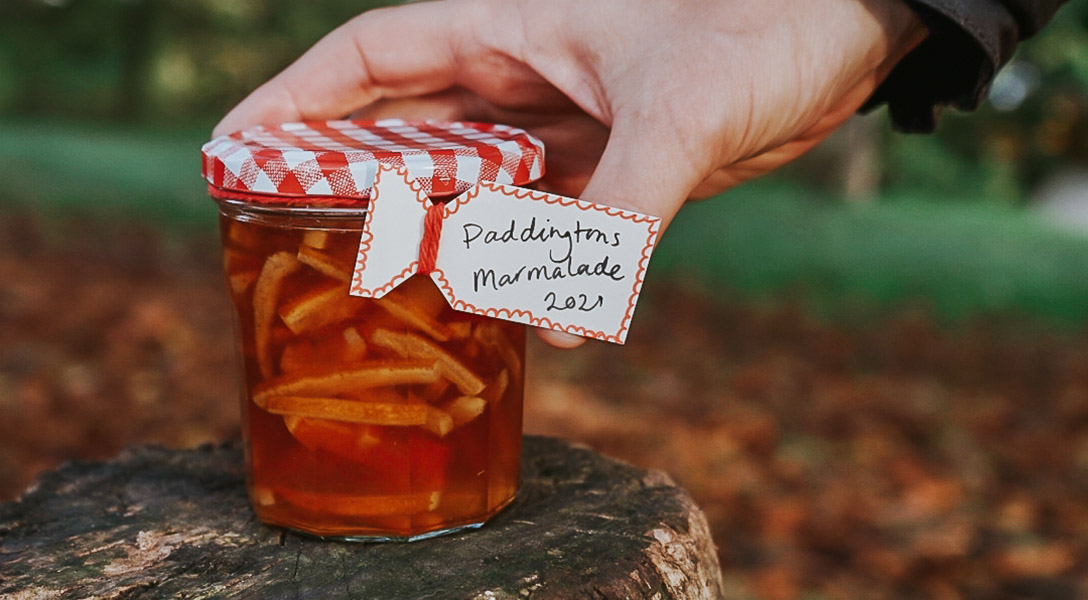 Paddington's Marmalade.
7. While the marmalade is boiling, put your jars and lids onto a baking tray and place in the oven at 150C for 10mins. This will sterilise the jars ready for filling.
8. To test if the marmalade is ready put a saucer into the freezer. When ready to check, remove from the freezer and put a tsp of the marmalade onto the cold saucer. Wait 10-30 seconds and then push your finger into the marmalade. If you get little wrinkles, your marmalade is ready.
9. Spoon the marmalade into the jars right to the top. Allow to cool and then label.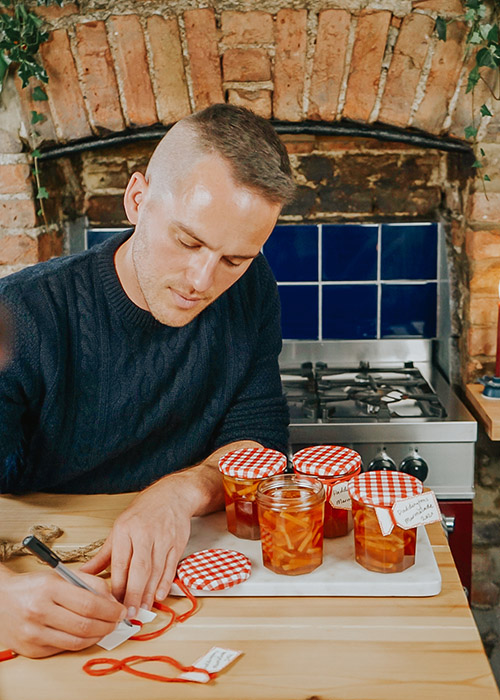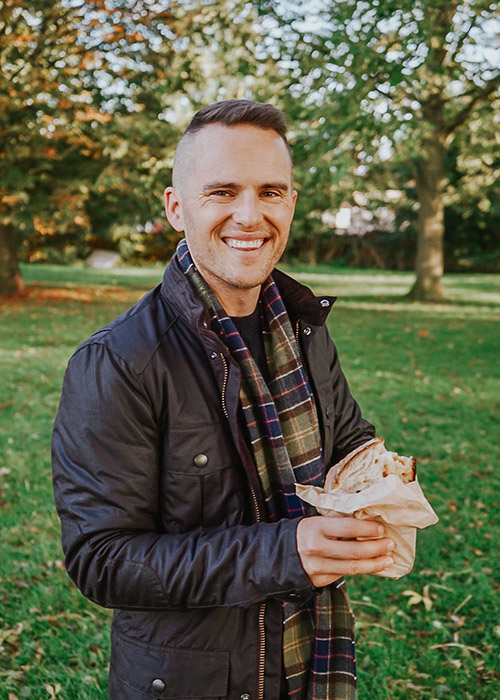 Marmalade is a great gift, but if you're keeping all the jars to yourself here are some ideas of how to use it.
1.First of all, nothing can beat spread on sourdough toast with butter!
2. When making bread and butter pudding spread thickly on each slice of bread and sprinkle with chocolate chips.
3. Try adding a dollop of marmalade on top of your porridge.
4. Make a citrus Victoria sandwich by adding orange zest into your cake batter and then sandwich the cake with your marmalade.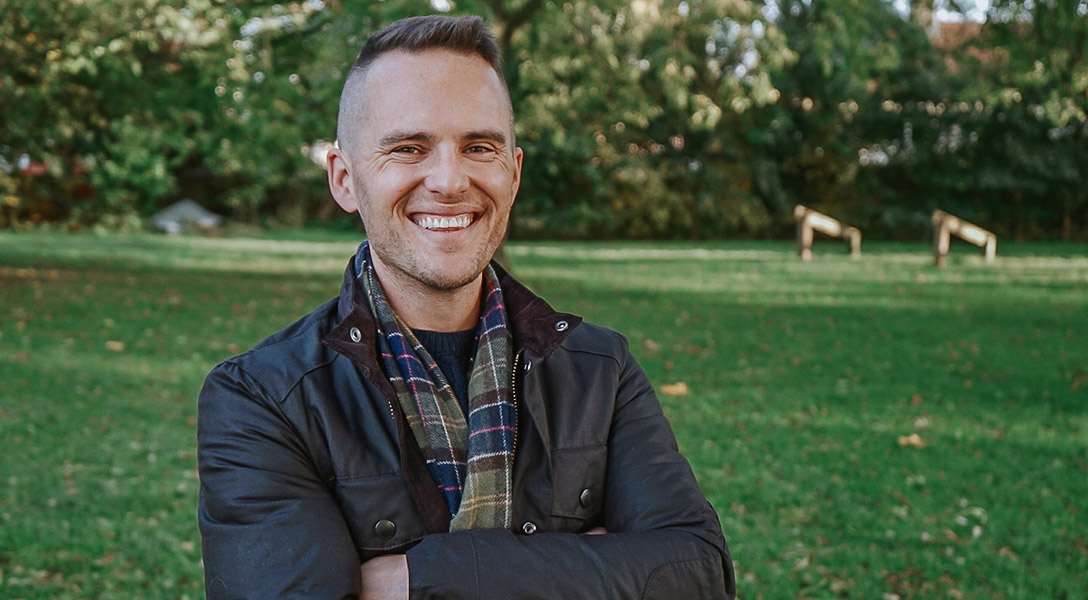 Explore more about our Christmas campaign with Paddington, or stay tuned on our blog for more festive guides.
A special thank you to Karen Jankel.