The Shirt Department Presents: Mark Thomson
AUTUMN WINTER 2021
From weekend casualwear to work smart, our Shirt Department has a shirt for every occasion. One of our most loved shirts is our signature Barbour tartan. With the recognizable Barbour tartan reimagined in new colour palettes, the AW21 collection of tartan shirts is a nod to our Scottish heritage, showcasing the craftsmanship and quality that goes into our shirts.
To celebrate the new collection, we collaborated with whisky aficionado Mark Thomson, who is showing us the shared Scottish heritage and craftsmanship between our tartan shirts and his whiskies. Discover more below and see how he styles Barbour tartan shirts.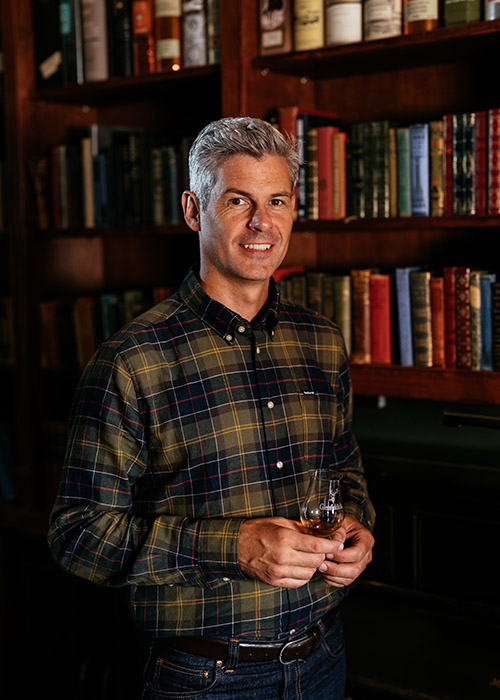 What drew you to the world of whisky?
Mark: Whisky was something I'd always had an interest in – well, wait, let's clarify that statement – I liked drinking whisky, normally a blend and mixer – because I never really was a vodka drinker which all my friends drank. I studied wine and had moved into roles that focussed on wine such as managing restaurants and bars in London – and as my career developed, I started to delve into whisky, as a Scotsman, it seemed like something I should know more about.
William Grant & Sons were a client of mine and I'd worked on a couple of their brands over the years. The Glenfiddich role became available, and I held the family-run company in high regard – as well as Glenfiddich itself, so the move over to them was an easy one. That was 7 years ago now.
Can you draw any parallels between Glenfiddich Whisky and a Barbour tartan shirt?
Mark: Detail in everything is key for us and I'm sure the same at Barbour – from the raw material to the final product – nothing is left to chance or overlooked. In addition to this, both have had to create products that match the modern palate or style choice – yet maintain a link to the heritage of the brand.
Our experimental range allows us to play with our whisky, try new styles and push the boundaries of whisky-making without altering the core range which people know and love. The Barbour tartan shirt is a great example of this also – a bold creation utilising the identifiable assets in a new and modern way.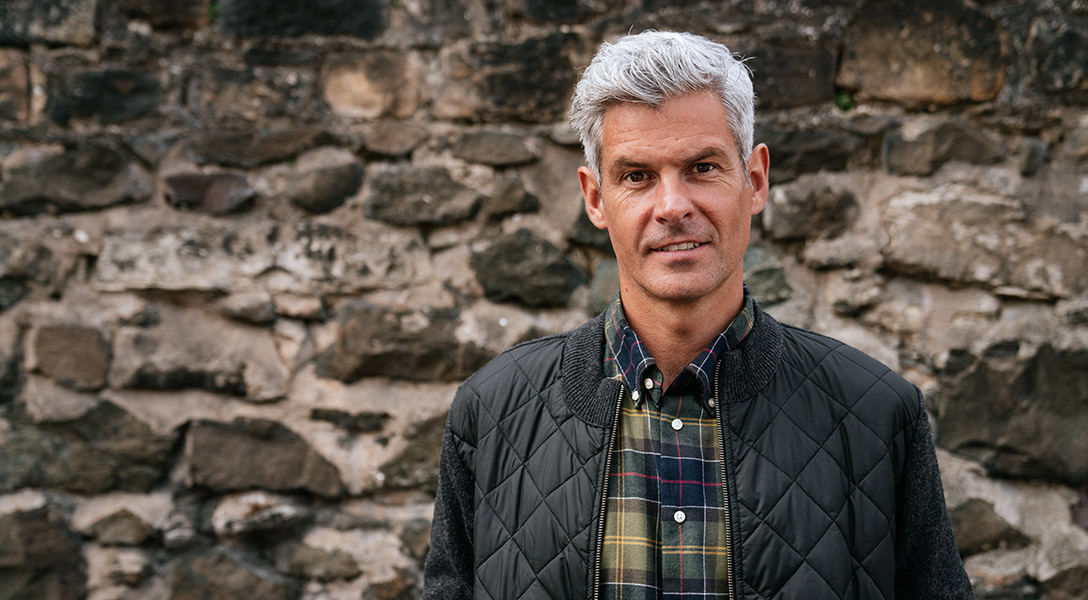 What makes you proud about being from Scotland?
Mark: I travel around all corners of Scotland on a regular basis, and it never fails to impress me – its diversity of landscape, from turquoise waters of the west coast, purple topped mountains of the Highlands or the achingly cool cities such as Edinburgh and Glasgow. But then add in the people themselves and the magic really starts to show.
How important is it to have a great Shirt as a style staple in your wardrobe?
Mark: I've always had a keen eye for a sharp look and in my job, I can be travelling to 5* hotels or dining with royalty so I have a wardrobe with some lovely bespoke suits and shirts. However, the next day I can often then find myself in front of a group of keen bartenders talking about Glenfiddich and there's no point being in a tweed three-piece then, so I often choose a good shirt and a pair of dark jeans to get me through the day. The quality of the shirt is vital – low-quality cloth just isn't going to travel well or sit well so I'm fairly particular about my choices. I've also always been taught to invest in good items that will last. I'm a bit of a sucker for a well-made shoe or boot also - you need to be when you're on your feet as much as I am.
How would you describe your style? How have you styled a Barbour tartan shirt?
Mark: My style can be varied from sharp suits to relaxed denim – but always considered and of good quality. People have an expectation of Glenfiddich as being high quality so as their ambassador, it's only right that I reflect that in my style. I put the Barbour tartan shirt with dark denim and the Barbour boot, which just fitted so well to my style. The addition of the half-quilted jumper made for a perfect layer as we know that Scotland isn't always sunny and warm, but it's ideal for under a jacket also as it's not too bulky.
What I noticed about the shirt when I first put it on was the weight and the fit – as a tall gent, I'm often disappointed about how the shirt fits and looks – especially when tucked into a trouser or jeans - but there were no issues for me with the Barbour tartan shirt. Knowing this, helps me concentrate on my job rather than having to adjust items of clothing throughout an event or presentation.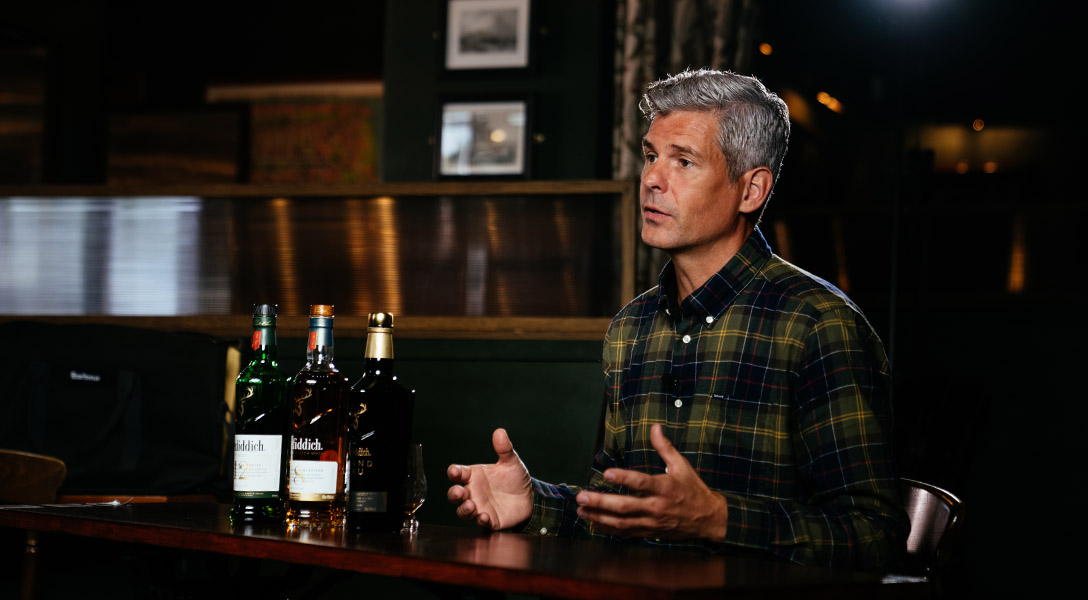 What is your earliest memory of Barbour?
Mark: When I was 12 years old, my uncle took me shooting in the Highlands of Scotland. He basically lived off the land around him. I don't think he'd ever stepped foot in a supermarket! However, being Scotland and Autumn, it was a pretty miserable day and the jacket I'd chosen to wear had taken a bit of a beating. I remember getting home and my dad having a moan that I'd ruined a jacket. A week later, I'm about to head out with my uncle again and my dad brings out of the coat cupboard a brand-new Barbour Bedale for me. Needless to say, it didn't take long for that jacket to look like it had been through the wars either – but that just added to its character for me. I think since then, my wardrobe has never been without at least one waxed Barbour jacket of one form or another.
When you're not working, how do you spend your downtime?
Mark: With social media now, I'm very rarely not working, it's just part of the job. However, having moved back to Scotland after 16 years in London, I was immediately reminded again of how vast a country this is and if you want to escape the crowds for a while, it's fairly easy. I'm based in Edinburgh, so it only takes me a short run out of the city and I can be up in the Pentland hills – one of my favourite trail-running playgrounds.
I often go further afield and tackle a Munro (mountain tops over 3000ft) of which there are 282 in Scotland! I've managed to run 30 of them thus far and am looking to continue that adventure again soon with a bit of wild camping with my German pointer Aila thrown in for good measure. She's the ideal tent companion – mostly because she likes to curl up next to me so provides a little warmth during the cooler Scottish evenings.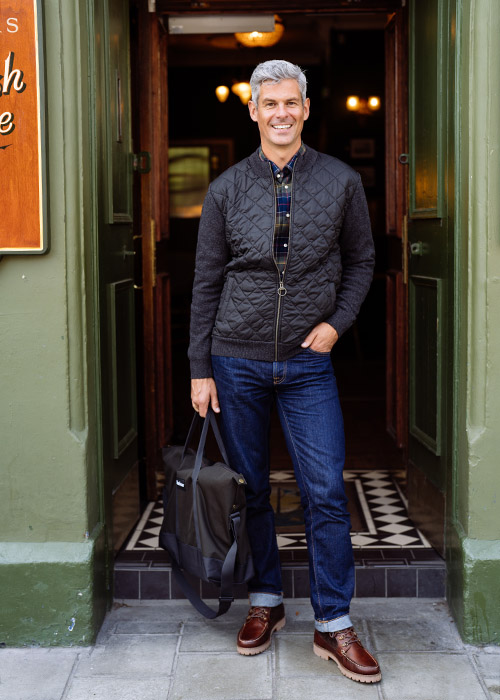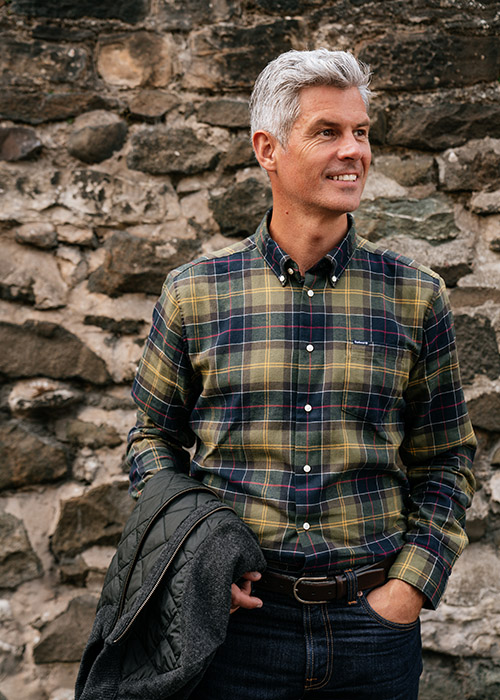 Discover more about our Barbour Shirt Department here, or shop the new collection to find your perfect shirt.