Made for Japan: Q&A with Mr Slowboy
Made for Japan
autumn winter 2018
In celebration of our Made for Japan collection, we headed to Pitti Uomo earlier in the year with artist Fei Wang, also known as Mr Slowboy, to interpret our new collection in his unique style. Learn more about his illustration process and how he got into fashion illustration…
Thank you for taking the time to chat with us, Fei. For the blog readers that don't know you, can you tell us a little about yourself and your work?
I'm a 'retired' ad man who loves illustration and men's fashion. I'm now working as a freelance illustrator based in London. My work is mostly about well-dressed and jovial men.

Where did your love of fashion illustration stem from?
The first time I was visiting Japan 10 years ago, I found a small booklet about men's jackets, which was illustrated by Mr Kazuo Hozumi who created the iconic 'IVY BOY', I was engaged by his characters and amazed by the styling and details of their outfits. It was an eye opener for me to the world of fashion illustration. I had the privilege to meet him last summer in Tokyo, and he is still one of my biggest inspirations!

How did you develop your distinct style of illustration?
It's not easy to explain; it's rather an organic process, as I've been going with the flow all this time. The aesthetic of my work is a subconscious complex from all sort of visual sources; from the caricatures of Vanity Fair from the late 19th Century, and Tintin of Hergé, to Indian miniature paintings and Japanese Ukiyo-e, as well as some influence from Chinese ink painting.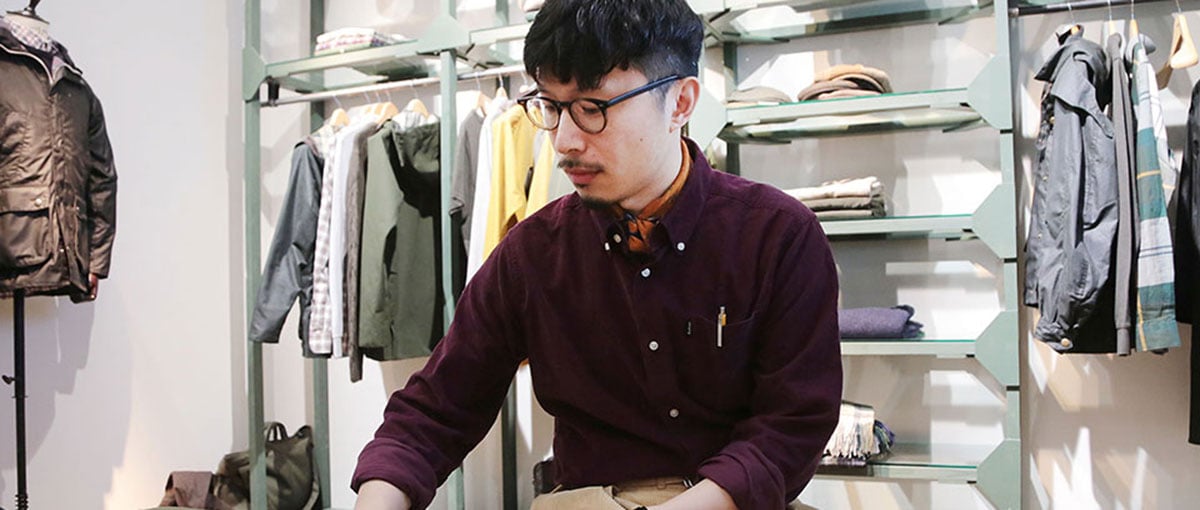 ---
What illustrators do you look up to or have influenced your work?
Too many, but just to name a few, Sir Leslie Ward a.k.a Spy, Laurence Fellows, René Gurau, Kuniyoshi Utagawa, Kazuo Hozumi etc.

Tell us about your process when creating an image and the materials and methods you use?
Ha, it's like asking a chef about his secret recipe.

How do you capture individual style and personality in each drawing?
I prefer meeting and talking with the person face to face to observe his postures, expressions and personal style, then I can make the character come alive.
---
ABOVE: mr slowboy illustration
---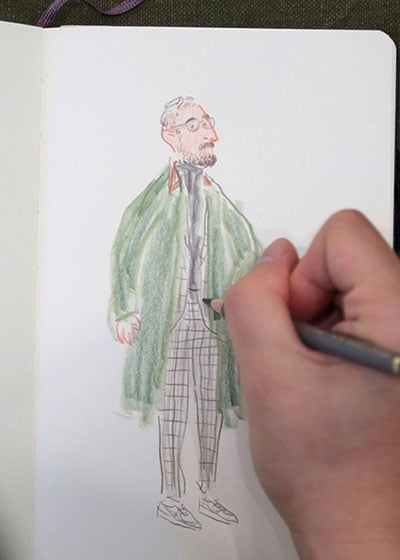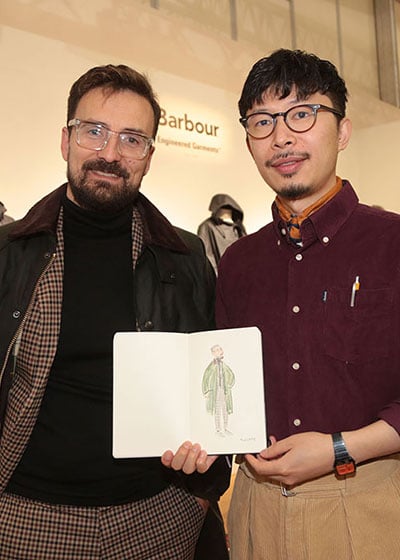 ABOVE: mr slowboy illustration
How would you describe your individual style and what are your wardrobe staples?
I'd say 'always-behind-the-trend-style'. On-trend means boring. For me, striped button-down shirts, navy blazer, mackintosh and corduroy trousers are essential to my wardrobe, of course my Barbour Jacket is another must-have.

What was your first memory of Barbour and how does it fit with your way of life?
My first Barbour was a gift from my wife; it's a classic wax Bedale in Navy that she bought in a gentleman's clothing shop in Piccadilly, back in 2009. I quickly fell in love with its ruggedness and versatility, which allows me to wear it with almost any look.

You live in London – where do you go to escape the city for some down time?
A nice walk along the Regent Canal or feeding the geese in St James's Park. For me as a city boy, it's already an escape.
Discover the Made for Japan collection.
---