How to Make a Christmas Wreath: Barbour Way of Life Guides
BARBOUR CHRISTMAS 2021
Just in time for the festive decorating to begin in homes across the world, we've collaborated with florist, gardener and broadcaster, Hazel Gardiner, to bring you the perfect guide for how to make a Christmas Wreath.
Whether you're looking to spruce up your front door for Christmas, or deck the halls in your home, follow our simple step-by-step guide to see how you can make a beautifully festive wreath, with a Paddington twist.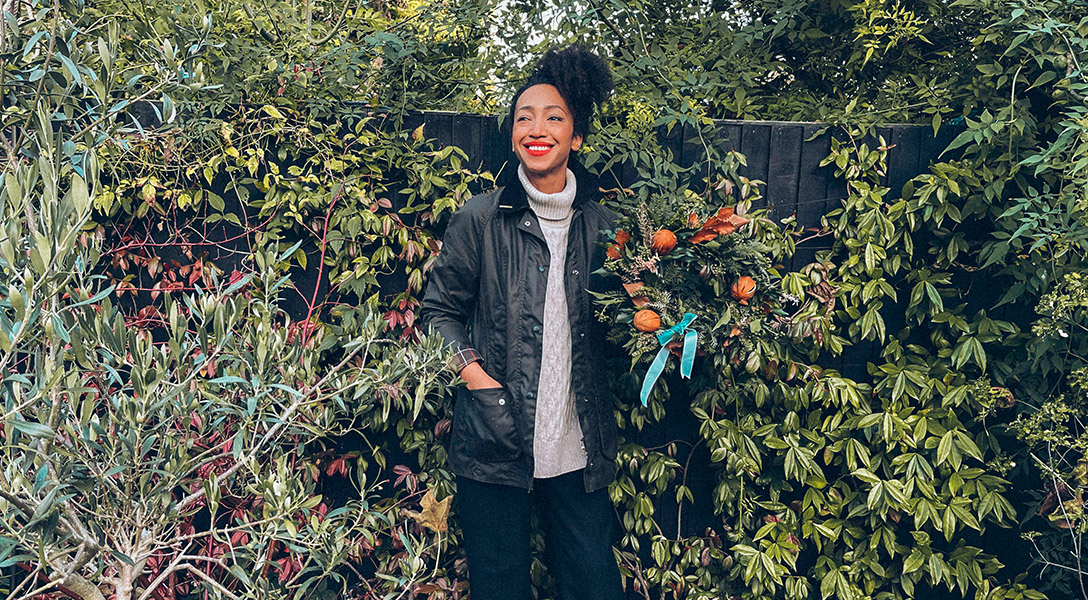 Step 1 – Selecting Your Foliage
When selecting your ingredients, you want to use evergreen foliage for greenery. As a handy rule this is foliage that remains the tress during winter such as conifer, pine and fir. Our designs often merge fresh, preserved, and dried materials. This blend creates beautiful displays full of depth and texture. In my design I have chosen yew, ruscus and berried hedera alongside preserved birch and buxus with dried bracken and grevillia.
Step 2 – Choosing Your Base
The most used wreath base is a wire frame, these come in different sizes. A 10-inch frame is the ideal size for standard front-doors. Remember that your final design will be 2-4 inches bigger than your base. You can also use natural bases such as willow and grapevine. We often create asymmetrical or half-moon designs when using these as it wonderful to show the twists and turns of the branches too.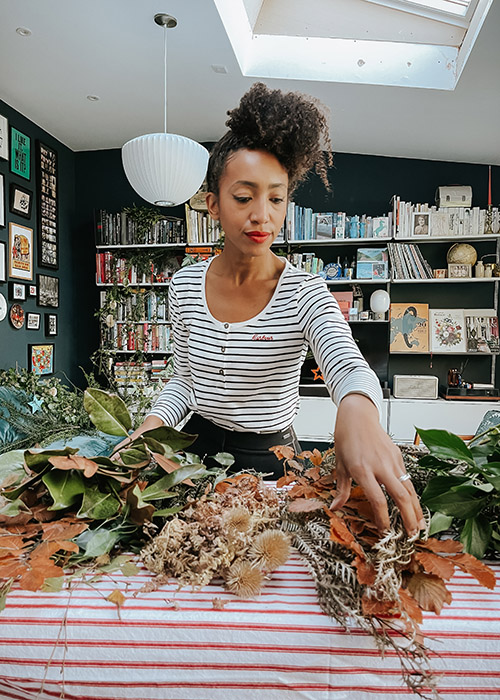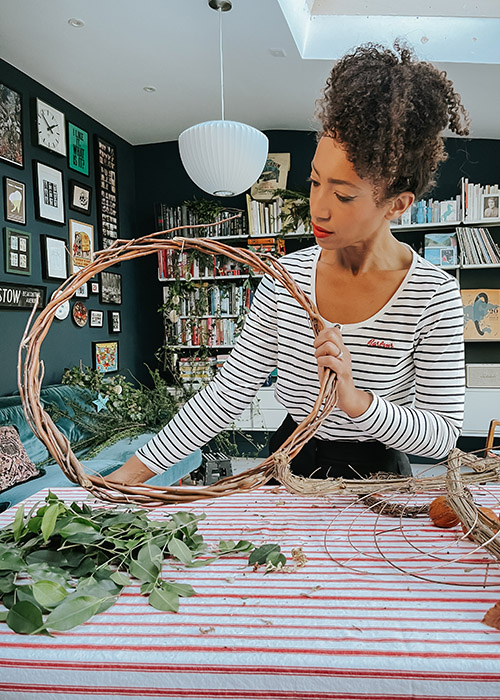 Step 3 – Making Your Wreath
To promote longevity, we first add moss to the wreath frame. This acts as a sponge giving an important water source for your fresh cut stems. We use reel wire to attach this onto the frame. Add on the moss securing with the wire at 1" intervals. The gaps will be bigger or smaller pending on the size of your ingredients. Smaller materials will need more wire to secure them safely to your base.
I then begin adding bundles of my ingredients onto the frame using the same technique. I attached the oranges by piercing 22-gauge stub wire through the base until an equal piece of wire is sticking out each side. Twist one end of the wire around the other a few times at the point nearest the orange. Then bring both ends together and insert through the front of your wreath to affix. Finally bend the wires once they have come through the reverse of the wreath back into the mossed base.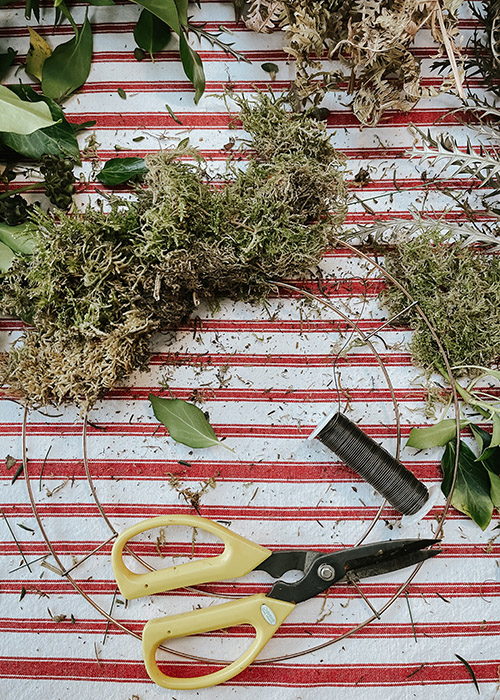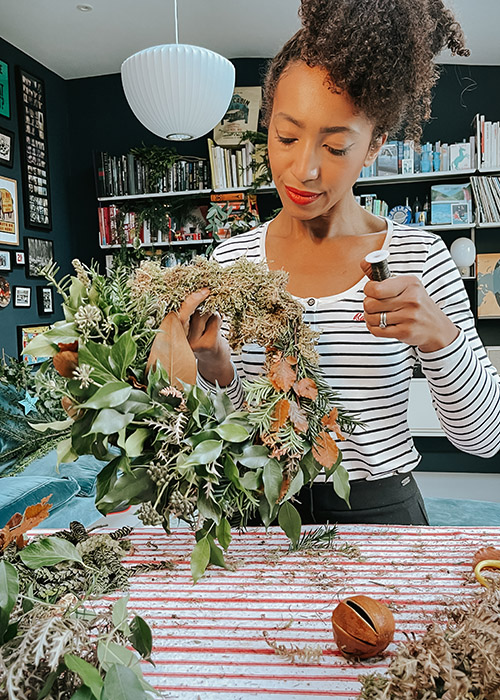 Step 4 – Adding the Ribbon
Now that your wreath is complete it's time to add finishing touches, we love adding lashings of ribbon. You can add 1 or 5, it's up to you! Outdoor wreath bows are best created using wired ribbon. The benefits of this are that the bow will keep its shape in the elements. If in-doors or in an outdoor spot that is fairly weather resilient, use satin or even silk. Make a bow and then insert a strand of 22-gauge wire through the back and attach in the same way as the oranges.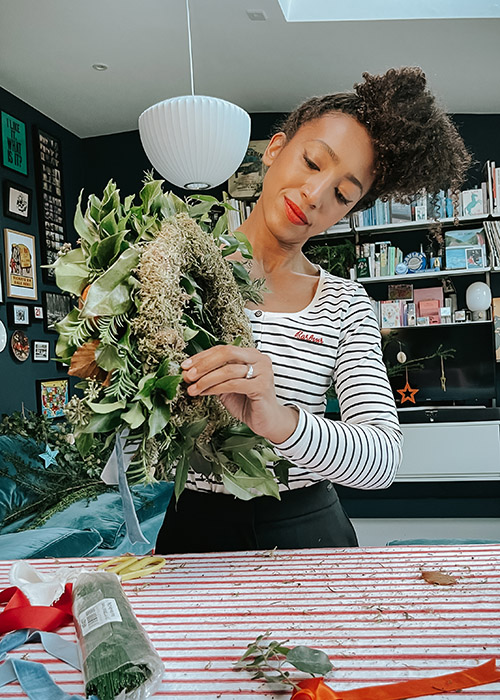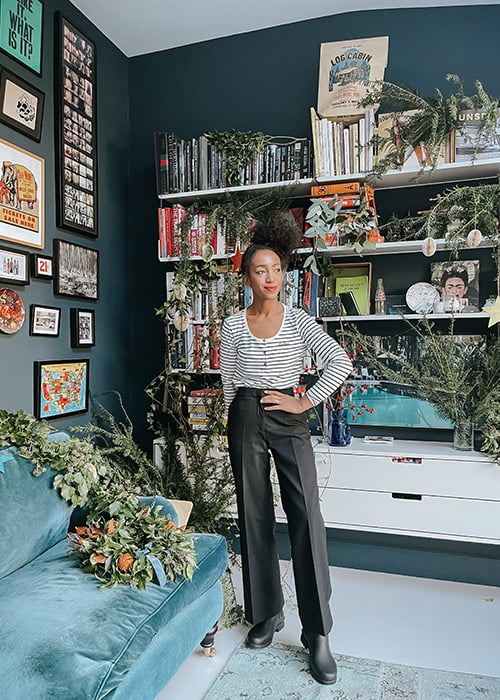 Step 5 – Hang Your Wreath
Now it's time to hang your wreath. You can pop it straight onto your door know or if you need a hanging point, get some garden string, fold it in half, tie the ends in a knot then loop one end over the frame and simply pull the other end through this loop. If you don't want to put a nail in your surface, then you can get a handy door hook for wreaths. This simply goes over the top of your door, still allowing you to lock and close it.
Keep your wreath away from direct heat sources such a radiators or open fires as this will speed up the drying process of your ingredients. Ideally place in a cooler area if displaying inside. Mist the front and the back of your wreath to help with moisture levels over the festive period.