AUTUMN WINTER 2021
Throughout history, people have favoured quilted jackets, including the iconic box-stitched quilt which is synonymous with Barbour. Loved all over the world for their ability to provide all the warmth of a winter coat, without the heavier weight, they're the perfect versatile coverup for the unpredictable British weather.
To help you find the right box quilt for you, we asked country-loving, men's film and television costumier Tom O'Dell and city-dwelling photographer Anthony Lee, to bring you a guide to finding the perfect quilted jacket for you, from our new range of Box Quilts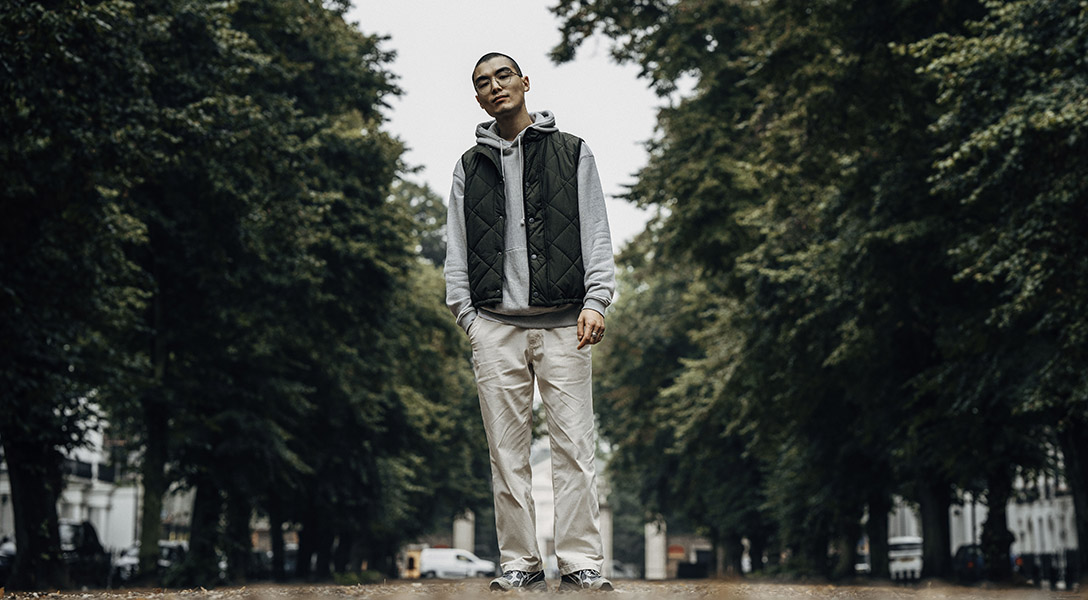 Meet your guides
Anthony: Hi, I'm Anthony, I'm a photographer and content creator specialising in menswear and general lifestyle. I love the general pace of life in the city, and the diversity of people that it attracts. There are always new places to explore and see, always something to do, and never a dull moment.
Tom: Hi, I'm Tom, I'm a men's film and television costumier, stylist and art director. I've worked in menswear in some form since the age of 14, and 21 years on I'm still working with clothes, working on film sets and locations. A lot of my time is spent outdoors on set and recently a big chunk has been shooting in the middle of the countryside. I always enjoy time away from London and appreciate the countryside. I have fond memories of visiting Devon when I was a child and always find an excuse to have a few days in the fresh air.
Get to know the difference
Barbour's Box Quilts are one of our most significant styles, known, loved and worn worldwide for their distinctive look and quality. But did you know these famous jackets come in two different sizes of box stitching? Each with their own unique pros.
2-inch Box Quilts
A modern take on the traditional, the classic 2" box quilts are designed to add an extra layer of subtle sharpness to both casual and smart styles.
4-inch Box Quilts
Bold, thicker and versatile, the 4" box quilts offer practical, stylish alternatives designed to be worn with more contemporary looks and for that extra layer of added warmth.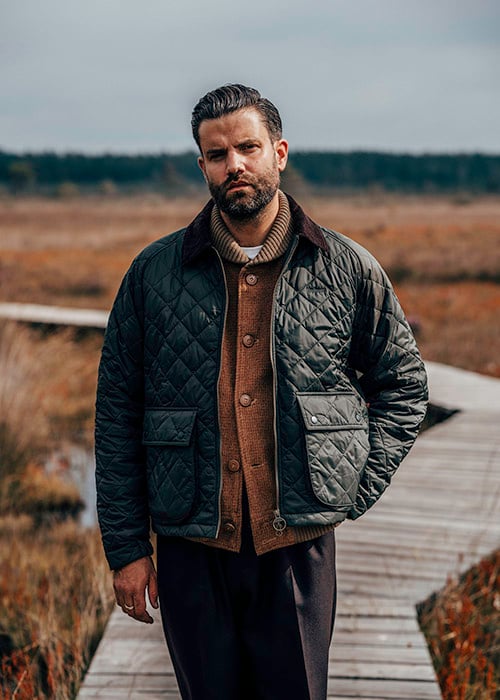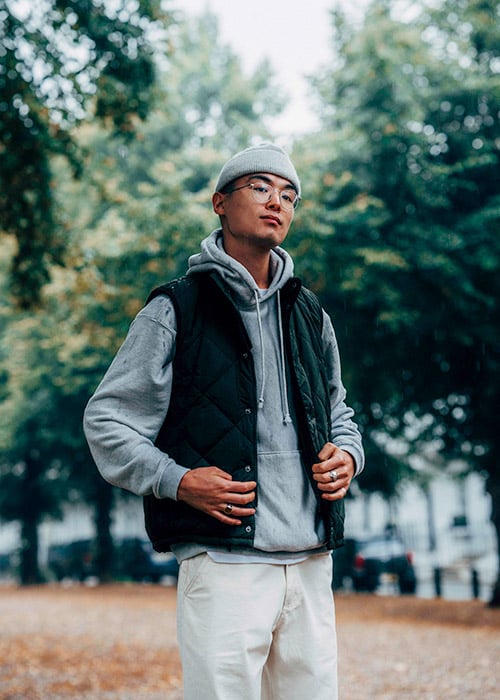 Suited for the city
Anthony: The gilets are perfect for the city as you're constantly changing temperature through commutes, cafes and shops. They're also not as puffy as your standard down coat, but definitely provide a similar level of insulation, which comes in handy in tight spots like squeezing on the tube or hopping in a cab.
Currently, I'm really feeling the Harley Gilet — it's such a versatile piece. It will easily fit under a shell jacket for when it rains, but also looks great over a hoodie or sweat. It's got a lot of potential for future wear.
Comfortable in the countryside
Tom: These jackets are comfortable in the countryside because they're practical and protect you from the elements. We live in England with unexpected weather, so the Box Quilt is perfect for this.
The Dom Quilt is my standout favourite, the colours and cord collar remind me of my first Barbour. A classic vintage waxed Jacket I purchased in 2006, I think it was from the 70's.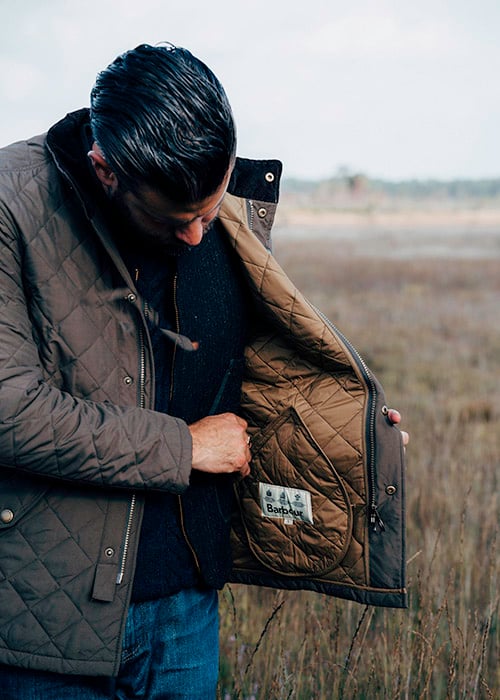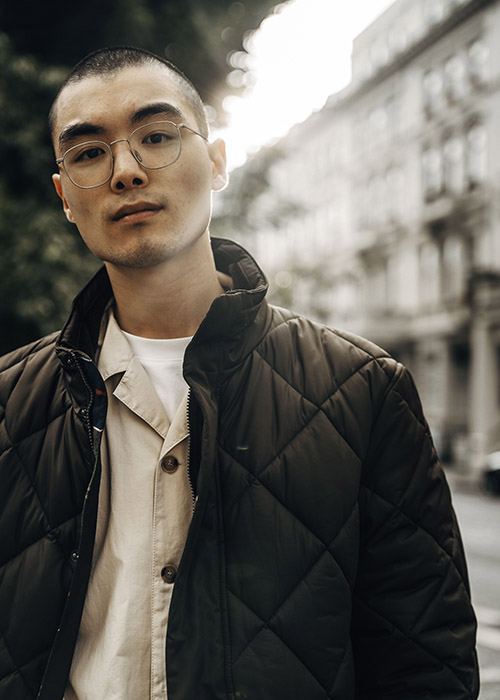 Styling it out
Once you've chosen the right style and inch of quilting, next comes making it your own. The key is knowing what you're dressing for, and then finding a look for the occasion that suits you and your personality.
Tom: I own a large inventory of vintage clothes and I thought I would team the Dom Quilt with a 1960's wool button up knit jacket and a pair of high waisted wool trousers.
Anthony: Practicality and comfort always come first in my wardrobe and so looser fits and a big focus on materials generally comes first. I love to layer, which is probably why autumn/winter is my favourite season. I think you can get super creative when layering, mixing up your pieces for some super nice combinations. For the Box Quilts, I've tried to keep it classic but work on the colour palettes and materials I'm pairing them with.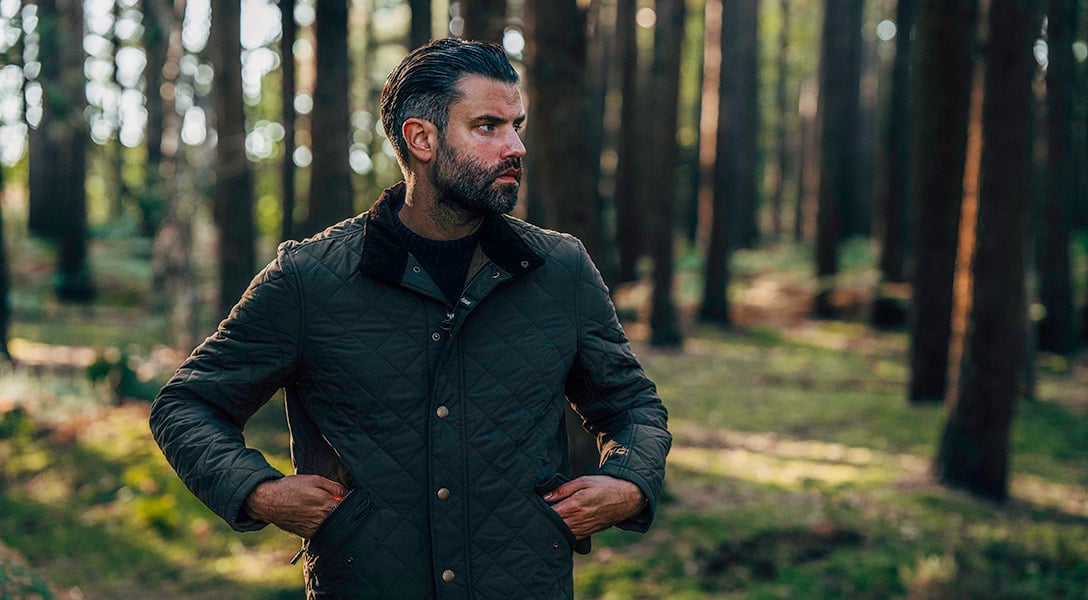 Classic meets modern
Over the years our Box Quilts have evolved — changing shape with the world around it — but even with its more modern reinventions, it's always remained a true classic: values that we at Barbour hold close to our hearts.
Anthony: I think that, particularly now, classic and modern aesthetics are very intertwined. Especially with this resurgence of outdoor fashion, you're seeing a lot of classic silhouettes with modern twists or updates. I think this collection really embodies that.
Tom: Although I spend a lot of time looking back at photos and references from the past for work and own lots of vintage items, I do think it's important to be modern in my outlook on life, and the way I think. I'm always open to new ideas, opinions and ways of working. This is important to be a modern man.
Find your Barbour Box Quilt, and explore the story of the new Box Quilt collection here.