#BarbourLife: Joe Minchella
#BarbourLife
27th october 2017
Barbour Life celebrates the people who live the Barbour Way of Life, and this month, we met up with Joe Minchella, owner of North-East based ice-cream company, Minchella & Co. We caught up with him to chat about his South Shields roots, how he discovered Barbour, and to hear all about the heritage of his company.
Minchella & Co is a well-known and loved company in the North East of England – can you tell us a bit about how the company came about and what you're known for? 
In the early 1900's, my great grandfather Giuseppe Minchella emigrated from Italy and started selling ice cream to the mining community of Boldon Colliery.  After working in different locations across the region, he eventually settled down in South Shields.  Since then, three generations of the Minchella family have produced and sold ice cream to locals and visitors.  The company's foundations have been built on our famous vanilla ice cream recipe and specialty ice creams.
The company is still family owned – how long have you been involved in the business & can you tell us a little about what you do? I have been involved in the business since 2002 at the age of 14.  After gaining knowledge and experience in all areas of the business and attaining my degree in applied management in 2014.  I was able to give my full attention to the company. Ultimately, I work closely with all departments of the business and develop the organisation and our products to constantly improve the company. 
You're based in the beautiful coastal location of South Shields, what you do enjoy most about living beside the coast?
I was born in South Shields I enjoy the way the coast is ever changing.  The sea view changes dramatically over the year and during the course of the day. Being in South Shields on the North East coast early in the morning watching the sunrise is spectacular.  I am also a fan of the more extreme weather, watching the waves crashing into and over the piers.  Having to take refuge in a English Heritage pub, such as the Steamboat or The Holborn Rose and Crown, keeps me connected to the coast.
You're proudly a family owned business, just like us - why is it important to you that this is still the case?
The company is an extension of my family who I am very proud of.  Being proud of what we do naturally improves the quality of our work.  Being proud of where we have come from fuels our passions to succeed in the future.  The community of South Shields have supported us since 1942. I hope that one day my family and the local community look back and are delighted with what we have achieved.    
The company has been around for a long time now – is there a particular moment that you're most proud of in its history, or in your career there? Rather than a particular moment, I am always proud of our family and its ancestry.  Especially when I am approached by customers who like to share their stories about how Minchellas have touched their lives in endearing way.
---
The company is based in South Shields, right on the doorstep of the North Sea coastline. Why is it important that the company sticks to these coastal roots? What are the ties between the coast and Minchella & Co? We will always stick to our coastal roots because this is where the company was created.  We have been in South Shields for 3 generations and we feel as though we are now part of the coastline.  We feel that our premises on sea road are a focal point to the coast.  We also have kiosks at Marsden Bay and Velvet Beds.  Minchella & Co are synonymous with South Shields and its coastline.
Do you have any happy memories of Barbour? I can remember when I was a child on fishing trips away with my Uncle.  Barbour clothing was always worn on our outings together.  The smell of the Barbour wax always takes me back to those days when I felt very protected and comfortable during an unexpected downpour.
---
---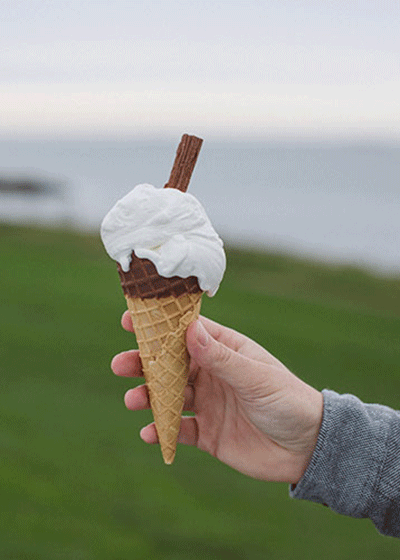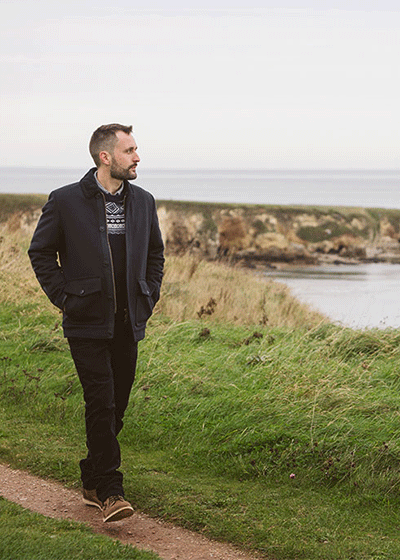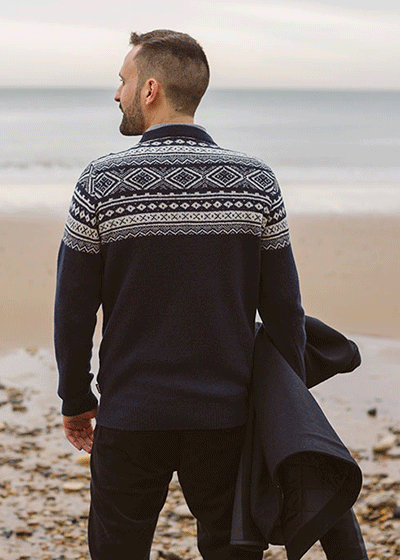 When out on a coastal adventure, what would we most likely find in the pocket of your Barbour jacket?
I am attracted to unusual objects washed up on the beach, which sometimes find their way into my pocket.  So you may get a bit of a surprise if you looked in there!
In your photoshoot, you're wearing pieces from our AW17 Original North Sea Outfitters collection – what do you like about the pieces? Do you think they're well suited for a life beside the coast? The pieces of clothing worn from this range were smart, comfortable, and of high quality - everything you would expect from Barbour.  You can tell that they have been designed for life by the coast.  The jacket was my favorite piece, I felt really good wearing it.
If you had to choose one thing you sell to recommend from your ice-cream menu for people visiting South Shields, what would you recommend? It's a toss-up between a strawberries and cream or chocolate brownie sundae!
Do you have any advice for those looking to start their own business?
Be proud of what you do.  Don't forget your roots.
You already have a number of parlours around South Shields – what is next for Minchella & Co?
We have enjoyed working at events and weddings which we were asked to attend this year and would like to do more next year as we have had very positive feedback from our customers. We have a great team with a lot of good ideas that are always driving the business forward.  We are excited about what the future holds.
Discover more about the #BarbourWayOfLife campaign here and keep an eye on the blog for more #BarbourLife stories.
---