#BarbourDogs: Summer Pudding Peanut Butter Biscuits
#BarbourDogs
9th August 2017
Pudding here, and first up in my #BarbourDogs 'Summer Pudding' blog series, I thought I'd share my favourite and easy to make biscuit recipe – after all what dog doesn't love peanut butter and biscuits?
Don't forget that you'll need a biscuit cutter and a baking tray lined with parchment, to make the tastiest golden biscuits.
---
Raid your human's kitchen cupboard to gather the ingredients below:
-312g of plain flour (you can use rice flour if you're a little sensitive to wheat)
- 266g of creamy peanut butter
- 250ml of water
- 2 tablespoons of honey
- 1 egg
- 1 teaspoon of baking powder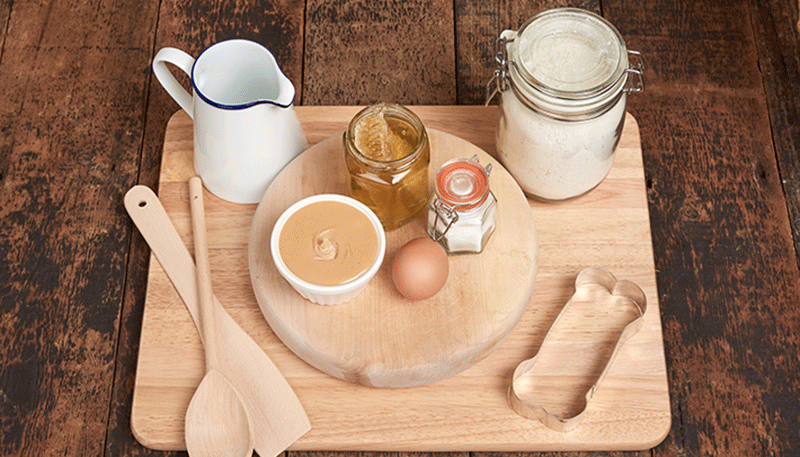 ---
ABOVE: ingredients
---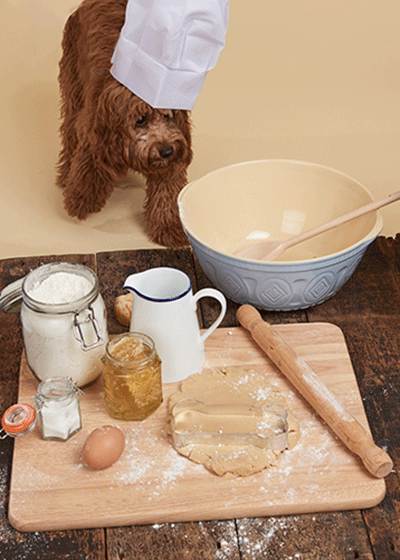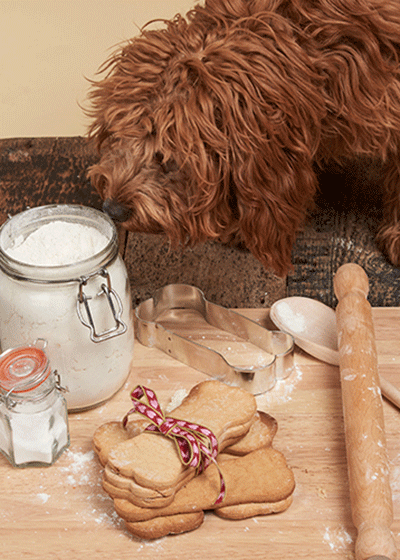 With your bowl and spoon at the ready like me, follow the steps below...
Step one: Combine flour, the egg and baking powder till evenly mixed.
Step two:  Add the peanut butter, honey and water, and mix until you have a stiff dough. I prefer to use my paws to combine everything, as it mixes better and I get to eat the mixture!
Step three: Lightly flour a surface and your rolling pin.  
Step four: Roll out your dough to one centimetre thick.
Step five: Cut out the dough with a cutter and place on the parchment covered baking tray.
Step six: Bake in a 180 degree Celsius oven for 20 minutes until golden.
Step seven: Sit attentively by the biscuits to guard them as they cool!
Step eight: If you have any biscuits left once cool, store in an airtight container.
I used a bone shaped cutter on my biscuits and a little bit of ribbon to tie them into bundles, so I could give these as gifts to my brothers Pablo the Poodle and Peanut the Chihuahua.
Discover more 

@barbourdogs

 and me on our dedicated Instagram channel, and shop from our #barbourdogs collection 

here

.
---
Discover your perfect style...