#BarbourDogs: Meet The Dogs of Jules B
#BarbourDogs
20th september 2017
This month we're bringing you a series of blogs where we meet the dogs of some of the UK's best independent stores, This week we're introducing you to Blade and Goose of Jules B.
Introduce yourself and tell us what breed you are?
Our names are Blade (2 years) and Goose (6 months), we are both yellow Labrador Retrievers, however sometimes my older brother, Blade, can get mistaken for a polar bear on the field due to how white he is.  He has the looks, but I most definitely have the charm.
Tell us about your store?
Our store is called Jules B which is located just outside Newcastle in the leafy suburb of Jesmond. It's the perfect place to visit if you want the best strokes and cuddles whilst your owner wants to shop. All the staff here are so friendly and love spending time with our new friends.
To top it all off, once your owner has found what they're looking for, it's only a 2 minute walk down to Jesmond Dene, where our owner, Haley, takes us on her lunch break.  There's tonnes of fun to be had and being typical Labradors we love nothing more than going for a refreshing swim when the weather's nice.
What makes your store unique?
With our store being very much a destination store, we pride ourselves on providing all our customers with the best one to one shopping experience, where our friendly staff are always at hand to help and advise our customers on what pieces best suit them, should they request it.
In addition to this Jules B always strives to reflect a homely atmosphere all the way throughout its stores, which we've found really helps put our customers at ease the moment they step through our doors. It also helps that our manageress, Alex, has a selection of doggy treats stowed behind the till, to meet and greet all our new fury friends.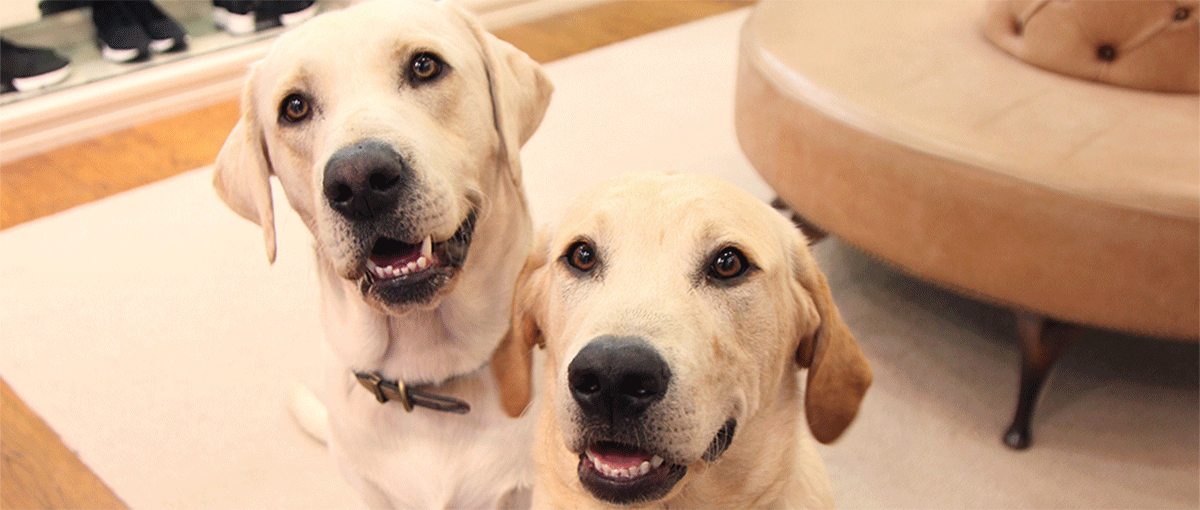 ---
What is your role at the store and what does that involve?
Our current roles are Chief Greeters and Staff Motivators, which usually involves us going up and greeting customers to see how they're getting on, as well as motivating the guys that work here.
They all love having us around, however our Grandad who happens to be the MD of the store, can call us a minor distraction at times. Like I said earlier though, I have the charm and once I bat my light brown puppy eyes at him, he soon softens.
---
---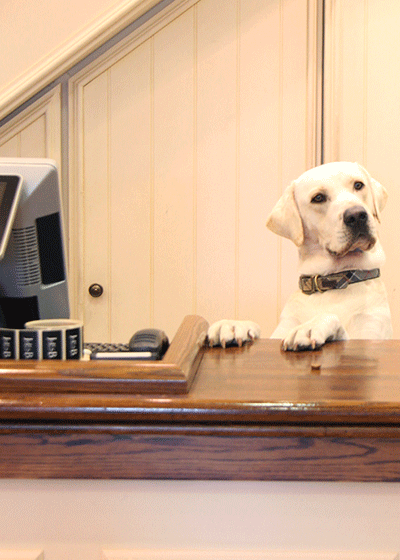 Who is your human and what is their role at the store?
Our human is Haley, she is in charge of all the creative and marketing activity that goes on here at Jules B. However she is also on all the ladieswear buys now too. We're not going to lie, this isn't our favourite part of what mum does and we hate more than anything seeing that suitcase pulled out of the cupboard knowing she's off again to find new brands for the store, but Grandpa makes it up to us with lots of extra walks and treats when her and Grandma are away.
In your down time from helping at the store, what do you most like doing?
When we're not helping out in store and the country sports season starts, we both love going Salmon fishing on the Tyne and up on the Tweed with mum and dad. It's a great day out, even though we're not allowed in the water whilst they're fishing, but playing on the bankside with my brother is the best. Other than that, we both love nothing better than cuddling up to mum and dad on the couch in front of the fire. Family time is the greatest!
Discover more 
@barbourdogs
 on our dedicated Instagram channel and shop our #BarbourDogs collection 
here
.
---
Discover your perfect style...