#BarbourDogs: Meet Basil of Barkers of Northallerton
#BarbourDogs
 25th january 2018
This season we're continuing our series of blogs where we meet the dogs of some of the UK's best independent stores. This week we visit Barkers in Northallerton to find out all about Basil and his role in the store...
Introduce yourself and tell us what breed you are?
Hello, I'm Basil. I am a 2-year-old Fox Red Labrador!
Tell us about your store?
My store is called Barkers, quite a fitting name I think. It's a family run department store in the market town of Northallerton, which is nestled between the dog walking meccas of the North York Moors and the Yorkshire Dales. The store has been on the High Street since 1875 and is a great place to meet up with my four-legged friends for a coffee and a chin (or tail!) wag, and to check out the latest Barbour trends.
What makes your store unique?
Barkers is unique as it is one of the few 4th generation family run department stores around. Guy is the current Store Director, following in the footsteps of his father, grandfather and great grandfather! It started as a small draper's shop, but over the years has grown into the large store it is today, selling an extensive range of fashion, beauty and homewares.Guy's cousin Ian runs the furniture store Barkers Home, also in Northallerton, which has a great selection of dog accessories too!
What is your role at the store and what does that involve?
My role at Barkers is as 'Right Hand Dog' to Guy. I keep his feet warm under his desk, take him for walks, share his lunch and provide my big wise ginger ears when he needs to talk ideas through. I also did some modelling for the painted backdrop that sits behind the new Barkers Express model railway in the restaurant. You can sit and watch the train go by whilst enjoying your lunch, and if you look really carefully you can spot me and my other Labrador pals Moss and Billy in the background playing in the snow!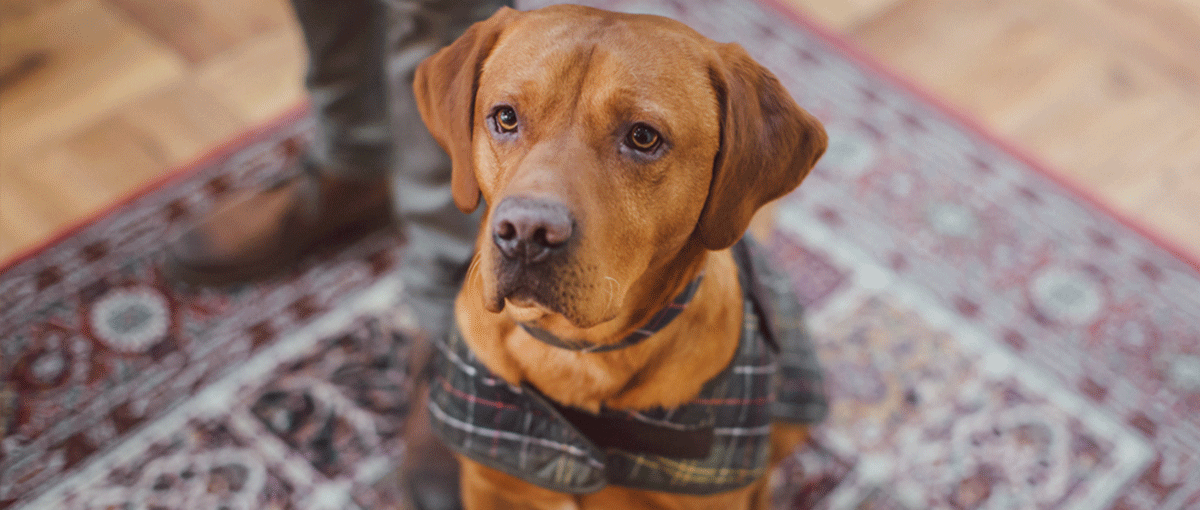 ---
Who is your human and what is their role at the store?
Guy is one of my humans (his girlfriend Sara is the other one!). His role in the store has changed over the years from delivering furniture, to clearing tables in the restaurants, helping other humans get kitted out in the menswear department and ordering stock for the gift department.
Now he is in charge of coordinating the buyers, organising the shop and coming up with ideas. Apparently, he also gets to talk to Father Christmas each year to help organise his annual visit to Northallerton with his reindeer, and to switch on the town's Christmas lights!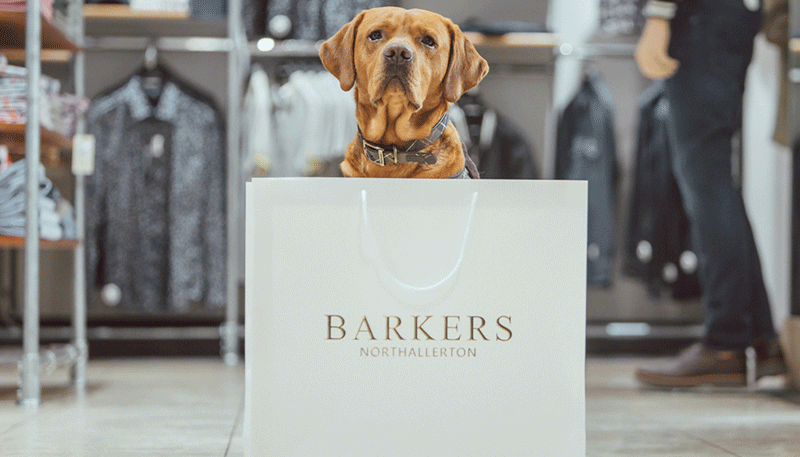 ---
---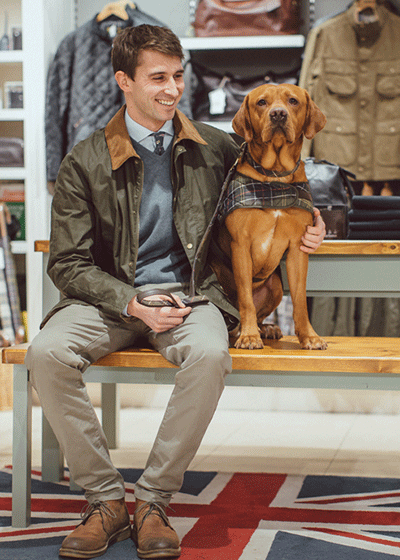 What is your favourite part of the store and why?
My favourite part of the store is the area with all the Barbour dog beds, they are really cosy (and I wouldn't be too popular if I went for my afternoon nap on the beds in the linens department!).
I also love walking past any of the restaurants during lunch service, the smells are amazing, especially the homemade steak pie! In fact, if I'm really lucky and bat my lovely long lashes at Anne the cook, there's sometimes a spare slice going at the end of the day, but don't tell Guy!
In your down time from helping at the store, what do you most like doing?
In my time off I like to go picking up at the local shoots with Sara, long walks in the Yorkshire Dales, finding lots of mud and going bog diving! I also like sleeping, a lot, and eating, anything… including my new favourite - Christmas baubles!
Discover more 
@barbourdogs
 on our dedicated Instagram and shop our #BarbourDogs collection 
here
.
---
Discover your perfect style...