#BarbourChristmas: 'Father of Daughters' Christmas Traditions
#BarbourChristmas
autumn winter 2017
We caught up with Instagramming father Simon Hooper, also known as '
Father of Daughters
'. Much like Billy in our seasonal film, Simon is a parent of four young daughters and so we discover how he, alongside his wife Clemmie, prepare for and spend Christmas Day with their family…
You have a beautiful family of six, with four gorgeous daughters – we can imagine Christmas is a big day in your home! Who gets the most excited about Christmas Day?
It's a close run thing between Marnie and I. Not because I'm can't wait to rip the off the wrapping paper and see what Father Christmas has given me, but more because I love seeing their faces when they get what they asked for. I'm not a crier, but my eyes strangely seem to leak when I see the happiness spread across their faces, knowing we have something to do with that. I should probably get that seen to.
What would you say was the most important thing about Christmas for your family?
Spending time together not only as a family of 6, but with everyone else that we don't get to see frequently throughout the year. Yes it can be louder than standing behind a 747 taking off, and yes, we will all start to rub each other up the wrong way by day 3, but we love each other.
Would you say you were a family of traditionalists when it comes to Christmas, or do you have your own unique twist on celebrating the festive season?
We're pretty traditional really, but we do have a couple of quirks to our preparations. I insist on making a wreath every year. The girls and I have got into the tradition of getting wrapped up, braving the chilly air and strolling down to the woods together to get the essential foliage to make it happen. I also insist that all the presents in the stockings are wrapped which Clemmie finds bizarre, as her stocking presents weren't. Where's the fun in that I ask you?!
Can you tell us about your funniest Christmas memory?
For our sins, we hosted Christmas for 16 family members and friends one year (this was before the twins had made their entrance into the world). Everything was going swimmingly. People had been seated, drinks were flowing, conversation zipped around the table like a ricocheting bullet and everyone was having a good time. I proudly plonked the mutant turkey on the table to much cheer and applause only to cut into it and see a lot of pink meat. It probably could have got up and ran around if it desired. Everyone laughed as it had been cooking for hours – I guess you have to see the funny side in these things. With my face turning the same shade of pink as the meat, I quickly carved it up and cooked it in the oven in batches.
By the time we ate, it was dark outside and the empty bottles on the table looked like translucent skittles, ready to be knocked over by flailing arms, but people didn't care. If anything, they were so hungry, that leftovers weren't going to be an issue!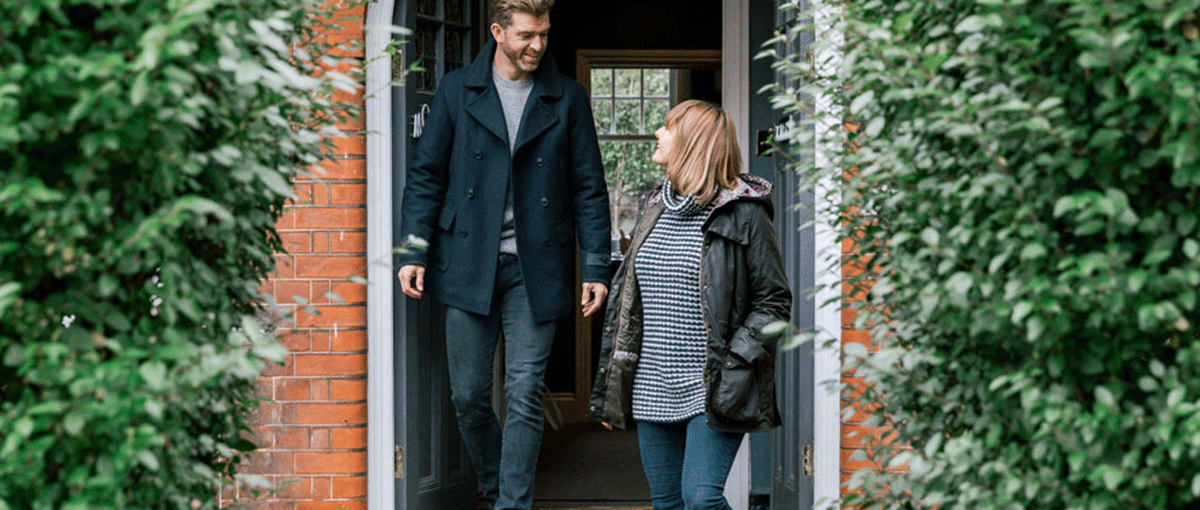 ---
There's always so much to do on the run up to Christmas, do you have a list of set jobs and responsibilities for each of you? Or is it more of a 'all hands on' approach? Being the one with the eye for aesthetics, Clemmie is the event director. She'll pick the tree, which I'll then carry home. She'll point at where decorations should go, and I'll fight them until they're in the right place. Clemmie will source most of the presents and I'll wrap them whilst watching TV and having a beer.
It's a team dynamic that works for us and I'm sure it's played in out in thousands of houses across the country.
Who's the Christmas Chef in your household?
Clemmie and I both share responsibility for it. Mind you, if you asked her the same question, she'd probably say she did the vast majority of it while I messed around with stuffing and red current jam.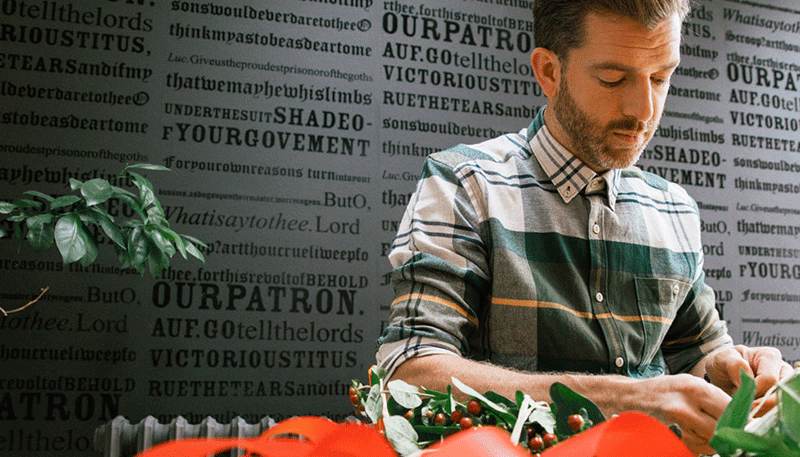 ---
---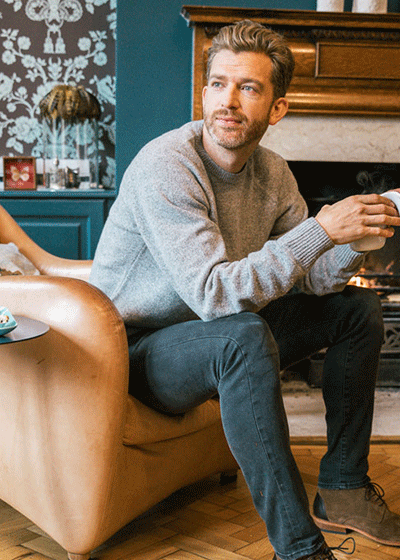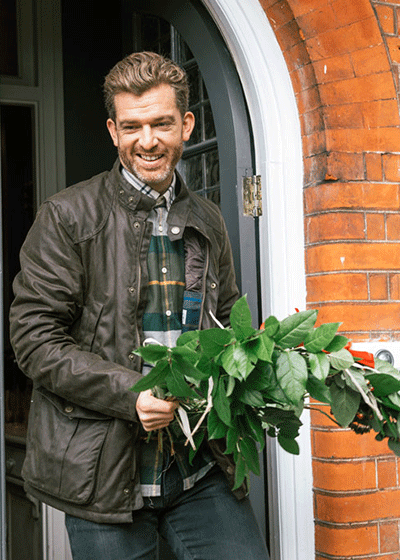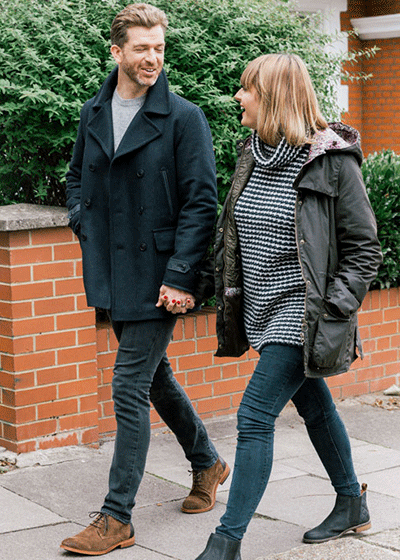 What would you say makes the perfect Christmas day?
I love a traditional Christmas at home. Music on in the background, bucks fizz for breakfast, roaring open fire in the living room and the smell of the Christmas tree drifting throughout the house. A traditional lunch that no one gets anywhere near finishing and then a snooze in an armchair while the children watch Home Alone on TV. To make it perfect, I'd make it snow at around 3pm so the girls could go and play, but we live in the UK so that's very unlikely.
We loved seeing your homemade wreath over on your Instagram, who chips in when making your decorations?
As creative director, the wreath is really my thing as I've done it for ever. I do find it hard to loosen the leash of control and let the girls get involved as I know it won't end up the way I wanted it to, but sometimes you just have to let them get on with it as they love being part of it all.
Time for the great mince pie debate. Do you like yours home-baked or shop bought? Puff pastry or short crust? Lid on with cream all over, or lid off and cream inside?!
I was brought up on home cooked puff pastry so for me nothing that can beat that. Nowadays, with children everywhere at all times, it's pretty much impossible to find the time to make mince pies, so we have shop bought ones. They do the job, but it's not quite the same. It also turns out that 3 out of the 5 women in my life don't like mince pies. As for the twins, this year will be the first year they taste them, so we'll see how they go down.
Are Christmas walks a festive tradition for the family? If so, where do you like to go and why?
Boxing Day is the day for walks but it's also my sister's birthday so it's really treated as a Christmas day part 2. My favourite walks are those with my parents and my siblings in the West Country. There's nothing quite like a frosty morning, wellies and a thick Barbour Jacket to help you forget the city life. We always walk towards a pub, which is a good incentive to keep the pace up!
Will you be spending this Christmas just like you always do? Or do you have any plans to change it up?
We may well be moving house just before Christmas, so this year, we may be in a nice place with new surroundings. I just hope that we manage to change the energy supplier in time, or we might be barbequing the turkey in the garden and eating it in a cold house.
---
Discover your perfect style...