Barbour Must-Haves AW19: Meet the Designer
Meet the Designer
autumn winter 2019
The Must-Haves collection celebrates the capsule wardrobe and an effortless approach to women's styling. Director of Womenswear, Paget Billingsley, spoke to us about her wardrobe essentials, favourite pieces in the collection, and what she'll be wearing this autumn-winter.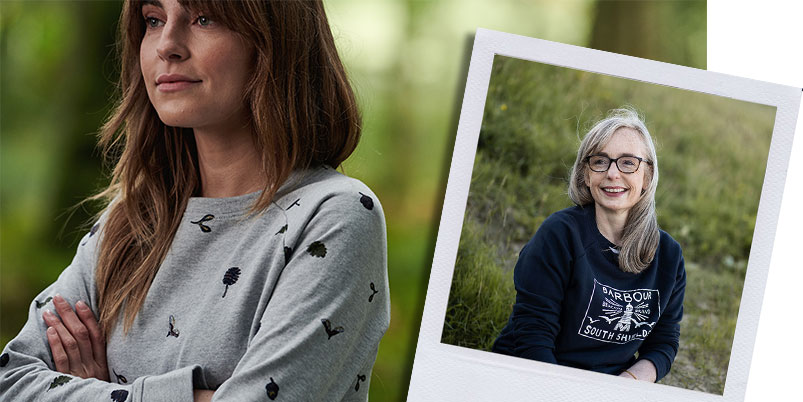 This collection is named 'Must-Haves', what are the staple items in this capsule and why are they essentials in any wardrobe?
The key Must-Haves are lambswool knits and simple, cotton pieces. Cotton is great for the early part of the season and lambswool for the cooler months. Great fitting jeans are a must paired with a sweatshirt or two that sees you from the school run through to casual date night in the local pub. You can also never go wrong, on any occasion, with an interesting printed shirt that flatters your shape.
What is a capsule wardrobe and what should any woman have in theirs?
A capsule wardrobe is a collection of versatile clothing that never goes out of favour, the building blocks of your everyday wardrobe. Our Must-Haves collection is designed to make you feel like you have the key pieces to style together, or with anything from our new season, for any lifestyle without needing a huge wardrobe.
Who is the Barbour woman that you have designed this capsule for?
The Must-Haves are designed for all of us, all ages, all shapes, and sizes. We lead busy lives these days juggling work, home and families, meaning we need reliable, easy-to-style pieces in our wardrobes that we feel great in, but don't have to think too hard when pulling an outfit together; these pieces are perfect for that.
Where did the inspiration for this season's country foliage and animal prints come from?
We are very dog-friendly at Barbour and most of the design team has a dog in their family. For us, a dog print is always something we have a lot of fun creating. This season, the inspiration behind the animal print was the dogs you see on country walks. The pine print was designed in-house as it reminded us of the lovely country walks in Northumberland. We are so lucky to work and live in the north east, where we have access to many gorgeous public paths and walking routes.
Who created the prints in the collection?
We use both in-house graphic designers and some external freelancers that we have been working with for several years. Some of our in-house designers are very talented at creating beautiful graphic prints that we use throughout the collection.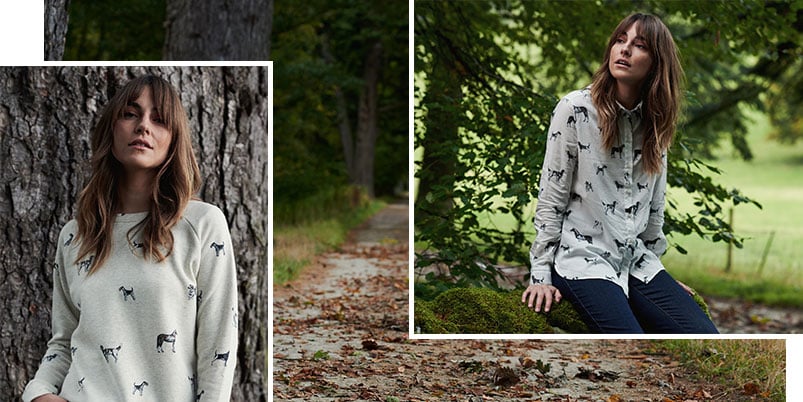 What are the fits like throughout the Must-Haves collection?
We wanted this capsule collection to be super easy-to-wear. We've taken some of our best-selling key shapes that are known for their flattering silhouettes and adapted them to layer up with other items in the Must-Haves range.
What's different about these styles that set them apart from other women's Barbour collections?
We want Must-Haves to be affordable and reliable season after season. For example, we may put a fashionable oversized sweat in our coastal collection, but within Must-Haves, we'll keep the shapes classic so if one of our customers likes that shape, she knows she can come back every season for the latest prints and know each piece will fit.
What are your favourite pieces from the collection that will make an appearance in your wardrobe?
Definitely the sweatshirts, I wear them all the time, particularly the Lewes sweater and the Aydon Sweatshirt. The Burne knit in off-white and navy are absolute must-haves, and the jeans fit perfectly so I want another pair to cut to an ankle-length to wear with my ankle boots. The Dipton cardigan is on my wishlist, a great layering piece perfect as a knitted jacket for the early autumn season, and then I'll add a belt for the winter paired with my cut-off jeans and ankle boots.
How would you style the sweatshirts and shirts from the Must-Haves collection?
It depends where I'm wearing them. If I'm running around town doing errands, I will either dress down with nice trainers or if I'm taking my dog Lucy for a walk, I usually wear my hiking boots with my jeans. For work, I style it up a bit with slim rise jeans or chinos and a nice pair of ankle boots, and I usually pop one of our casual jackets over the top like the Modern Country Dorset overshirt.
Can you give us an exclusive on what we'll see in Must-Haves in future seasons?
For spring summer 20, we have a lovely Barbour script sweatshirt (which all the designers have been fighting over). Our Must-Have cotton chinos have also been a huge hit and work perfectly with the collection's strong casual fashion-look. My absolute favourite piece from the pre-spring collection is the Stitch Guernsey cape which is made from pure cotton. This is a fresh take on the popular Guernsey sweater, which we have made in a cape/sweater shape that is the perfect pop-over for weekends away.
Take a look at the full Must-Haves AW19 collection here.
---