Icons Re-Engineered: The Modern Face of Barbour
Icons Re-Engineered: The Modern Face of Barbour
autumn winter 2019
To celebrate our 125th anniversary, we're excited to have launched a new collection of jackets and accessories, Icons Re-Engineered. Taking five key moments in our 125-year history, jackets from our extensive and much-loved archive are re-imagined in contemporary fits and styles. Last up, we are celebrating the modern face of Barbour with two new styles. 
Today Barbour combines its heritage with modernity. It is a staple for active people across the globe who embrace authenticity, style and practicality. First introduced in the 1960s by John Barbour, the Durham jacket was an unlined wax jacket designed to be used for fishing, birdwatching and walking. For our 125th anniversary, the heritage of this iconic style has been adapted into a new waterproof breathable fabric to create a stylish, fit for purpose jacket designed for town or country living.
---
In a smart, tailored silhouette, the Icons Beacon Sports jacket takes all of the features of the original jacket with additional pockets and reinforced elbow patches. Elegant and effortless to wear, it is a timeless smart casual jacket that is a must for every wardrobe.
The Women's Icons Durham adapts this classic style into a waterproof breathable jacket with a fixed hood and plenty of pockets. Versatile and functional, this is a wardrobe essential for those who love style and practicality.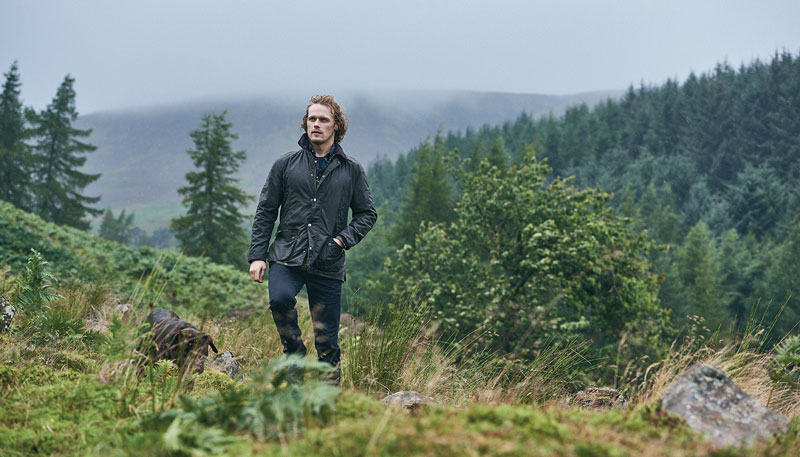 aBOVE : sam heughan x barbour
---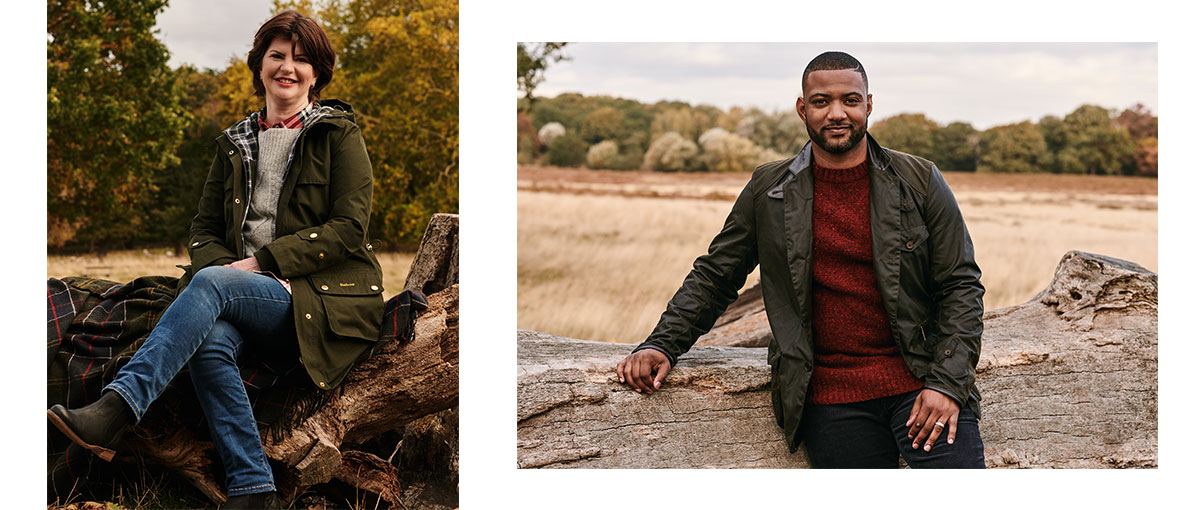 To support this very special anniversary collection, ten long-time Barbour wearers and friends of the brand who all have their own personal relationship with the brand were captured wearing Icons Re-Engineered jackets from the collection. To celebrate the modern face of Barbour, Helen Barbour and JB Gill wore the Durham and Icons Beacon Jacket.
Vice-Chairman of the Barbour brand, Helen Barbour is the fifth generation of the Barbour family. Together with Dame Margaret and tartan specialists Kinloch Anderson, Helen was responsible for introducing Barbour's exclusive tartans, the Classic Tartan in 1998 and the Dress Tartan in 2002. She also oversaw the relaunch of Barbour Sporting in 2011, and more recently introduced 'Barbour Dogs', developing a range of dog products such as coats, collars, leads and dog beds.
JB Gill is best known for being a former member of successful boy band, JLS. Five years on, he is now an established member of the farming community. He combines his love of the farm with his media profile, having carved out a unique niche as a broadcaster and television presenter. His enthusiasm for farming life and knowledge of countryside issues has seen him contribute to BBC's 'Countryfile' and 'Springwatch', as well as present Channel 5's "Springtime On The Farm". JB truly lives our 'Barbour Way of Life' through his everyday life, where he regularly wears Barbour.

Discover more about Barbour 125 years and discover the Icons Re-Engineered Durham and Icons Beacon Jacket.
See the full Icons Re-Engineered collection.