Barbour Life 125 Years Customer Stories: Meet Rebecca and Barbara
Barbour Life 125 Years Customer Stories: Meet Rebecca and Barbara
AUTUMN WINTER 2019
In celebration of our 125-year anniversary, we invited customers to share why they love Barbour, their Barbour way of life, and what we would find in the pockets of their Barbour Jackets. This Christmas, we met up with Rebecca and her mum, Barbara, in Woodhall Spa.
Can you let us know a little about yourself?
Rebecca: Hello, my name is Rebecca, I'm 28 and live in Woodhall Spa. I am a hotel manager as well as a volunteer for the NSPCC. In my spare time, sport is a huge part of my life. I am a rugby player for Sleaford Ladies as well as a keen runner with Skegness and District running club! I also love cake!
Barbara: Hi, my name is Barbara and I am passionate about my family, the theatre and my new bungalow.
Where are we today, and why?
Rebecca: Today we are in the Claremont and the woods nearby. The Claremont is a family run business with my amazing parents. We have been in the hospitality trade for 24 years; it's all I've ever known. We bought the Claremont in 2015 and haven't looked back. In fact, the whole family has moved to Woodhall Spa, including my gran!
Barbara: We walk our dog Brian in these woods as often as possible. He loves chasing the squirrels.
Can you tell us the story you shared about your relationship with Barbour?
Rebecca: It is all based around my mum! My mum used to have a Barbour, I remember it well as a child, and mum was always wearing it. Mum needed a new one, and after many hints, was given one for Christmas. Obviously, I then admired the jacket, and last year I was presented one too. So now we have matching jackets.
When did you first come across Barbour? Many people have said their parents and grandparents wore Barbour's before them, is it the same for you?
Rebecca: My mum always had a Barbour and she has passed it down to me! She told me a couple of weeks ago that wearing a Barbour was a prestige when she was younger. When she finally had the money to get one, she felt on top of the world, walking around London with her Barbour on!
Barbara: I first came across Barbour in London and always wished I had my own one.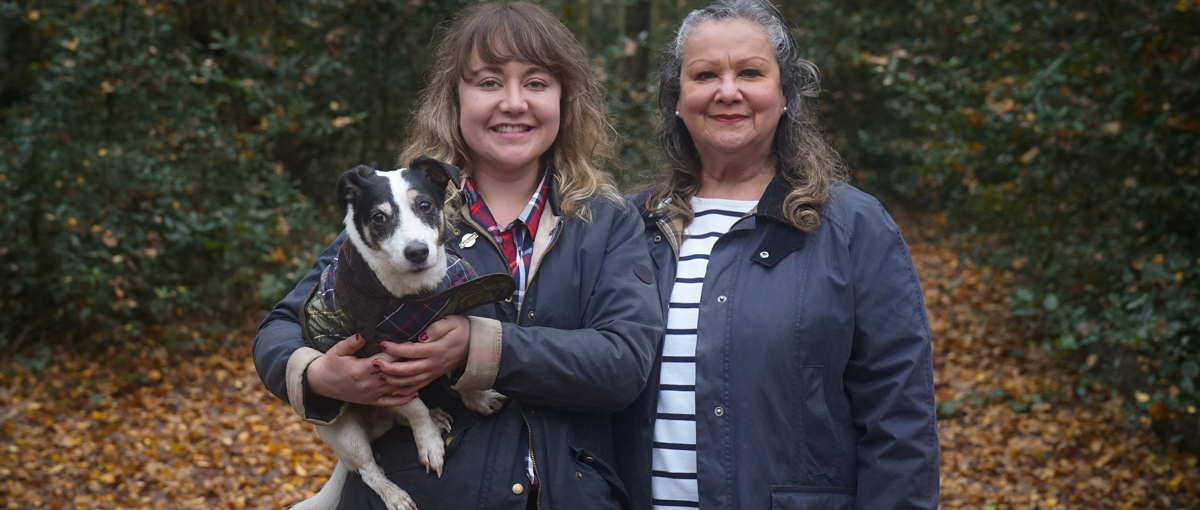 ---
Barbour celebrates its 125th Birthday this year - were you aware of this and how will you celebrate?
Rebecca: I did know about the birthday celebrations. I had seen it advertised online. I am going to wear my 125- year pin with pride!
If your Barbour jacket could talk, what stories would it tell us?
Rebecca: It would moan about how many times it has had to watch a rugby game in the cold and wet weather!
Barbara: My first Barbour Jacket made an appearance while I walked in an office as a sales manager many years ago when the appropriate attire was smart suits and dresses. When I turned up over a very smart silk dress in my Barbour, the entire office was "oh wow!".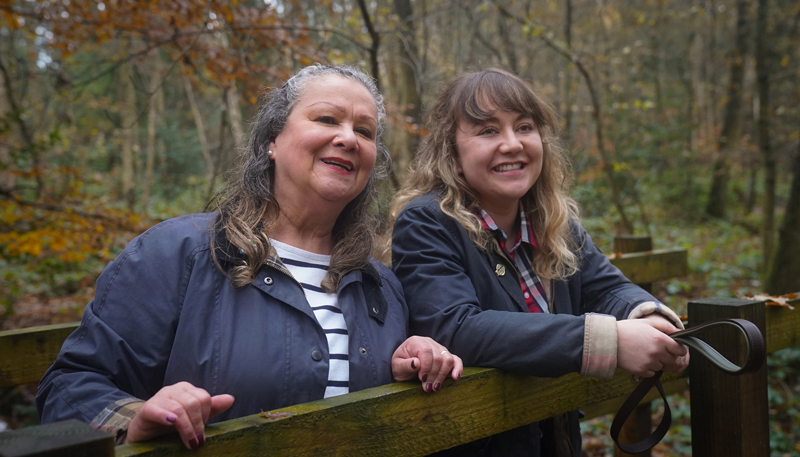 ---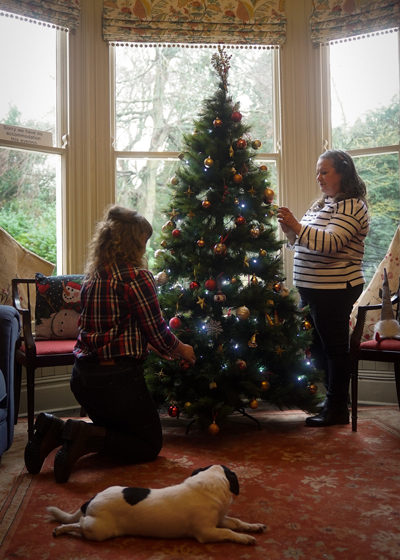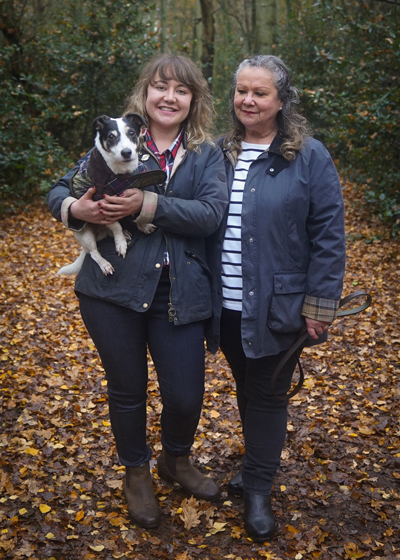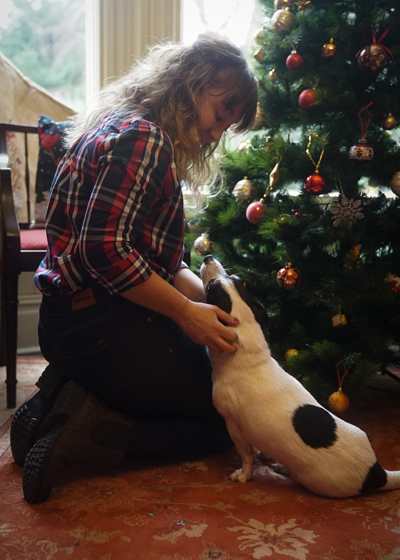 What do you do in your downtime to relax - are there activities with your friends and family you enjoy our in the countryside or by the coast?
Rebecca: In my spare time, I volunteer for the NSPCC, and have been doing for the past 5 years which I really enjoy! But sport is my main place to relax, actually, I'm not sure there is much relaxing. I am part of 2 clubs. One is my rugby club in Sleaford. I absolutely love rugby; it's changed my life! I am also a running leader for SADRC. I have made so many friends within the two clubs, and they are my life now! We take part in races, and social runs all in the countryside. It's beautiful!
Barbara: To relax, I enjoy walking our dog Brian everywhere and anywhere, including the local villages and the Lincolnshire Wolds. I enjoy visiting small quaint restaurants and old churches.
How do you style your Barbour clothing?
Rebecca: Normally with a pair of jeans and a good pair of boots! Also, a winter hat the majority of the time because the coat is lovely and warm, so keeps me warm in the winter months!
Barbara: My Barbour is very versatile and can be dressed up or down depending on the occasion. It is equally comfortable with wellies and a woolly scarf, or heels and diamond earrings.
What is it about British style you find interesting and unique?
Barbara: It's classic, timeless, elegant. 
Barbour celebrates everyday adventures, the little things that create the biggest memories, can you tell us a Christmas memory of yours that was one of these moments?
Rebecca: We went on holiday as a family to Bulgaria. It was the only time we have been away for Christmas Day! We attempted to go skiing in the day, but the slopes were packed. We played cards instead. But when it came around for dinner, we had to decide what we wanted. We went to this empty restaurant that was Italian. We asked for pizza, and it came with no cheese on. Basically, tomato bread. It wasn't a big thing then, but we speak about it every single year! Always makes me laugh!
Barbara: My very first Christmas as a married couple was spent with my in-laws who I had only just met. Come Christmas morning, I opened my gift from my husband to great fanfare to discover, beautifully wrapped…a frying pan. Much to the pleasure of all around, I was, with bated breath trying to hold back the tears, as I always told him never to buy me a gift for the house for birthdays or Christmas. When he realised how upset I really was, he gave me another gift, which really did bring tears to my eyes, and it was very beautiful, in my dreams, a Barbour.
What does an average day in your Barbour jacket look like?
Rebecca: Normally taking Brian for a walk in the woods in Woodhall Spa…. or standing and watching the local rugby team play!
What inspires you?
Rebecca: My parents. Their relationship inspires me every day! They have worked together for the past 24 years, live together, have been married for 30 years and still miss each other when they are not together. They still surprise each other, still hold hands, and it amazes me how two people can still want to be with each other, every minute of the day! I love them!
Barbara: My children. I try and be the very best I can so they will always be proud of what I achieve.
What one word would you say best describes Barbour?
Rebecca: Stylish!
Barbara: Special!
What would we find in the pockets of your Barbour Jacket?
Rebecca: Dog poo bags, Vaseline, safety pins from a race, and the "keep book for Barbour." I have no idea why I still have it but it's still there!
Barbara: Lipstick, red! Credit card, hair band, and tissues.
If you were to invest in something new from Barbour, what would it be and why?
Rebecca: The boots! They are beautiful! Mum always taught me the most important thing to look after is your feet!
Barbara: Boots! They are very classy and would complement my Barbour very well.
Are there any Barbour items on you or your family's Christmas list this year?
Rebecca: A scarf! A tartan one! I love the checked pattern on clothing be it shirts, jumpers, hats or scarfs. My Barbour jacket has a tartan lining, and I love it.
How would you describe your Barbour Way of Life?
Rebecca: I have a love for the outdoors and being outdoors, embracing the countryside. Be it during a walk with Brian, or in a race through the Wolds. Barbour's are strong and lasting, and I would like to think I am the same. I am a strong lady with dreams, but also a zest for life in helping people. Barbour helps me along my way in the cold nights, I like to think I can help and support people too.
What do you look forward to the most about the Christmas period in Britain?
Rebecca: The food! And the decorations! But the food first! It seems like the only time you can get away with eating everything and anything no matter the time of day! But I do love Christmas Trees! I love the lights. I love the fact you can talk to everyone and anyone and no one cares but wishes Christmas cheers to everyone.

Barbara: The weather. Spending time with my family. Having drinks with friends and cooking up a storm for my family and friends to enjoy in my new home.
How will you be celebrating your Barbour Way of Life this Christmas?
Rebecca: With Barbour being predominately British, I will celebrate the Barbour Way of Life this Christmas, the British way, with a cup of English tea, in an old school cosy British pub, by the fire with a Christmas Tree lit up and some very over the top decorations whilst wearing my jacket with pride!
Barbara: With family and friends.
Learn more about Barbour 125 Years here.
---
Discover your perfect style...