Barbour Life, 125 Years Customer Stories: Meet Amy and Mark
Meet Amy and Mark
spring summer 2019
We have invited a few customers to share why they love Barbour and what we would find in the pockets of their Barbour Jackets. This month we're introducing you to Mark and Amy Leeder, and their puppy Biscuit, from Norfolk.
Can you let us know a little about yourselves?
Mark: We both grew up in the countryside in Norfolk and as a family now we have a very active lifestyle where we enjoy the outdoors most days.
Amy: We have been married 10 years this year, we have two children and a puppy Biscuit. We have lived in Dereham, Norfolk most of our lives.
When did you first come across Barbour?
Mark: For me growing up, I've always known about Barbour. Every country fair, there's always someone there in their Barbour jacket walking their dog. I bought mine 6 or 7 years ago. I did have a bit of debate to what style to go for; whether it be the Bedale or the Beaufort. And the Beaufort won.
Amy: And for me, Mark convinced me after going through so many styles of coats. Eventually I put on a Barbour Jacket and thought that's the style for me.
Mark: And it's for life isn't it. My mother had a Barbour jacket in the 70's and I believe she's still got it.
Can you tell us the story you shared about your relationship with Barbour?
Mark: I have loved Barbour for years. I bought myself one about six years ago now. My wife became keen when she saw the Liberty x Barbour collaboration and then she was sold basically weren't you?
Amy: Yeah, I can't take them off really! The kids have a few Barbour Jackets and our newest addition Biscuit has some too! Not long after getting the dog, we got her a jacket. It had to be done!
How do you style your Barbour clothing?
Amy: For me a Barbour Jacket is easy to style because you've always got that same look. It's odd because with any other jacket paired with your jeans and boots it's doesn't feel as nice. But with a Barbour jacket, it's on and it completes an outfit. You don't have to worry what's under it, you just go. It's comforting, like an old friend.
I also like to wear it over evening wear too. It's funny actually because our daughter will put on a really pretty dress and her makeup and she will just chuck a Barbour jacket on without any thought. She doesn't look to see If it goes, she just instantly thinks it goes and it does.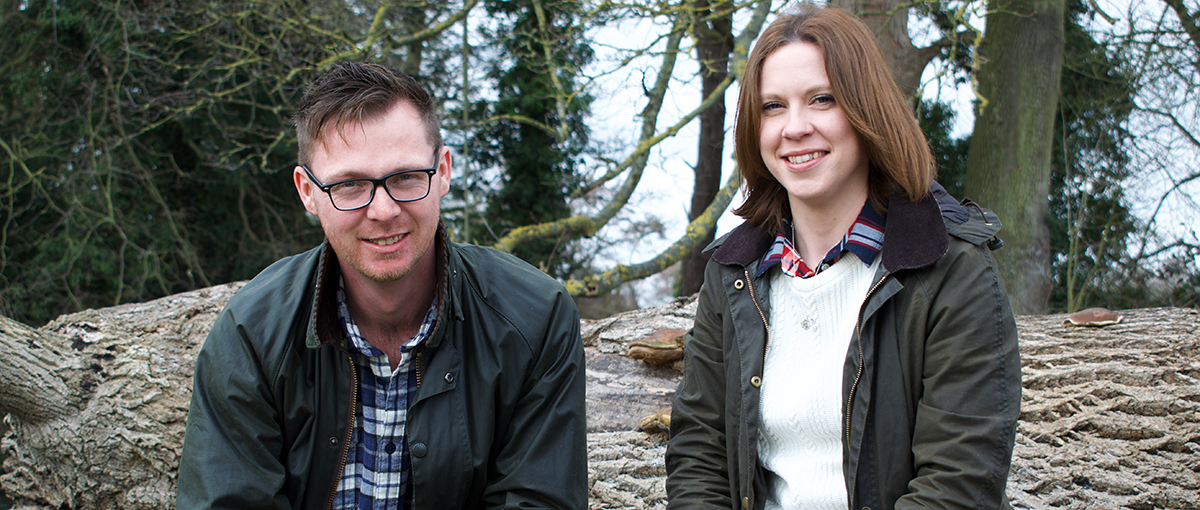 ---
What does an average day in your Barbour jacket look like?
Amy: For me my Barbour Jacket is on and off, all day long. It's next to the door, its easy just to slip on. It's great for any weather. If it rains, I put the hood up, if the sun is shining you can take the hood off, then it's less of a heavy weight. The jacket has so many pockets so you can put your dog treats in it, anything you need- the lead when the dogs off running. My Barbour Jacket just works for my everyday life.
Mark: I tend to wear my Barbour Jacket on the weekends. I tend to wear the jacket instead of a backpack, because there's pockets everywhere. The game pocket on the back is always full of stuff.
---
---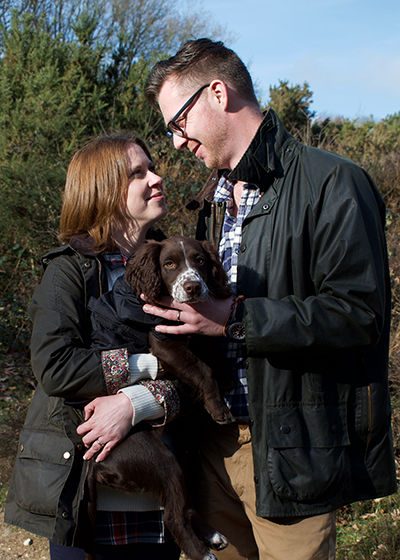 What do you do in your down time to relax – are there activities with your friends and family you enjoy out in the countryside or by the coast?
Mark: We love going to Swanton Morley falls which is where we've been today. It is great how local it is and the kids love going on the rope swings, it keeps them happy!
Amy: We like how peaceful it is. It's just nice to get away from everything and switch off there and enjoy the moment.
Mark: When I first went with my daughter, she named the trees, 'the fairy trees'. We always hide underneath them and it's quite magical, especially for my daughter who can let her imagination run wild there
Why did you decide on getting a dog?
Amy: After a long walk on the beach and months of discussion we decided to get a dog. I actually recently bought my Barbour Jacket after seeing a photo I saw on the Barbour Instagram. In the photo there was a cute dog and then I wanted a dog! So that's the truth. Barbour bought us our dog in effect! Mark wanted a dog more so than me and then I put my foot down and said I would only have one if it was a brown one called Biscuit. And so Biscuit came into our lives 4 months ago. It's been a bit of a running joke of us all owning Barbour Jackets, and matching. The kids, both of us, so we felt that the dog being part of the family had to have one. No questions! Biscuit has 2 now.
What one word best describes Barbour?
Amy: Adaptable. It fits into your everyday life. It can be your daywear and eveningwear at the same time.
How would you describe your Barbour Way of Life?
Mark: Our Barbour way of life would be taking our Barbour Jackets with us everywhere we go. Whether it be for a nice evening meal, a country walk or at the beach. We have a nice fit, healthy, active lifestyles. Our idea of a holiday is going walking somewhere. I guess My Barbour Jacket to me is an evening-going-out coat or a weekend walk coat. I look after mine, Amy's and the kid's jackets-. I like to re-wax them every year as they are there for life aren't they.
Amy: My Barbour Jacket is on for a woodland walk, the school run, it's the first thing I pull out to put over my gym gear before work. Then it's very much off and on all day for more school runs, walks and meeting friends. I guess we really do live the 'Barbour Way of Life'!
Barbour celebrates its 125th birthday his year – were you aware of this and how will you celebrate?
Amy: By wearing it every day the British weather allows us.
Discover more about Barbour Life and our 125 year anniversary here.
---
Discover Your Perfect Style