Barbour X Ally Capellino: Q&A with Alison Lloyd
SPRING SUMMER 2022
We're proudly launching our first collaboration with British bag and accessory brand Ally Capellino. The collection is inspired by three of the most iconic jackets from our archive, the Haydon, the oldest jacket in our archive, the Northumbria, a firm country favourite, and the Spey, the distinctive fishing jacket.
Ally Capellino is renowned for creating understated, practical, and desirable products using materials made for lasting style and function. Blending their longevity and instantly recognisable style with Barbour's heritage for over 127 years, this small capsule collection perfectly combines the ethos of both brands, with timeless staples for your spring-summer wardrobe.
Discover more about the collection in our Q&A with the Creative Director and Founder of Ally Capellino, Alison Lloyd.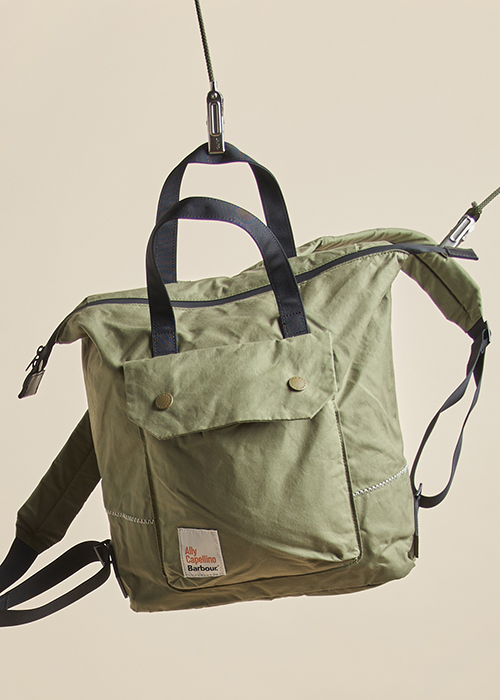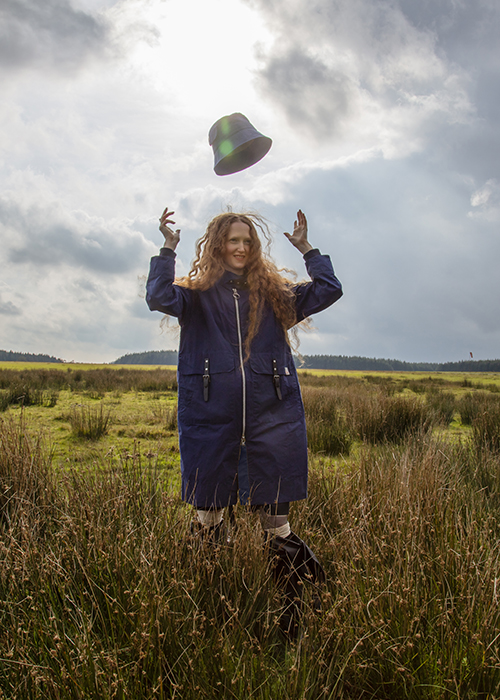 Tell us about Ally Capellino and how the brand came about?
Ally Capellino is a brand with a passion for design and materials, and a scepticism of trends. Despite that, we sit comfortably between fashion and design and we're always aware of how things are moving, picking out what feels relevant so nothing goes to waste.
Driven by a natural and inherent belief in sustainability and a hatred of waste, we make bags and clothing of integrity with a timeless quality, a function that informs the design and a playfulness that keeps our customers returning.
I have been making my own kind of bags since 2000 when my softly constructed leather bags were first shown. Since then, I have championed backpacks as a fashion (rather than camping) item and I have created specialist ranges for Apple laptops and iPads, something that has helped to normalise bags for tech.
Where does the design process start for you?
For me, the design process always starts with the materials and fabrics and thinking about what I can do with them and get out of them, so the integrity of any fabric is key; be it veg tanned leather, waxed cotton, or recycled nylon ripstop. Design is constantly there, going round - there's no down time on that.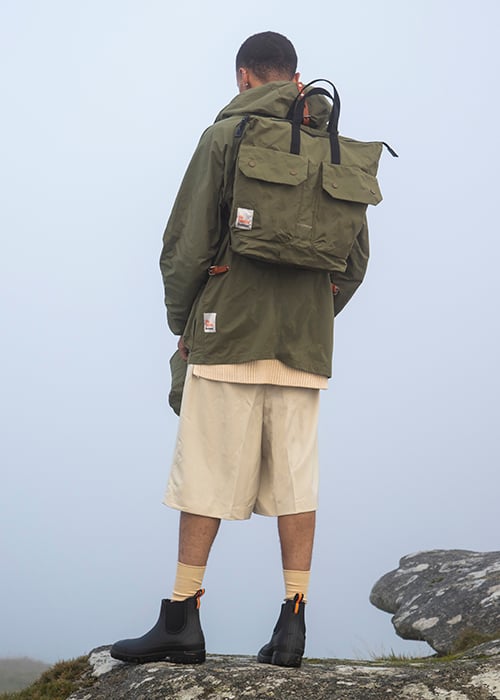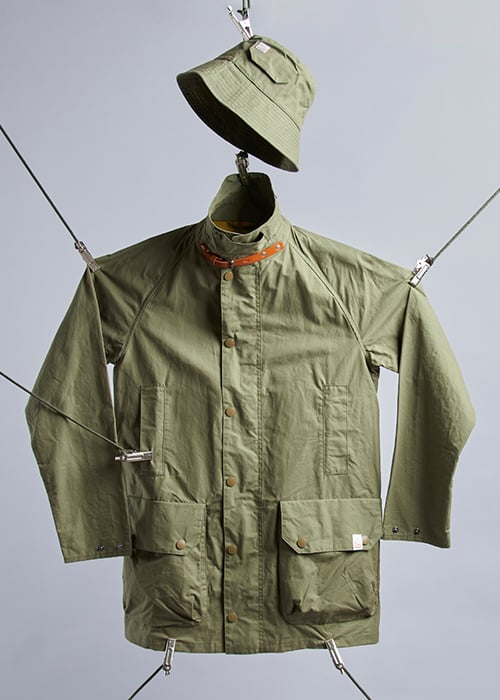 How challenging did you find bringing together the DNA of both brands? What do Barbour and Ally Capellino have in common?
I feel it was no challenge at all. I think it was almost sitting there waiting to be awakened… What do we have in common? A robust functionality and lasting classic style. We share a love of traditionally made waxed cotton fabrics that age beautifully. Outdoor inspired and made for men and women.
What inspires you and is there anything in particular that inspired this collection?
Inspiration is around all the time, from people, books, light, architecture, nature, sculpture. I love colour and playing with mixing colours in different combinations.
Are there any design features within the collection that you're particularly excited about?
At first I was a bit resistant to using the buckled leather straps on the jacket, because although they are a signature of our waxed cotton bags, it seemed a bit too obvious. But I was persuaded, and I'm really pleased because they look great, and I think they're a really strong feature and identifier of the brand. I also love the storm cuff on the women's Lassie Casual jacket, with the ribbed cuffs coming out from inside the sleeve. I like the way the internal contrast binding shows the construction on the inside, and I love the stitching on the internal pockets which defines their position on the outside. I also really like the men's two tone Hand Casual jacket.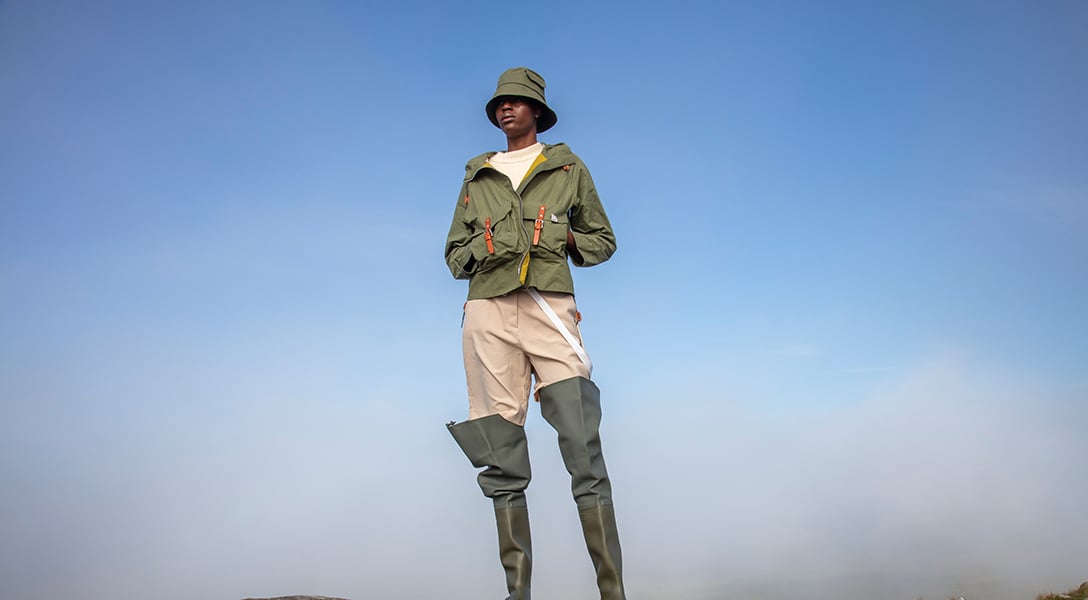 Tell us about the accessories in this collection?
The backpack styles are some tried and trusted shapes that we have been running for many years now. I always wear a backpack for cycling it's so easy and when not cycling it means you've got your hands-free. True to form, they are very functional backpacks that have laptop sleeves inside and a wide opening for good access all closed up with water resistant zippers. We've kept the weight down as much as possible which I always think is important. Then there's a cross body which looks a modest size but can comfortably fit a pair of trainers in it, depending on your shoe size, or some lunch, definitely an apple and a pair of glasses.
Which is your favourite design in the collection / which jacket will you be wearing?
Well, can I have two favourite styles because from the womenswear collection I want the shorter length Tip Casual jacket with the hood in the navy, and I also want the longer Lassie Casual jacket in olive. I was wearing one of the menswear samples when they first arrived as well - it was much complimented.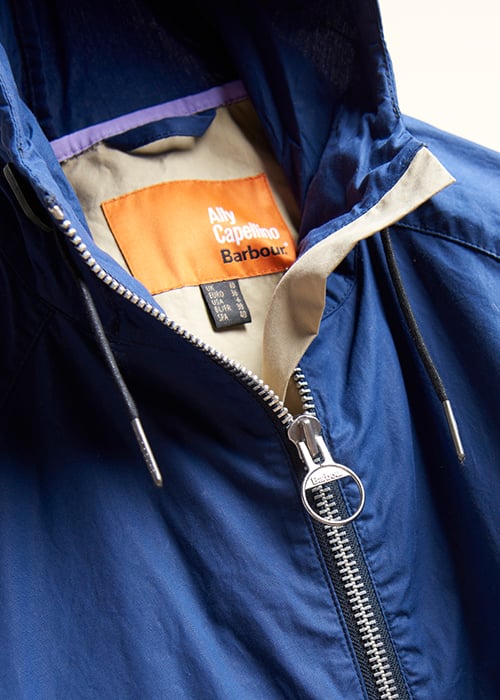 What will we find in your Barbour jacket pocket?
Well these things have got a lot of pockets so you could be on to a winner here. Probably a couple of £20 notes, that's always a treat, up to 3 pairs of specs or sunglasses, stones… I'm always picking up stones that might have faces on them.
The Barbour Way of Life is all about spending time with family and friends, relaxing and getting outdoors in nature. In what ways do you enjoy living the Barbour Way of Life?
I love socialising and I do quite a bit of cooking and I am as sustainable in the kitchen as anywhere else. I'd say I'm a master of using up leftovers and inventing new plated combos. I cycle to work a couple of times a week. My family (that is to say my two children and their kids) live quite nearby in Hackney and so I see some of them pretty much every week and we're always outdoors in nature. I'm quite keen on gardening and have a big garden as I annexed half of next door's onto mine.