The Barbour Way of Life Guide to: How to Sow and Grow at home with Hayley Moisley
Getting back to nature is really at the heart of the Barbour Way of Life, and there's never been a better time to take stock and appreciate all things great and green in our gardens. So, we collaborated with gardening expert Hayley Moisley (aka Hayley's Lottie Haven) to create a special how-to guide for growing at home. Whether you've never planted a single seed, or you want to get back to basics, this handy blog is filled with hints, tips and green-fingered inspiration for all.
Step 1: Pick the perfect pot
It can be daunting to begin growing your own from seed. As a general rule, base your decision on the size of the seed. Big seeds like squashes and beans will need big deep pots, whereas smaller seeds, like lettuce, will be better off sown in a shallow tray or little modules.
If you don't have the perfect pot, why not make your own and reduce your household waste at the same time. Milk cartoons, mushroom containers, grape pots and butter tubs are perfect for seed sowing. Just make sure you add some drainage holes in the bottom with a pair of scissors.
If you really want to be eco, you can make your own pots with newspaper. First, fold up a sheet into a long strip and wrap this around a glass jar with an inch hanging over the bottom of the glass. Tuck the bottom inch of paper towards the bottom of the glass to form a base. Push the glass down to create a nice, tight seal and then remove. Now you're ready to add your compost.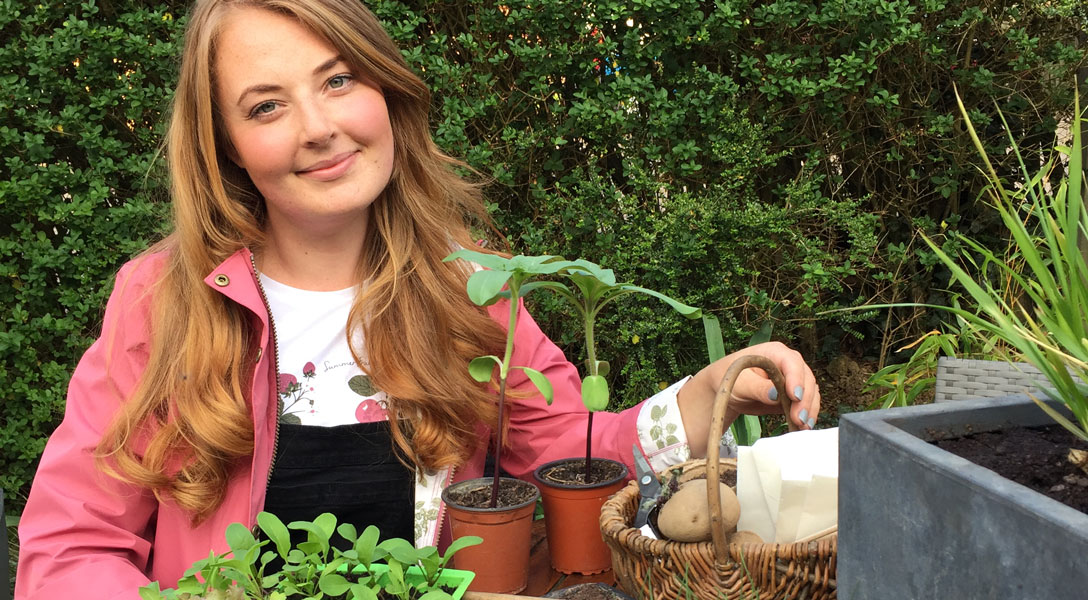 Step 2: Create the ideal base
When starting your seeds, go for a seed-sowing compost — It's denser than standard multipurpose compost, so it requires little watering, and more importantly, it has all the nutrients and minerals the seeds need for healthy germination. If you can't get enough seed compost, try mixing it with multipurpose compost to make a nice blend. Alternatively, if you can't get any seed compost, don't panic, multipurpose will be fine by itself.
Open your compost and keep the bag (these come in handy to grow some potatoes in). Place some compost in the pots until they are full. If you try to save compost by only half filling your pots, you'll just be cheating the seedlings from nutrients and room to grow. If you're using seed compost, it's quite heavy so you shouldn't need to push and compact it into the pot. Multipurpose is a lot lighter, so to ensure the soil fills the pot, tap the pot on a table and add more compost if needed.
My top tip would be to always water the pot before sowing your seeds. If not, you might wash away any delicate seeds and end up with a clump of seedlings in one corner.

Step 3: Sow and grow
The next step is to sow your seeds! All seeds are different, some need to be planted deeply, some are sown just on the surface of the soil, some need heat and humidity to germinate while others can be started straight outside. The easiest way to find out what conditions your seeds need is to read the seed packet. This will give you information on sowing times and planting depths.
Most seeds can be sown directly into your soil, things like beans, lettuce, sweetcorn and beetroot all do really well through direct sowing. I prefer to sow mine into pots to get the plants big and strong before they have to fend off the likes of slugs. Another reason why I sow into pots is that my chicken can easily clear a bed of lettuce seedlings while my back is turned. The same reasoning applies to my cats who dig everything up.
If you do have any problems with getting seeds germinated, or simply want to give them a head start, you can germinate your seeds on damp kitchen roll. I place a couple of sheets in a jar, add some water to make it damp and then sprinkle my seeds on the surface. Make sure you cover your jar to keep the moisture in, otherwise they can dry out quickly. Wait until you see some roots sprouting and then put them into some soil.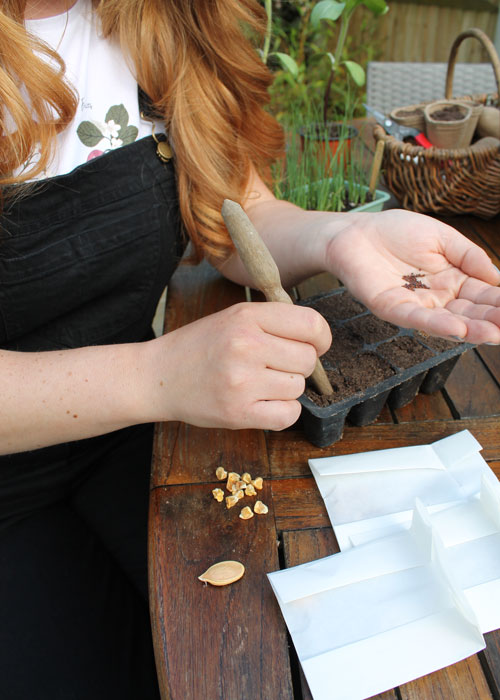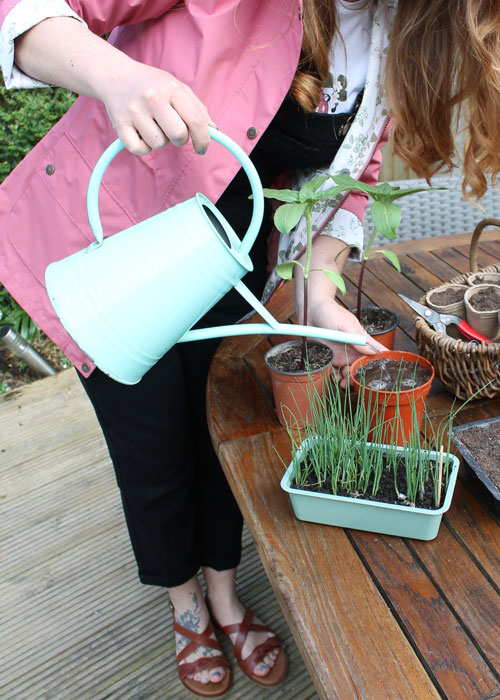 ---
Step 4: Plant the seed
There are so many seeds available to grow so it's hard to know what you should try first. I would always recommend you grow things you like to eat, or if it's flowers, something you enjoy the most. If you're looking for quick growing crops, things like lettuce, radish, herbs, peas, chard, spinach and baby carrots will give you harvests before you know it. The leafy greens mentioned can be used as cut and come again plants. If you pick a few leaves from each plant, leaving some leaves behind, the plants will regrow, letting you pick from them over many weeks.
If you are looking for prolific plants that give you lots to pick, courgettes and beans are the best. Courgettes are really easy to grow, can be grown in large pots and once established, will produce a few courgettes every week.
Step 5: Give it some love
Seedlings require some regular love and care. The majority of plants like to be grown in full sunshine, if they don't have enough, they can grow leggy, which is when they look thin and tall, stretching to find the sun.
Watering is another key need for seedlings, too much and your plants can rot, too little and they can curl up to a crisp. The easiest way to tell if your plants need watering is to put your finger into the compost. If it's damp then your seedlings are fine, if it's dry to the touch then they need watering. If your seedlings are very delicate you can use a small jug or even a water bottle sprayer to give them a gentle water.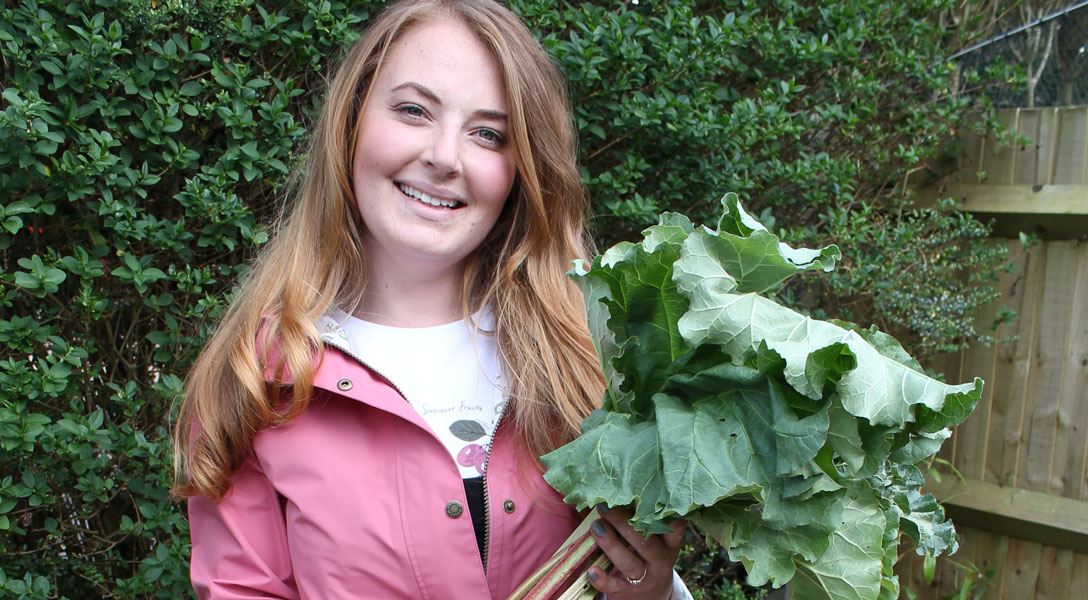 Step 6: Keep an eye out
I grow most of my seedlings under the cover of my home or greenhouse. Because they have been grown in luxury, they need hardening off before going outside. This is the process of taking your plants outside for a few hours every day and increasing the length of time over the period of a week. This will acclimatise your plants, otherwise they will get a shock on a chilly evening. During this week your seedlings can experience sun and wind damage because they are so delicate and not used to the outdoor conditions. Choose a spot that's slightly sheltered by the wind and if a sunny day is forecast, make sure they have some shade for some of the time.