Barbour X Noah: Q&A with Founder Brendon Babenzien
AUTUMN WINTER 2020
To celebrate our first collaboration with Noah, which combines their rebellious aesthetic with Barbour's iconic British style, we sat down with their founder, Brendon Babenzien, to find out more about what inspired the collection.
What was your first reaction at the idea of creating a collection with Barbour?
I was thrilled. I've been a lifelong Barbour fan so it was a really special opportunity for us.
Why do you think a collection between Noah and Barbour works so well?
I think it works because a bunch of us here at Noah are genuine Barbour customers. Many of us have been wearing Barbour and feel a real connection to the Barbour lifestyle - and I think a genuine connection is absolutely paramount in developing a strong collaboration. Because we have such tremendous respect for the Barbour products already, we decided to keep the changes incredibly simple and subtle. We really only wanted a bit of Noah to enter the conversation; too many updates to an already incredible product and you could spoil it.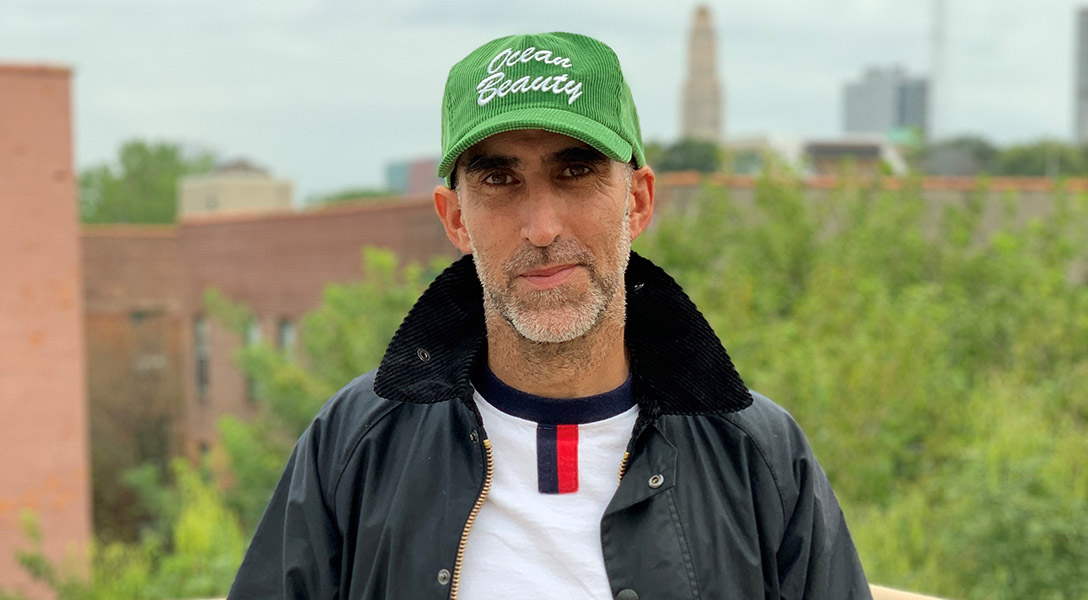 What is this collection between Noah and Barbour inspired by?
We were inspired to remind people how accessible Barbour is. We know our customer has the freedom of thought to re-think just about anything. We've built Noah on the idea that people are complex and don't fall into any particular category. People will always surprise you. So in this case, people may often think of Barbour only in the context of a country walk. We know better than that and understand that a great piece of outerwear is just that, great outerwear and can be used however you like.
Tell us about the inspiration behind the pop colours and patchwork design?
Colour always plays a role at Noah, as does colour blocking and patchwork, so this was simple for us. With the colour-blocked jacket, we really wanted something simple and something that also represented what we view as very American.
Looking at colour-blocked oxford shirts and trousers allowed us to apply that same idea here. We've kept the colours pretty subdued as a way to make this piece approachable. And for the other jacket, it was more or less the opposite thought. You rarely see brightly coloured Barbour jackets, so we thought we could bring that to the conversation.
We also really wanted to show Barbour in a more athletic way. Barbour has a rich history in the sporting life, from fishing, hunting and hiking, Barbour has always symbolized the best in the British country lifestyle clothing. We thought the use of our winged foot logo on a yellow jacket would allow people to imagine it as a type of varsity jacket or team jacket.
Finally, we also recognise that many of our customers might not be too familiar with wax and wearing waxed clothes. We thought a dry option would be a great way to introduce people to Barbour.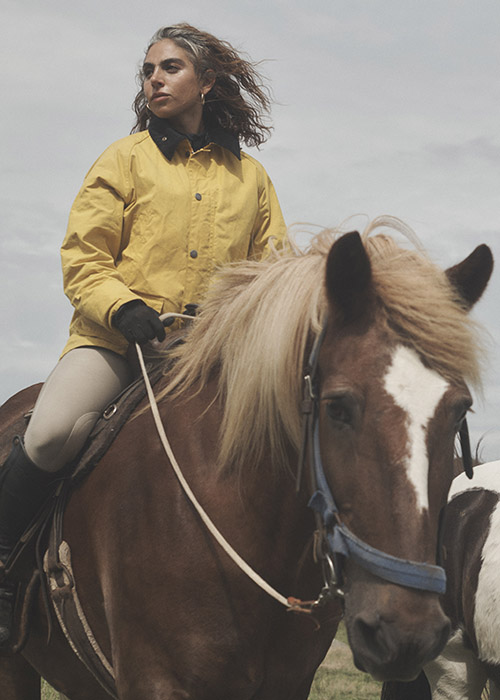 What was the inspiration behind the print designs on the t-shirts in the collection?
The tees were really just pulled from the archival imagery. A great image speaks for itself and Barbour has incredible imagery used in their catalogues and advertising spanning the decades. We are graphic minded people and love t-shirts as a way to convey messaging or emotion, so pulling some of these incredible images from the Barbour history made perfect sense.
How did you blend Noah's unique style, with Barbour's quintessentially British style?
It didn't take too much work to blend the Noah style and Barbour's quintessentially British style. American and British style are not that far removed from each other. Much of what is defined as American style really began as British style anyway. Specifically, the more preppy standards of American style all have their roots in British style. We experiment with traditional themes in our design every day and try to make the most subtle adjustments that are simultaneously holding on to traditional style but evolving just enough to feel new and unique. This collaboration gave us the perfect opportunity to do that.
What is your go-to style when you wear Barbour?
My first choice is always the Beaufort.
How do you spend your free time relaxing outside of work?
If I'm not spending time with my family, I'm trying to get to the beach to surf, or finding time to go for a run. But Estelle is English and she likes a good country walk so we find ourselves seeking short hikes near the city as well. We're lucky that NYC has options when it comes to getting outside - upstate NY, Long Island and New Jersey all offer just about any type of outdoor activity you can imagine.
What do you think are the similarities between Noah and Barbour?
I think Noah and Barbour both have a respect for the products we produce and the customers who buy them. We strive to make a long-lasting, high-quality durable product, no matter the category. Barbour has been doing this since the beginning. I am hopeful that some of our products end up living many lives for decades and decades in the same way Barbour jackets do.
How important is sustainability to Noah as a brand?
Sustainability is incredibly important to Noah. However, how we approach that might not be what people expect. We, of course, use recycled materials when we can and will strive to include more as we move forward, however, our real push to create a sustainable world focuses on our own consumer behaviour, which is why this collaboration makes so much sense. We encourage people to buy better products and to buy less things. We want people to be creative in their thinking when it comes to their personal style. Make more with less. That is creative. Just buying every cool new thing that comes out does not make you interesting, it just means you are rich.