Barbour Coastal: Sun, Sea and the Twins That Travel
Barbour Coastal Collection: Sun, sea and the Twins That Travel
spring summer 2019
Day 1: Our Journey Begins
Who hasn't looked out of the office window and dreamt of embarking on an epic adventure? It was true enough for sisters Claire and Laura when they launched their blog, Twins That Travel, one seemingly ordinary afternoon, back in July 2014.
Bored of the nine to five and longing to escape, the two fully committed to documenting their magical trips, and the world — along with several huge names in media — listened. With their unique brand of warmth and realism, it's easy to see why people love their work so much, and we were lucky enough to join them on a coastal road trip across the country.
To Northumberland and Beyond
Someone once told me that Northumberland wasn't a place, but a feeling: a feeling of space and complete calm. Having first visited this remote corner of England in 2017, it was a description that we couldn't have agreed with more. A county of deserted dunes, starry night skies, tree-lined wildernesses and ancient ruins, Northumberland is a place to escape to.
We recently had the pleasure of returning to this beautiful county, this time with Barbour. For two days we explored Northumberland's border towns and golden beaches, with Barbour's new Coastal range on hand to weather the salty air and sea winds. Driving a vintage Morris Minor, our road trip took us from secluded coves to mythical islands.
And Away We Go
Our adventure began in beautiful Bamburgh: home to a world-famous beach overlooked by a mighty Norman Castle. Waking up here was a little surreal; an 11th-century skyline filling my window. With the weather looking a little overcast, we decided to wrap up warm: wearing the Barbour Appin jacket and the incredibly cosy Barbour Isobath Quilt. For a bit of colour, I threw on the Barbour Sailboat Knit jumper (in a vibrant green), whereas Claire tried to coax out the Spring sunshine with her Barbour Seaward dress.
---
To Coastal Hideaways
Leaving Bamburgh behind, we revved up our little Morris Minor and chugged up the coast towards Holy Island (Lindisfarne). A beautifully desolate place measuring just 2-sq-mile, Holy Island is cut off from the mainland for around five hours a day. With just one causeway connecting it to the coast, visitors have to be careful to plan their trip around low tide. Once the home of St. Aidan, who founded the island's ancient monastery in 635, Holy Island perfectly captures Northumberland's sense of remote beauty.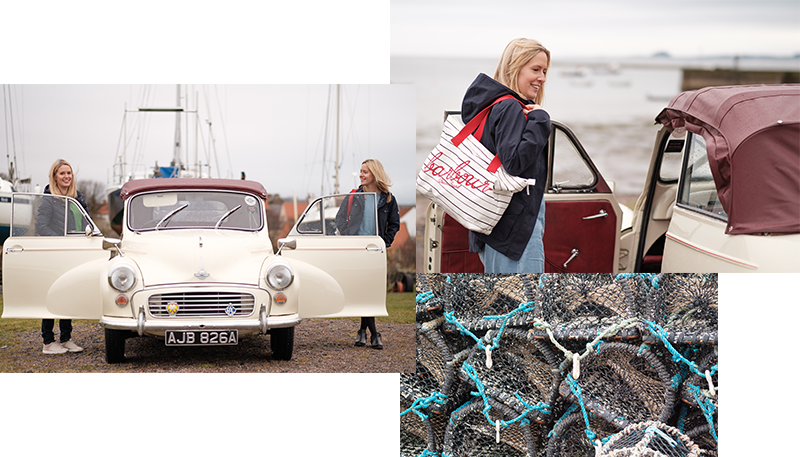 ---
---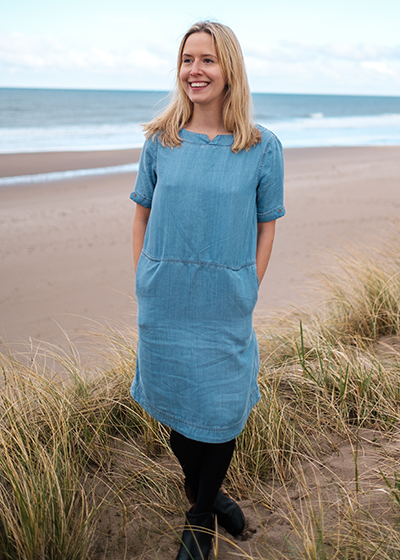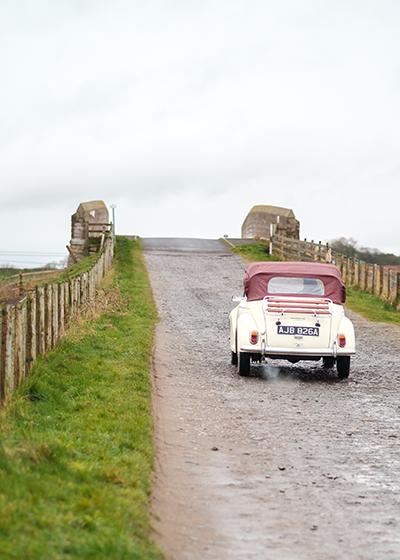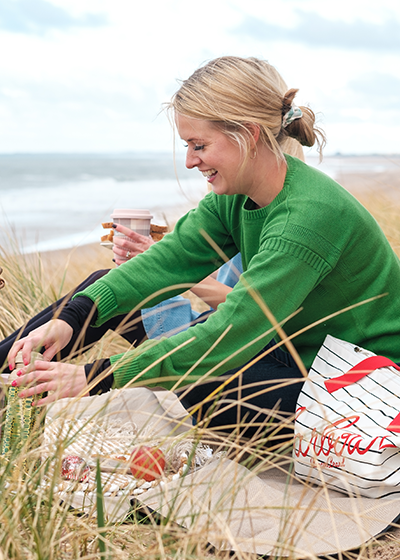 ---
A Bayside Pitstop
Back in our car and we continued north, this time towards an almost endless stretch of beach known as Cheswick Sands. Our Barbour Catalina trainers and Sarah boots sinking into the soft sand, we laid out a picnic blanket and settled down, watching the foamy north sea roll in. Aside from a handful of excited dogs, this enormous bay was entirely ours: rugged, beautiful and quiet.
Sealed with a Sunset
The spring sunshine proving a little unreliable, we eventually packed up and headed back to Bamburgh: a cosy dinner at The Potted Lobster waiting for us. The sun setting the evening sky alight, Northumberland's coastline looked just as beautiful as I had remembered it.
Discover more from Claire and Laura's exploration of the North coast and the SS19 collection.
---
Discover the Collection...