Q&A with Ben and Marina Fogle: Barbour Explorer
---
This season's Explorer collection is modelled by award-winning presenter and adventurer Ben Fogle, and writer/broadcaster Marina Fogle, and takes its inspiration this time, from the beauty of the natural world.

Celebrating everything the great outdoors has to offer, the collection is designed with practicality in mind, for those, like Ben and Marina, who like to stay active in the great British outdoors.

Read our Q&A with the pair below to learn more about their favourite outdoors spots to explore as a family, and their favourite pieces from the new Explorer collection.
---
---
The Barbour Way of Life is all about spending time outdoors, indulging friends and family and getting back to nature. How do you live the Barbour Way of Life?

Ben: I love the outdoors and I live for the outdoors. I am lucky to also work in the outdoors. As a family we work and play outside and spend as much time with nature as we can.

Marina: We don't let anything get in the way of being outdoors, particularly the weather. I feel my duty as a mother is to show our children just how rewarding, healing and stimulating nature can be, in terms of their own well-being, but also in terms of protecting it for future generations. Neither of them are afraid of rain, what whatever the weather, we'll Barbour up, get outdoors and love it!

What is it about the natural world that you find so enjoyable/inspiring?

Marina: The sound, the peace, the surprise. I love sitting in a wood alone, just listening to the sounds. If you sit still for long enough, you'll see animals who aren't aware of your presence - birds, deer - being able to observe a wild animal undisturbed is one of life's greatest pleasures.

Ben: I find it grounds me. There is a connect that roots me to my past. The natural world is like a natural remedy to so many of our ills and anxieties.
---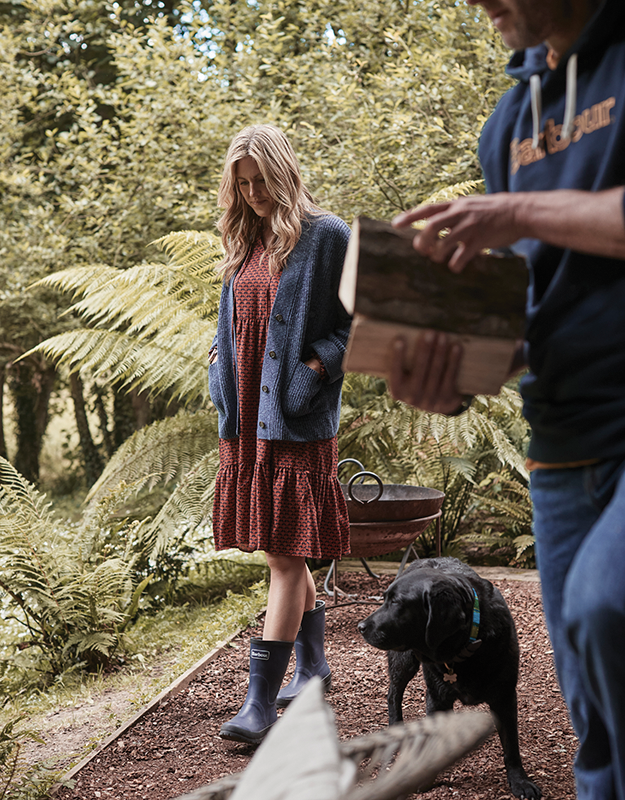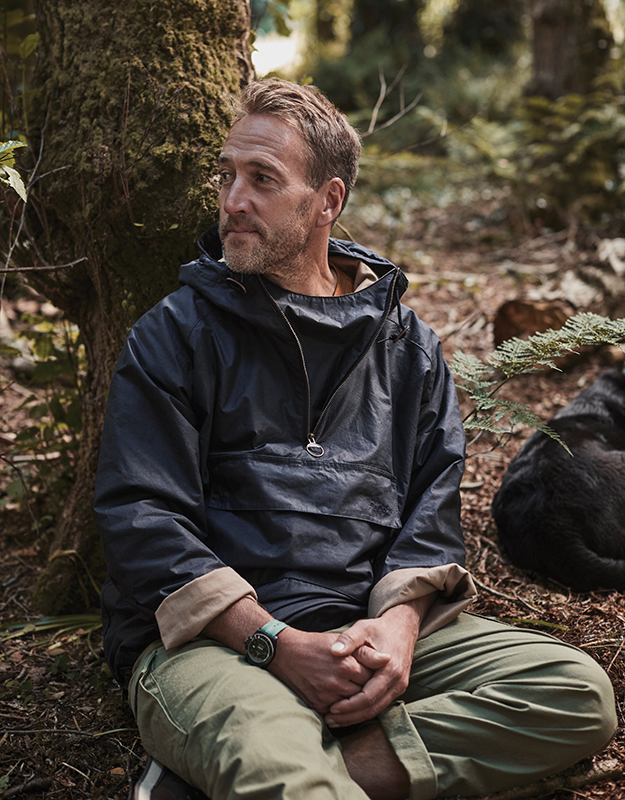 ---
---
Is there anywhere in the UK that you particularly love exploring that you can tell us about?

Ben: I have always loved the Scottish Islands. I have been fortunate to have spent a great deal of time in the Western Isles and we now have a little family getaway in the Summer Isles.

Marina: The southwest coastal path is a particular favourite of mine, that undulating landscape, with steep climbs and sharp drops down into an often-roaring ocean. Late October is my favourite time in Cornwall, when the crowds have left, and dogs are once again allowed to roam the beaches. You'll often have a surprising spell of hot weather and with the sea still warm from the summer months, it can feel like the med. But then the next day, the weather will turn and there's something exhilarating about watching a storm brewing.

Do you have any special family memories about this time of year that you can share?

Ben: We love family walks. Dogs, horses and all. There is something so hearty about getting out and watching the vapour pour from your breath in the early morning light when the sun is still low in the sky.

Marina: We try and eat outdoors as long as we possibly can. The children are big fans of picnics, ideally with ponies, so we'll be riding, Ben will be on foot, and we'll find a log we can sit on in the woods and have some sandwiches, a flask of tea and apples for the horses. Meals outside are the best.
How often do you adventure together as a couple/what do you enjoy about it?
Ben: We are always off exploring. Even when we are at home we head off on little adventures as a family. Marina often rides with Iona that leaves ludo and I to go on walking adventures with the dogs.
Marina: We adventure more as a family rather than a couple - and slowly the children are becoming bolder than us - me certainly. This summer we explored Alpine canyons, the children leaping off cliff into rock pools below. We had a fabulous guide who showed us where it was safe to jump but it was magical descending into an ancient gorge whose sides had been hewn by centuries of water flow.
---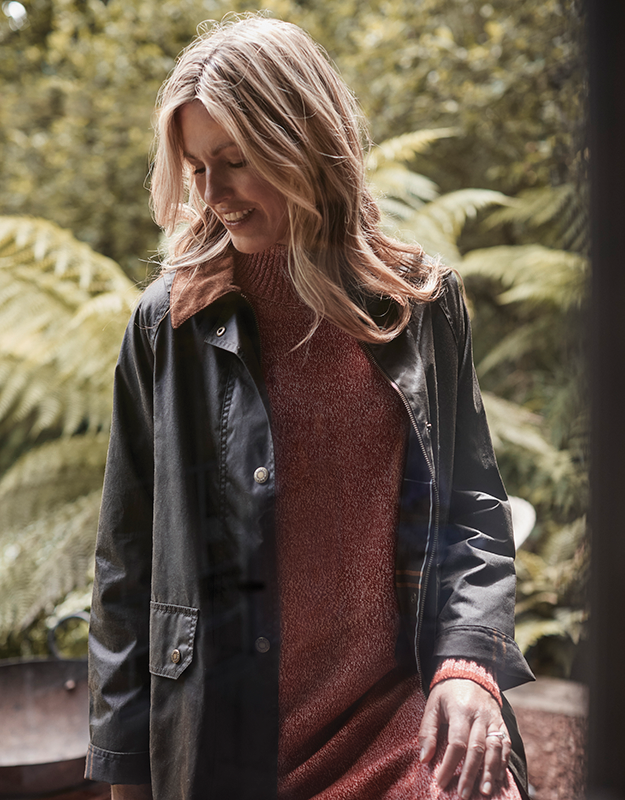 ---
---
How would you describe the new Barbour Explorer collection? What makes it great for exploring the outdoors in style?

Marina: Practical, stylish and extremely comfortable! I think it's the Corylus Liner that I've been living in recently. It's so versatile. You can sling it over a jumper when it's a little nippy and put it under the Castaneda Wax for when it's really cold.

Ben: It is practical and functional. The smock is my favourite. It is functional with a hint of 80s nostalgia.

What is your go-to style for an outdoor adventure in autumn-winter?

Ben: Simplicity. I don't need my clothes to do the talking. I want them to do the work.

Marina: A dress and wellies - super comfy, perfect for an outdoor walk. This Autumn I'm living in the Corylus dress with the Corylus liner and a pair of wellies.
Is there anything special you particularly love about getting outdoors in the autumn-winter season?
Ben: I love the transition of seasons. Winter is such a cosy month.
Marina: The sunrise is amazing to witness. I'm often up early and even on the coldest of days, I'll walk to the end of the garden in my pyjamas with my Barbour flung over the top to check on our horses who live in a field at the bottom of the garden. They're used to me giving them an apple so they'll always whicker and amble over to me. Hugging a horse while the sun rises over a frosty field is a great way to start the day.

Can you tell us a little bit about shooting this collection?

Marina: We went to the south coast, to a wood with a little cabin on it. The weather was lovely, and Ben and I were rather sad not to have actually spent a few days at the cabin. It would have been perfect for the two of us. It overlooked a small pond in which the dogs loved swimming. If we'd stayed there, I would have swum in there myself and got Ben to build me a roaring fire to warm up by afterwards.
---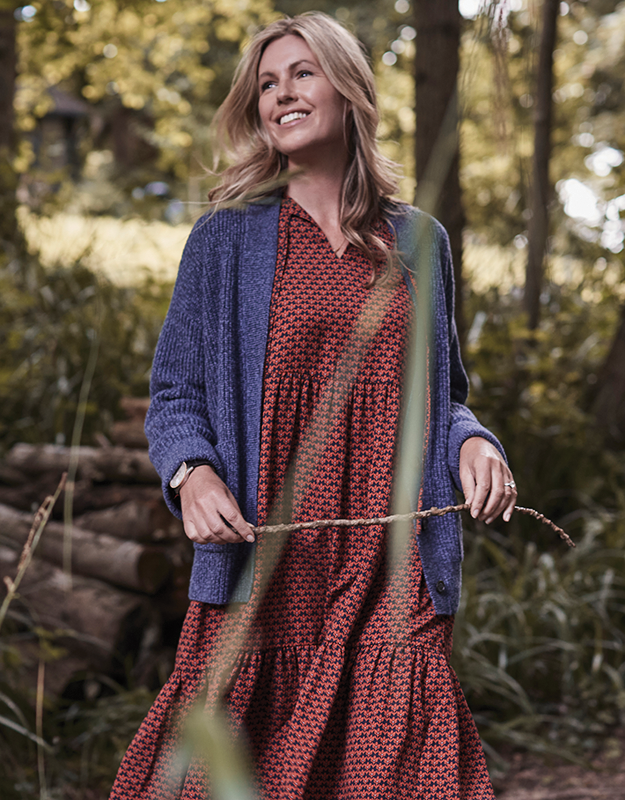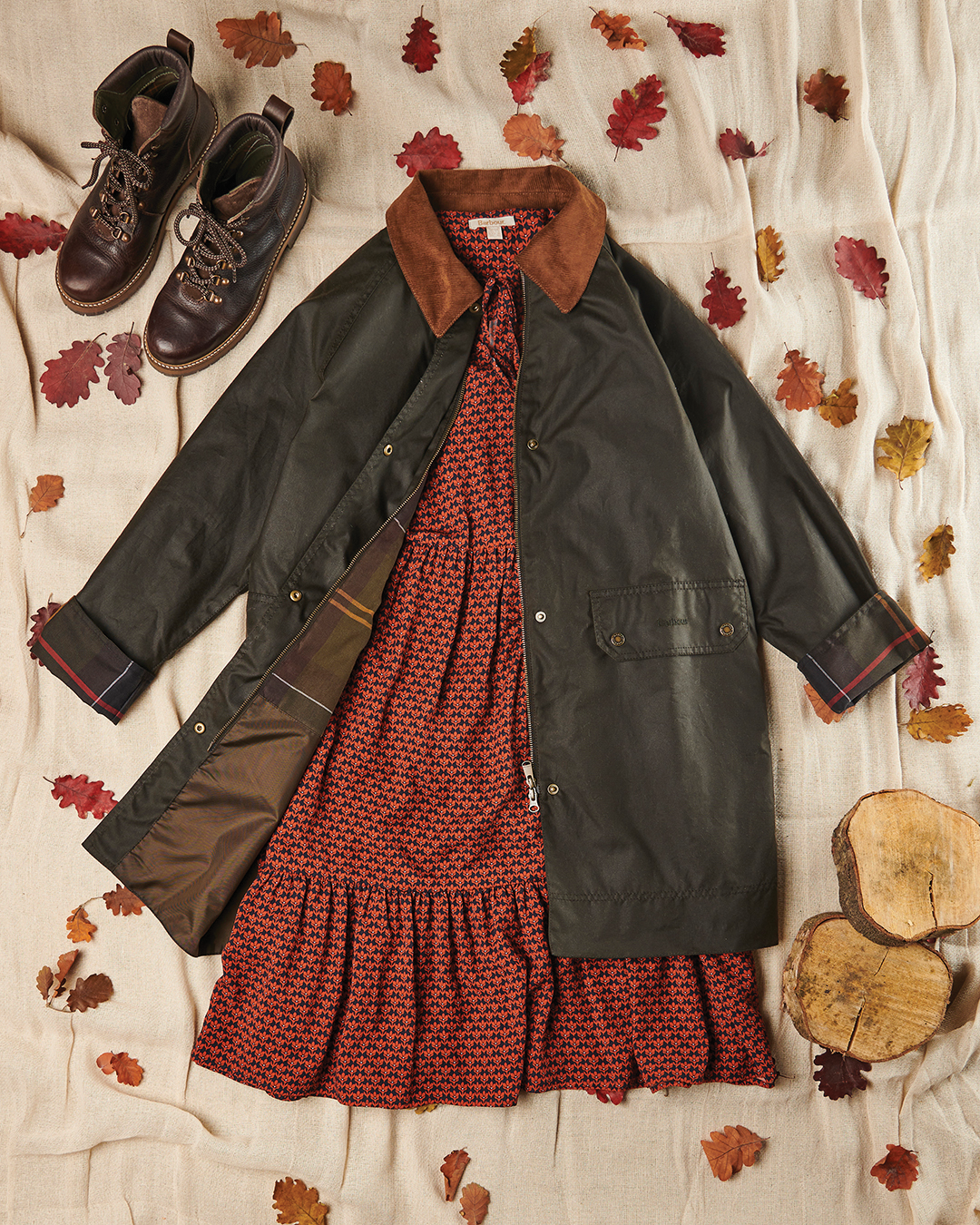 ---
---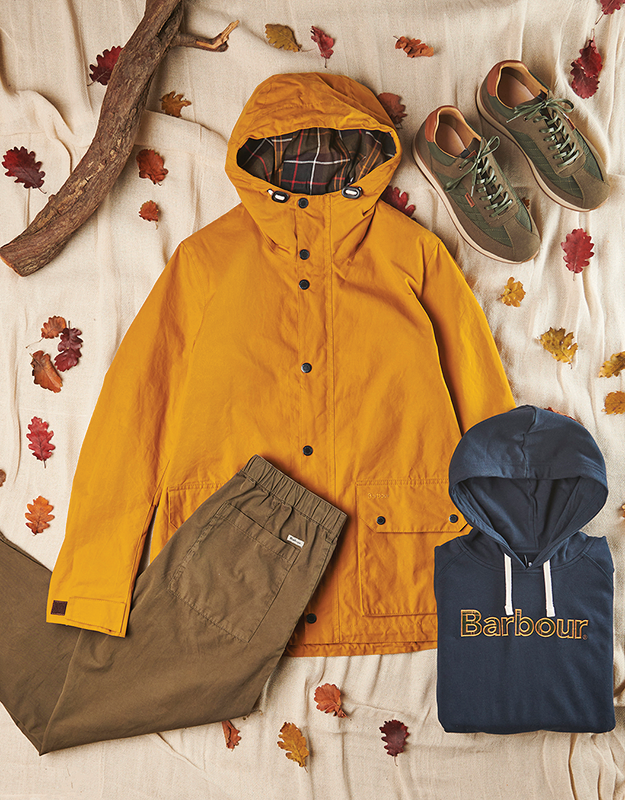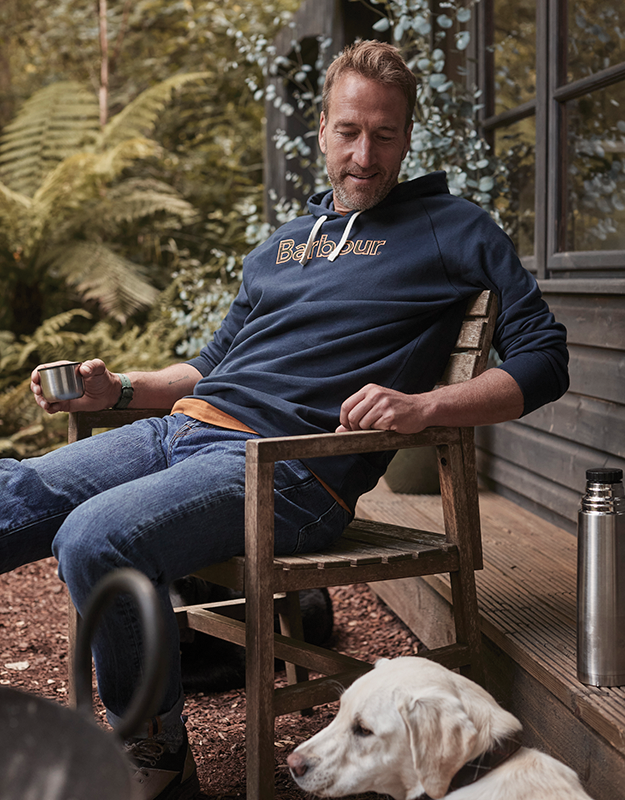 ---
---
What is it that you love about working with Barbour?

Ben: I think we share so many values. I love their integrity and the fact that it is still a family business. Family is everything.

Marina: Barbour is about the most British you can get. We love that the Bedale and Beaufort wax jackets are still made in South Shields, in a factory who, at the beginning of the pandemic during the PPE crisis, diverted its energy into making PPE for the NHS. It sums up the values of Barbour, and that's before you've even got onto the product.

Can you remember your first Barbour jacket?

Ben: I still have it. I think it is a Bedale. It probably needs a rewax. I also have a beloved old longshoreman. It is my go-to jacket in extreme wet weather.

Marina: Vividly! It was a hand-me-down from my father when I was about 14. It was quite big for me, but I loved that because no part of me got wet. It covered my knees when I was riding and allowed me to spend hours outside when it was tipping down.

Discover more about the collection, here, or shop the range to equip your wardrobe for all your autumn adventures.
---