#BarbourLife – Angela Maynard
Angela Maynard
23rd february 2018
Barbour Life celebrates the people that live the Barbour Way of Life, and for our latest instalment, we met up with Angela Maynard of Botany, London, to chat about what inspired her to open up her own nature escape in the heart of urban London…
For anyone who doesn't already know about your shop, can you tell us a little about what you do? 
Botany is an independent plant and homeware store situated in the heart of Hackney's creative community and close to the green spaces of Hackney, Leyton & Walthamstow marshes. We believe that plant life, ethical design and considered surroundings make for a beautiful and balanced life. We're inspired by nature in and out of the city. We curate the things we love alongside an abundance of plant life and seek to inspire our visitors to explore their own creativity in their homes. We run a wide variety of creative workshops and have a holistic treatment room space rooted in this philosophy.
Have you always known that you wanted to be involved with botany? Is there a particular moment or memory that led you to pursue opening your own store? I've always wanted my own shop but never thought it would become a reality. After 12 years working in clothing product development I was sparked by a Ted talk to consider what made me happiest and what I would regret not trying in my later years. Hence I took the risk and opened Botany. I've always held an interest in plants, inspired to garden by my grandmother, who came from the Island of Cyprus. She tended to our local Georgian square garden in Fitzrovia and made her small home an indoor garden when I was child.
It was only later in life when circumstances meant that I was without my own garden to tend to myself that led me to explore houseplants. I decided to combine an interest in product design and plant life and took a punt that there would be others in the same predicament of small space city living as me that may have a passion for greenery and the same desire to surround themselves with beautiful useful objects that I did.
What has been your favourite thing that you've done or accomplished since opening Botany?
I'm most proud of the community of creatives and locals that have been able to make contact through the events, exhibitions and workshops we hold at the shop. It's inspiring to know that that people have made lifelong friends through their involvement in a space that I have created and that's most special to me.
You're based in London, which has such a great culture scene – can you recommend your top places to visit from the city to escape into nature? I get inspired by both the East End marshes particularly Hackney Marshes that border the Olympic village, which is now Queen Elizabeth Olympic Park and has gorgeous landscaping, wildflowers and silver birch. I'm not sure people are aware of what a great job was made on this space, it's the newest park in Britain. I was also recently introduced to Darwin house just outside of London in Orpington - it's beautiful and has an amazing greenhouse. The Georgian squares of the London city centre are little pockets of unexpected green oasis that reminds me of my childhood and I always take time to enjoy them.
---
We're very proud of our British culture - what aspects of British culture resonate the most with you? 
The diversity and inclusiveness Britain can and has shown. When Britain is at its best it represents these things and that's what I love about it. As an example Britain really excelled itself when it came together at the 2012 Olympics.
There were street parties in my Hackney neighbourhood, people welcomed visitors from all over the world and it made local communities come together in the same way they did years ago. I have always wanted to be part of and rooted in a community; I have found this here in the East End of London and partly by opening the shop.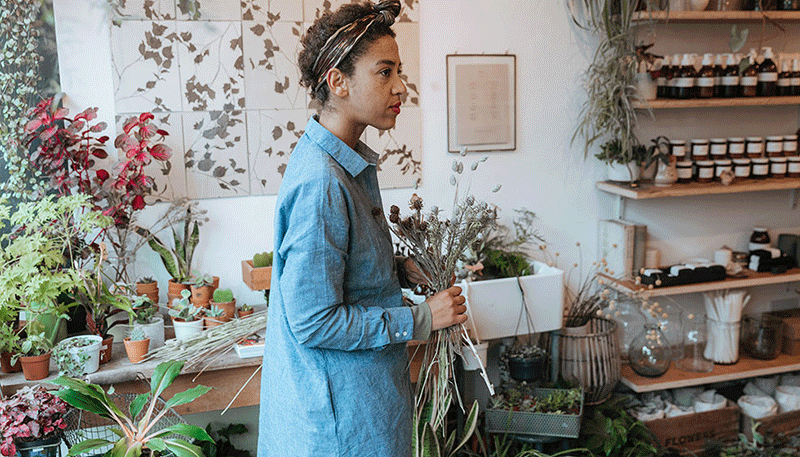 ---
---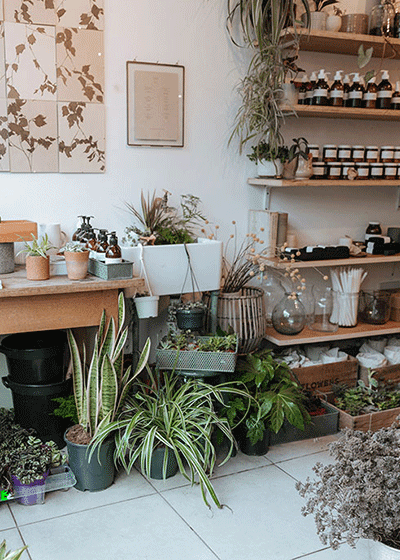 What do you love about working with plants? Why do you think they're important to have in an urban space?
They give back as much and probably more than they receive. They give pleasure everyday and even offer surprise gifts (like a new random flower on a cactus in summer time). They teach us how to be patient, nurture and care. For me they offer a creative outlet unlike any other.
When did you first come across Barbour? Many people have said their parents and grandparents wore Barbour's before them, is this the same for you? 
No not at all, both sets of grandparent were from very hot islands, so neither would have worn a Barbour! My first experience of Barbour jackets was seeing them work at festivals and being worn in a more modern urban context.
Nature has a huge part to play in what you do. Is your own personal fashion sense influenced in any way by this? How would you describe your fashion sense? 
I think my style is very natural, I prefer earthy tones, tones that appear in nature and I like natural tactile fabrics again that represent the environment.
You're wearing pieces from our SS18 Women's Timeless Originals collection, which is heavily inspired by plants and nature – which was your favourite piece to wear?
 The 
Annas Jacket
 is superb, so comfortable and perfect for my walks on the marshes and wild flower identification workshops.
What would we be most likely to find in the pockets of your Barbour jacket whilst out exploring in nature?
A phone for taking photos & the observer guide to wild flowers.
What does the future look like for you and Botany Shop?
We're going into our 5th year this spring and it's a big one for us. We are launch are own small line of locally made, small batch clothing and accessories along with curated line of brands we love and fit our ethos an aesthetic. There is also the real prospect of expansion, either a larger shop or a second location, which is both scary but extremely exciting!
Discover more about the #BarbourWayOfLife 
here
 and shop our Women's Timeless Originals 
collection
.
---