#BarbourDogs: Meet Doris of Brocklehursts
#BarbourDogs
7th february 2018
This season we're continuing our series of blogs where we meet the dogs of some of the UK's best independent stores. We headed to Brocklehursts in Bakewell, to discover more about Doris and what she gets up to in store…
Introduce yourself and tell us what breed you are?
Hi I'm Doris the Mini "Sausage "Dachshund, I'm only 1 year old!
Tell us about your store?
We have two fabulous shops in Bakewell, in the heart of the Peak District. One has a car park, great for spending a penny and one has stairs, I can't climb them but you can carry me, I don't mind.  Both are very dog friendly! It also sells things I can wear as well as my humans.  It's a one stop shop as we can clothe you from head to toe... even your underpants! – Once a man fell in the river next to the shop and we actually had to do that!
What makes your store unique?
It is a family business that has been going for over 50 years! We have two stores that both have a huge dedicated Barbour section and on the Show Unit we are partners of Barbour. We are very family driven, most of my family work here.  All the team are always friendly, and all love a cuddle.
---
What is your role at the store and what does that involve? I am head of security. I meet and greet – actually I mostly bark! I have a mean bark, I sound like a Rottweiler in my head.  If they smell good I leave them to browse. I like to sniff out if they have any doggy treats; I put them in a good mood so they spend more time in the store…My other role this season is to help with buying; I have managed to see three of our key suppliers already… I love choosing the socks.
Who is your human and what is their role at the store? My human is Melanie Brocklehurst. She is married to my human dad Martin Brocklehurst so there is nothing that she doesn't do.  Some days she can be towing a caravan from one show to another, then buying for next season, to modelling in the brochure.
---
---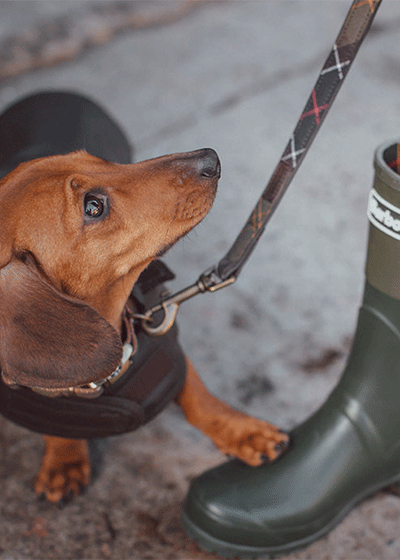 What is your favourite part of the store and why?
I love the showroom where I go and steal the stuffed dogs, they are supposed to show off the dog coats but I like to run around with them, it's good fun when the humans can't catch me; there is so much room to run.  Sometimes when another dog comes in we get to play chase.
In your down time from helping at the store, what do you most like doing?
I like running with my brother Smedley, he pretends not to like me but I think secretly he does. I also like to snooze in the girl's mail order office, it's nice and warm and if I look at them with my puppy eyes they give me a doggy biscuit. I also have my own instagram account so I let my human mum take cute photos of me and my followers love it!
Discover more 
@barbourdogs
 on our dedicated Instagram and shop our #BarbourDogs collection 
here
.
---
Discover your perfect style...