AW18 Tartan Collection: Styled by Ian Bergin
Styled by Ian Bergin
 autumn winter 2018
Making a start in men's clothing.
Growing up in Manchester I've always had a love of clothes and seen them as opportunities to represent who you are and what you're interested in. I knew I wanted to do a job that was something I really enjoyed, and from a creative point of view it just had to be clothes. I wouldn't say I'm into fashion, but I've always been into clothing and how it's made for function and purpose. 
I actually studied history and politics at university before making a start in the fashion industry, and after I got my first job at Paul Smith, I've worked in men's clothing ever since. Through the years I've seen every part of the process from retail, buying and brand management and finally design, which is where my heart truly is.
A closer look at the new collection.
This season, our Tartan Collection is split into three different colour stories; Classic Tartan, Merlot Tartan and Black Tartan each is inspired by different parts of Scotland.
Youthful and urban Black Tartan is inspired by the Scottish Highlands on a cool winter's day, where the landscape has this almost monochrome quality made up of graphite and ice white. With this part of the collection we wanted to create something that was more directional and urban, and this tartan feels like it fits the bill.
Traditional Classic Tartan has its roots in the countryside and the classics autumnal tones. Our signature brand green sits centre stage, but it's complemented by browns, yellows and reds too.
Finally, the seasonally transitional Merlot Tartan is actually inspired by the red colour that runs throughout our Classic family tartan. We pulled out this nice deep red colour into its own story to create a new tartan that's warm and rich to pair with deep purple, merlot and red with a white overcheck.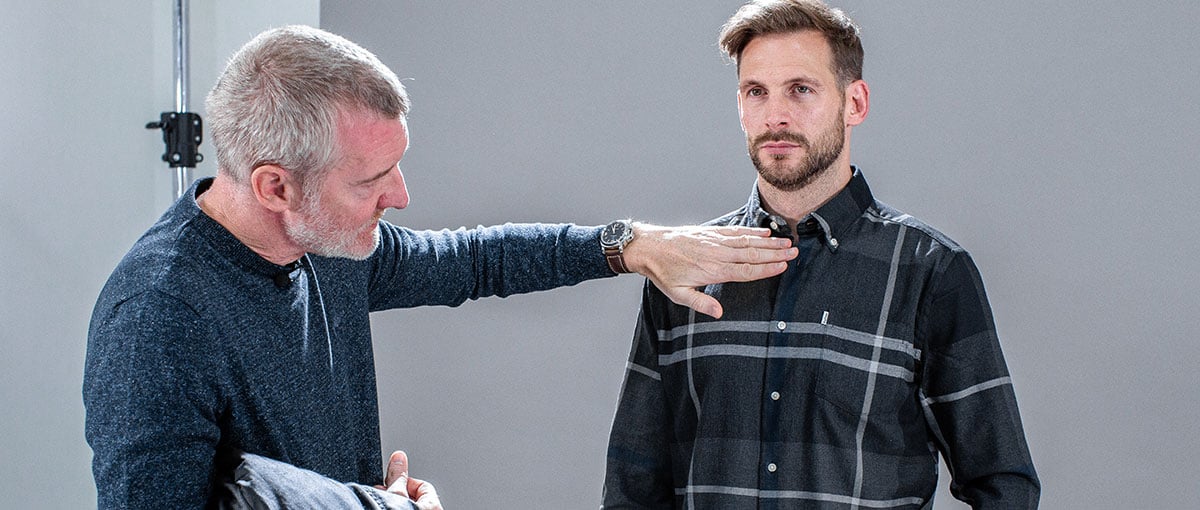 ---
Looking back in time to move fashion forward.
When we begin to design any new collection, we look at firm favourites that have been popular and think about how we can evolve them and inject a sense of newness.
As a brand we always have continuity in our designs across seasons, and this all comes from our extensive Barbour archive of jackets and clothing.
We have a clear idea of where we want to take the collection from season to season, and this pushes us forward throughout the design process.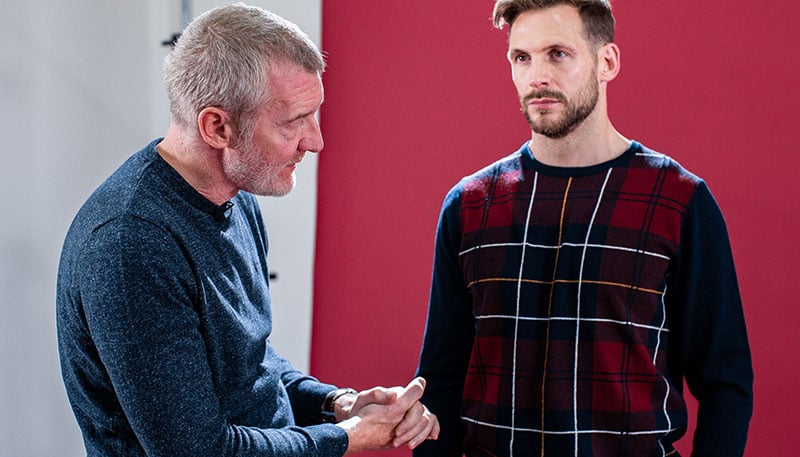 ---
---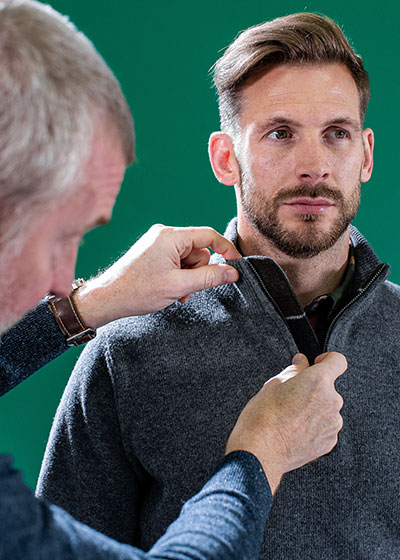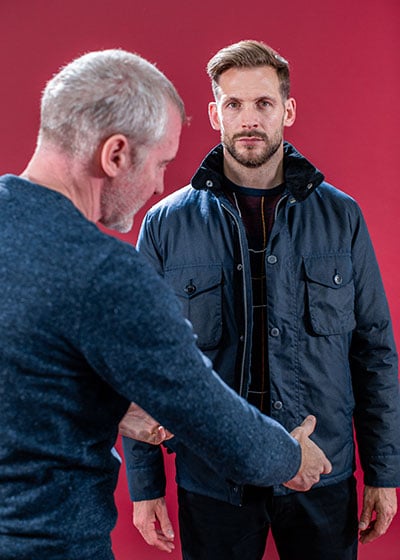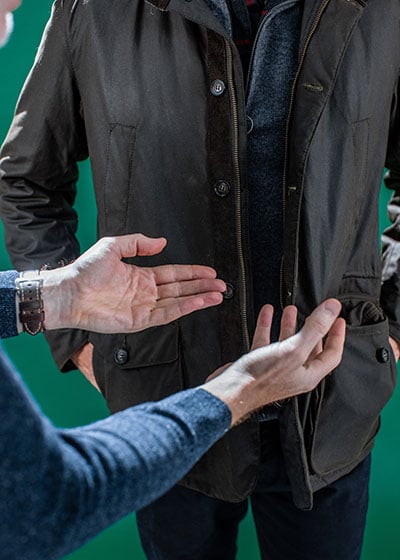 Picking functional favourites.
Barbour is renowned for its outerwear, so my favourite piece of the new collection is the Barbour Crieff Wax Jacket. It's a lightweight 4oz wax that crosses over the seasons and has a high-resistance to wear and weather. The length and practicality are perfectly offset with really good-sized cargo pockets, reliable button-backs, studs and an oversized chunky zip, so you can open the jacket – even with gloves on!
My favourite look of the shoot is Black Tartan. This colour story is very different to any other collection of this kind we've had in terms of the sett colour featured on the garments. All the looks shown are practical and contemporary, which is my favourite aspect of the collection.
A love of Barbour and what's coming next.
I love getting to design clothing that's fit for purpose and functional. I've always been interested in the construction of clothing and how it's designed to work hardest for its wearer, and at Barbour we're lucky enough that this focus on practicality is front and centre in our design process. I also get to work with a fantastic team of creative people every day, and relish the feeling when collections come together that people will enjoy for years to come. So, keep your eyes peeled for our SS19 Tartan Collection coming next year.
Discover the AW18 Barbour Tartan Collection.
---