The Barbour Dogs Diaries: Meet Nugget
---
As part of our monthly Barbour Dogs Diaries series, we are bringing you a monthly-dose of our favourite Barbour Dogs. These furry friends are suited and booted in their Barbour Dogs best and sharing a peek into the adventure-filled life of a Barbour Dog.
Say hello to our September pooch @only.nugs. Nugget is a black Labrador, typically found zooming around the garden, playing with her beloved plant-pots or bounding around the local park with her fur-pals. You can find the adorable @only.nugs on Instagram to see what else she gets up too!
Read this month's Barbour Dogs Diary and check out how @only.nugs is living their best Barbour Dogs life!
---
---
Q: 'Where is your favourite place to go and play?'
I love to play anywhere! But my favourite place would be my garden as that is where my plant pots are kept. I could spend all day, every day playing with my plant pots. When I break one my human buys me a new one and thinks I don't realise, but really any plant pot is a good plant pot to me. My other favourite place is the local field. Every morning I meet up with my fur-pals for our daily snuffle and play time. There are about 5 members in our gang and as the youngest member I like to keep the others on their toes by chasing them around and stealing their balls.
Q: 'Do you prefer the beach or the countryside and why?'
I am a countryside girl all the way. I can't get enough of exploring the woods and following all the sniffs. We have Epping Forest close by which is the perfect playground for me to explore and bounce around. I especially love dipping my paws in lakes and ponds, especially if there are sticks to be saved, although one time I fell in off a weir which gave me the shock of my life, so now I try to be a little more cautious!
Q: 'What is your favourite thing about Barbour Dogs products?'
The quality of the products are amazing, easily cleaned and washed, which is great for an adventure-seeking pooch like me who loves to jump around in muddy puddles. I am on my second Barbour harness now as I have grown up. These are fantastic as I can safely head out on adventures in the car and look stylish when I jump out at the other side. I am also excited to match my style with my humans in autumn when we all wear our Barbour coats out and about.
---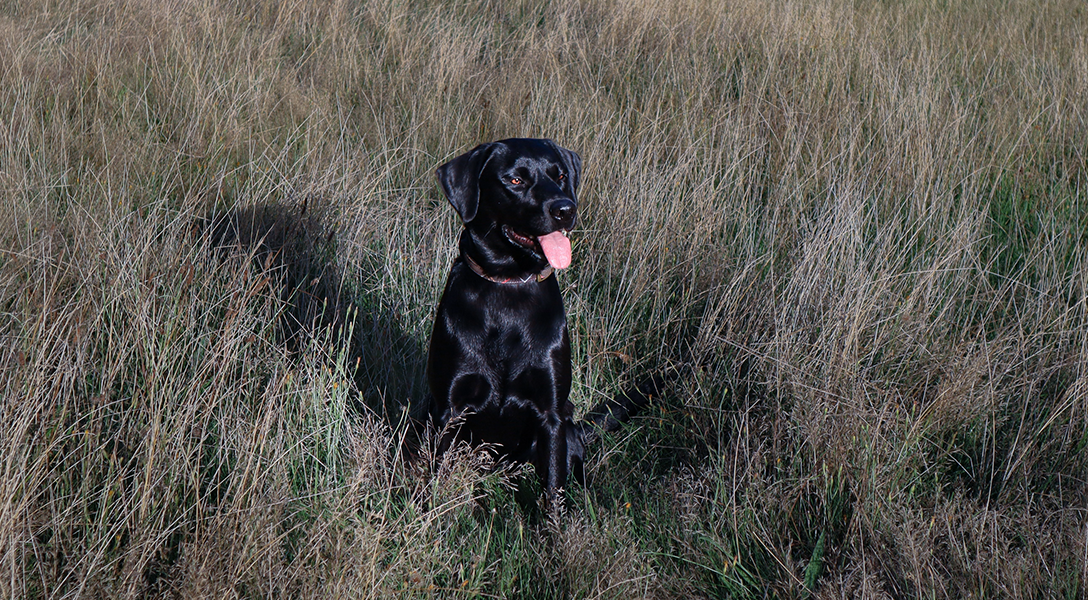 ---
---
Q: 'Which Barbour item is your favourite and why?'
The Barbour Luxury Dog Bed is hands down my favourite. I have been sleeping in mine since the day my parents brought me home and it still looking amazing and as fluffy and soft as the day we got it.
Q: 'Talk us through your daily routine…'
Every morning I make it my mission to wake the humans up as early as possible. I love a good bark off in the morning, these days I have them coming down before 6! I then get suited and booted in my Barbour gear and leave for our big morning walk. After breakfast, a big snooze commences and I usually only wake up around 4pm, after plenty of snoring and sleep-barking.
When it hits 4pm it is time to shut the laptops and let Nugget time commence! I expect lots of ball throwing and retrieve training from my pawrents. After playing we have a little chill before dinner time and an evening walk. Sometimes we go to Wanstead Park, which is paw-some as it has plenty of rivers for me to dive into and I mingle with lots of new doggies. Now and again I try to sneak them home with me but I haven't succeeded yet!
@only.nugs knows how to live his best Barbour Dogs life! Our next Barbour Dog Diary will feature @waseintoller following them along on their favourite day out!
Discover more about Barbour Dogs here.
---