How to Clean a Barbour Jacket
HOW TO CLEAN A BARBOUR JACKET
---
At Barbour, we recommend carrying out an annual clean of your jacket to ensure the longevity of its condition and performance against the elements. However, there are some key instructions that you need to know before you get started.
When it comes to your Barbour jacket, it's important that care is taken when tackling the first clean as each jacket type requires a slightly different process. We always recommend that you check the care label before cleaning, but for a more detailed run through, we've created this guide which will cover the do's and don'ts of cleaning a Barbour jacket, and the best practice for the varying styles of coats.
Whether your waterproof jacket needs a refresh, you have a stain on your quilted coat, or you need to do a full wash and reproof for your waxed Barbour jacket, keep reading as we lay out a step by step plan that will keep your coat in good condition.
---
---
How to clean a Barbour wax jacket
Cleaning your wax jacket requires a little more attention in comparison to other Barbour jacket styles, however the reward is definitely worth the extra effort, and when cared for properly, your waxed jacket could last a lifetime. The process is relatively simple, but there are a few key points we need to cover before you begin.
Firstly and most importantly, you should never put your waxed jacket in a washing machine. Doing so can permanently remove the wax coating which makes these jackets weatherproof, and this coating cannot be reapplied. Equally you should not take a Barbour wax jacket to the dry cleaners, as the chemicals used in the cleaning process can strip this coating too. In general, hot water and any kind of soap or detergent should be avoided with this style of coat.
Secondly, keep your waxed jackets away from any direct sunlight or heat. Tumble dryers and irons should be avoided at all costs as prolonged exposure to heat can remove the wax coating. Wax jackets should be stored and dried in cool and well ventilated rooms to prevent any wax melting or damp and mildew forming in the coat lining.
Now that we've covered the 'don'ts' of cleaning a waxed barbour jacket, it's time to go through the recommended cleaning process:
What you'll need:
A stiff bristle brush
A sponge or moleskin cloth
Cold water
Barbour wax dressing
A bowl of hot water (for the wax dressing)
---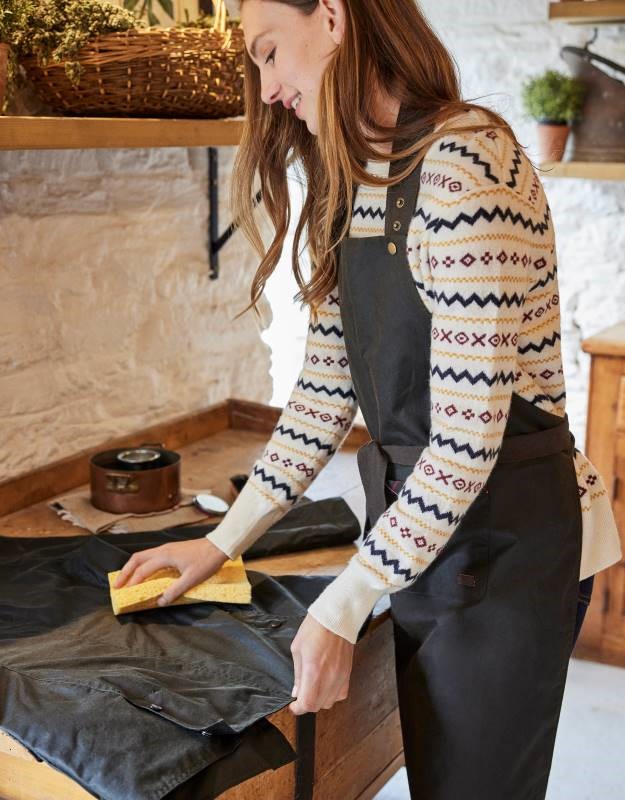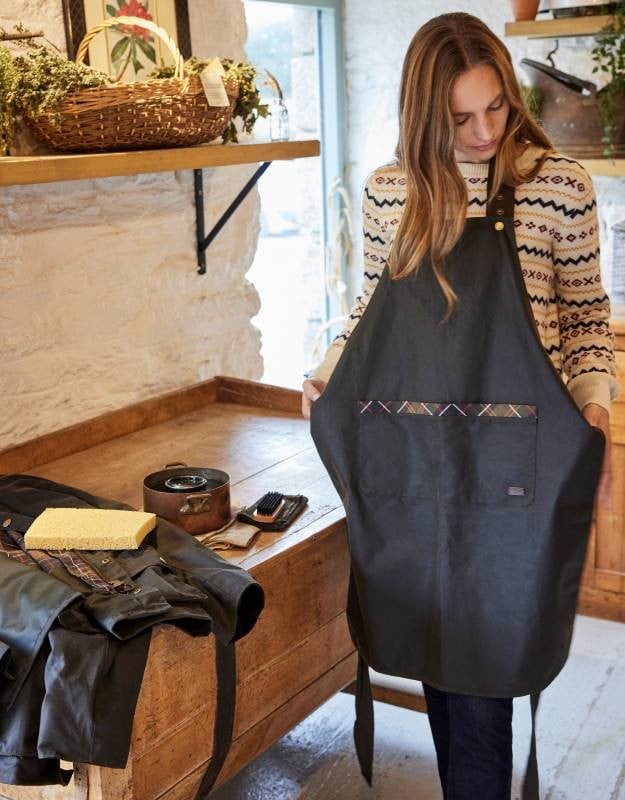 ---
---
Step 1 | Brush
Lay your Barbour jacket on a clean, flat surface and, ensuring the coat is 100% dry, use a bristle brush over the entire outer layer of the jacket to remove any dried in mud and to help remove any excess wax remaining on the jacket.
Step 2 | Spot treating mould & stains (Optional)
If your waxed jacket has some stains or has grown some mould or mildew whilst in storage, you can follow these steps to safely remove it without damaging your coat. After step one has been completed and all visible mould has been brushed off, dampen a cloth or sponge in white vinegar and apply to the area. You should let this sit for 10 minutes or so before carefully removing.
Step 3 | Wipe down
Once the jacket has been thoroughly brushed and spot treated, clean the jacket using cold water and a sponge or moleskin cloth, gently wiping down the outside of the jacket. Again, it is important that you avoid using any hot water or soap.
Step 4 | Dry
Hang your barbour jacket to dry in a well ventilated area.
Step 5 | Wax
When the coat is completely dry, then it's ready to be reproofed. This should be done annually to ensure that your coat remains durable throughout the seasons. For a full guide on re-waxing a Barbour jacket, you can check out our Wax For Life hub which runs through all of your wax care needs. Discover detailed video tutorials on how to reproof a Barbour jacket as well as a comprehensive list of Barbour essentials that will make caring for your waxed coat simple.
Hopefully you now feel ready to clean your waxed jacket and our Barbour jacket care kit is the perfect comprehensive starter pack that will ensure you have everything you need to get going. Or if you're an experienced reproofer, our mini reproofing kit is the perfect refresher for your waxing tools.
---
---
---
Including a garment cleaning brush, cotton moleskin cloth and 100ml tin of reproofing wax presented in a handy branded Barbour tin, the Barbour jacket care kit makes a great gift for your loved ones, or is equally great when purchased with your new waxed jacket to protect its condition. If you're looking to top up your waxing supplies, the mini kit has everything you need to maintain your jacket. This kit comes equipped with an 80g tin of barbour wax, classic barbour tartan cloth and sponge for precise application - neatly stored in a tartan drawstring bag.
However there's no need to panic if you aren't feeling confident enough to clean your jacket yourself, Barbour has a Repair & Re-wax service with authorised partners around the world who specialise in wax care - you can find your nearest available service here.
Caring for quilted and waterproof Barbour jackets
Quilted jackets and waterproof coats from Barbour generally follow the same cleaning rules, however it is always advised that you check the product label for any specific instructions. Whilst the advice for quilted or breathable waterproof jackets is much simpler than those for waxed jackets, there are some key points that you should note before the first wash.
The use of a non-detergent soap such as the Barbour Nikwax tech wash is recommended for breathable waterproof garments as this ensures that the weatherproof coating remains intact. We also advise that the use of fabric softeners should be avoided as these break down the water repellent treatment on the outside of the jacket.
---
---
---
For non-waxed Barbour jackets, our Nikwax tech wash will help to ensure that your garments remain in great condition through every wash.
Whilst there are some requirements you need to know before hand, the method for cleaning however is very simple:
Step 1 | Carefully check the care instructions
Whilst most quilted or waterproof jackets can be machine washed, it's important that you check the specific care needs of your jacket to avoid damaging it.
Step 2 | Wash
Assuming that your jacket requires no special cleaning, place the coat in the washing machine making sure to only use non-detergent soap and set the temperature to 30 degrees. These jackets can also be hand-washed for those who do not have a 30 degree setting.
Step 3 | Dry
Again, should your coat not require any special cleaning, your jacket can then go into the tumble dryer on a low heat setting. Once dry, immediately remove from the dryer and hang to help maintain the shape of your jacket.
Cleaning a Barbour dog jacket
We all know how messy our pups can get on long walks, it's in their nature, luckily at Barbour we took this into consideration when designing our dog coats to ensure that maintenance is as easy as possible. For any dried mud, simply brush this off with a bristle brush, then after any dried-in marks have been removed, all of our quilted dog coats can then be washed by following the same instructions as our standard quilted and waterproof coats, using non-detergent soap on a cool wash cycle, or hand washed where the product label dictates.
Give your Barbour jacket a new lease of life
Now that we've gone over how to clean different types of Barbour jackets, whether it's deep cleaning a waxed jacket to remove mould, getting mud off a barbour dog coat, or simply refreshing a quilted jacket, you're ready to spring clean your wardrobe. For more information on how to reproof a Barbour coat, check out our 'How to Rewax Guide', or if you have any more questions on product care, you can always browse our FAQ page or refer to the label in your jacket.
---