How to style a Barbour jacket
Barbour Jacket Styling
Over the many years we've been making our premium jackets, we've established the best ways of styling a Barbour jacket. Of course, there are countless ways you can achieve that classic Barbour style and, with new and evolving trends appearing every year, the fashion world continues to adore the classic Barbour jacket.
Whether you're looking to emulate the relaxed, country style that inspires so many of Barbour's signature looks or would prefer to bring something a little different, discover new ways to style your Barbour jacket in our latest style guide.
Barbour style notes
In our long history of designing timeless, comfortable jackets for people of all ages and backgrounds, we've been asked a wide range of questions about how to create a Barbour style that suits their preferences and needs. If you're struggling for inspiration on how to style your classic wax jacket, read our top styling tips for a little inspiration.
What do you wear with a wax jacket?
Wax jackets are an original style staple of Barbour and are one of our most versatile garments. Suitable for everyday wear as well as adventurous nature rambles in the unpredictable weather, the Barbour wax jacket is available in a range of styles and colourways to suit your pre-existing style.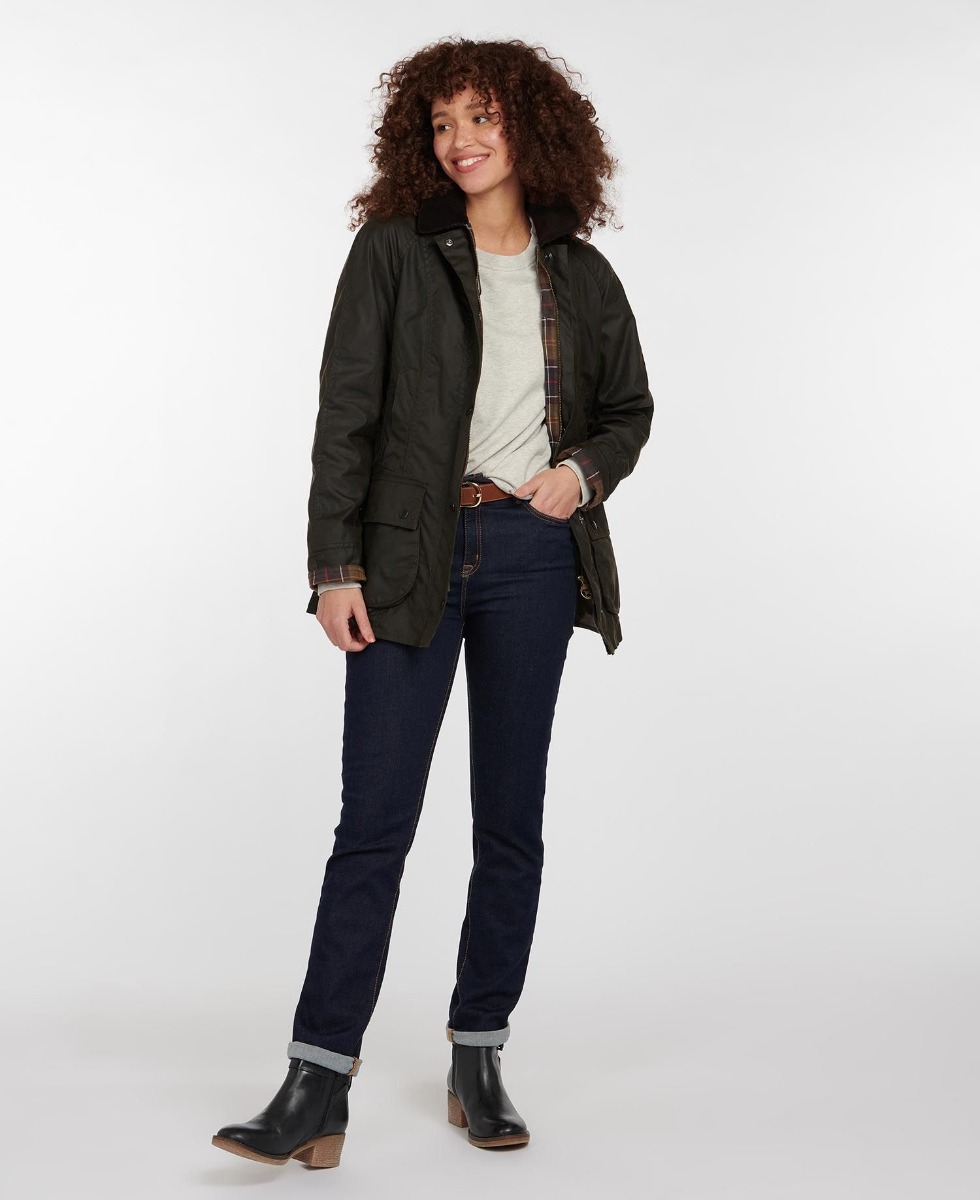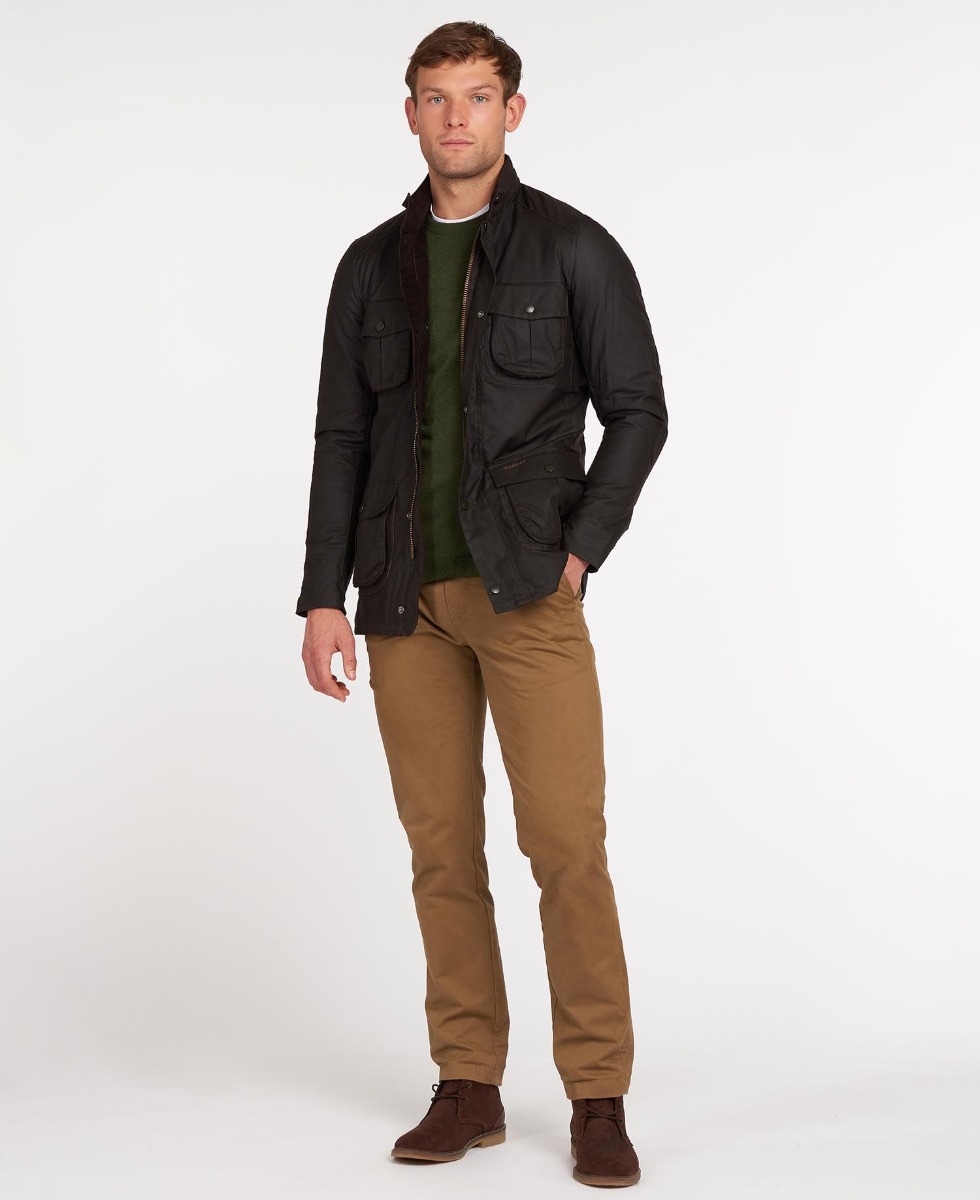 How you wear your wax jacket will depend on which jacket you've chosen from the wide range available at Barbour but we love leaning into that modern country look. Styled with classic slim fit jeans, £69.95, a chunky belt and boots and a simple crew neck top, the Barbour Classic Beadnell Wax Jacket, £209, is timeless. An update of the iconic Barbour Bedale jacket, the Beadnell offers a more feminine, slim fit silhouette that lends itself perfectly to casual everyday wear. The dark olive colourway is lightened by the similarly iconic tartan lining which is guaranteed to bring a spot of old country feel to your wardrobe.
For men, achieving the same modern country feel is simple with the Barbour Corbridge Wax Jacket, £239. Paired with a smart casual style pair of slim fitting twill chinos, £69.95, a green crew neck jumper, £59.95, and a pair of Barbour Chukka boots, £99.95, this men's Barbour jacket is perfect for nailing the fine line between country and formal. Featuring a tailored fit that separates the Barbour Corbridge from the traditional Bedale jacket as well as subtle Barbour branded detailing, the Corbridge has a rugged, utility style that, balanced with the slimming fit and smart colours scheme, allows it to be worn for a wide range of occasions.
How to wear a Barbour jacket
While the range of Barbour jackets can be styled in a multitude of different ways, keeping wearers protected from the elements is also a top priority. With the durable materials, waterproof finishes, cotton lining and a milliad of other weather-conscious features, you'll always be comfortable outdoors in a Barbour jacket.
With this in mind, the question of how to wear a Barbour jacket is made simple - make the most of the practical elements that come embedded in every Barbour jacket and coat to wear it however you see fit. From keeping you shielded from cold winds on long rambles in the outdoors to providing protection from unexpected showers travelling to work, Barbour jackets are built to last and, no matter what you're doing, they'll retain their stylish look and feel through it all.
What to wear with a Barbour jacket
A Barbour jacket is a style staple on its own and can be worn alongside just about anything. From comfortable jumpers to casual jeans and stylish dresses to everyday t-shirts, wear your Barbour jacket with something you feel comfortable and comfortable wearing. To give you a little inspiration, we've included just a few of our favourite style staples from Barbour. Try them out for yourself, experiment with different looks and create your own Barbour style.