How to Measure for a Dog Coat
Dog Coat Size Guide
No matter the breed of your dog, whether they're short haired, long legged, fluffy or fat, they deserve the absolute best we can give them. For many of us, treating our dogs well means providing a healthy diet, buying plenty of toys to play with and sticking to a walking schedule. While this is an excellent start, ensuring that your dog stays happy, healthy and protected from poor weather on their daily walks is an often overlooked responsibility of dog owners.
If you're looking to treat your dog to a comfortable dog coat, your first task is to measure them for one. Having a well-fitting dog coat is important to allow for proper freedom of movement when out on walks or even around the house if they get cold easily.
If you've never measured your dog before, don't worry, our simple guide for how to measure for a dog coat will tell you everything you need. With additional information about Barbour dog coat sizes, you'll be able to order a stylish, well-fitting dog coat in no time.
A step-by-step guide for how to measure for a dog coat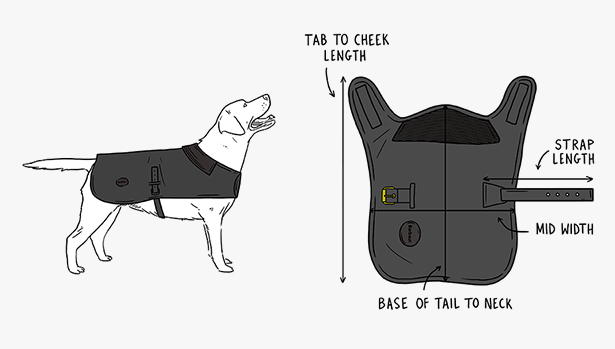 Step 1: The first step of measuring for a dog coat is to ensure you have everything you need - including your dog of course! Grab yourself a standard tailors measuring tape, a pen and paper (or your phone if you prefer taking digital notes) and have your dog standing on all fours ready to be measured.
Step 2: The first measurement you'll need is the length of your dog. This is taken by simply taking your fabric tape measure and measuring the length between your dog's neck (from where their collar sits if they wear one) and the base of the tail. At Barbour, our size guide is given in centimetres, so it's best to write it down in this format for convenience later.
Step 3: The next measurement to be taken is the mid width of your dog. For a Barbour dog coat, this is the entire top side of the fabric which is fastened to the dog with a comfortable strap. To take this measurement, simply measure the top width of your dog's middle. Again, on the Barbour dog coat size guide this measurement is taken in centimetres, so this is best noted down accordingly.
Step 4: Depending on the shape of the dog coat you're looking to buy, you may need to measure the full length of your dog from the front centre of their chest to the base of their tail. On the Barbour dog coat size guide, this is called the tab to cheek length and it is applicable for most coats that fasten across the front of the dog.
Step 5: The last measurement to take is of the underside of your dog. Again, this measurement is only necessary for dog coats that fasten in this way with a buckle or strap in the same way as Barbour coats. For this measurement, simply use the measuring tape to find the underside mid width of your dog - effectively the inverse of the top mid width measurement from step 3.
Barbour dog coat sizes
At Barbour, our premium dog coats are designed for ultimate comfort and, with our comprehensive dog coat size guide, finding the perfect fit for your dog is a simple process. Using the Barbour dog coat size guide below, and the measurements you've taken of your dog, select which size you'll need from our XS to XXL range.

How to choose a dog coat
With such an easy measuring system in place, the hardest part of finding the perfect dog coat for your pooch is also the most fun - choosing which style to go for! At Barbour, we have a full collection of stylish dog coats to choose from but, if you'd like a little additional direction, check out two of our favourite styles below.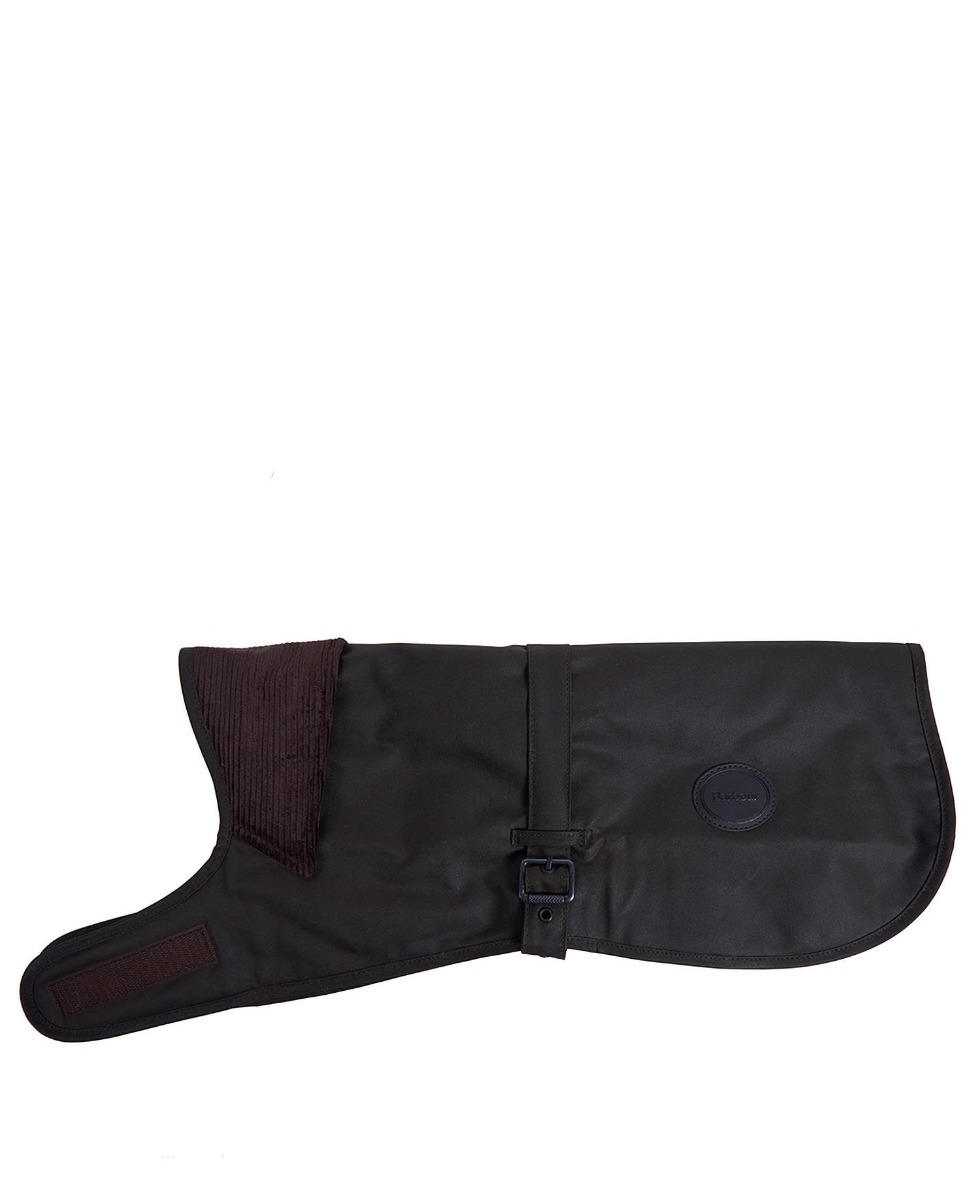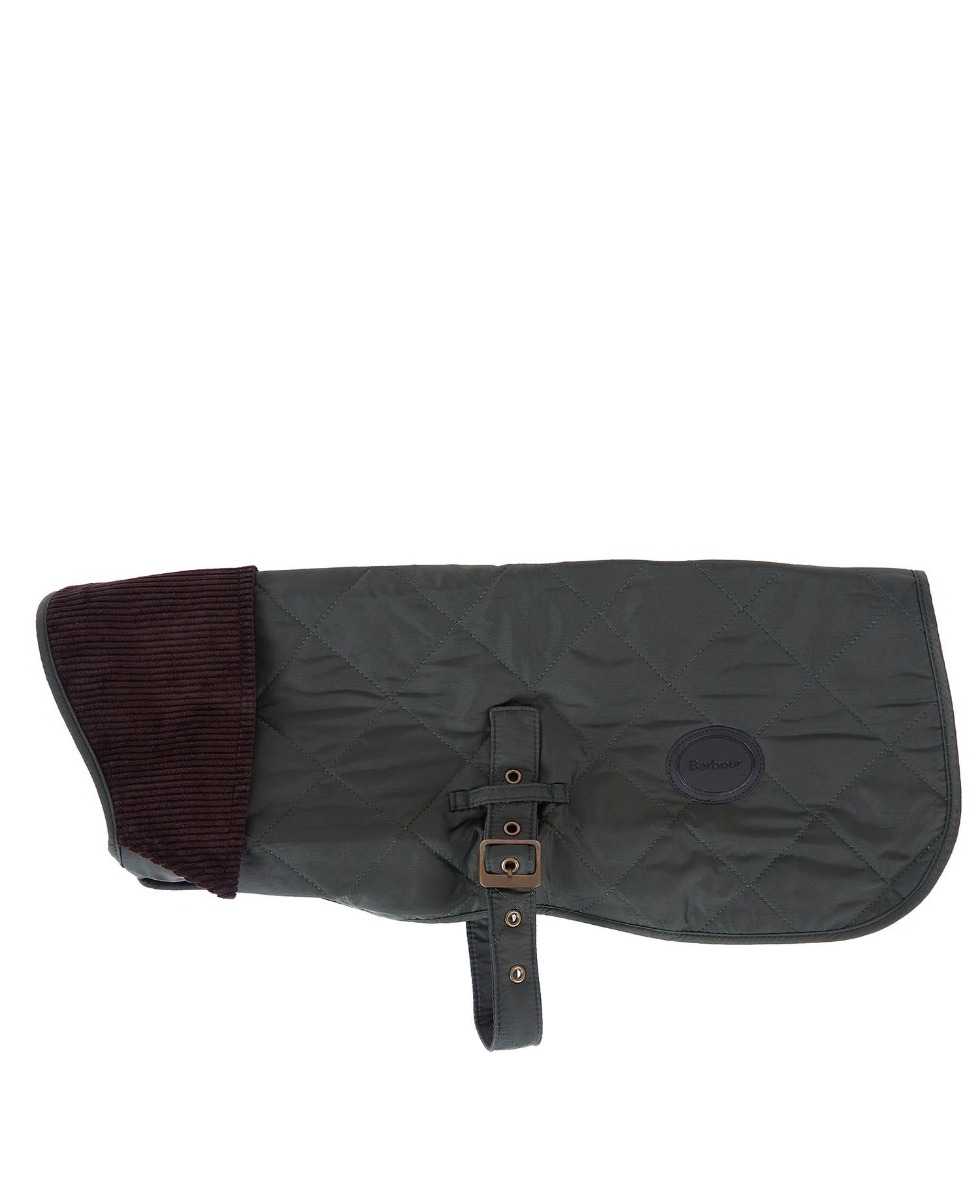 The Barbour wax dog coat is a creative reimagining of the classic Barbour waxed jacket for your dog. Available in two colourways, this dog coat features a waxed outer to give lasting protection from the rain and a cotton tartan liner to keep them warm on chilly days. With additional style details such as the corduroy collar and Barbour branding, this weatherproof dog coat is perfect for strolls in the rain.
Barbour Quilted Dog Coat, £39.95
Perfect for those who already have a Barbour quilted jacket and would like to match with their dogs on long walks, the Barbour quilted dog coat is a stylish alternative to the traditional waxed coat. Cosy and comfortable, the quilted dog coat features a brown corduroy collar and Barbour branding on the side and is easily fastened with an underbody strap and velcro collar.
Ready to order your dog a comfortable coat in the perfect size? Head over to our Barbour dog coat collection to browse through our available styles and colourways.