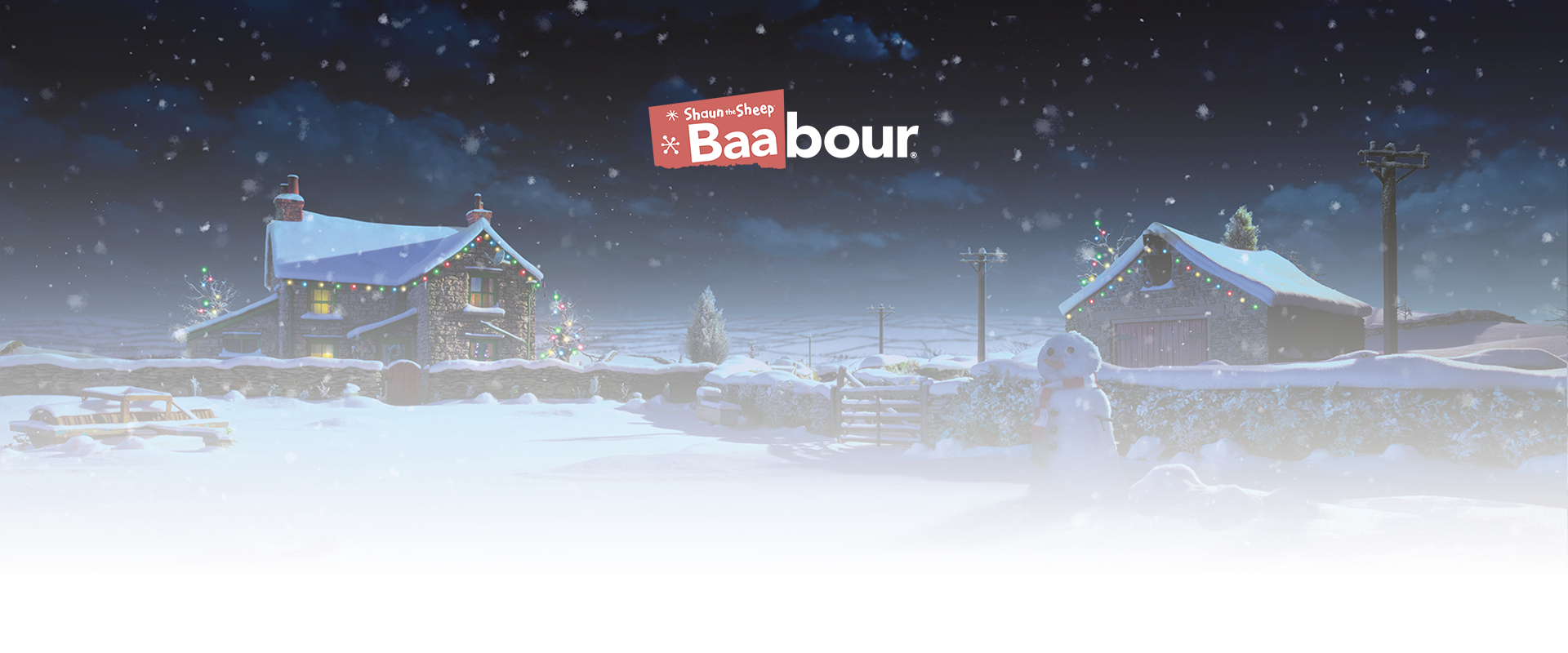 ---
Youtube Embed Code: <iframe src="https://www.youtube.com/embed/fodQxNOf8U0" width="560" height="315" frameborder="0" allowfullscreen=""></iframe>
Youtube Embed Code: <iframe src="https://www.youtube.com/embed/oyhKNxZm5W8?si=KIonXkxDP0g-R_uY" width="560" height="315" frameborder="0" allowfullscreen=""></iframe>
Barbour Collaborates with Shaun the Sheep for a baa-rilliant new Christmas Film Demonstrating How to Extend the Life of a Barbour Garment and Highlighting Their Renowned Re-Waxing and Repairs Service
STRICTLY EMBARGOED UNTIL 2 NOVEMBER @ 8:00 GMT
This year, leading heritage and lifestyle brand Barbour is collaborating with the internationally celebrated character, Shaun the Sheep on a new Christmas campaign. This mischievous and cheeky sheep is a family favourite who is well known for getting into exciting adventures in the countryside with Bitzer the sheep dog and the rest of the Flock, much to the Farmer's dismay.
Created by the talented team at Aardman using their trademark stop motion technique, this year's seasonal film has been carefully crafted in their Bristol studio, bringing Barbour to life on Mossy Bottom Farm. Funny, thoughtful and full of joy, the festive film follows the adventures of good-hearted Shaun, Bitzer and the Flock as they decide to repair the Farmer's well-worn Barbour wax jacket after worrying that due to the damage it would no longer keep him warm and dry. Chaos swiftly ensues, and despite their best efforts the jacket is left looking worse than ever before. Thankfully, Christmas is saved when Bitzer clicks his fingers and the Farmer's original jacket reappears, lovingly restored by the experts at the Barbour factory … with the message that for some people, re-waxing and repairing jackets might be best left to the professionals at Barbour.
Barbour has been offering a Re-Waxing and Repairs service for over 100 years and today the service forms part of Barbour's Wax for Life programme – which includes a range of different initiatives designed to extend the life of Barbour Wax Jackets.
Paul Wilkinson, Group Commercial Director, Barbour said "This Christmas, we wanted to demonstrate the importance of extending the life of our garments and we've been able to achieve this through our partnership with Aardman. Working with Shaun the Sheep and his friends, we've created a light hearted and engaging film that we hope will make people smile this festive season. With a Barbour wax jacket, age is no limitation and through our Wax for Life initiative, globally every year over 73,000 of our wax jackets are returned to be re-waxed or repaired. A Barbour jacket is like an old friend – it becomes part of your life and part of your shared experiences and memories. By using our re-waxing and repairs service, your jacket can last for a long time continuing to give many years of faithful service and most importantly, reducing its impact on the environment."
Rachael Peacock, Senior Brand Manager at Aardman added: "We're delighted to be collaborating with such an iconic British brand, whose company values are so well aligned with our own. Shaun the Sheep's 'One Farm' initiative challenges ewe to look after the planet, and Barbour's services are a perfect example of how families can extend the life of their belongings.
"Our creative team had so much fun bringing the magic of Christmas back to Mossy Bottom Farm, and with his Barbour jacket the Farmer has become a style icon! We can't wait to bring a smile to families around the world with this wonderful campaign."
Film Synopsis
The Christmas lights are on and snow is falling on the farm house at Mossy Bottom Farm when the Farmer and Bitzer the sheep dog embark on a day of work. Unfortunately, accidents ensue when the Farmer clumsily shears into his jacket with the clippers, forcefully rips a hole in his pocket with a pair of pliers and catches his jacket on the tractor door, ripping a big hole in the back.
Seeing the state of the damage, Bitzer is very worried that the Farmer will get cold, so he rallies Shaun and the Flock to help fix it his trusty Barbour jacket. Chaos ensues as the friends set about re-patching his jacket with a crazy sewing machine, they replace the zip with what they can find on the farm (old combs and a mouse trap) before re-waxing the jacket with dripping candles and an old rake.
Christmas day arrives and the Farmer is delighted when he is presented with his newly repaired jacket; it is the thought that counts after all. However, upon trying it on the Farmer soon realises that his jacket will need professional attention when his fingers become caught in a mouse trap and the jacket splits in two.
Luckily, a touch of Christmas magic saves the day when Bitzer clicks his fingers and the Farmer's repaired jacket, lovingly restored by the experts at the Barbour factory, appears alongside jackets, hats and scarves for the Flock… with the message that for some people, re-waxing and repairing jackets might be best left to the professionals at Barbour!
- ends -
For further information on Barbour please contact:
Rachael Sundin, Global PR Executive
E: [email protected] T: (0)191 427 4280
Notes to Editors
About Barbour
Originally established by John Barbour in 1894 in South Shields in the North East of England to provide outerwear to fishermen, sailors and mariners to protect them from the worst of the British weather, today Barbour offers a complete wardrobe of clothes, accessories and footwear for men, women and children. Shirts, knitwear, trousers, footwear and accessories are now just as much in demand as Barbour's iconic outerwear.
Forever synonymous with the British countryside, Barbour's collections now span from the best practical country clothing to fashion-forward lifestyle collections. To this day Barbour's ranges continue to be inspired by the company's archives which date back to 1910 – each season classic designs are re-interpreted into modern, contemporary silhouettes.
 A family-owned 5th generation brand established 129 years ago, Barbour is a global success story sold in over 55 countries worldwide including Germany, Italy, Spain, France, the US and Japan.
In 2020, Barbour launched Wax for Life, an overarching name for all of Barbour's wax services designed to encourage customers to extend the life of their jackets. Wax for Life includes re-waxing and repairs first introduced in 1921 and Re-Loved, an upcycling circularity initiative.
In 2023, Barbour celebrates the 40th anniversary of the Beaufort wax jacket, an Evergreen icon, designed by Dame Margaret Barbour in 1983 and one of the classic jackets that has made Barbour a household name.
About Aardman
Aardman is an employee-owned company, based in Bristol (UK) and co-founded in 1976 by Peter Lord and David Sproxton. An independent, multi-Academy Award® and BAFTA® award winning studio, it produces feature films, series, advertising, games and interactive entertainment. Current animated productions include the feature length sequel Chicken Run: Dawn of the Nugget and a brand new Wallace & Gromit film for 2024.
Its productions are global in appeal, novel, entertaining, brilliantly characterised and full of charm reflecting the unique talent, energy and personal commitment of the Aardman team. The studio's work – which includes the creation of much-loved characters including Wallace & Gromit, Shaun the Sheep, Timmy Time and Morph – is often imitated, and yet the company continues to lead the field producing a rare brand of visually stunning content for cinema, broadcasters, digital platforms and live experiences around the world. Recent celebrated projects include the Academy Award® and BAFTA® nominated short film Robin Robin, International Emmy® award winning Shaun the Sheep: The Flight Before Christmas, BAFTA® nominated preschool series The Very Small Creatures and the brand new CGI comedy series for kids Lloyd of the Flies.
The studio runs the Aardman Academy which has a commitment to nurturing talent by delivering excellence in film and animation training and mentoring. The Aardman Academy offers a variety of courses from intensive one-day workshops teaching production skills and storyboarding, to comprehensive twelve-week courses for professionals in craft based subjects from model making to animation.
In November 2018 it became an Employee Owned Organisation, to ensure Aardman remains independent and to secure the creative legacy and culture of the company for many decades to come. www.aardman.com
About Shaun the Sheep
Shaun the Sheep, Aardman's family favourite TV series, is recognised the world over for its slapstick humour, distinctive look and strong, quirky characters and enjoyed across multiple media platforms. First appearing in Nick Park's 1995 Academy Award® winning Wallace & Gromit 'A Close Shave', Shaun then went on to star in his own series, created by Richard Starzak which launched on BBC One in 2007. Shaun the Sheep is currently broadcast in 170 territories around the world and is an internationally celebrated icon with over 5.6 million fans on Facebook. In 2015 the first Shaun the Sheep Movie with feature film partner Studiocanal was released around the world to critical acclaim and the first half hour TV special aired as part of many broadcaster's festive season. The feature film sequel Shaun the Sheep Movie: Farmageddon was released in October 2019 and nominated for an Academy Award® and was closely followed by a sixth season of the series in 2020. A new festive special Shaun the Sheep: The Flight Before Christmas was released in December 2021. In 2023 Aardman launched One Farm, an exciting brand initiative using Shaun's authentic link to the great outdoors to represent issues around the environment and sustainability in a fun and engaging way for families.
---
Simply click the images below to download.
---